Blog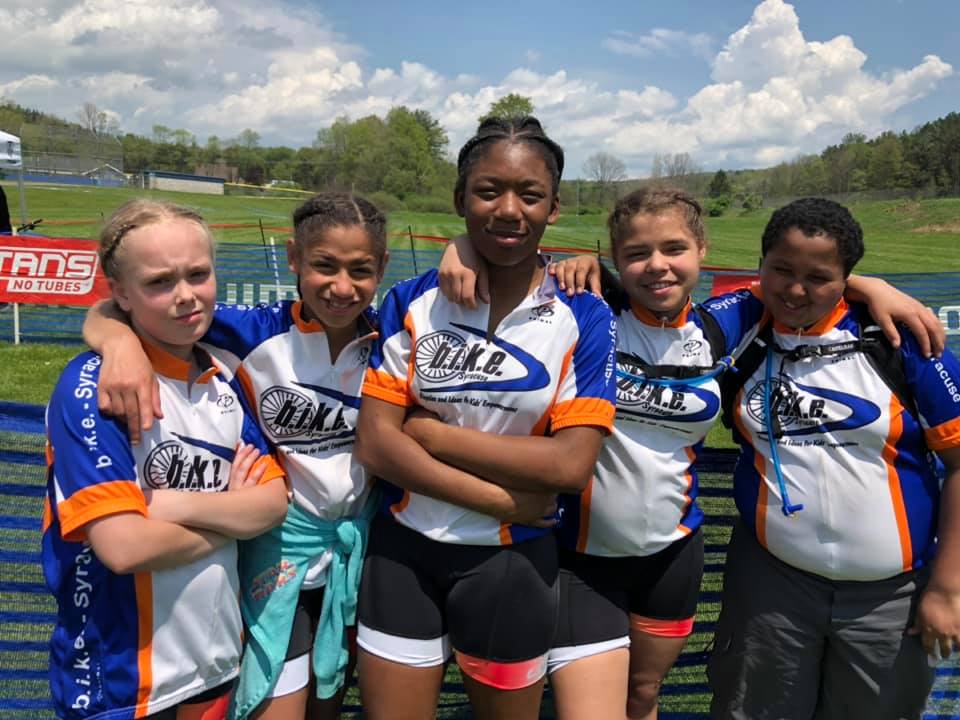 ---
For all of the most recent blog updates, be sure to check out our Facebook Page
---
June 17, 2021
Do you have a child eight years old or older (high school ages welcome) that is interested in learning to mountain bike? Are you as a parent interested in learning mountain biking skills or to improve skills? b.i.k.e.-Syracuse will be holding mountain biking clinics over the summer for kids and adults/parents interested in learning mountain biking skills. Classes will be taught by certified National Interscholastic Cycling (NICA) - Coaches. If interested please call 315-428-bike (2453) to get more information. Helmets and bikes are available for kids and adults who don't yet have a mountain bike or helmet. Happy Riding!
---
May 31, 2021
Tug Hill Epic
---
May 19, 2021
Tughill Epic 106 Gravel Grinder
---
March 30, 2021
A big thank you to Mello Velo Bike Shop —Steve and all the Staff there for getting b.i.k.e.-Syracuse's bikes tuned up for the upcoming race. A great bike shop with amazing - friendly service. THANK YOU, STEVE! And everyone at Mello Velo!
---
March 25, 2021
Great practice for bike-Syracuse tonight in Split Rock!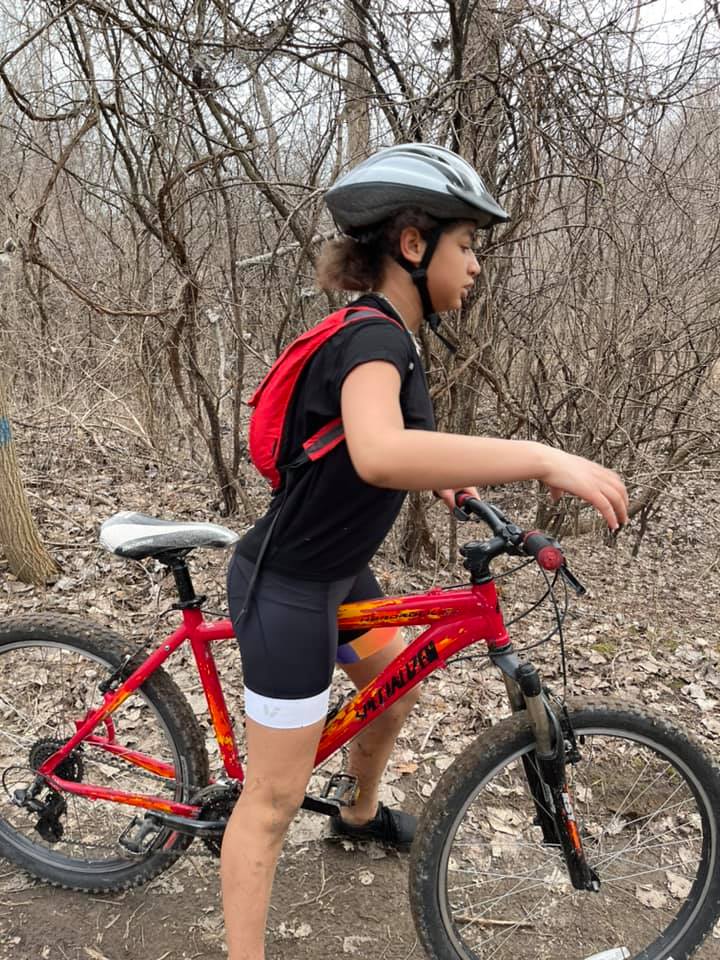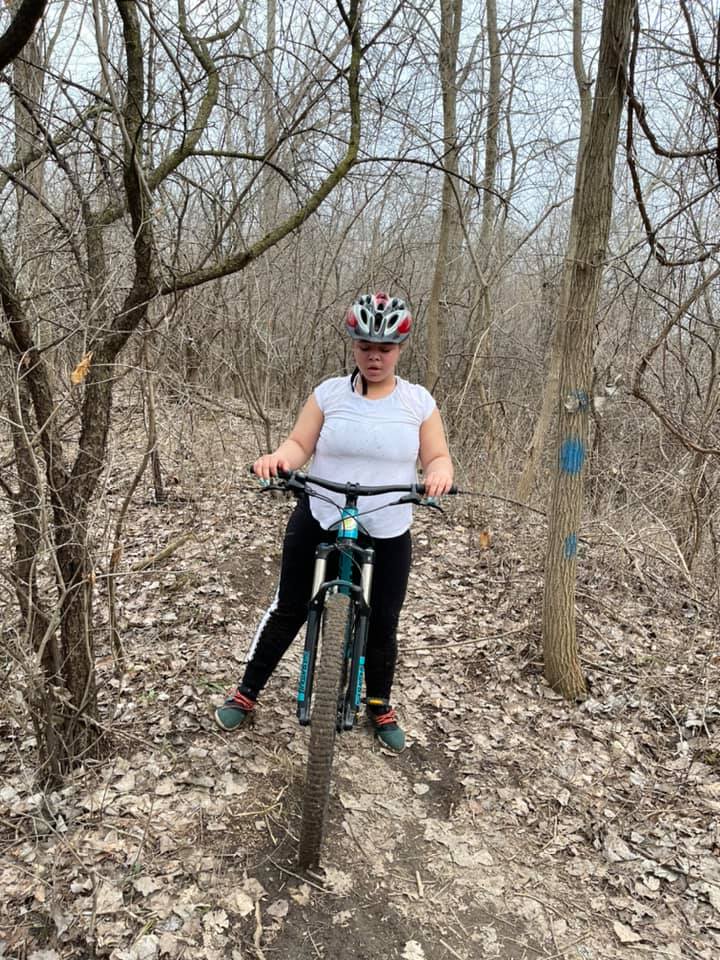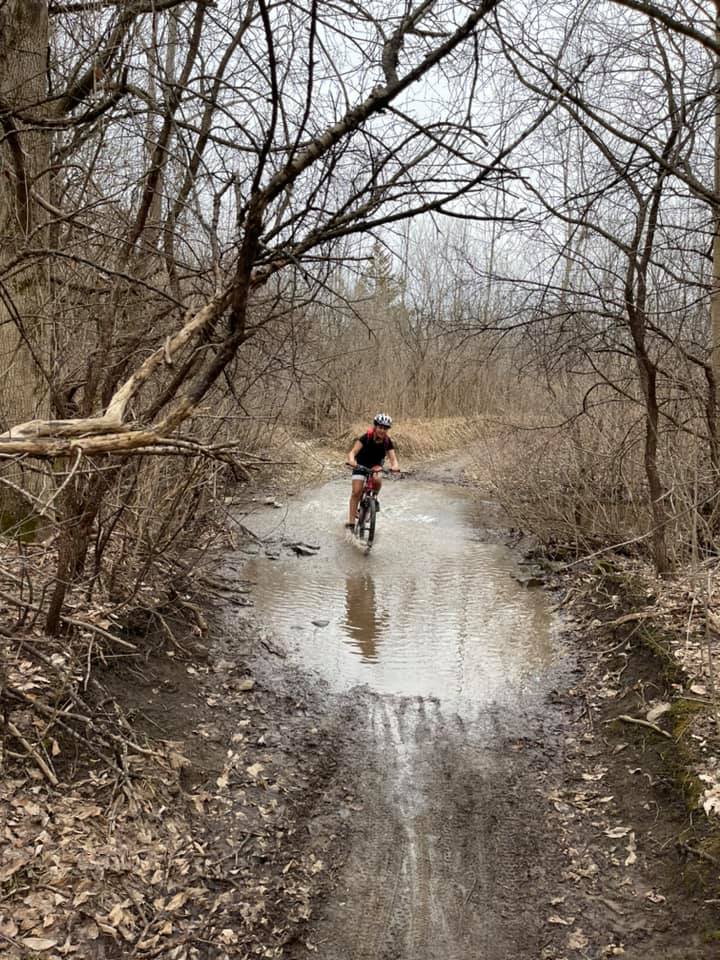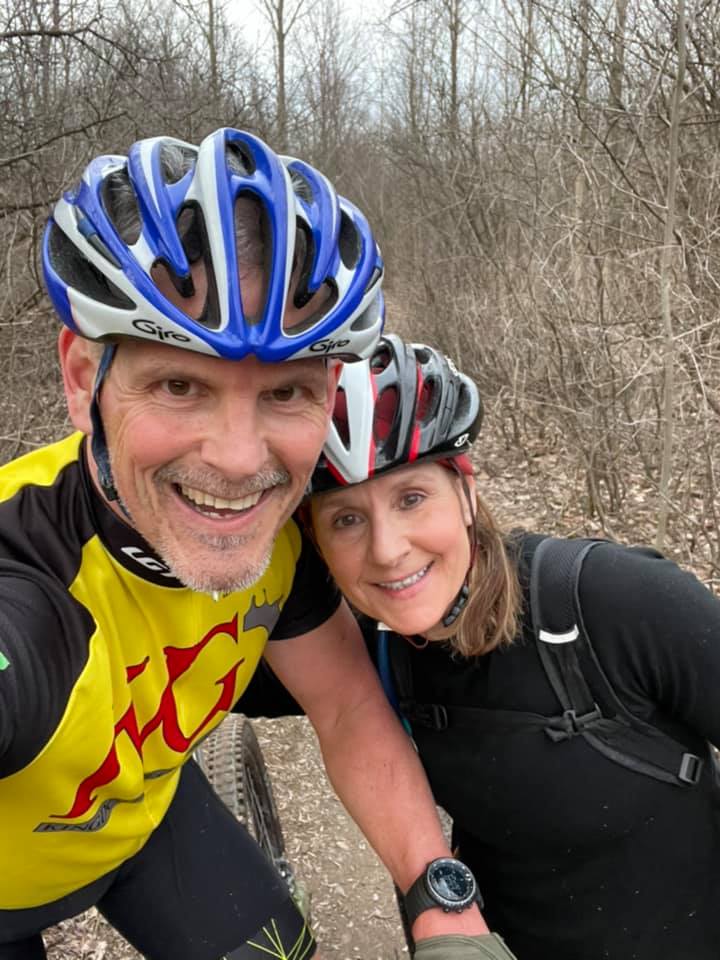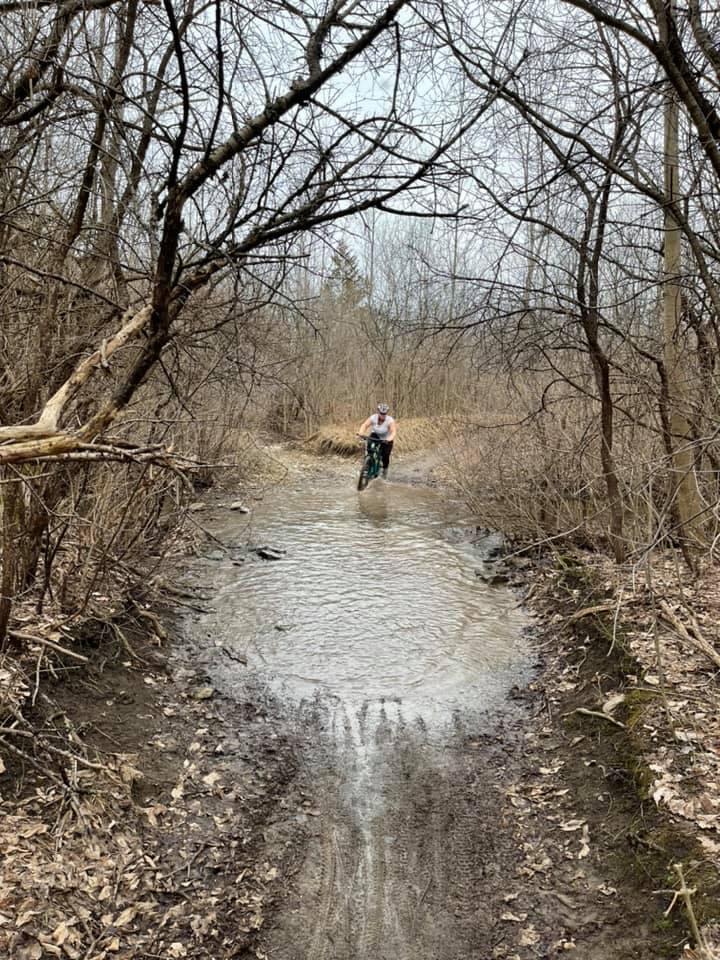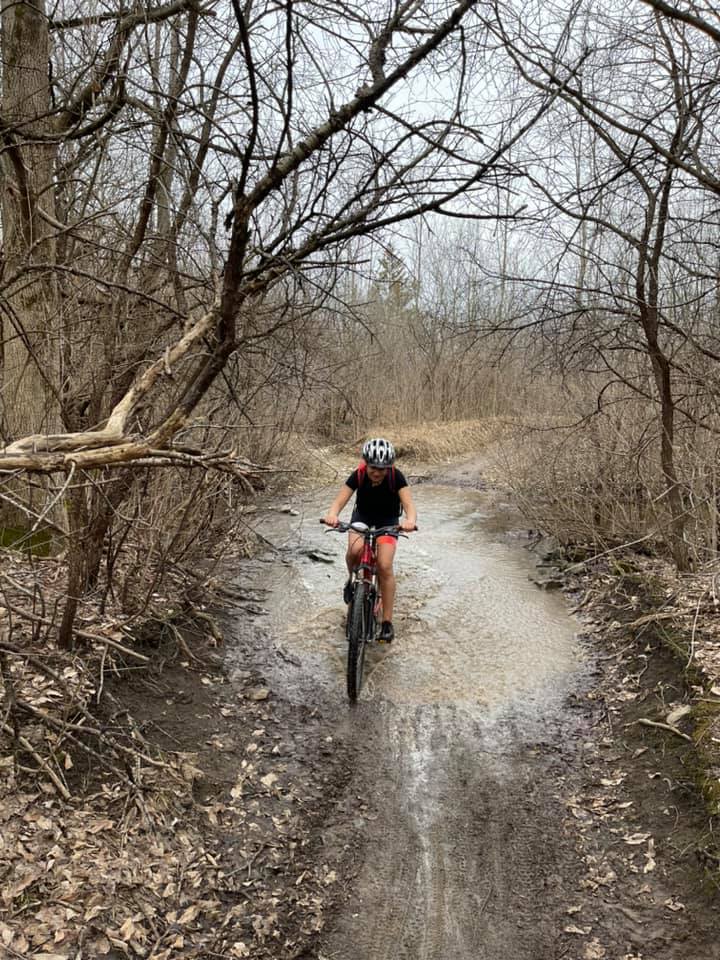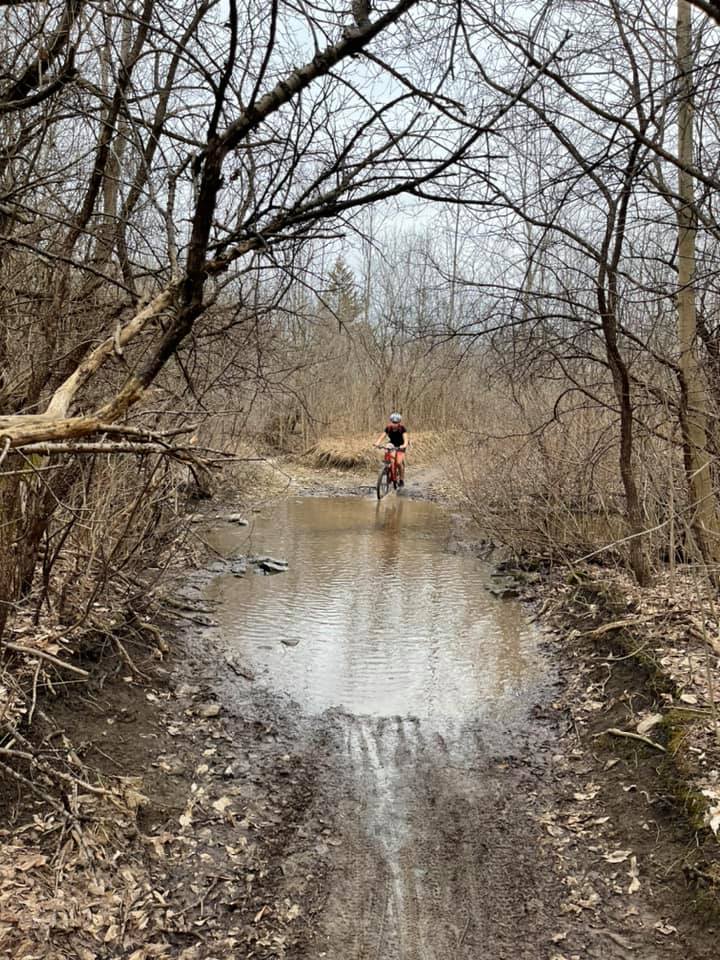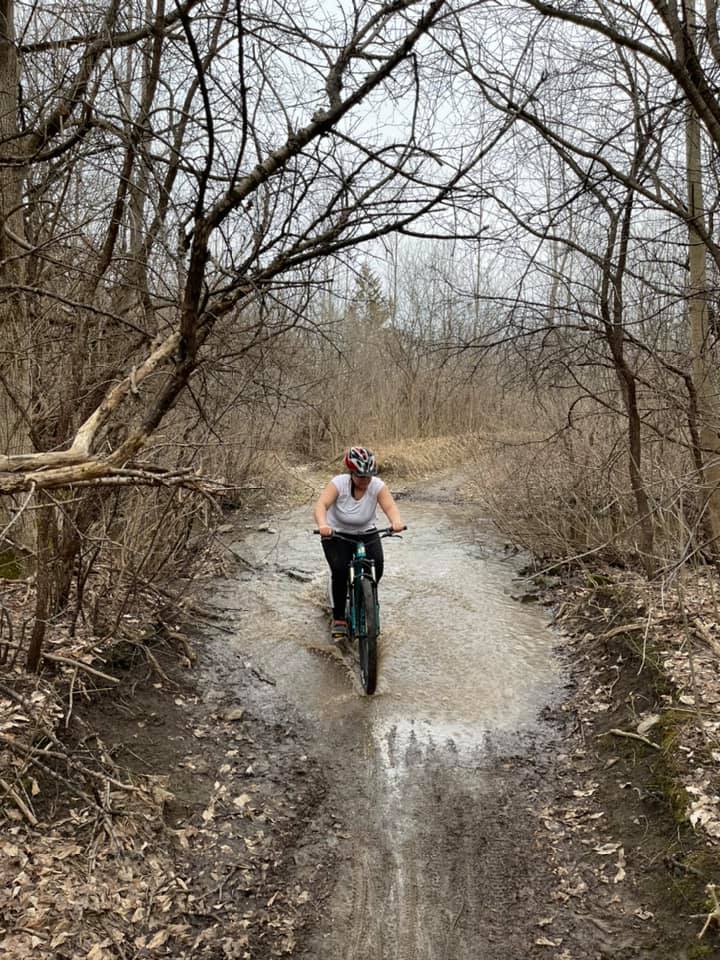 ---
March 24, 2021
Please please consider a donation to b.i.k.e.-Syracuse. Every dollar donated goes towards equipment and equipment maintenance, food, lodging and registration/racing costs. As bikers, we all know how much equipment can be - and we don't want to turn any child away. Please go to our website (it has been updated) and please donate. Thank you! PS. - If you shop at Amazon you can link bike-Syracuse as a charity of choice to your account (just go to our donate page and scroll to the bottom and click on the link that will take you to "Amazon Smile" once done - every time you shop bike-Syracuse will get a percentage of your purchase as a donation from Amazon! No extra cost to you! No extra work! Just shop! Thank you!!!!
---
March 22, 2021
Practice tonight. FINALLY on our bikes! 1st NICA race in a few weeks!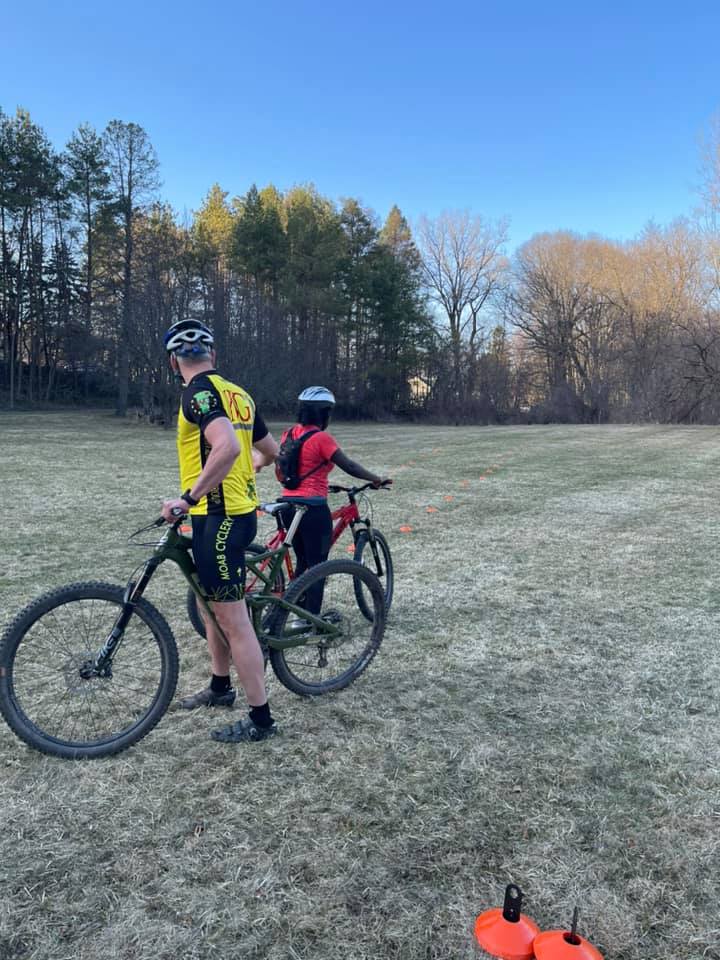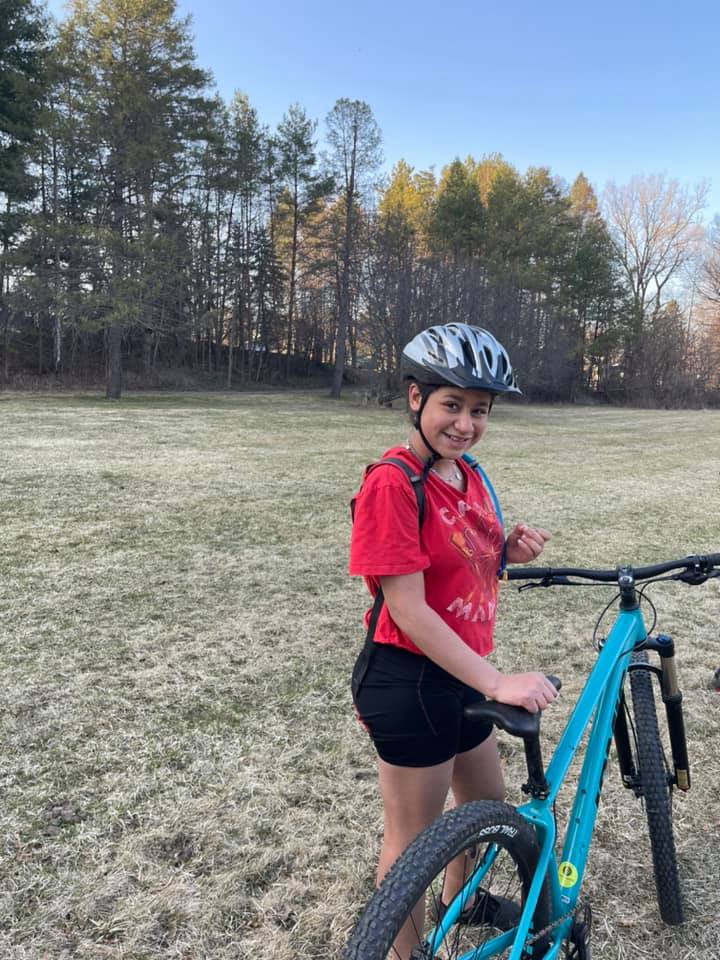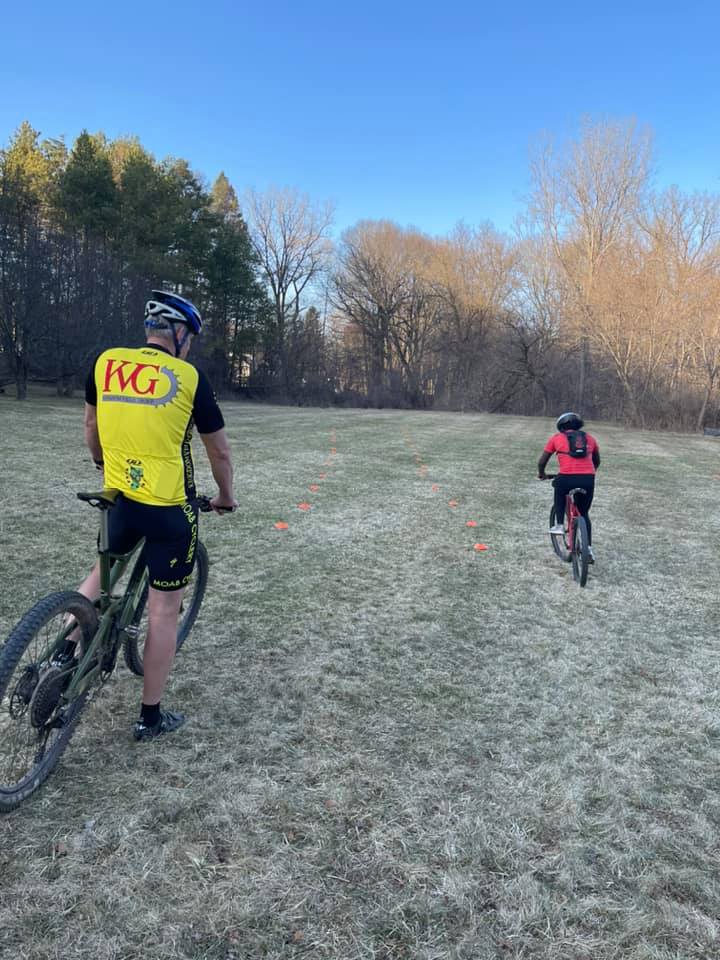 ---
March 4, 2021
Great practice tonight! Our Riders rocked the intervals! Can't wait for race season!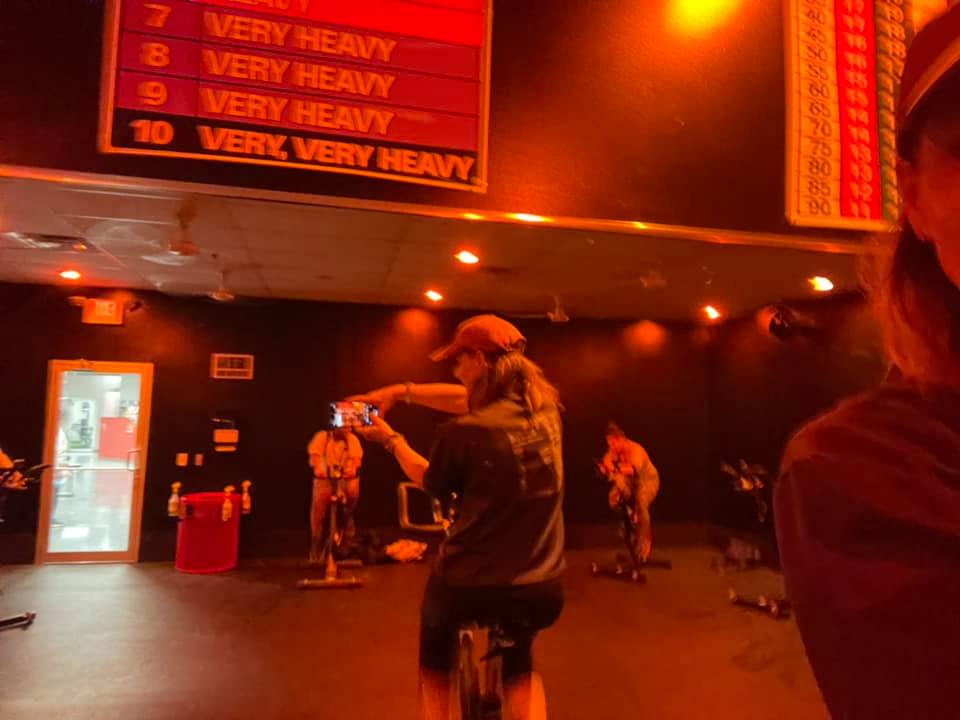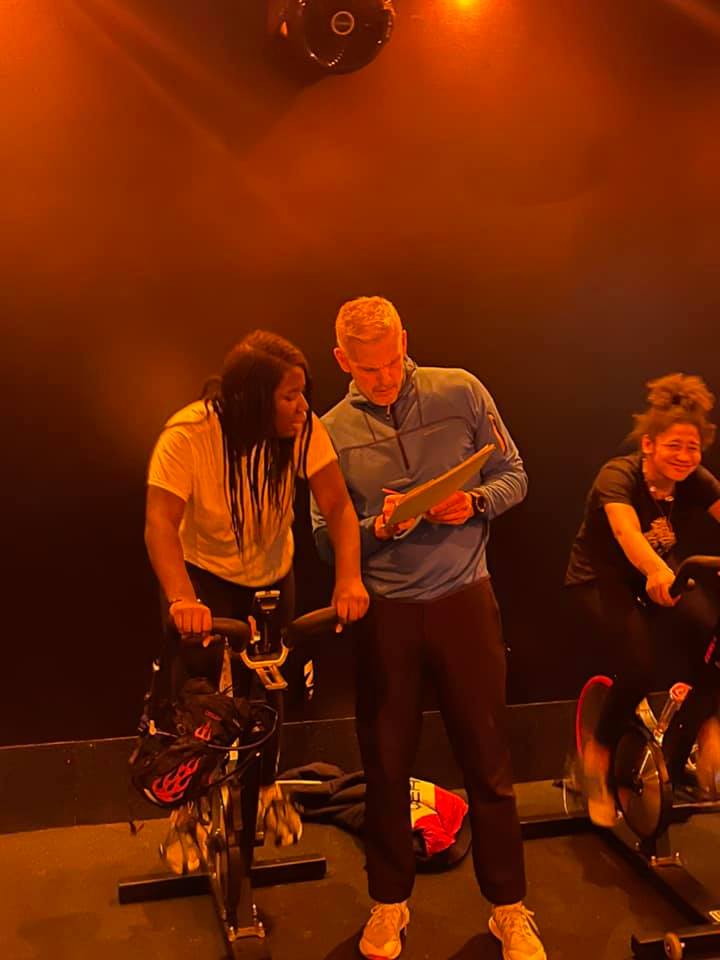 ---
February 13, 2021
Missing bike-Syracuse! Can't wait to get back and finish our training for the upcoming NICA races.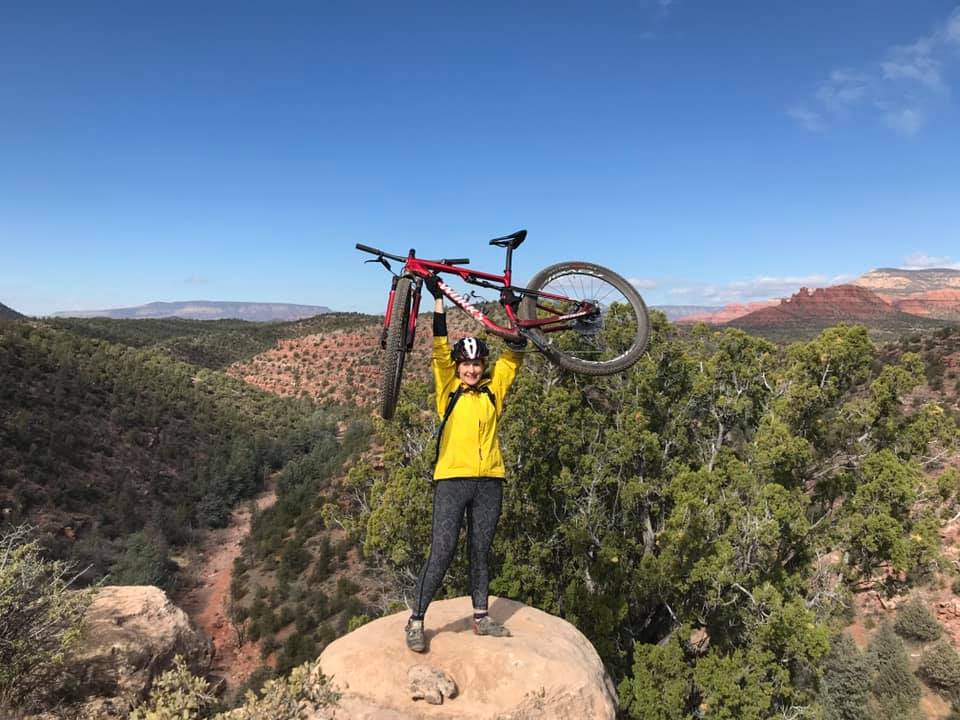 ---
February 12, 2021
Missing my team and riders! Out in Arizona for a wedding. I got a chance to get on my bike. Wish I could snap my fingers and have my team here with me!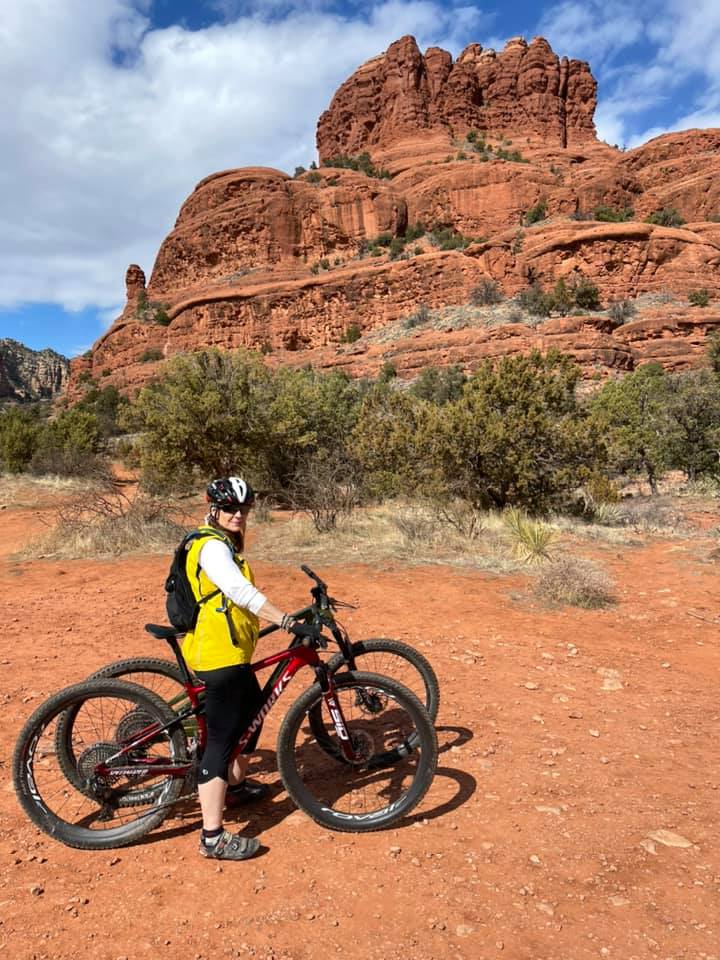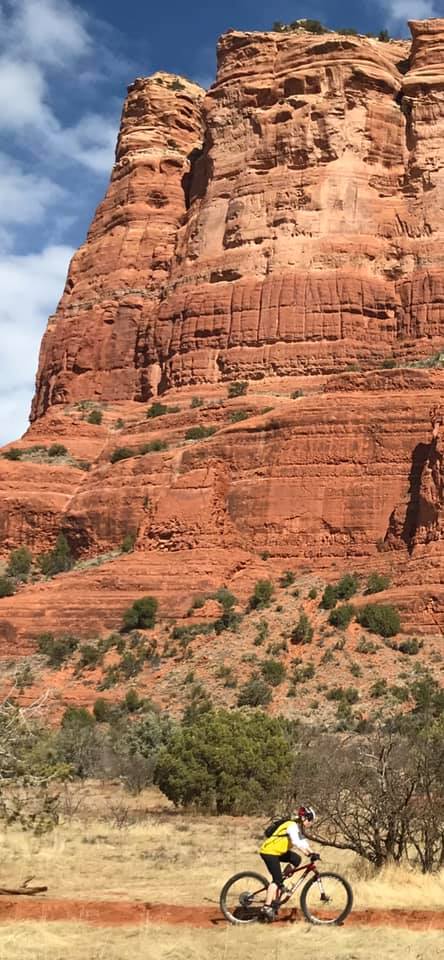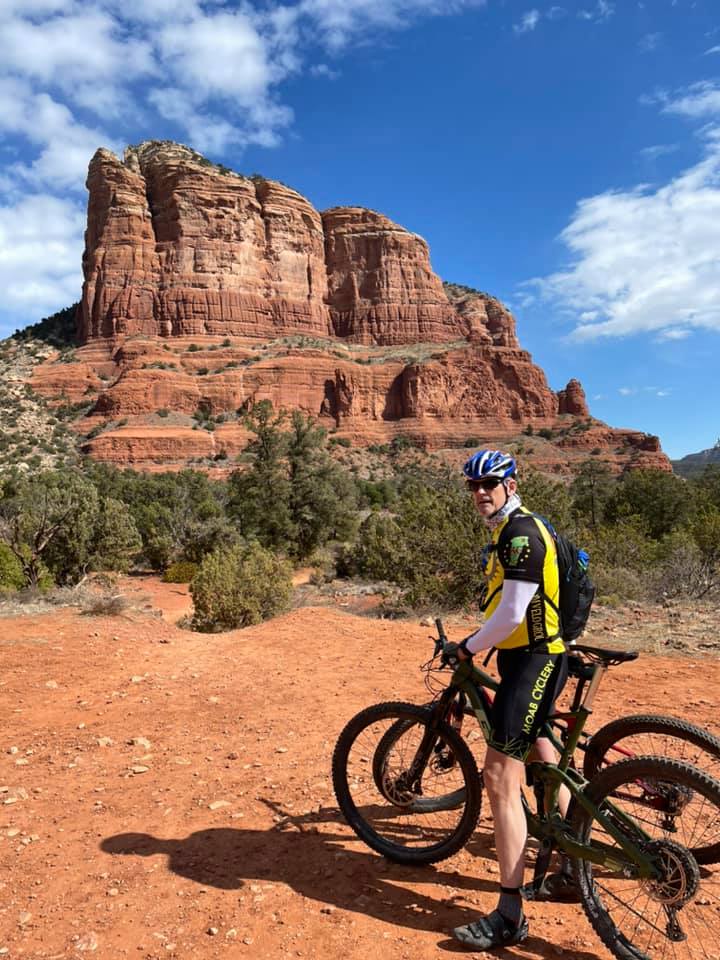 ---
February 8, 2021
Awesome awesome awesome! So very proud to be part of the NICA League! Click Here
---
February 4, 2021
Some of b.i.k.e.-Syracuse NICA-NY mountain bike racers/riders practicing at Aspen Gym. Our riders wear heart monitors and track their heart rates during intervals. We try to make training as fun as possible....so much so that the two coaches can not get "Baby Shark" our of their heads!!! Ride On!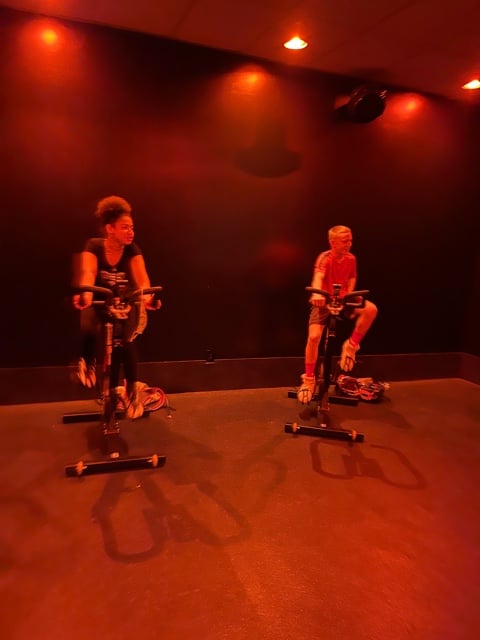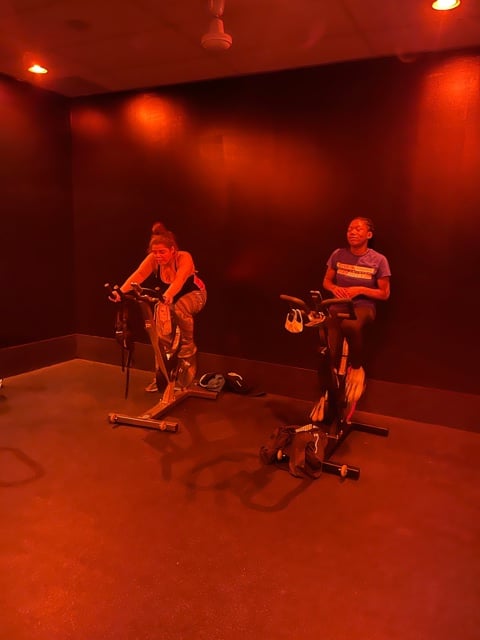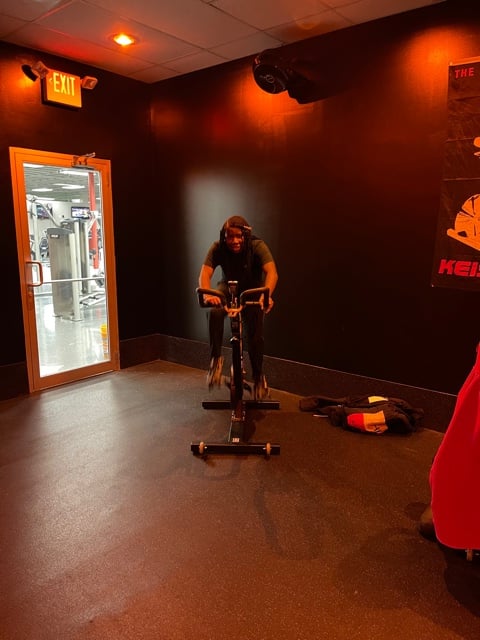 ---
January 18, 2021
Been riding with this young man since he was 8 years old. Now he is coming back to help coach this year's bike-Syracuse NICA race team.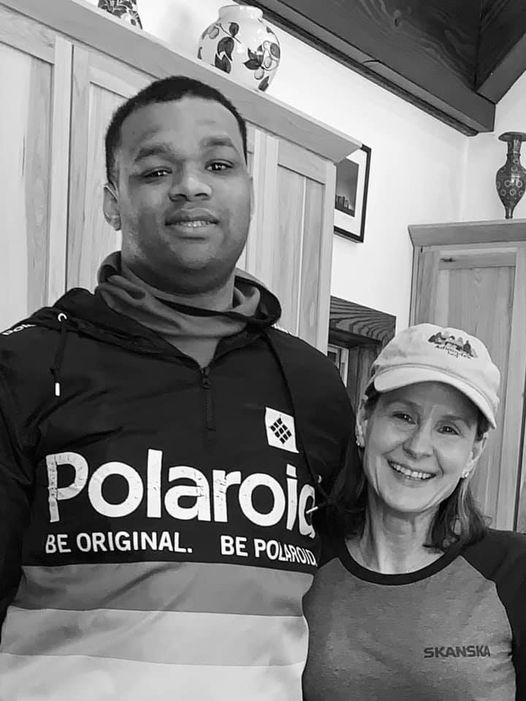 ---
January 14, 2021
Practice begins next week for the b.i.k.e.-Syracuse NY NICA Race Team! Here is hoping we have a great 2021 Race Season! Ride On!
---
December 28, 2020
Hope everyone had a wonderful Holiday and here is to a great 2021 - and a great 2021 race season for NICA - NY! Practice will begin in January.
---
November 26, 2020
From all of us at bike-Syracuse - thank you for your support and Happy Thanksgiving!
---
September 15, 2020
Sadly NICA's mountain bike race season is officially canceled for the 2020 season. We are heart broken....However - we are teaming with another racing team to host a ride and BBQ -- albeit a small, safe gathering following social distancing rules. Ride On!
---
September 4, 2020
Some of our bike-Syracuse riders attending a Team dinner. We all did hills yesterday for interval training and earned a team dinner!
Next practice Sunday! We are still here! We just hope the race is!!!!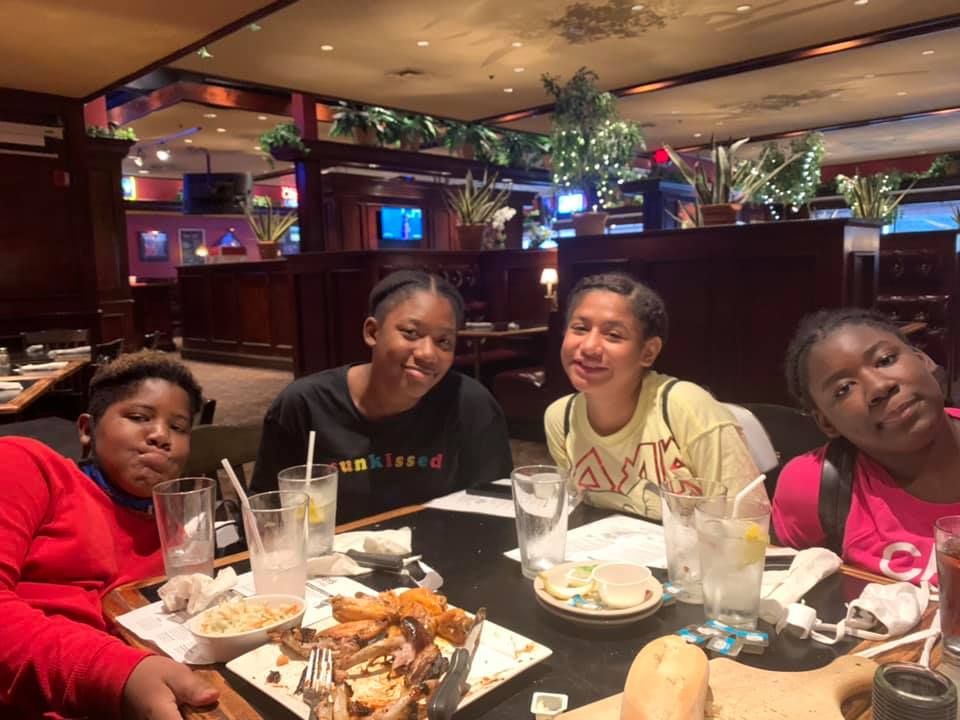 ---
August 18, 2020
Monday practice in Split Rock with some of the bike-Syracuse NY NICA riders and Coach Christopher Ummer. It was Kobe's (a 9th grader this year) - second time off road on a mountain bike and after learning some basic skills he was tackling some low drops and rocky climbs. At the end of the night Kobe turned to me and said "I think I rode pretty good tonight. I think I had a good night." That was said with a big smile. Great night and yes - Kobe you rocked Split Rock! Next practice Wednesday night!
---
August 17, 2020
Race is still on with NICA-NY the end of September and bike-Syracuse had a training ride in Split Rock working in skills and endurance. Coach Chris was there to help. We were stopped my one person walking asking if we were a riding group. After describing the race Team - they loved the idea of kids on mountain bikes and took our contact info and they would contact us after talking to their son about joining. We also are using Strava with parents permission to monitor runs and rides and share info. The kids are excited to be able to see their progress. We will post pictures later. Stay turned. Good day!
---
August 7, 2020
Mountain biking in the ADK - climbed the ridge - "All In" trail in Wilmington - elevation gain - 1180 feet in 2 mile climb.
Chip Nippert rocked the climb - awesome downhill on the other side!
Saw Syracuse Bike Shop's truck was there at the trailhead - great day mountain biking in the ADK.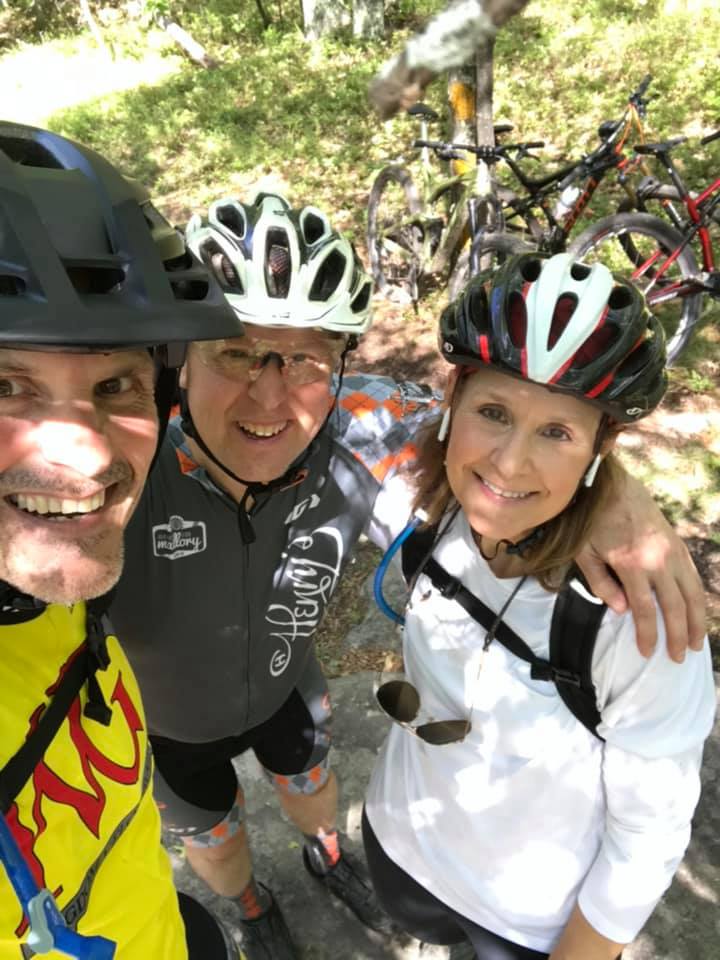 ---
July 29, 2020
NICA - NY race schedule has been posted for the Fall race season. Keeping fingers crossed we will have a race season:
Race Schedule:
RACE ONE: September 27th Oneonta HS - Teams from the Northern part of NY will only be invited
RACE TWO: October 4th Lippman Park - Teams from the Southern part of NY will be invited
RACE THREE- October 11th Venue TBA Teams from the Northern part of NY will only be invited
RACE FOUR- October 18th Venue TBA Teams from the Southern part of NY will only be invited
Scoring: We will only be scoring riders for the day at each race. Top five medals will be awarded to each category.
NO over-all team or over-all rider awards will be recognized this year
---
July 25, 2020
"All In" Hardy Road MB Park - Wilmington NY - Lake Placid - huge climb for an incredible downhill.
Recommend full suspension - and courage! Awesome trail!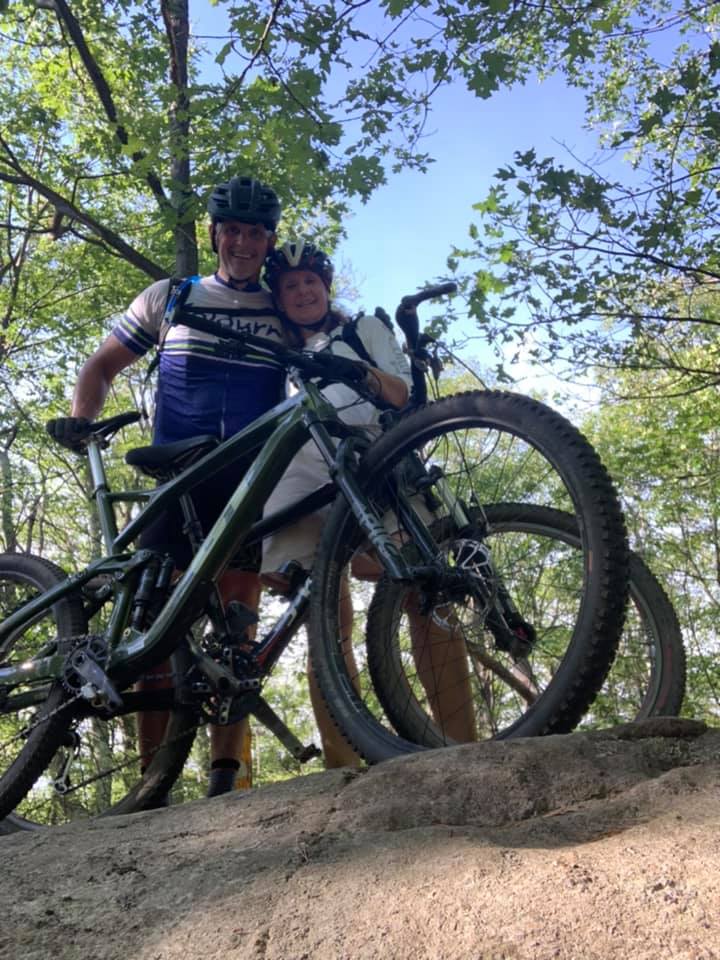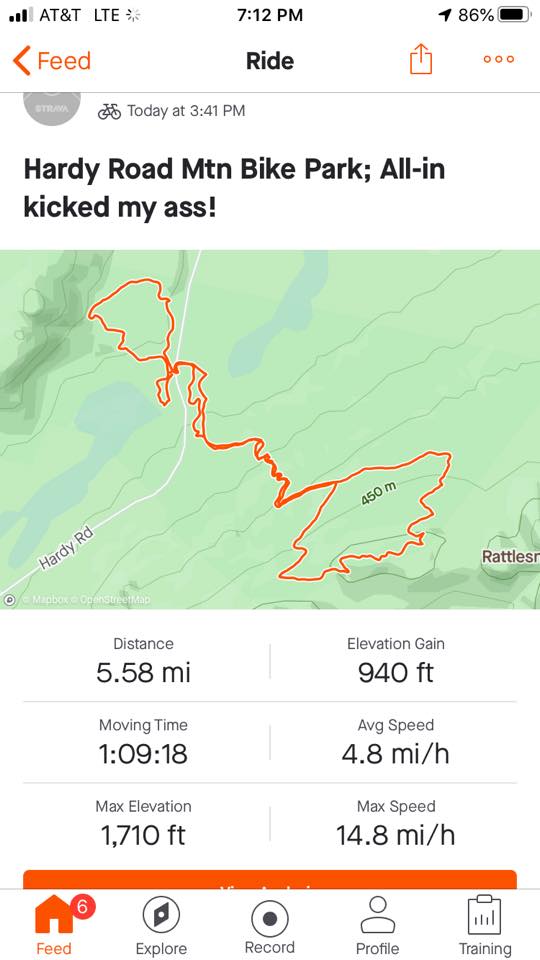 ---
July 19, 2020
Looking for some new trails to Mountain bike? Approximately 1 hour north of Syracuse. Great beginner and intermediate trails. Beautiful .....Pinckney State Forest. "All Trails" app takes you to the parking area. Park where indicated here. Have fun!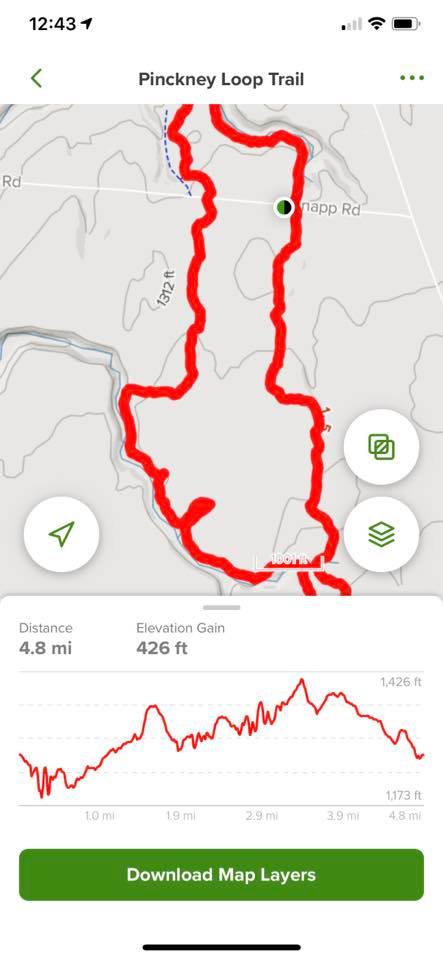 ---
July 18, 2020
"So perfect is the safety bicycle, in fact, that if the rider had sufficient skill not to interfere with its action, it will travel straight ahead and keep its own balance."
-E.J. Prindle
"Get a bicycle. You will not regret it, if you live"
- Mark Twain
---
July 14, 2020
"Let me tell you what I think of bicycling. I think it has done more to emancipate women than anything else in the world. It gives women a feeling of freedom and self-reliance. I stand and rejoice every time I see a woman ride by on a wheel...the picture of free, untrammeled womanhood."
-Susan B. Anthony
"As a kid I had a dream. I wanted to own my own bicycle. When I got the bike I must have been the happiest boy in Liverpool, maybe the world. I lived for that bike. Most kids left their bike in the backyard at night. Not me. I insisted on taking mine indoors and the first night I even kept it in my bed."
-John Lennon
---
July 13, 2020
South Dakota - bicycle labyrinth.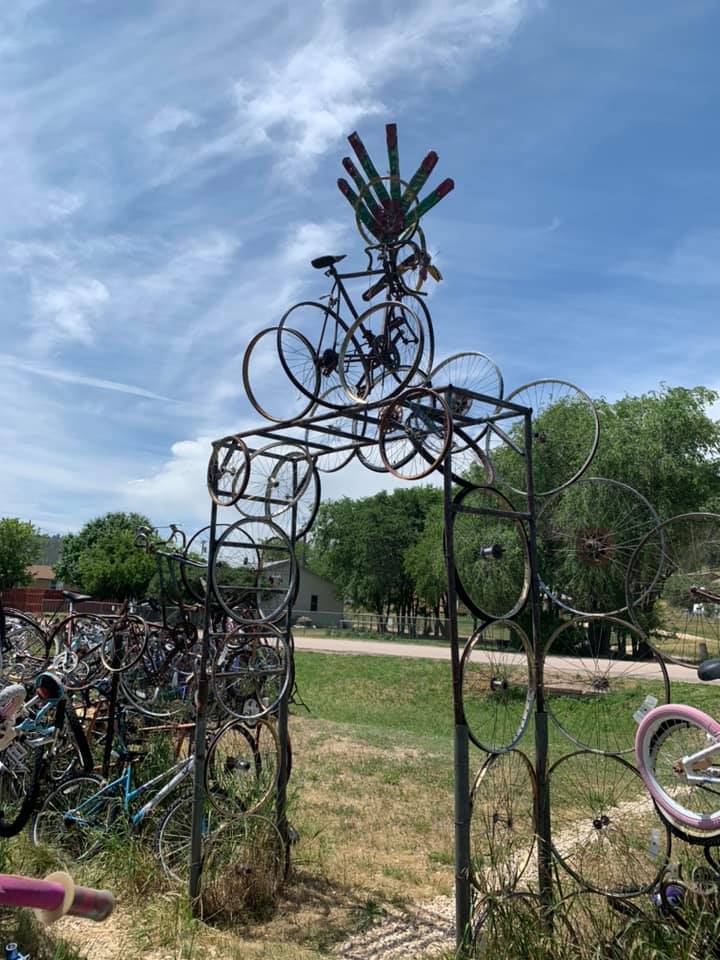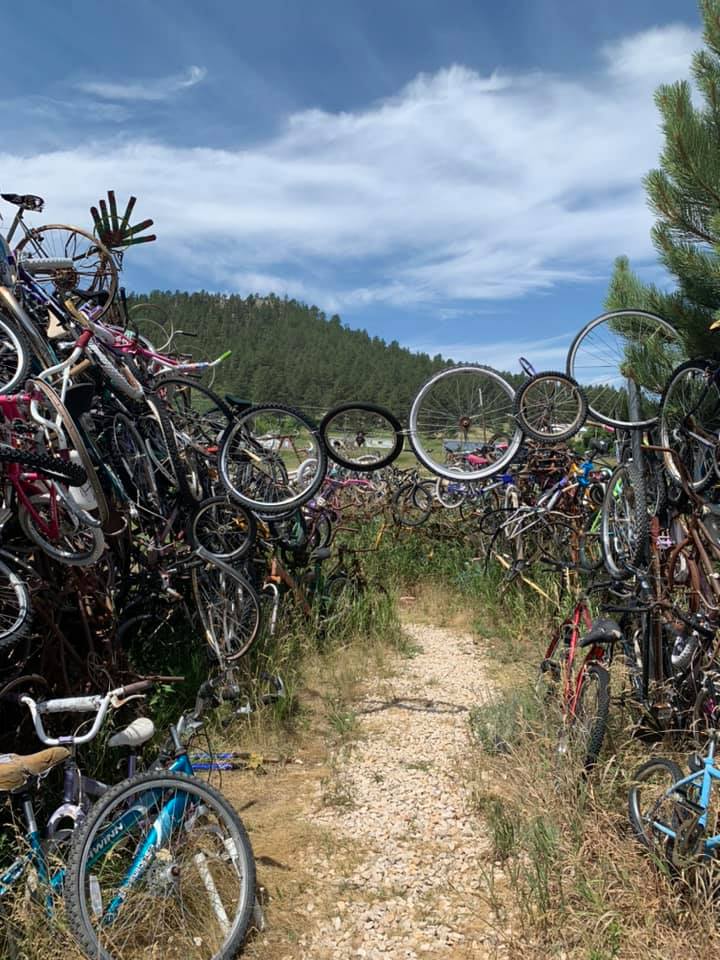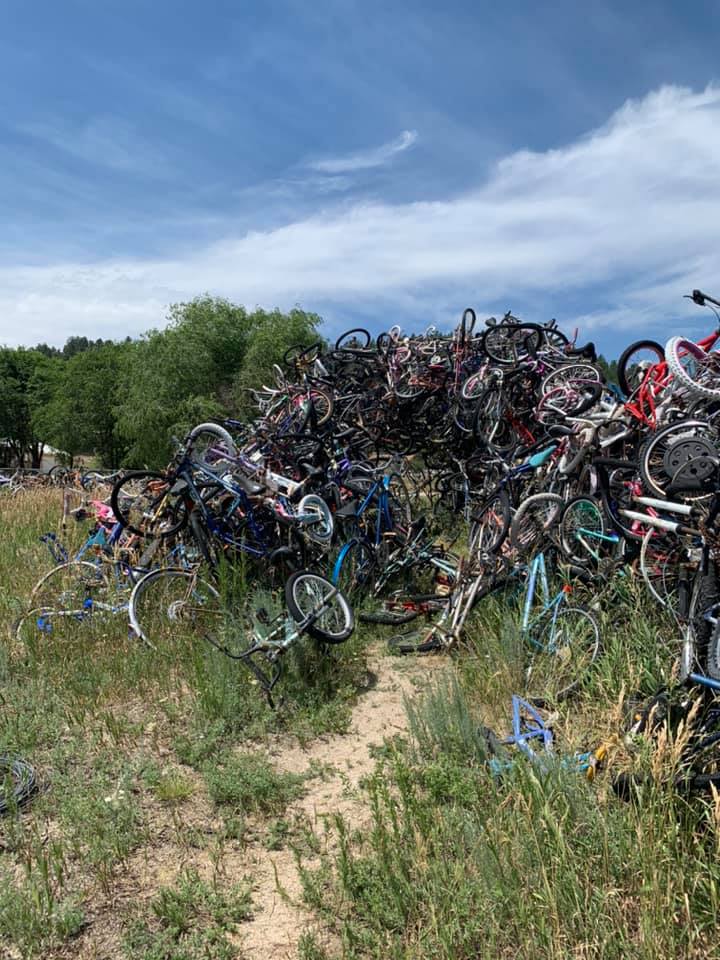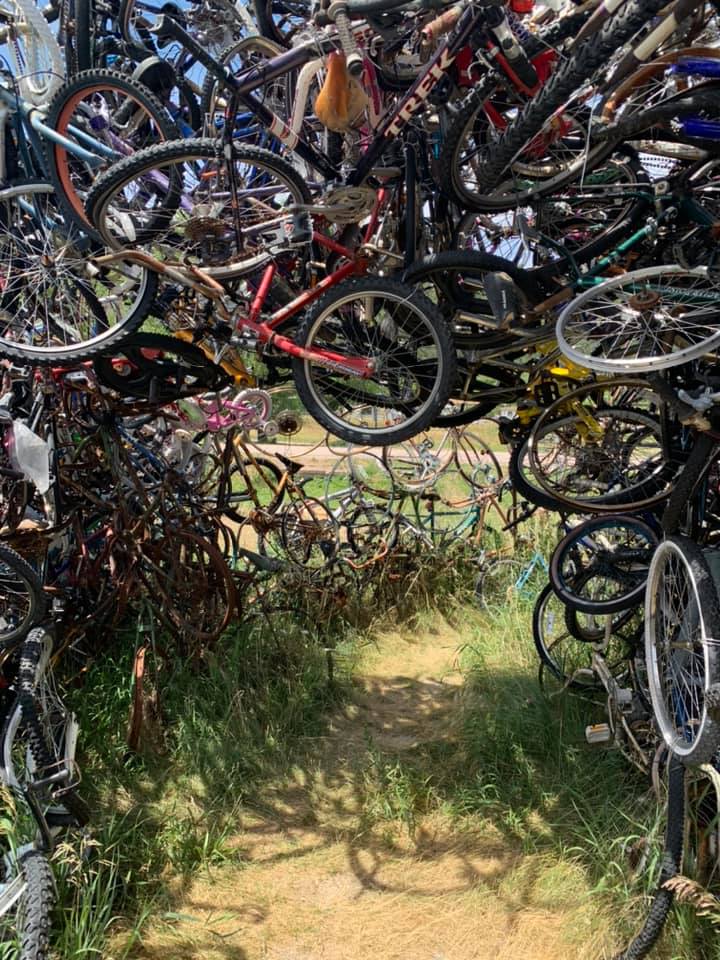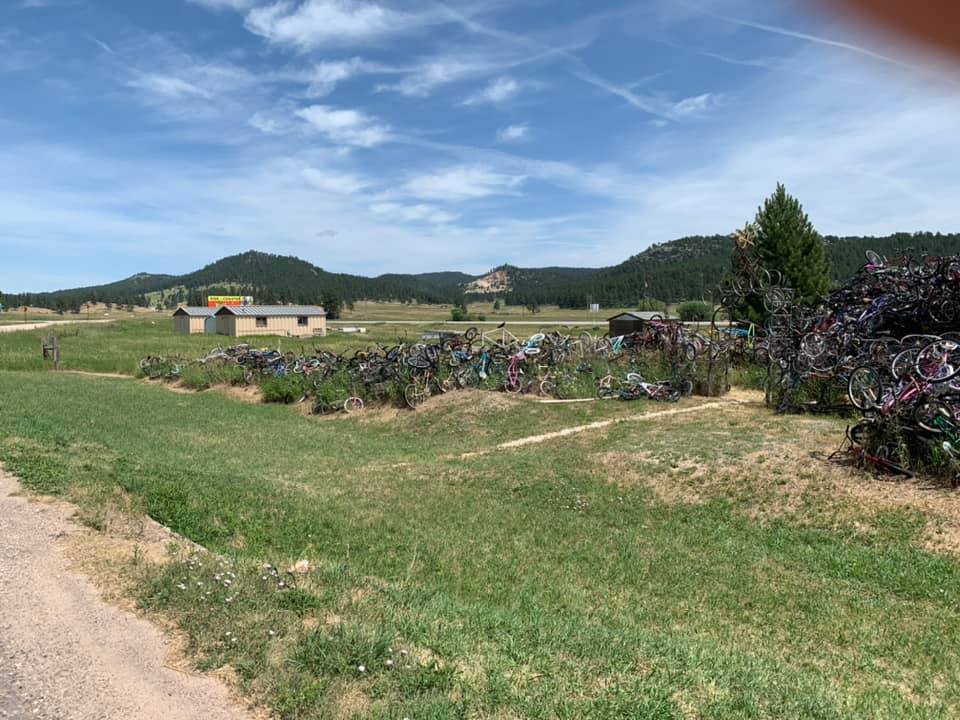 ---
July 9, 2020
Missing the bike-Syracuse NICA race team. We will be practicing next week if all goes well. In the meantime social distancing.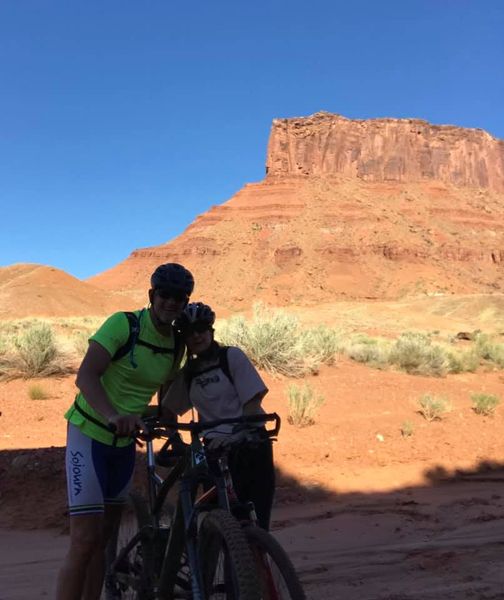 ---
July 6, 2020
I met the NICA Colorado Coach today for the Highlander team mountain biking in Colorado Springs today - Awesome! He was coaching 5-8 year olds on mountain bikes. So very cool!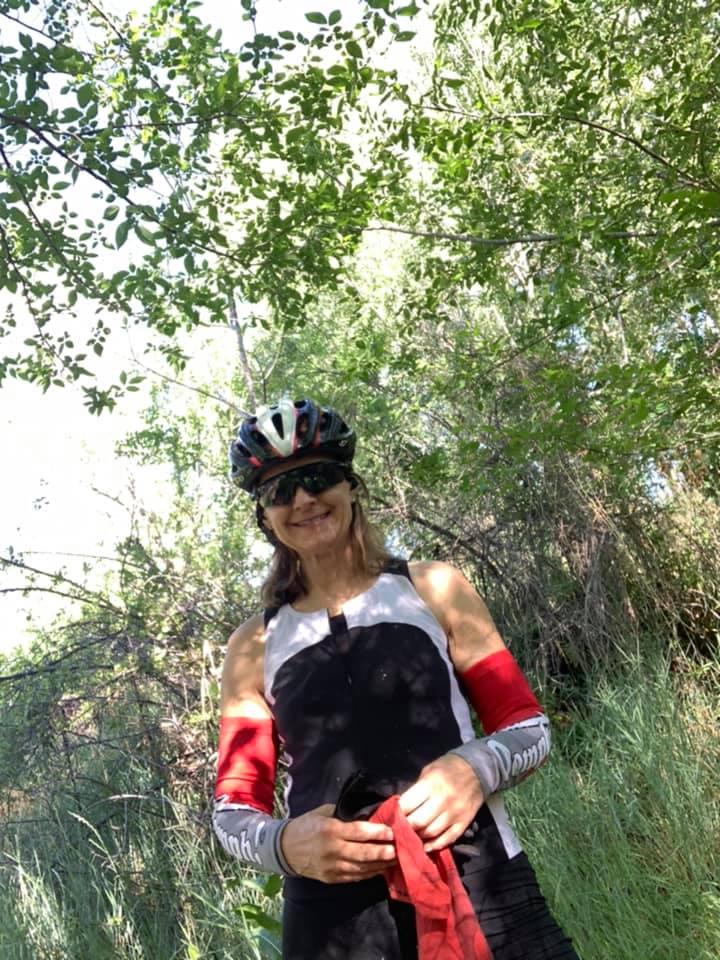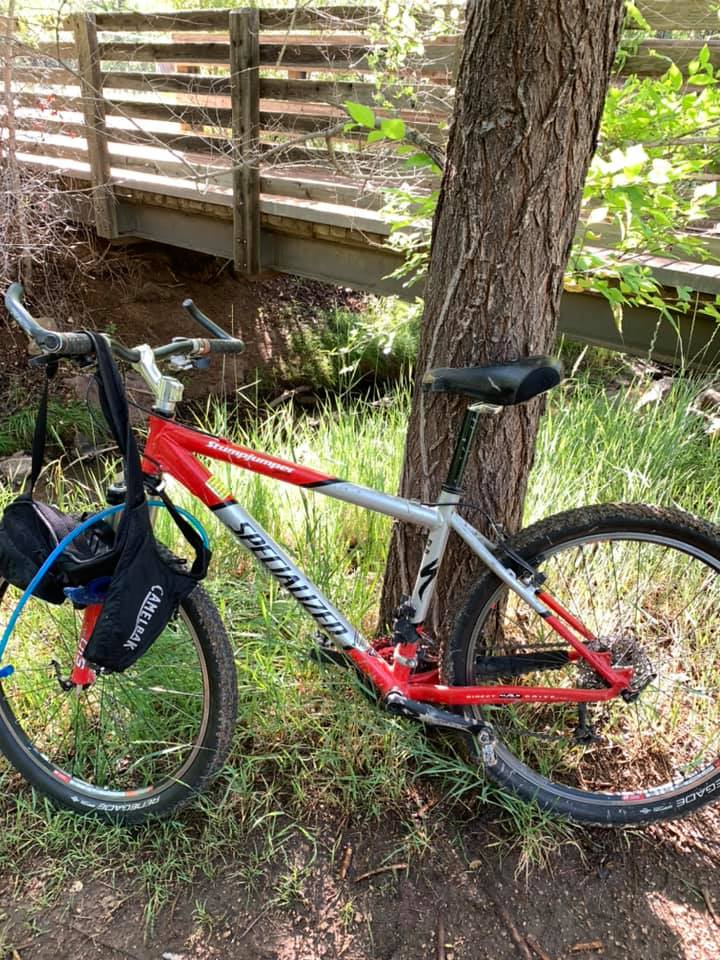 ---
July 4, 2020
Uphill and no air.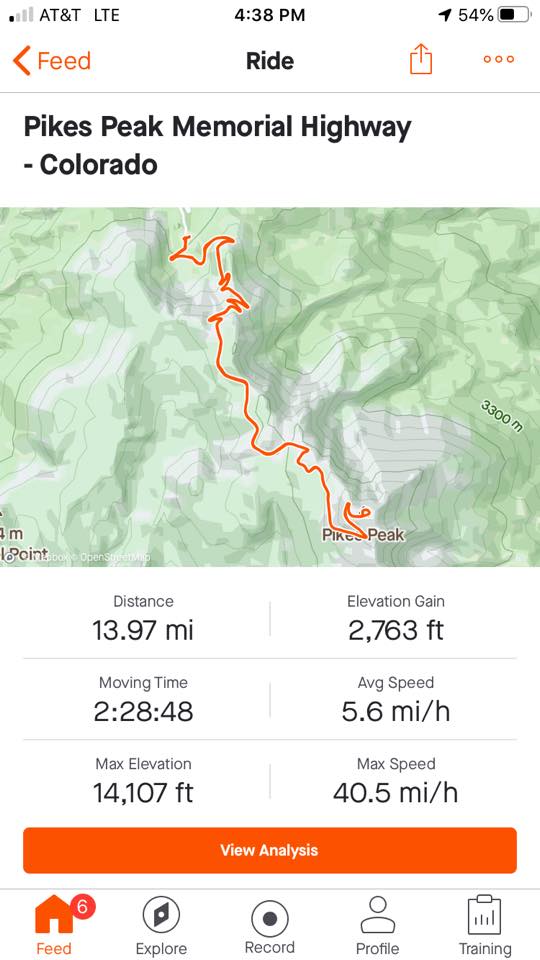 ---
Pike's Peak in Colorado - extreme riding! Waiting on our NICA-NY season!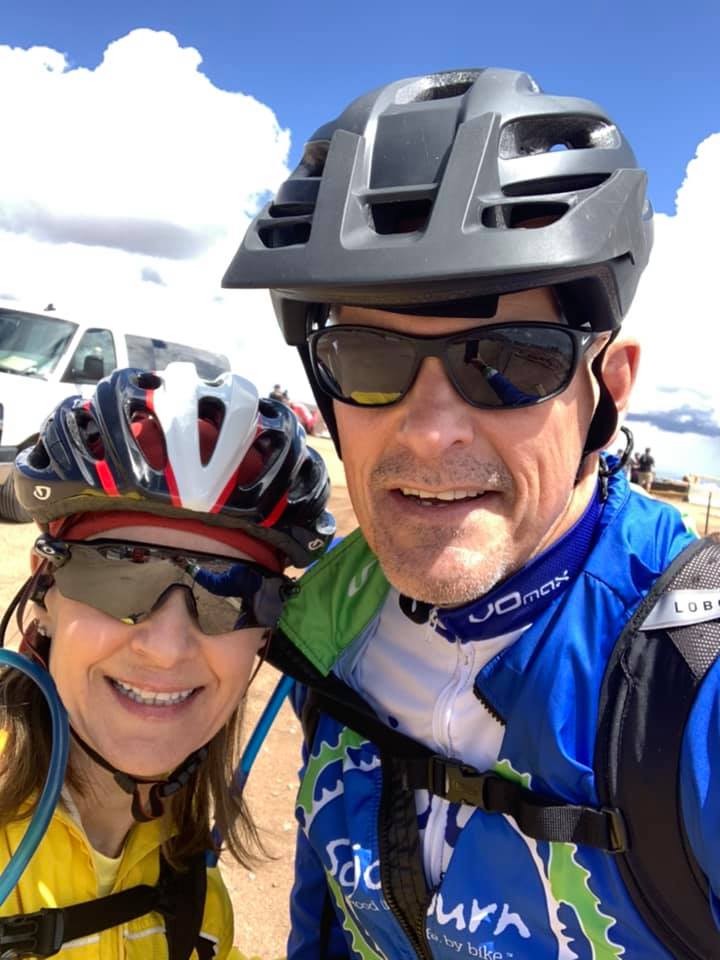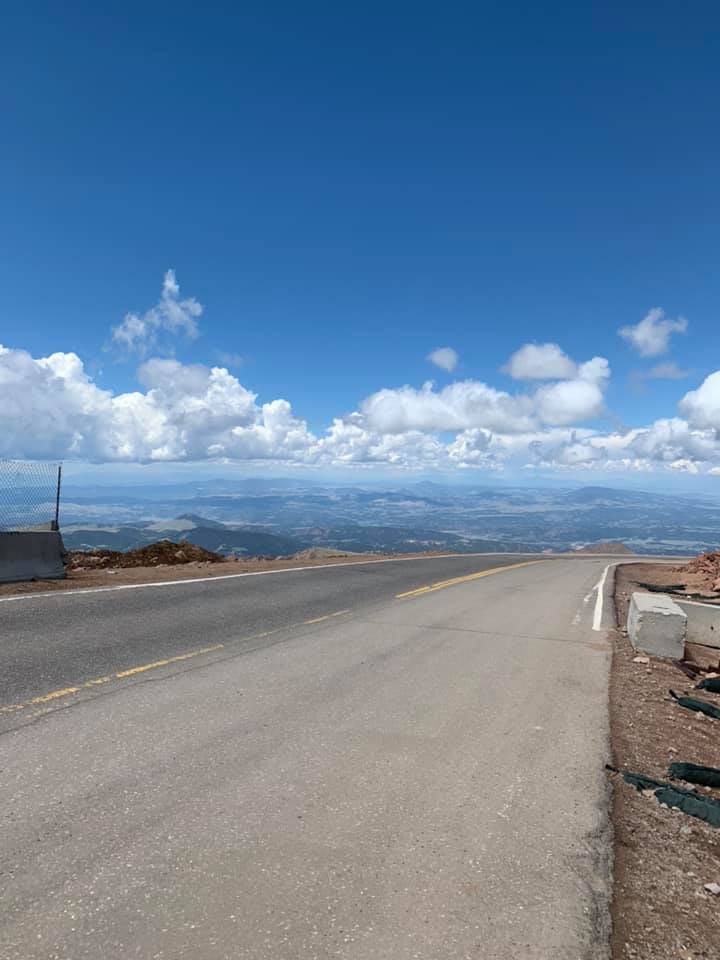 ---
June 29, 2020
FINALLY! On our bikes. Refreshed some core skills - especially valuable to our new rider- Kobe. Discussed the need to cross train with some running to catch up on our endurance. We enjoyed the night - finally on our bikes and social distancing. The bike-Syracuse riders rocked the hill at Split Rock!

Thanks to Coach Chris (mountain bike enthusiast and head track coach for SCAD- Atlanta) for all his help. The kids (and I) really liked having his help! Great great night!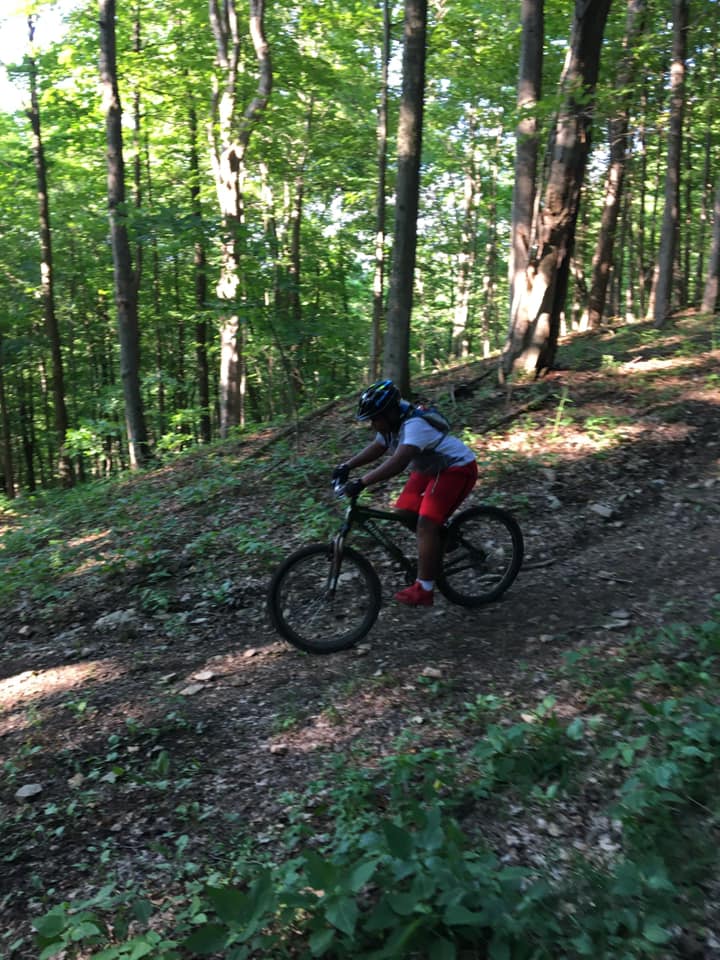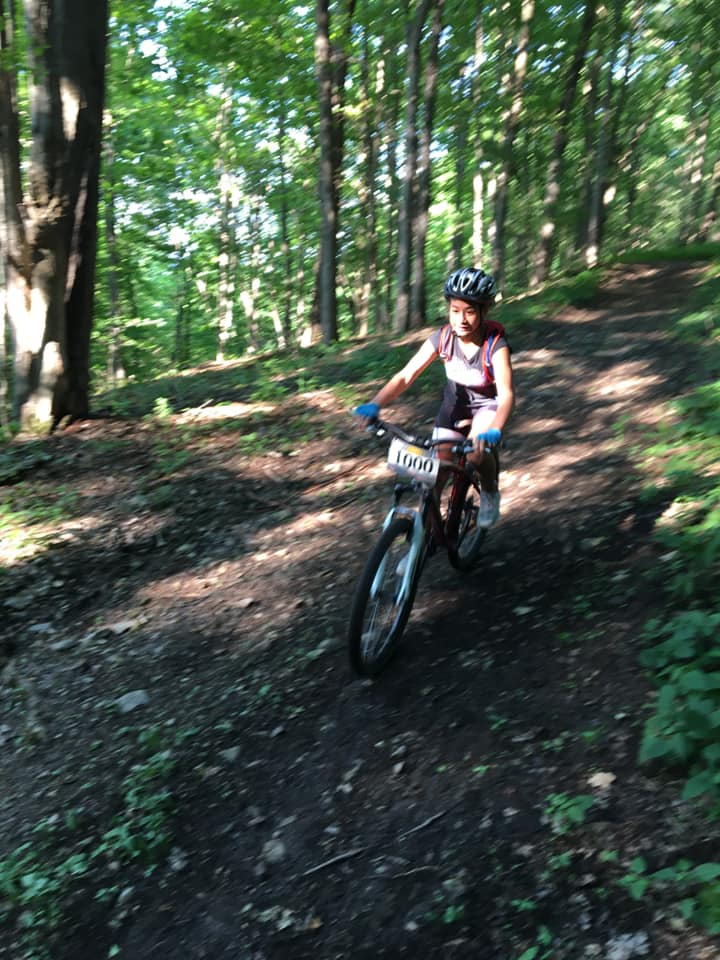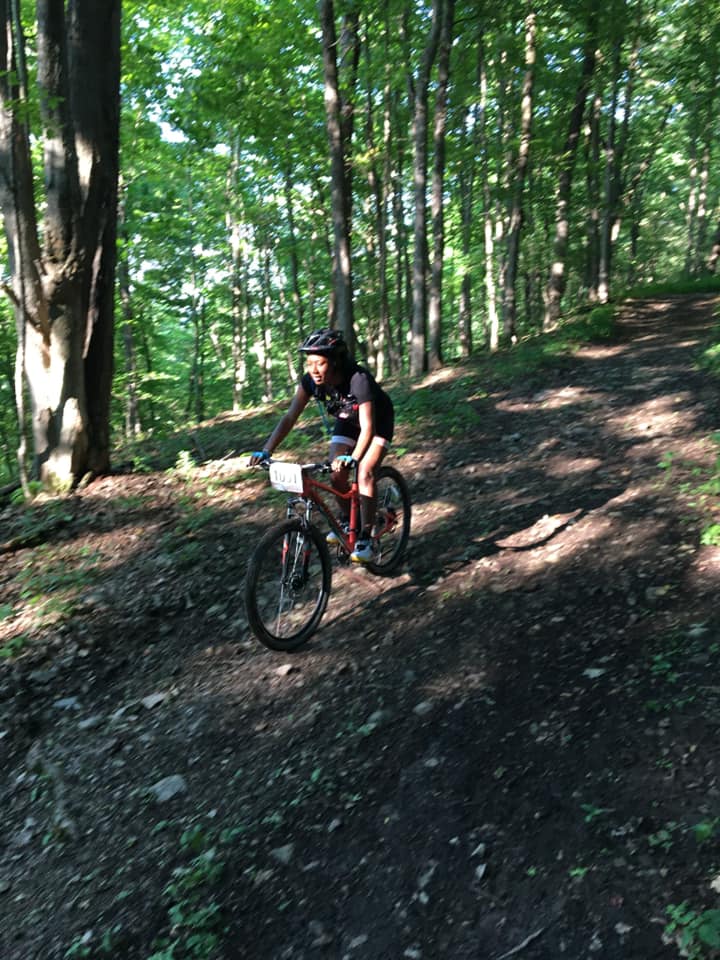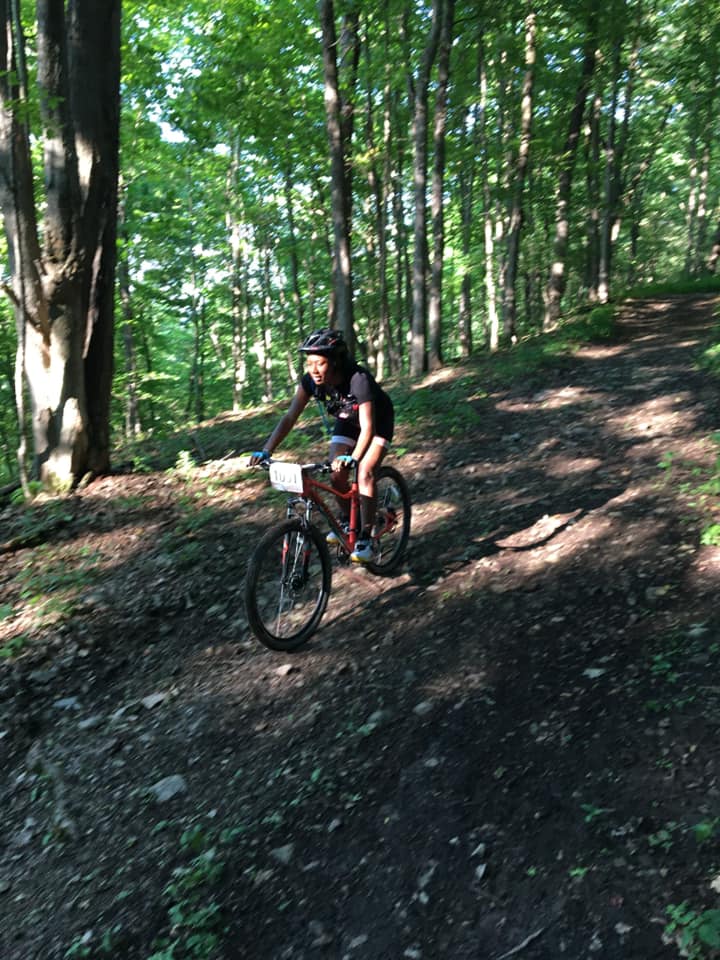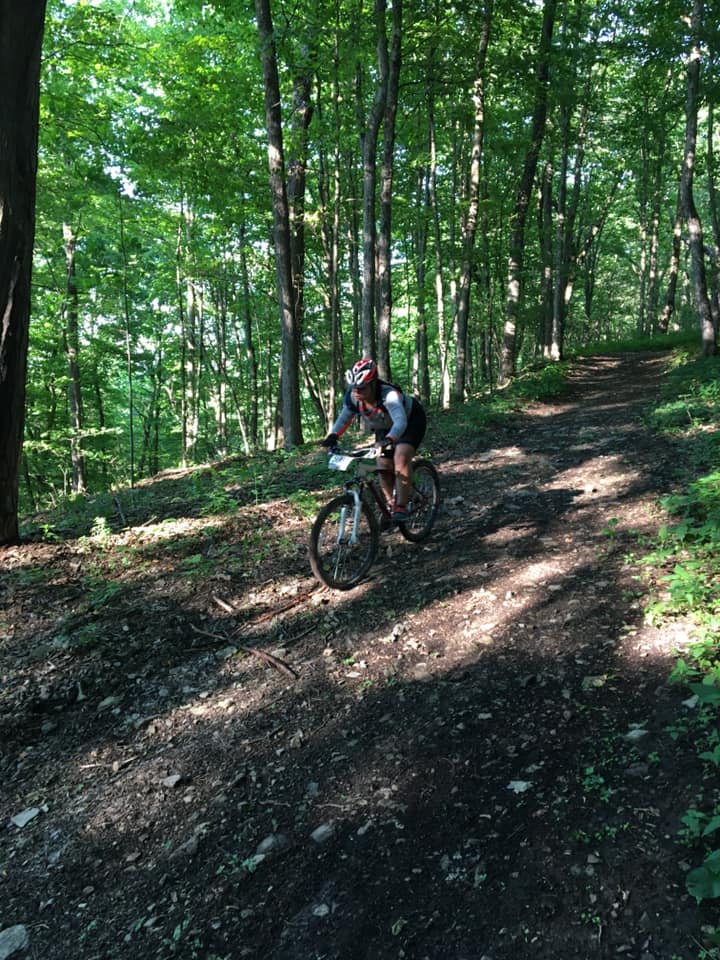 ---
June 26, 2020
"What would my Mom think of that?"

In a race, athlete Abel Mutai representing Kenya, was just a few feet from the finish line, but he was confused with the signage & stopped thinking he had completed the race. The Spanish athlete, Ivan Fernandez, was right behind him, realizing what was happening. He started shouting at the Kenyan for him to continue running, but Mutai didn't know Spanish. Then Ivan F. pushed him to victory.

A journalist asked Ivan, "Why did you do that?"

Ivan replied, "My dream is that someday we can have a kind of community life". The journalist insisted, "But why did you let the Kenyan win?"

Ivan replied, "I didn't let him win, he was going to win". The journalist insisted again, "But you could have won!"

Ivan looked at him & replied, "But what would be the merit of my victory? What would be the honour of that medal? What would my Mom think of that?"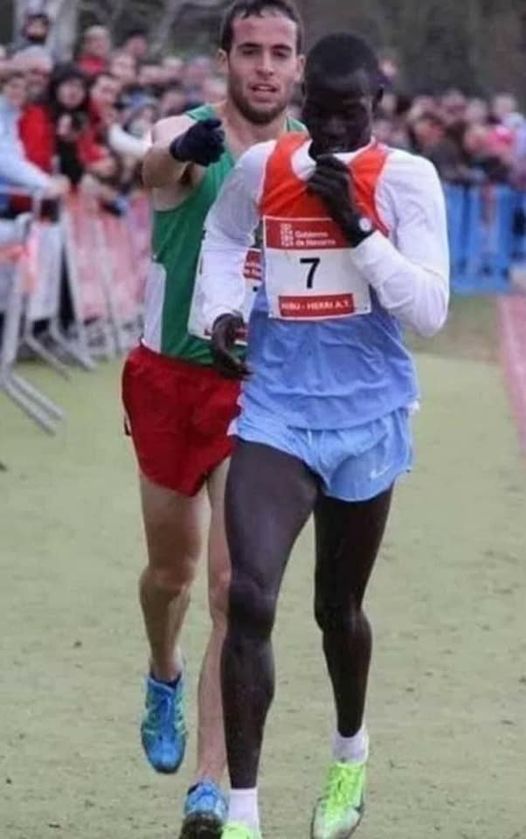 Values are transmitted from generation to generation. What values are we teaching our children?
Let us not teach our kids the wrong ways & means to WIN.
---
June 3, 2020
As a biker - I want to post something about this man to our Facebook page - this man - this GREAT MAN - is the strongest sprinter/biker to ever live. All things considered equal without doping - this man is/was stronger than Lance Armstrong. I bet most of you had/have no idea who he is. Why is that???? What is more tragic is that Marshall "Major" Taylor died in poverty. If you read his life story - sadly, discrimination and jealousy were the reasons for his decline and ultimate poverty. A great man and role model who did not deserve this treatment.

Our Syracuse NICA NY MTB (b.i.k.e.-Syracuse) racing team proudly displays his foundation logo on our jerseys.

Taylor won the sprint event at the 1899 world track championships to become the first African American to achieve the level of cycling world champion and the second black athlete to win a world championship in any sport (Canadian boxer George Dixon, 1892). He was also a national sprint champion in 1899 and 1900. He raced in the U.S., Europe and Australasia between 1901 and 1904, beating the world's best riders. After a ​2 1⁄2-year hiatus, he made a brief return in 1907, before retiring aged 32 to his home in Worcester in 1910.

Towards the end of his life Taylor faced severe financial difficulties, which forced him into poverty. He spent the final two years of his life in Chicago, Illinois, where he died of a heart attack in 1932. Throughout his career he challenged the racial prejudice he encountered on and off the track and became a pioneering role model for other athletes facing racial discrimination. Several cycling clubs, trails, and events in the U.S. have been named in his honor, as well as the Major Taylor Velodrome in Indianapolis and Major Taylor Boulevard in Worcester. Other tributes include memorials and historic markers in Worcester, Indianapolis, and at his gravesite in Chicago. He has also been memorialized in film, music and fashion.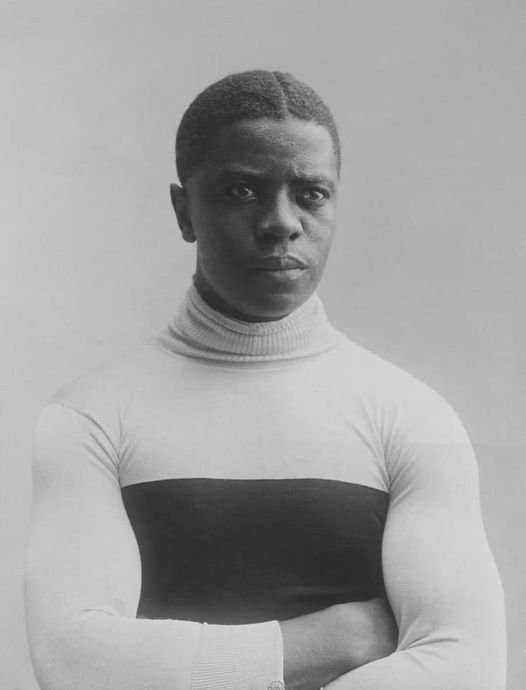 ---
May 29, 2020
Should be able to start practicing on 7/1/2020 for our first NICA-NY mountain bike race on August 30th.....Can wait! Riders: Be sure you are all out riding and if not riding - running! Stay in Shape and be ready for practice! More on the schedule for practice to come. Stay tuned!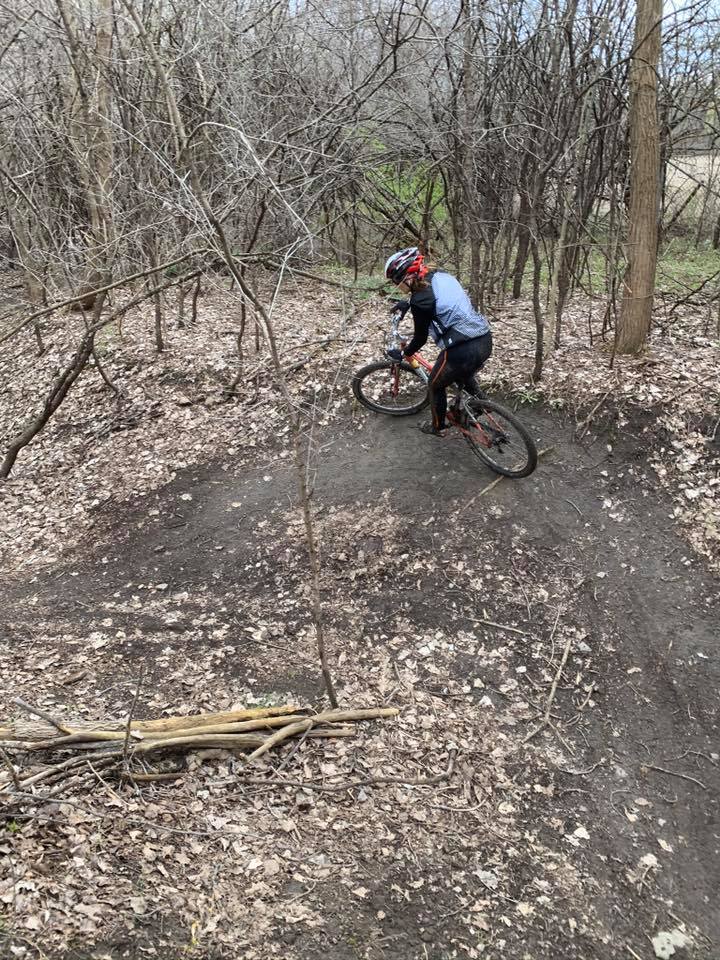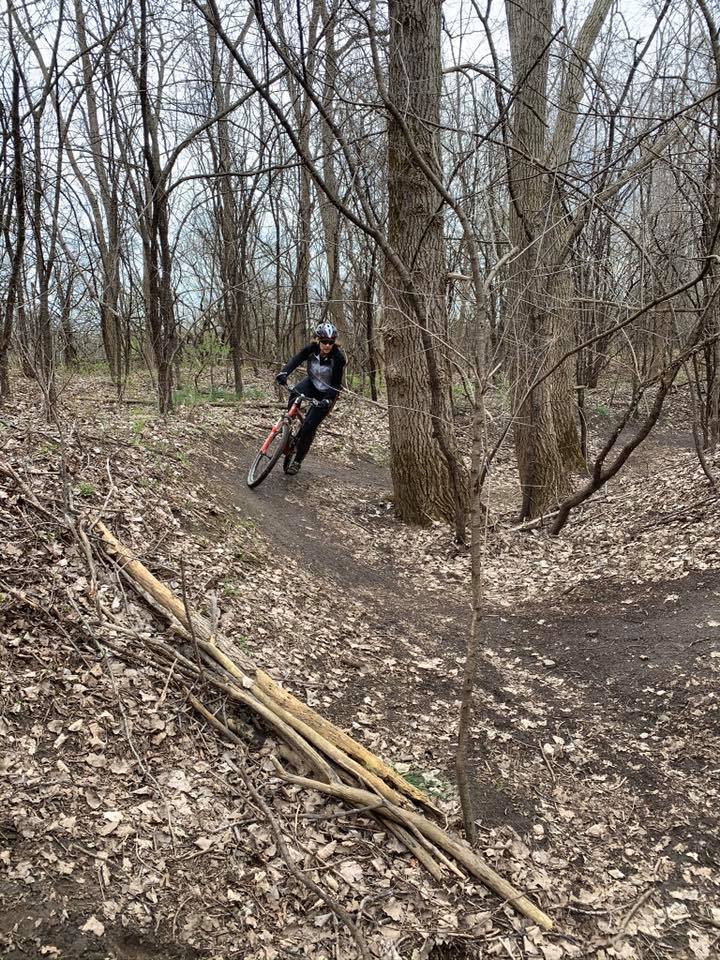 ---
May 12, 2020
Hey Team Members: Please think about entering art work for NICA Grit - (Girls Riding Together).
You never know! Your art work may be chosen! Click Here
---
May 4, 2020
It's official. NICA-NY has issued the fall race season schedule. Things are beginning to look up! Practice will begin as soon as we are cleared to be able to do so. Ride On! To our riders: Get out and run! Stay active to be ready for practice! Click Here
---
April 28, 2020
Missing my bike-Syracuse riders. Can't wait to get back coaching and riding with them!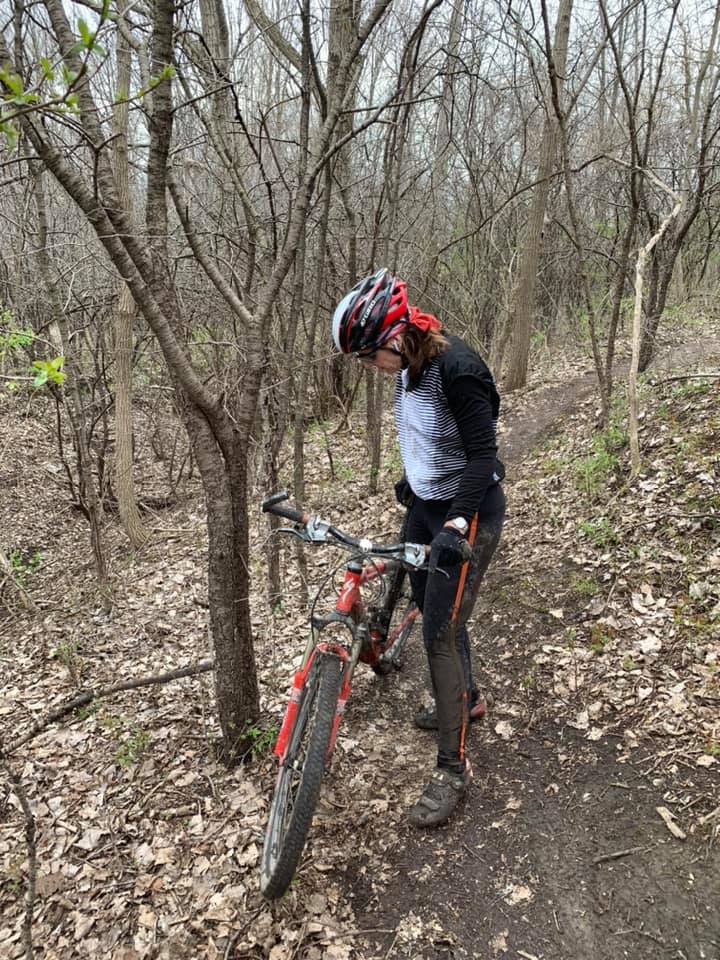 ---
March 31, 2020
Hoping all our riders/athletes are staying safe and well practicing social distancing while staying in riding shape enjoying the outdoors. Missing riding and coaching our team but enjoying the outdoors - staying safe and healthy practicing social distancing. Stay safe and healthy everyone!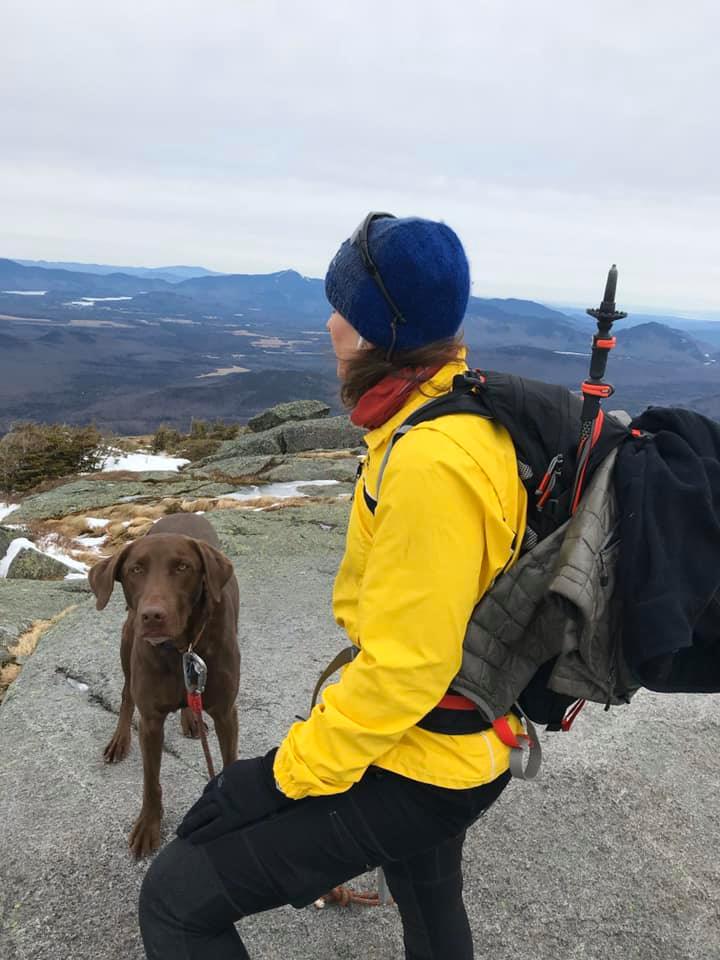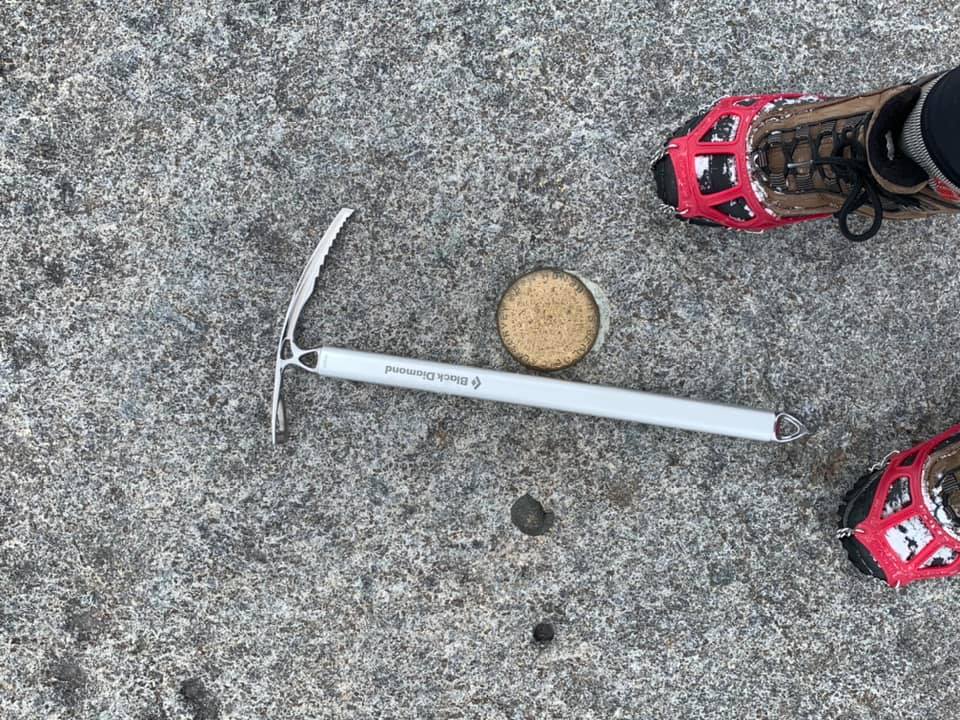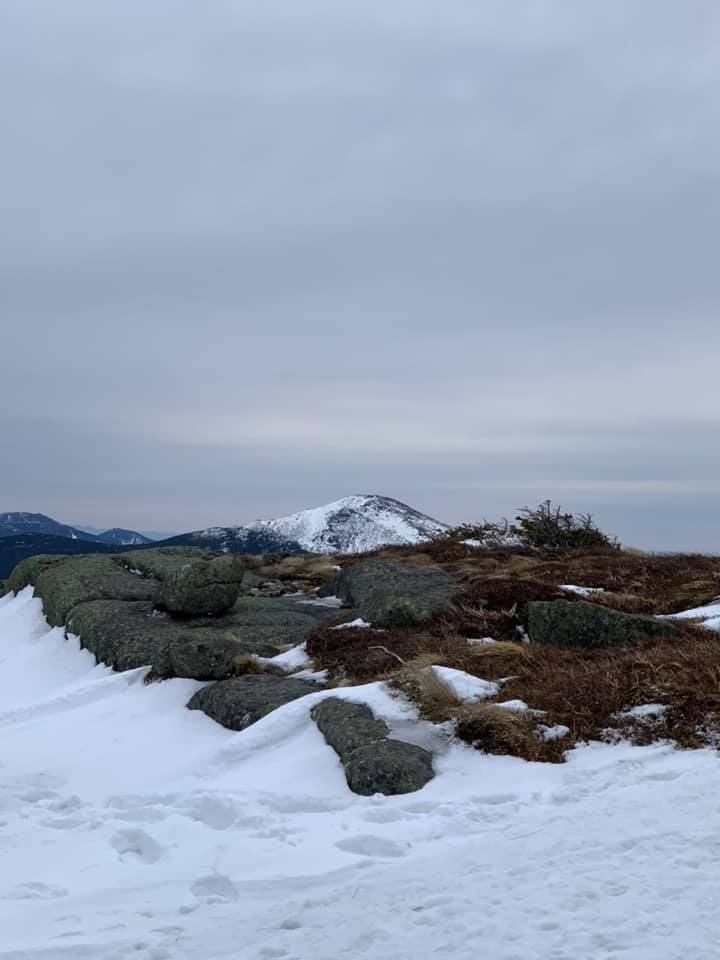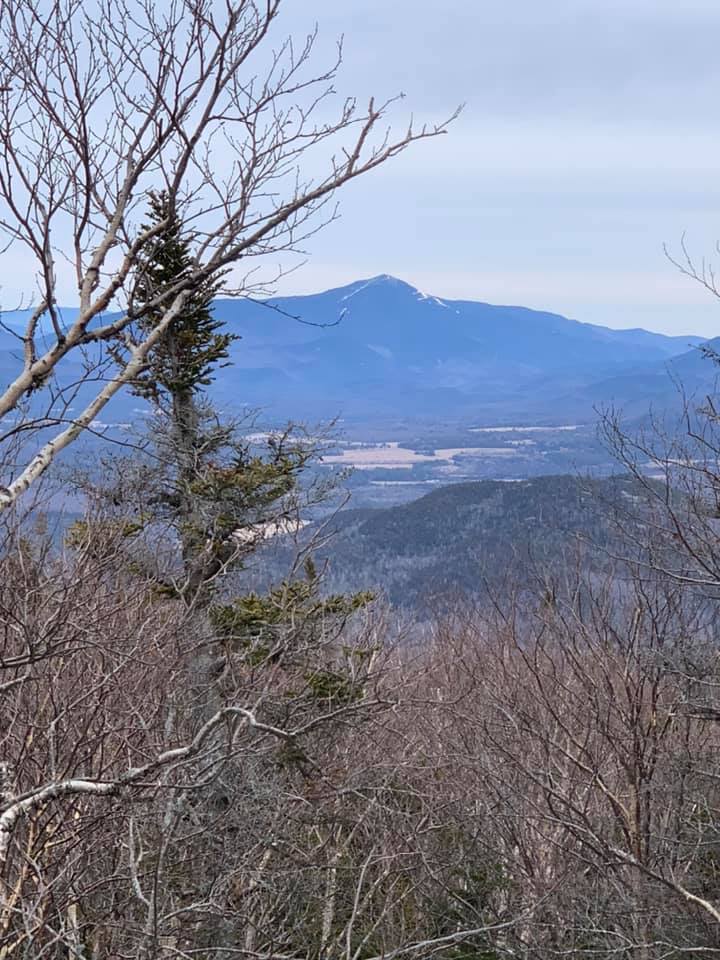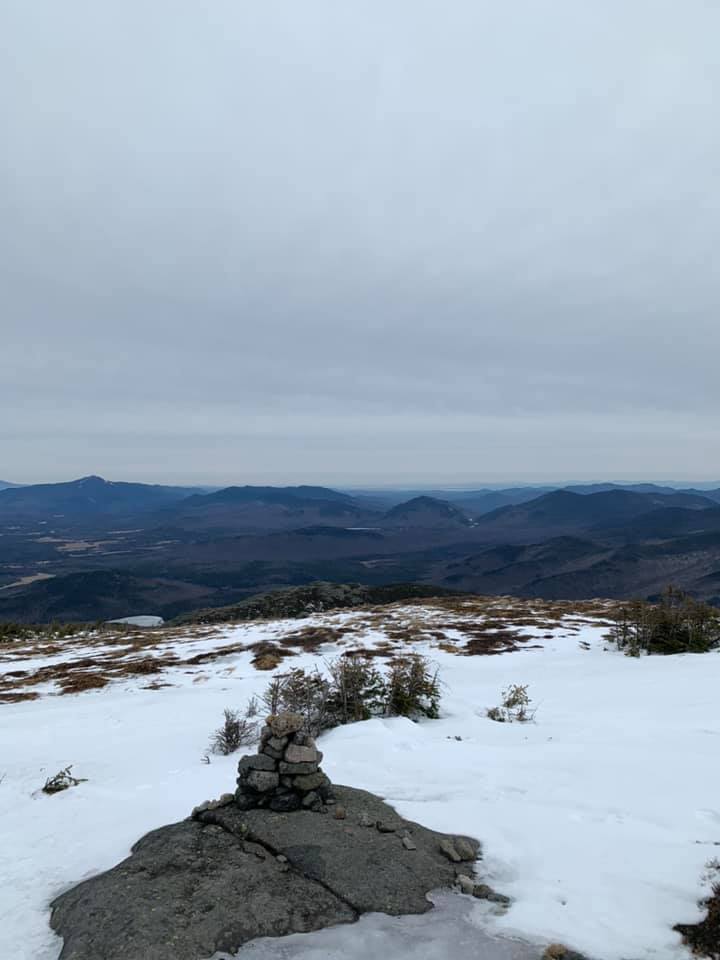 ---
March 29, 2020
What some of the bike-Syracuse middle school riders/athletes have to say about NICA-NY Race League - we are sad about the spring race season and we are keeping our fingers crossed that we still have a race season - however - staying safe during this pandemic and practicing social distancing is most important and critical to keep everyone safe. We wish everyone health during this stressful time.

Why we like NICA and mountain biking:

My name is Kyliegh what i like about mountain biking is how much fun i can have with my team during practice and the races something else is being able to do go to new places and experienceing new things with them. Something i like about racing is how supportive some of the other teams are. To stay in shape before the races i am running out side and riding my bike.

My name is Samaria and what I like about mountain biking is how fun and interesting it is like I can have a whole conversation with one of my teammates and it'll have some fun ness to it and it'd be interesting conversation. The racing is fun and Mysterious because you never no what's on the trail so finding out what on the trail is really cool and finishing the races is like you don't have to worry about it anymore. I also like going to new places and knowing the history that's there. And I'm riding my bike and doing obstacle Courses at the park and running.

My name is Karielle and it's my second year of mountain biking the thing I love about biking is being with family and friends and also more experience with riding a bike and I what I like about riding is meeting more people around the world to stay In shape I am playing lots of energy consuming games.

I am Kobe what I like about the this club is that it's fun, challenge you to push your self far from your beyond. It all about team work makes the dream work.you get to know different thing and different places and the best thing is this is my first years of mountain biking so I am going to have a lot of fun plus the club build you immune system and your body's energy and strength.

I'm Natalia I have been racing for 3 years now . Bike club means that I have a place where I can release all that stress from my daily life. I enjoy bikelub because I can ride laugh and have fun with my friends and family I might not be able to do that with all the time. To stay fit so that I am racing ready I am running and riding a stationary bike.
---
March 18, 2020
Sadly our NICA-NY race season may be canceled. Stay tuned. We are all feeling this virus. Our prayers go out to those sickened by the virus. We will continue to ride our mountain bikes - great way to relieve stress - but not in a formal practice kind of way right now honoring the "no formal practice" request of NICA.
---
March 7, 2020
Great strength practice today. The weather is changing and we should be able to get out on our bikes! Finally!! Coach Peter ran in the Shamrock Run today and took the opportunity to talk to our riders about preparation for racing. Great overall workout! Great day!
March 4, 2020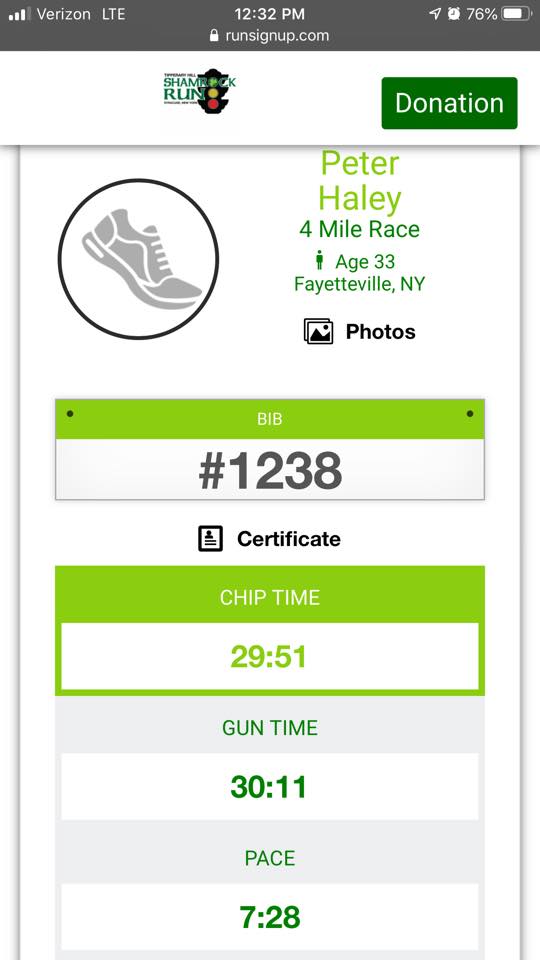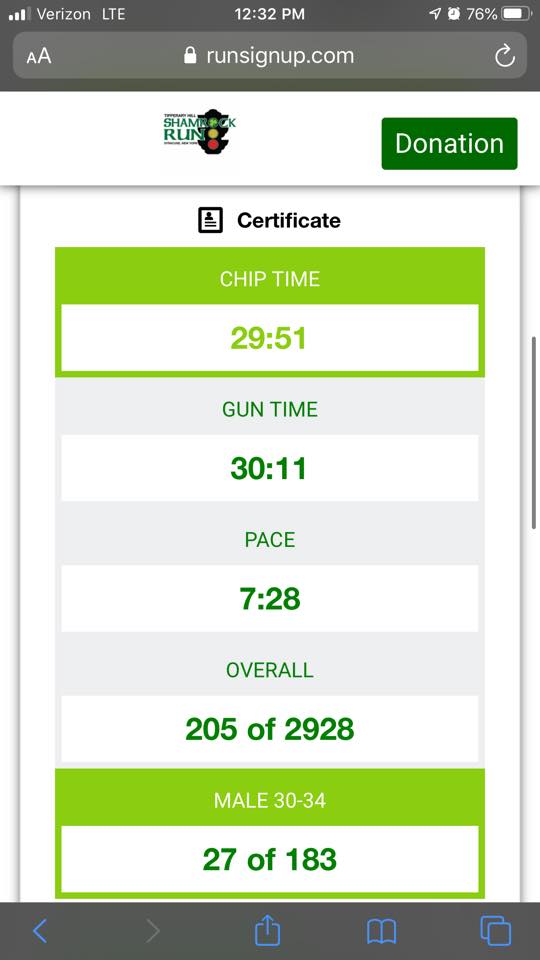 First Race is April 19th - working hard to be ready. Having fun! These Riders Rock!!
---
February 29, 2020
Awesome early morning Saturday strength training workout. Working hard for mountain biking race season coming up - starting in April! Today planks and sleds and forearms!
---
Team dinner. Opportunity to talk about nutrition sprinkled with fun!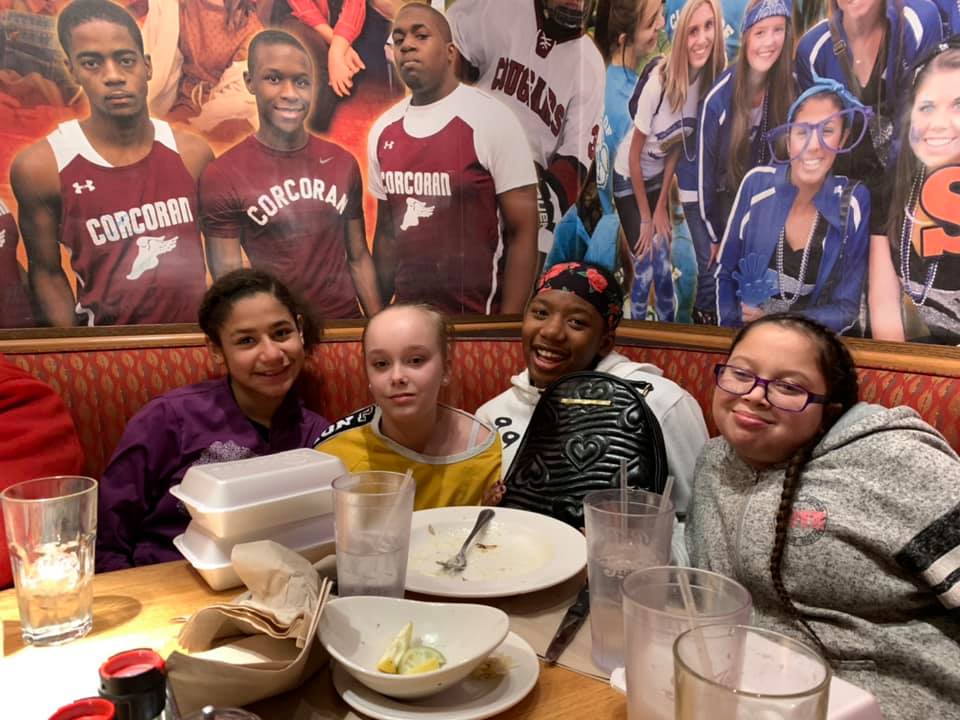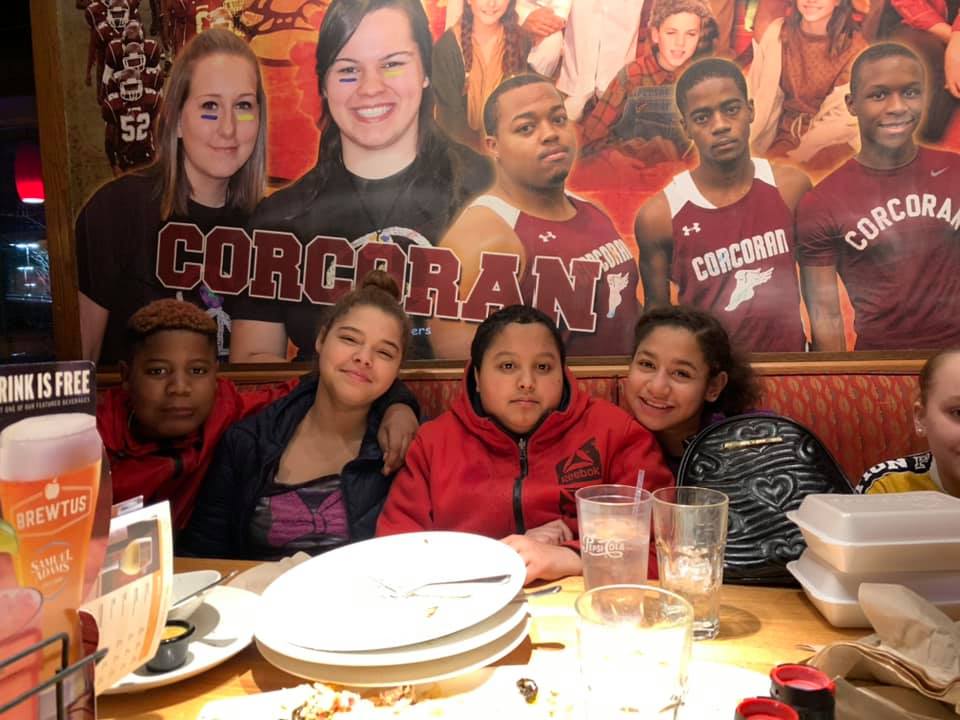 February 28, 2020
b.i.k.e.-Syracuse is so very proud to post that our team is not only working hard on the bikes but working hard in school. Natalia - Captain, made high honor roll this marking period along with Samaria Co-Captain - who also made high honor roll! Jasmine made merit roll this marking period along with Kyliegh who also made merit roll. Congratulations to these young ladies. Nice job!
---
February 22, 2020
Good strength training practice today with Coach Pete! A good run at the end. Omar assisted Coach Pete. Awesome workout.
---
February 19, 2020
Happy Birthday to this Young Lady! She is an intelligent, beautiful, strong, athletic, compassionate Young Lady - the team voted her Captain and her Leadership is exemplary. Happy Birthday, Nat! May the winds always be at your back!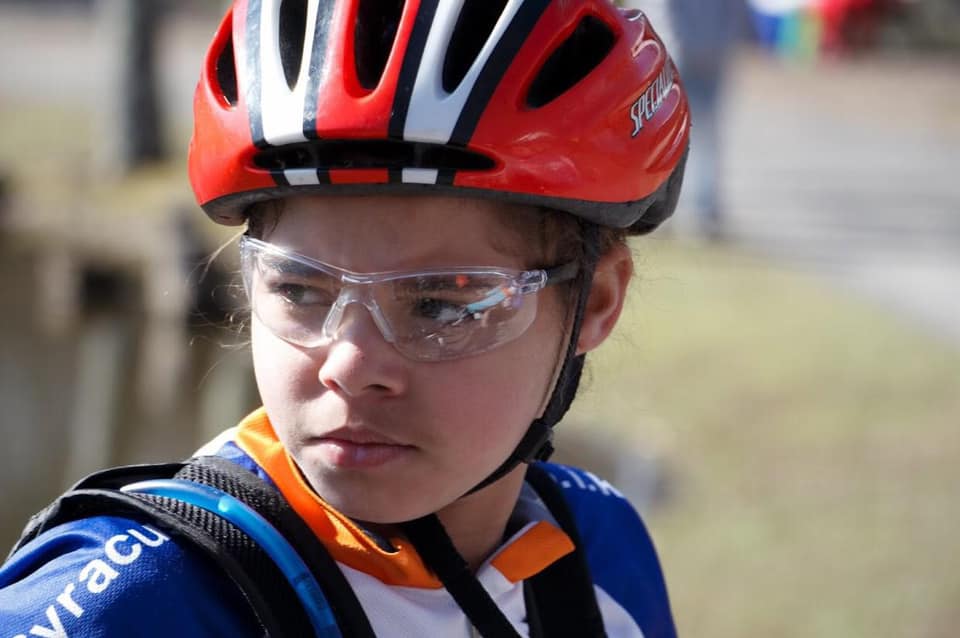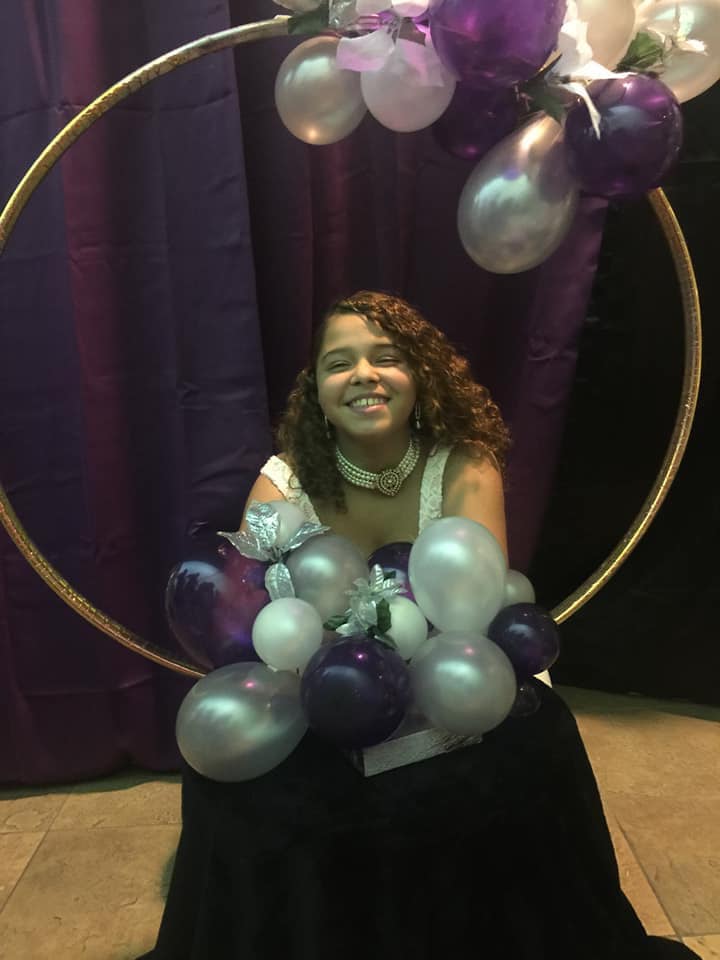 ---
February 17, 2020
Good and FUN practice. Finished intervals and Captains - Nat and Symaria led the remainder of the ride. Some fun stuff to music! Keeping legs moving and heart rates up! Kudos to all riders for running this past weekend!
---
February 11, 2020
Awesome spinning and interval training on Monday night. Every rider put their highest effort and heart and soul into the intervals. Kar Kar was feeling the spinning in her legs and pushed herself to get stronger - James was feeling it in his breathing (and as he announced to us all - his butt!). Jasmine worked hard to keep her cadence up pushing just a little more - Samaria pushed herself to go just another level more in her resistance. Kyliegh had a burned thumb that stung with the sweat but she hung in there to get her intervals done. Nat had a bit of a stomach ache - but pushed herself to lead the team as the Captain and Colby - as the newcomer to the team - held his own and yelled and encouraged the other riders to hang in there on the last interval. Good practice. Awesome effort by everyone! Very proud of this team! Stay tuned!
---
January 30, 2020
Another great night of practice. We are on our way to the 2020 NICA race season! Go bike-Syracuse!
---
January 28, 2020
Awesome practice Monday Night! Intervals and singing in between. These ladies and gentleman Rock!

"This is my fight song
Take back my life song
Prove I'm alright song
My power's turned on
Starting right now I'll be strong
I'll play my fight song
And I don't really care if nobody else believes
'Cause I've still got a lot of fight left in me!!!!"
---
January 25, 2020
Thanks Coach Pete at Edge Gym in Syracuse for your expertise. Great gym. Great - trainers!
---
Practice today for bike-Syracuse NICA race team. These mountain bike riders are committed to a great upcoming race season. Working hard!! We finished with a cold - wet - run. (Thanks Omar for your help coaching. Just awesome!). Getting ready. Stay turned.
---
January 23, 2020
Thanks to Rob Baker for this work/map. NICA New York is growing! Click Here.
---
January 18, 2020
Throwback - Omar racing for bike-Syracuse. Now he's coaching. Nice job Omar!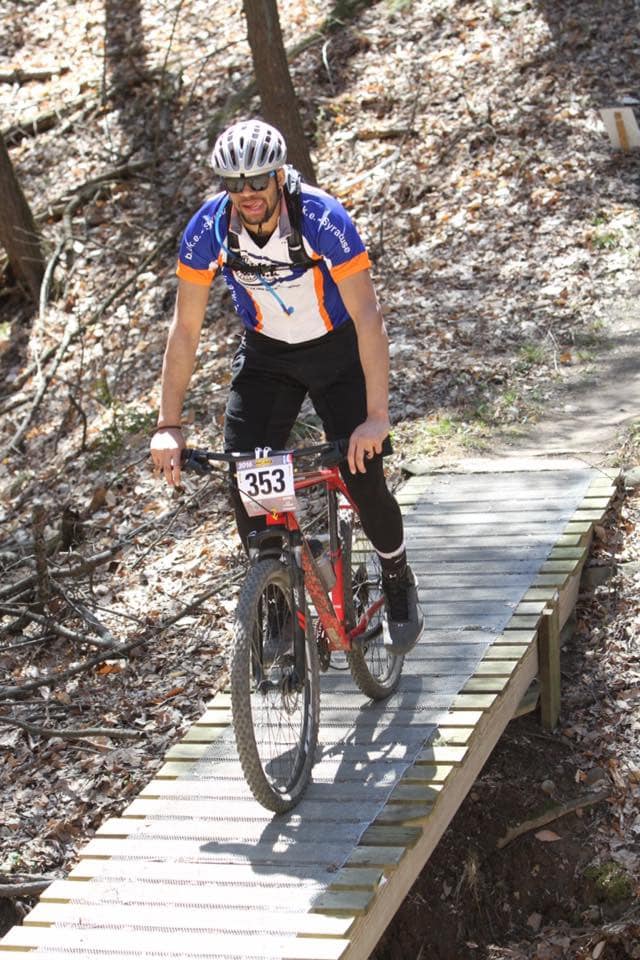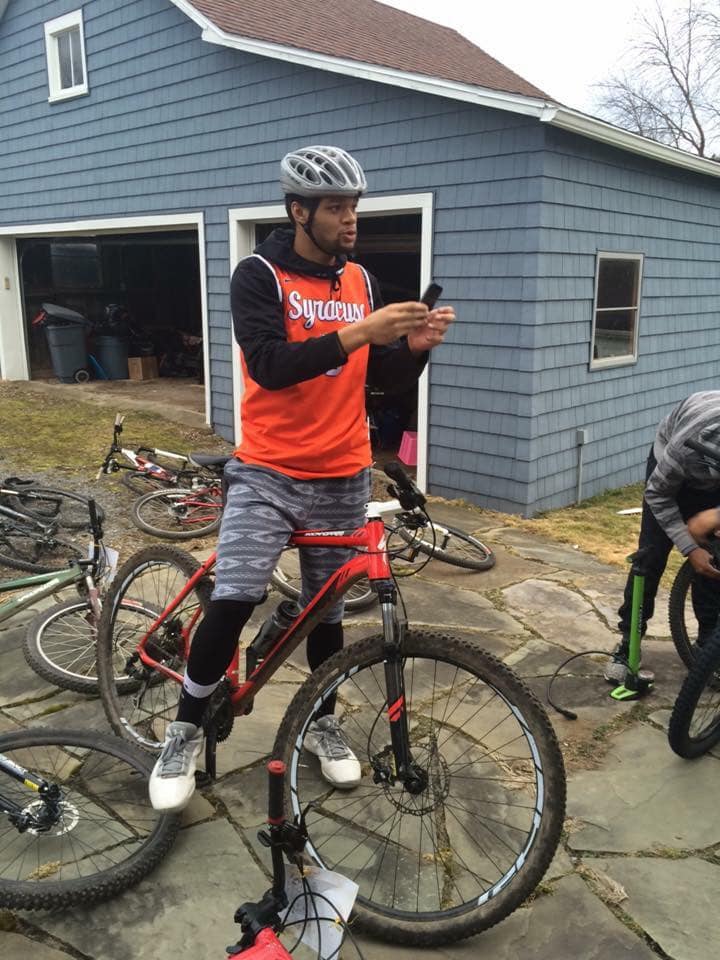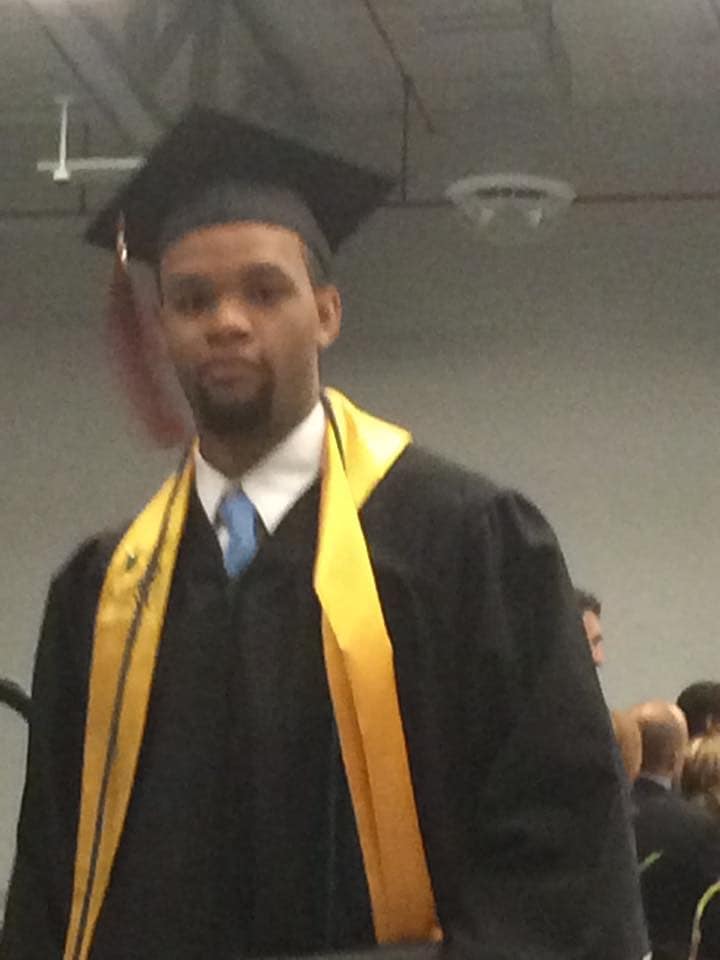 ---
9 riders this year for bike-Syracuse NICA Mountain Bike Race Team with 7 young women! Picture of some of our riders! Stay tuned.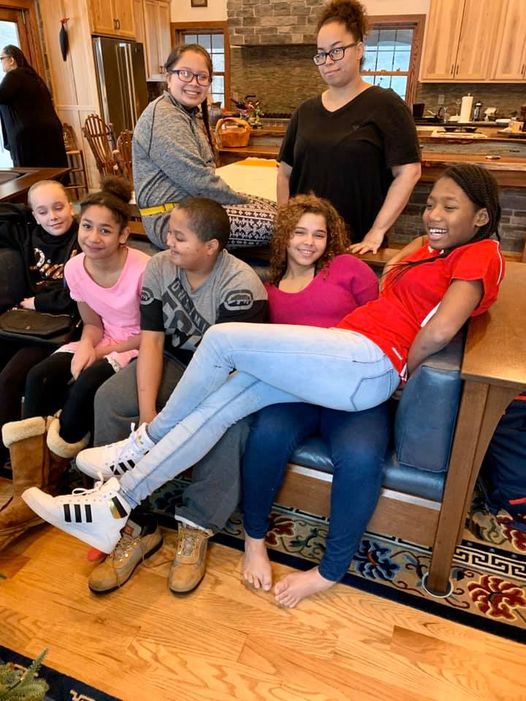 ---
Been riding with this young man since he was 8 years old. Now he is coming back to help coach this year's bike-Syracuse NICA race team. He's also working on becoming a police officer. So proud of Omar!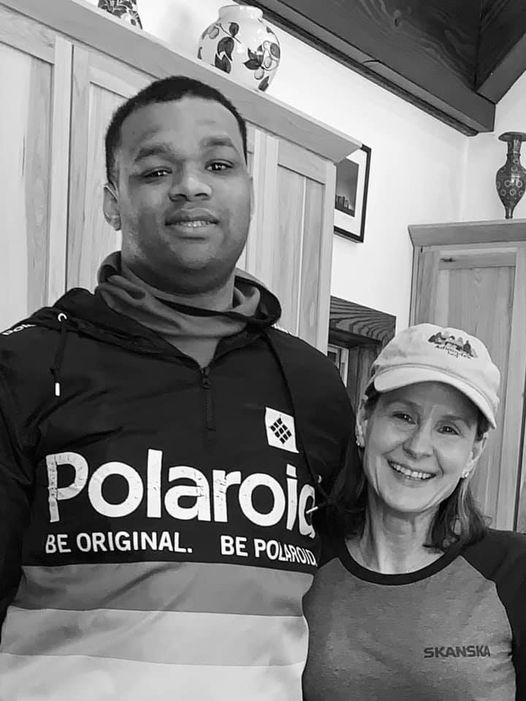 ---
January 4, 2020
Dinner is scheduled for Saturday, January 11th to discuss practices and the upcoming 2020 NICA race season. If interested in volunteering with our race team or know of kids in middle school or high school that would like to join our team to learn mountain biking skills and/or race with b.i.k.e-Syracuse, please email us at bikesyracuse@aol.com. Thank you for your support and stay tuned for our practice and race updates!
---
September 21, 2019
I wish Syracuse was more supportive of b.i.k.e.-Syracuse and other NICA MB teams like this example!
---
June 26, 2019
Awesome visit with Ugandan woman mountain bikers. They have a race this October and December. Wish I could be here. They rock mountain bikes! I rode with them the last time I was here. Woman becoming empowered on the bike!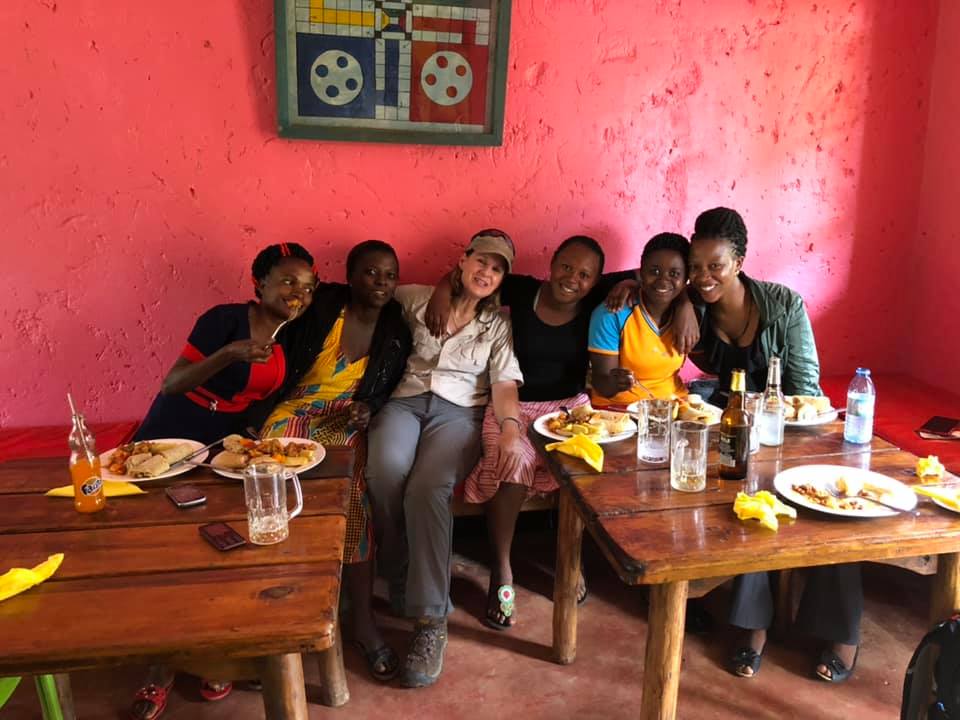 ---
June 10, 2019
Jerame James Dooly thank you for these great pictures yesterday of our ride! Bike-Syracuse rocking the mountain bike!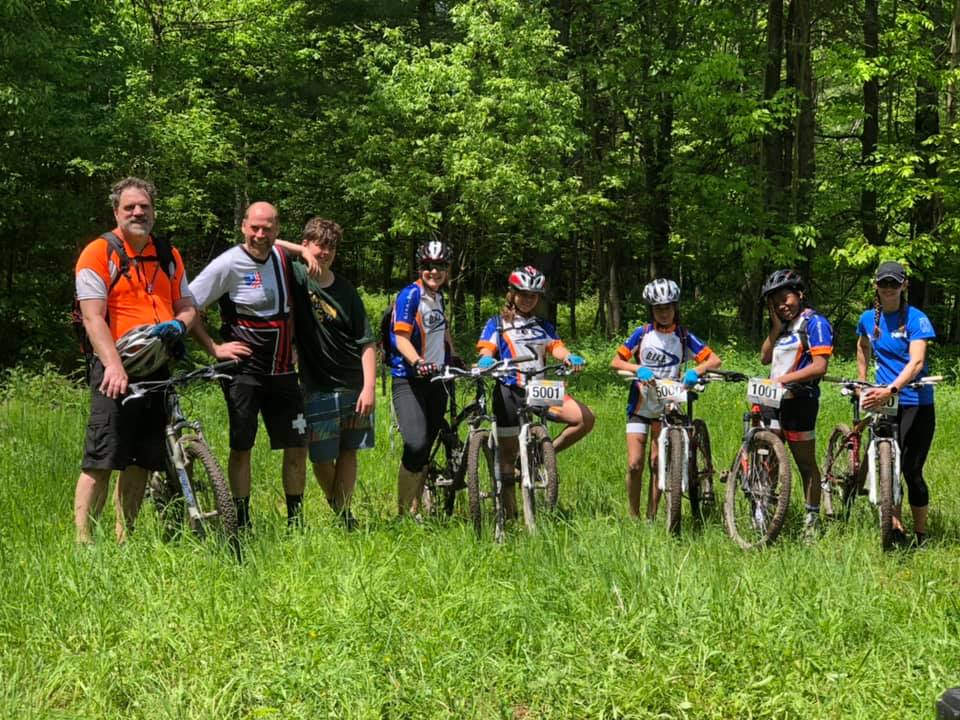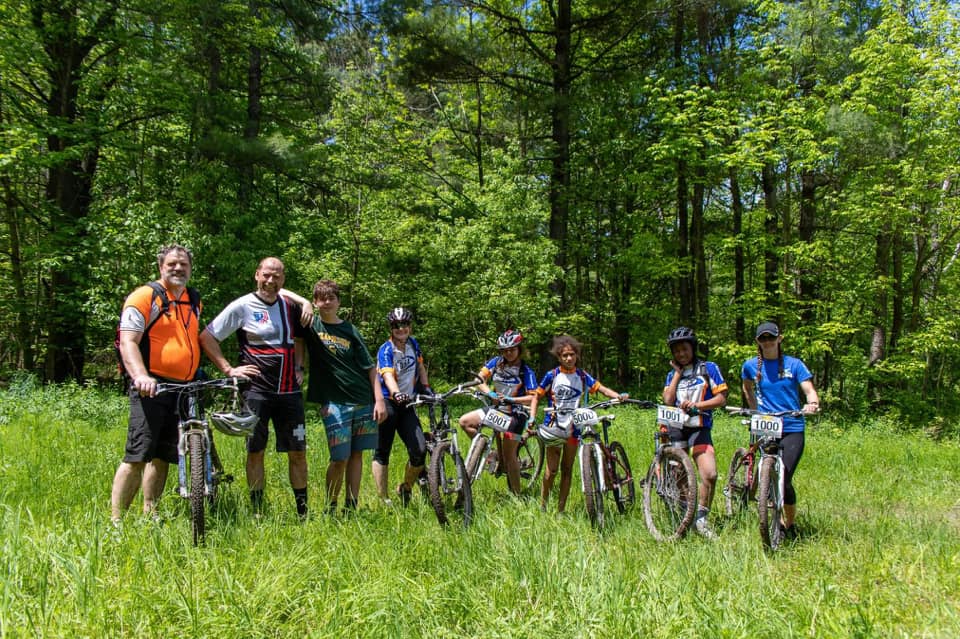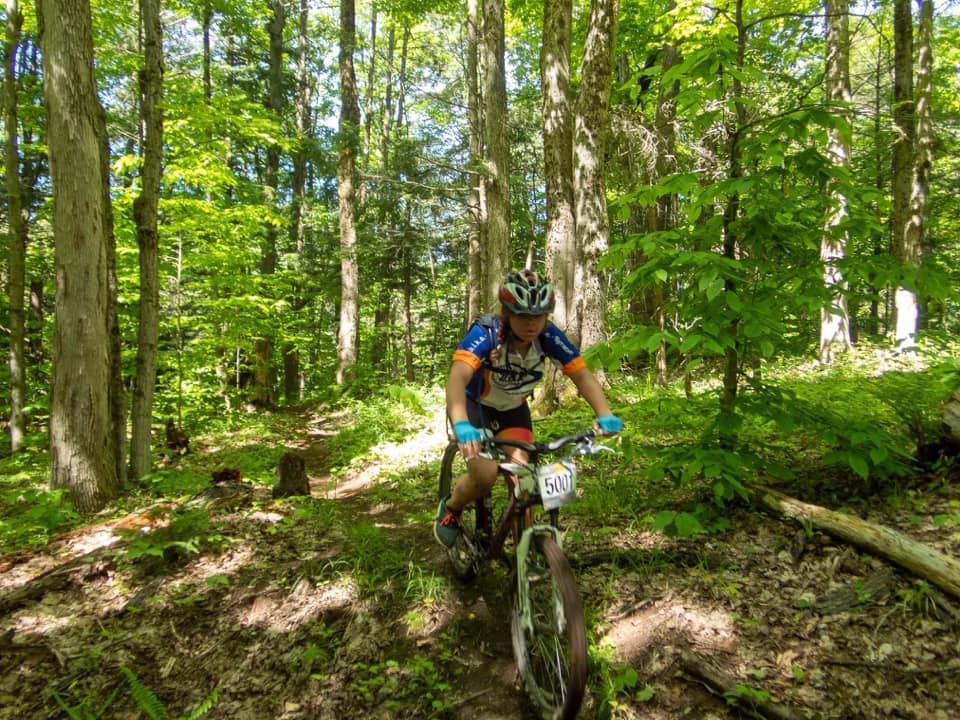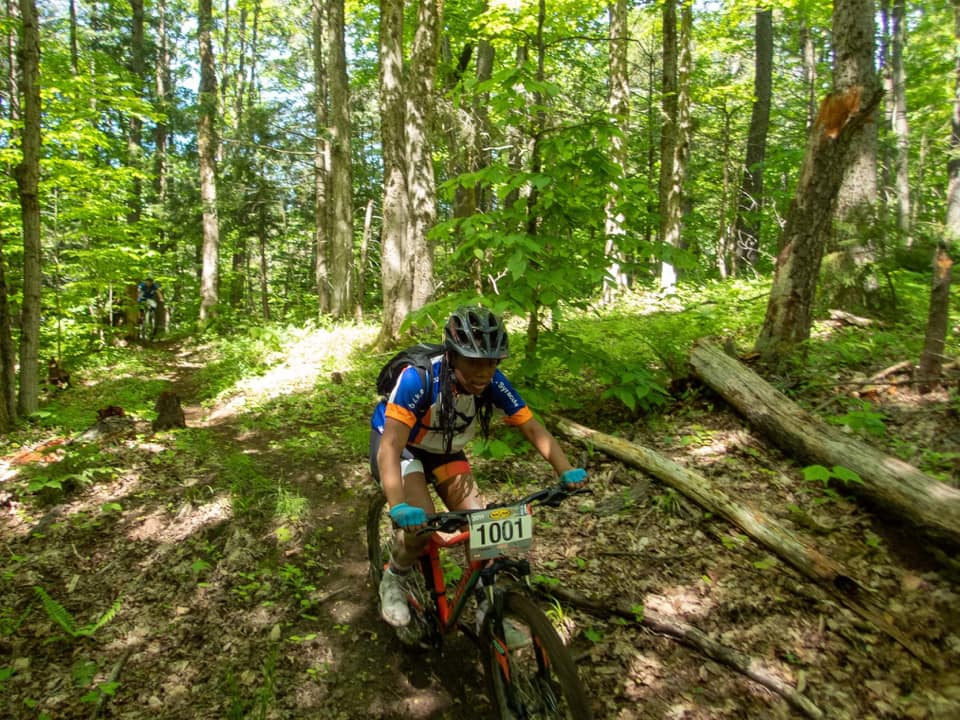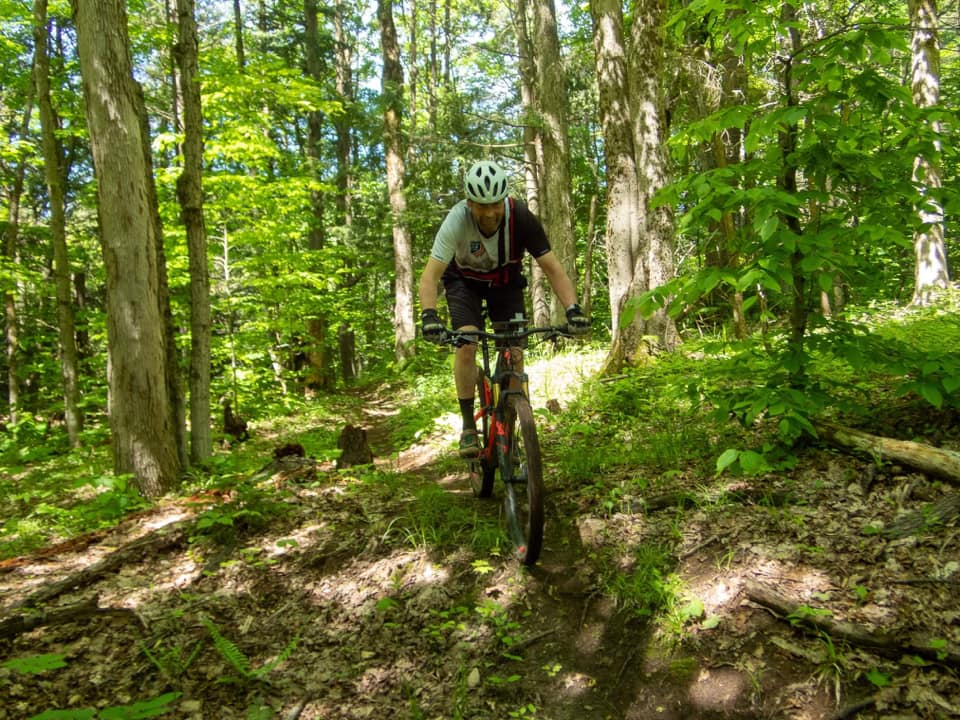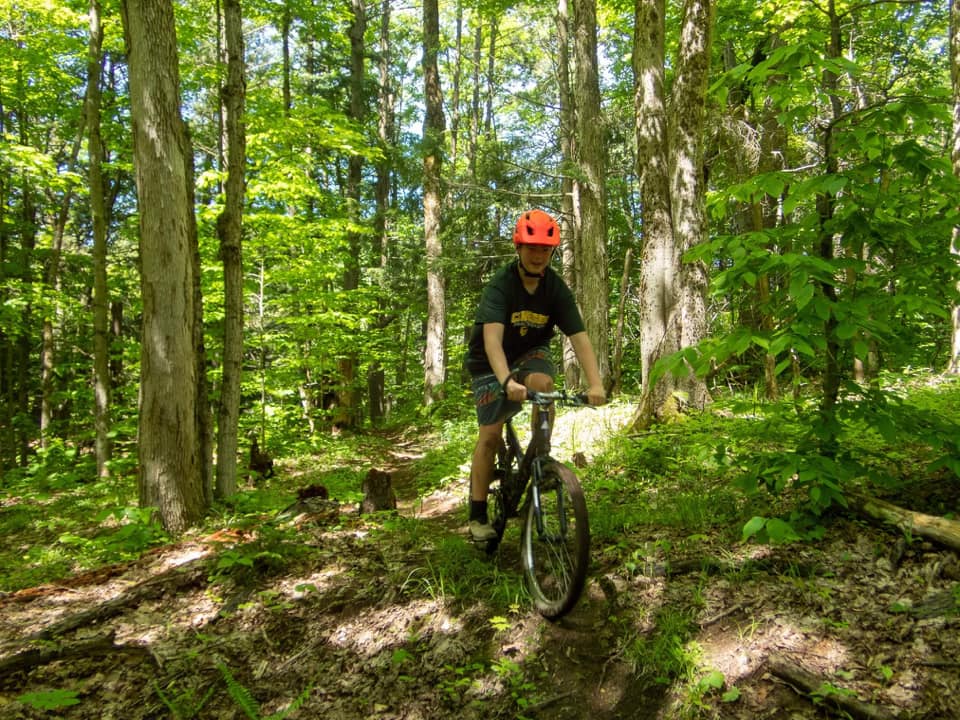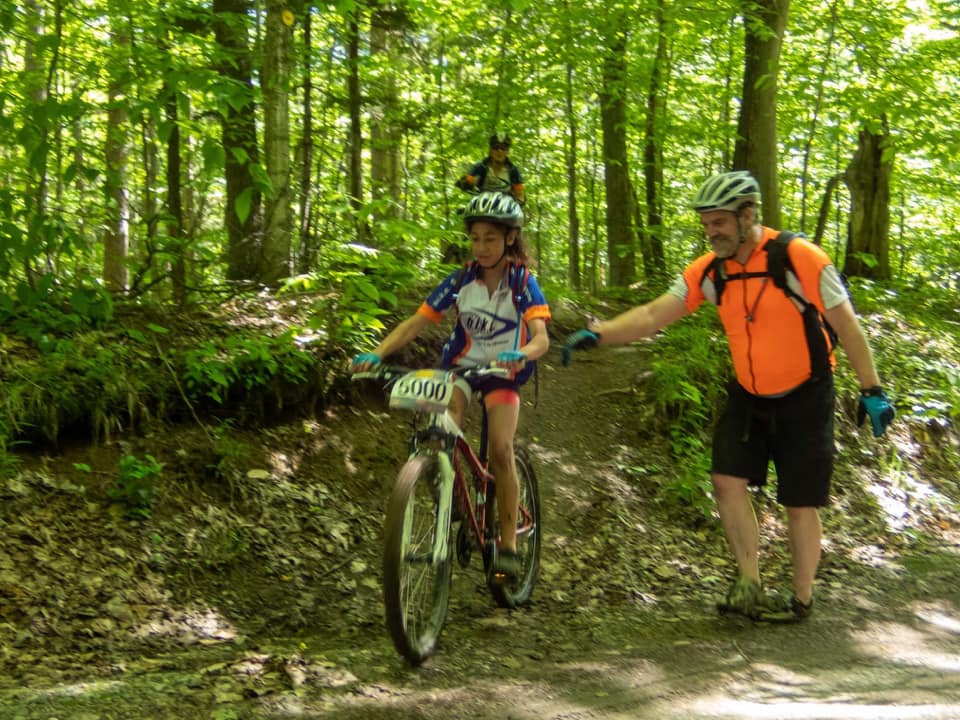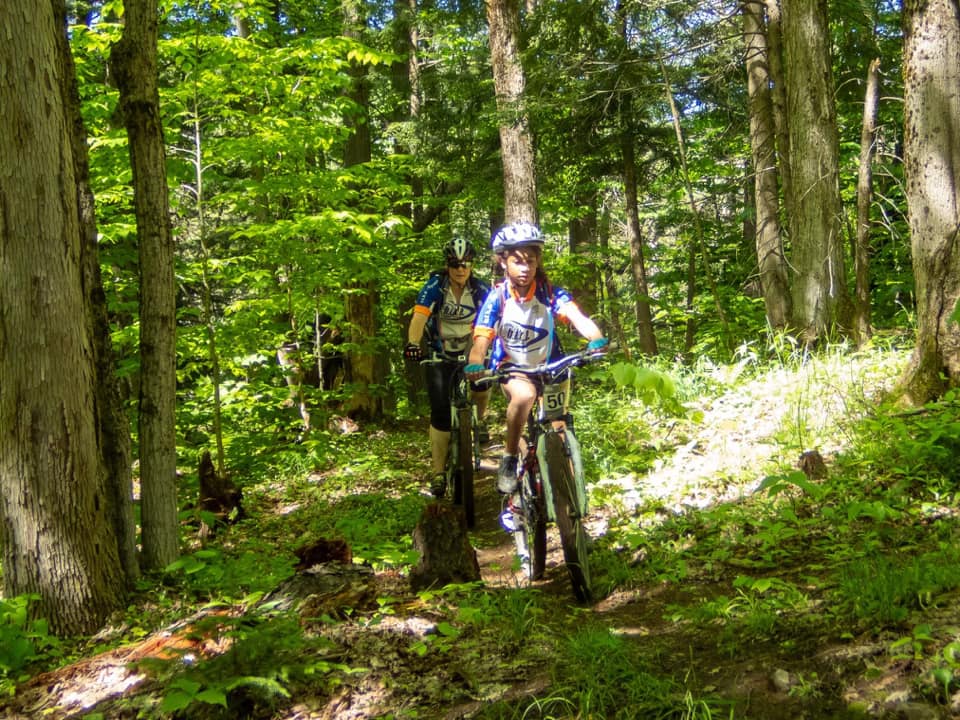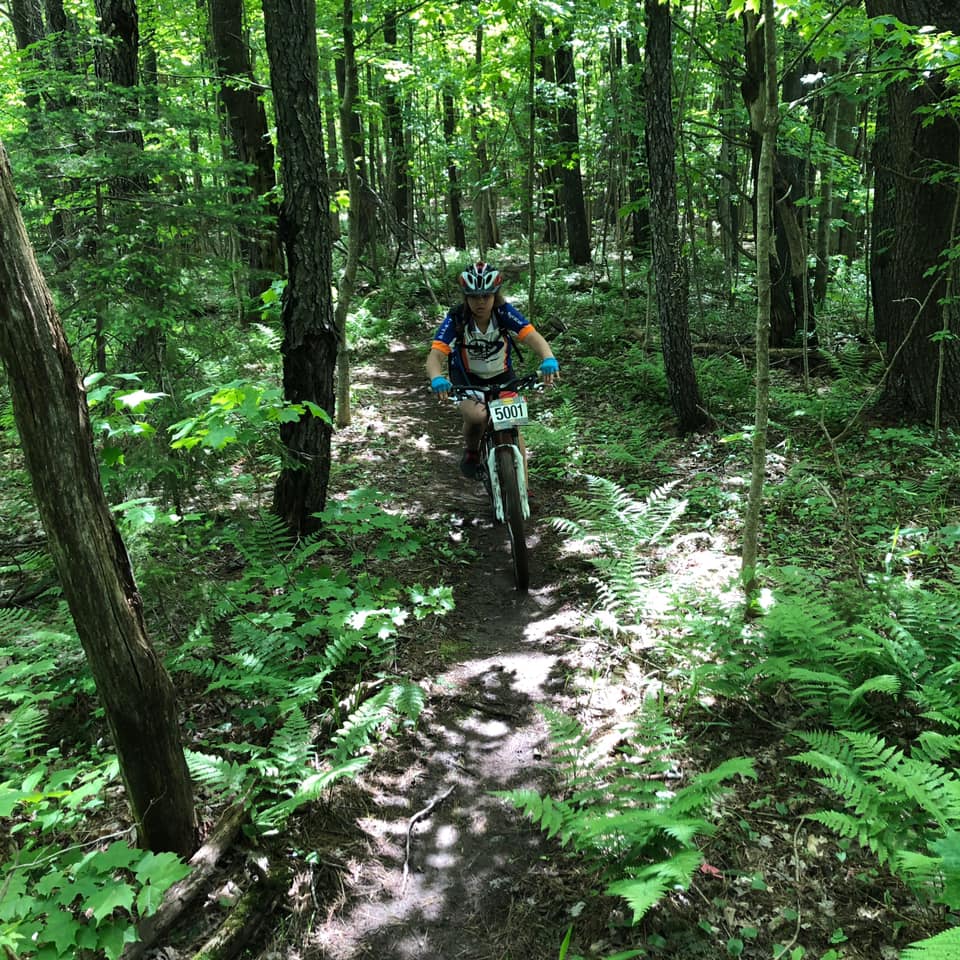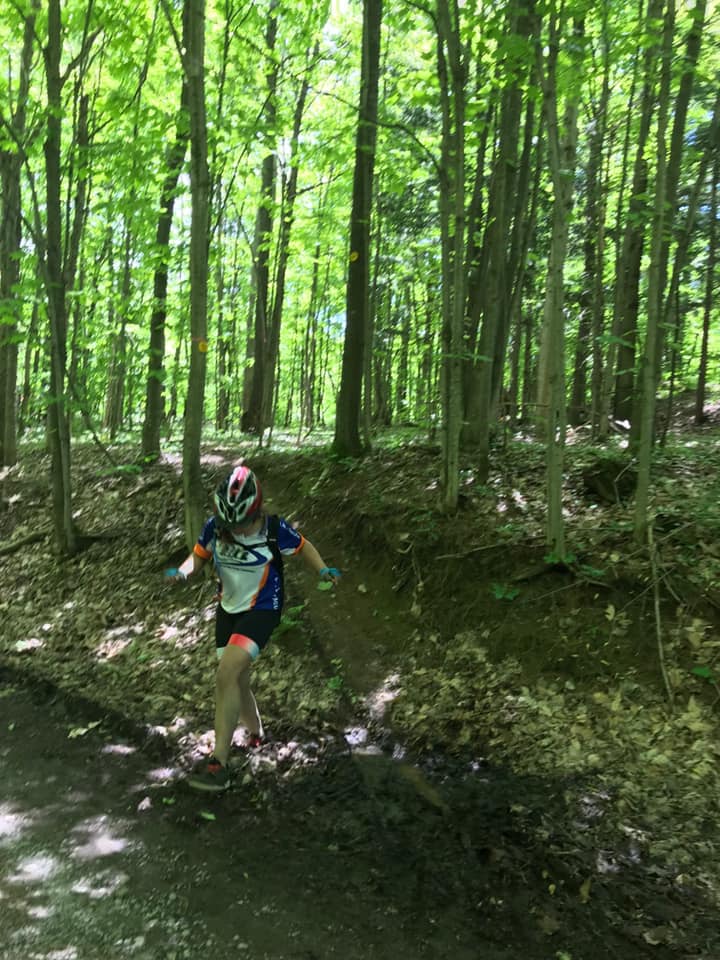 ---
June 9, 2019
Could not do the NICA-NY Mountain bike race this weekend but that didn't mean we didn't ride! Thank you Todd Phelps and friends for riding with us at Pinckney State Park. The trails were so much fun. Stay tuned for pictures! Great training ride!
---
June 8, 2019
Not racing this weekend - but some of our riders are riding - Pinckney State Park - meeting Todd Phelps in the morning and some others for a day of biking on trails Todd built. Stay tuned! A little swimming before riding tomorrow!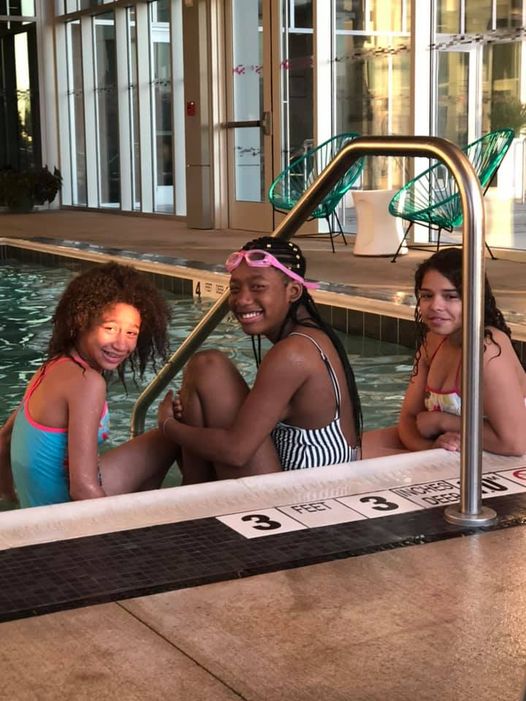 ---
June 3, 2019
Dinner with our past mountain bike racers. All have grown into responsible, smart young men! Wonderful night! Omar Short,
Manny Mateo, Ameen Buchanan, Imari Gary, Chamar Short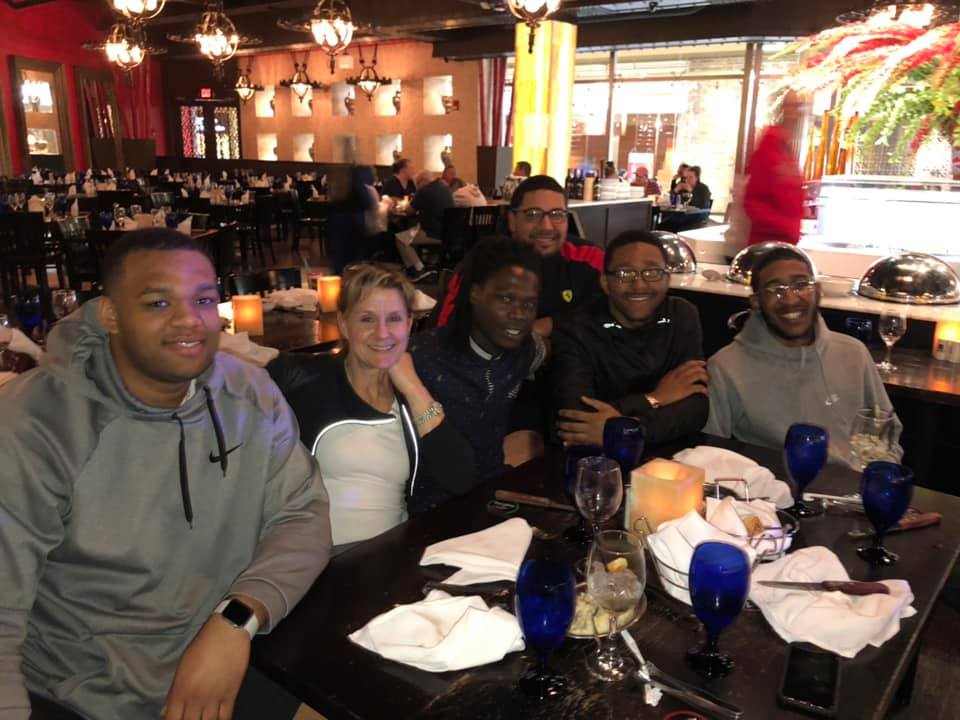 ---
May 25, 2019
Kayliegh and Nat's medals for placing in the NICA NY Mountain bike race #1. Proud of these riders! Ladies rocking the mountain biking!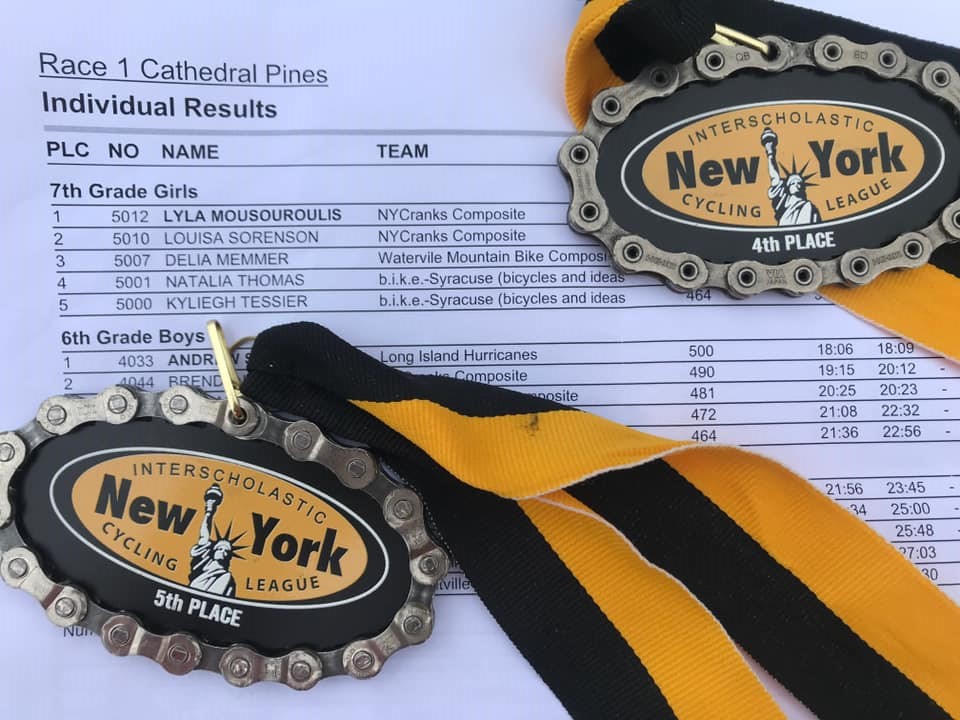 ---
May 19, 2019
Race standings. Two of b.i.k.e.-Syracuse's riders missed the podium by one place. This trail was difficult and the sun came out making it a very warm day. Proud of our riders. All of b.i.k.e.-Syracuse riders finished. Nice job.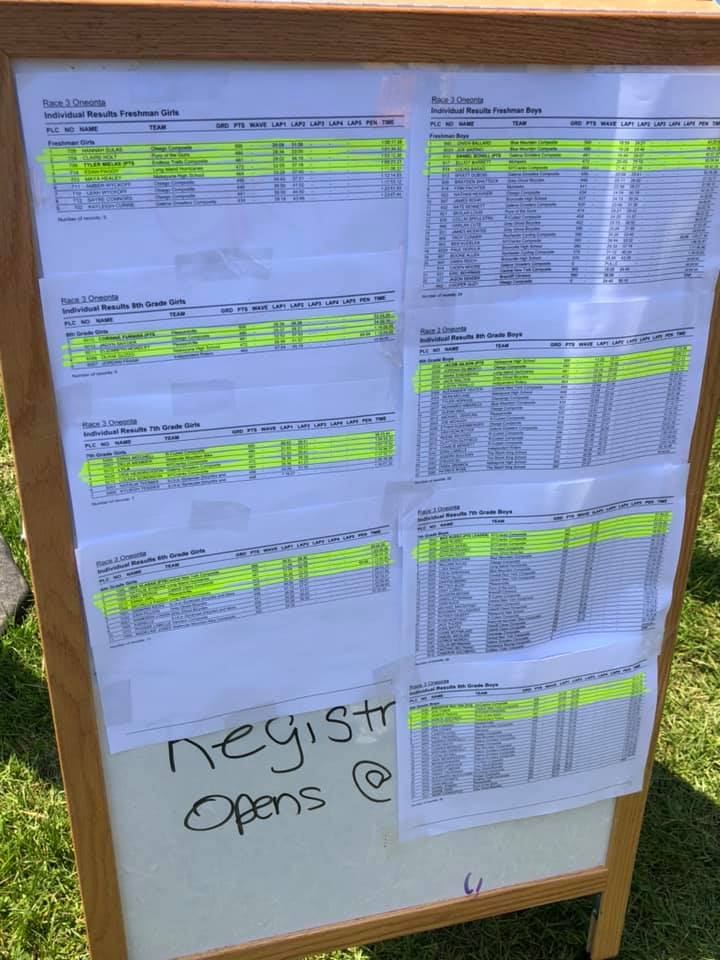 ---
Oneonta NY -NICA NY mountain bike race. We are ready! Stay tuned!
---
May 18, 2019
We are so proud of Imari Gary graduating today from OCC. Imari was a member of b.i.k.e.-Syracuse from 8 until he graduated high school having also raced with our team. His sister Symaria is now racing with our team. Congratulations Imari Gary! b.i.k.e.-Syracuse is so proud of you!
---
May 16, 2019
Race this weekend - Sunday in Oneonta New York with NICA - NY. With all the rain it's been a bit tough to get our practice in but we should ride tonight. Wish us luck Sunday!
---
May 6, 2019
A night of picking up bikes from the shop and checking ABCD's. Pretty proud of these young ladies and young man. Race was canceled last week due to rain. We have a week of practice and next race is the weekend after next. Go b.i.k.e.-Syracuse!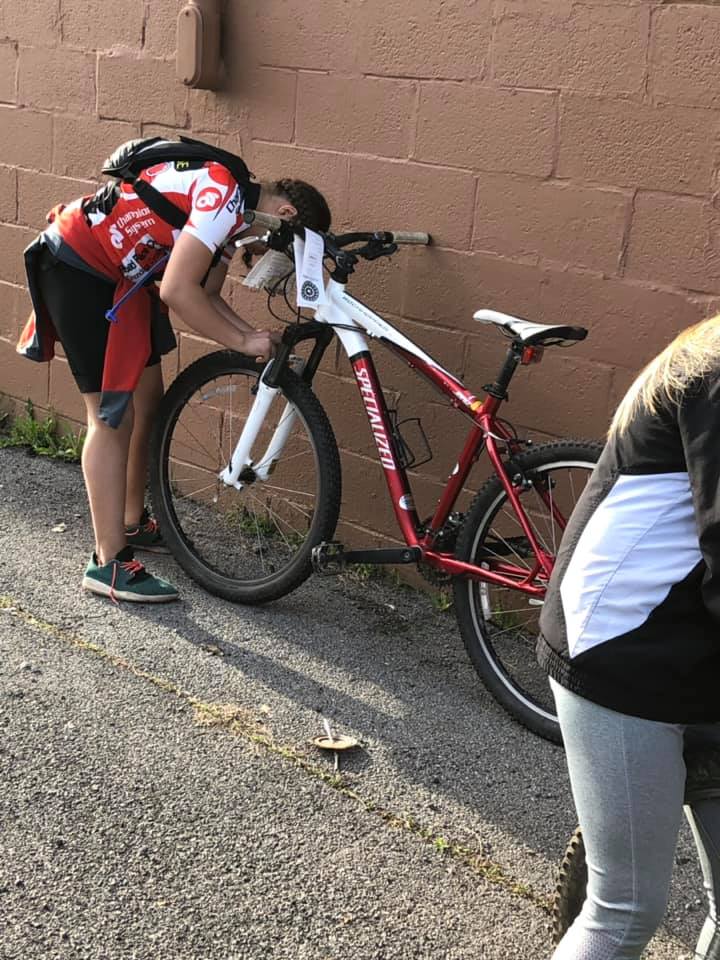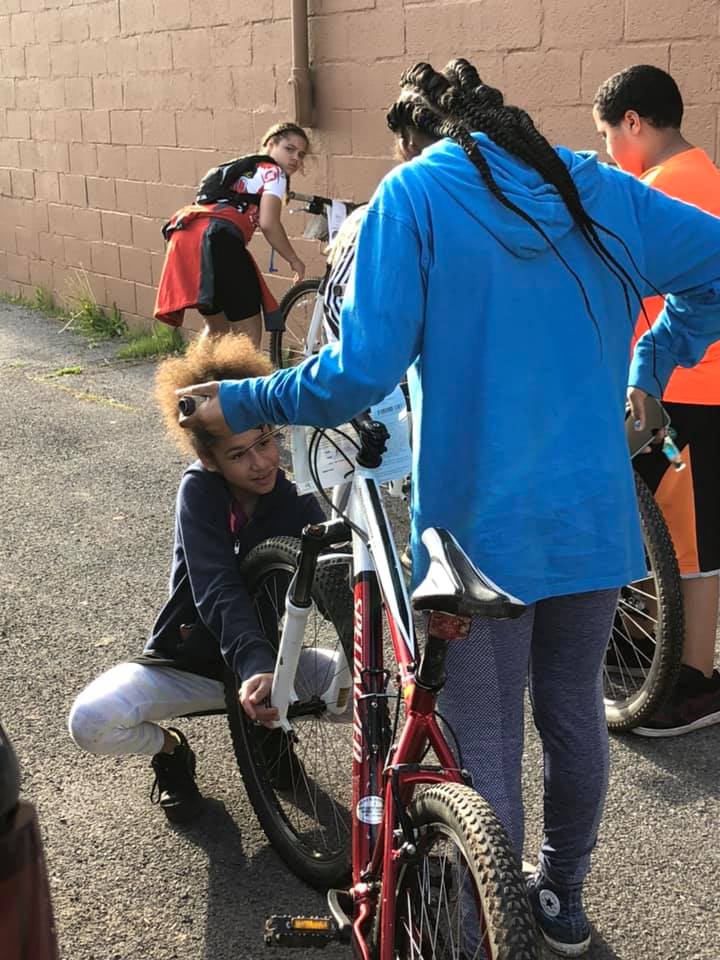 ---
April 14, 2019
Natalia and Kyliegh made podium for 7th grade mountain bike riders coming in fourth and fifth place respectively. So proud! Posting pictures later!! So proud! Samaria finished well for 6th graders along with Karielle. Lots of points for our team. Wooo hooo - girls rocking the mountain bike!
---
Congratulations Natalia! 5th place overall - NICA-NY for 6th grade mountain bike riders! She has a title to defend today! Thanks Coach Andree Sanders for presenting!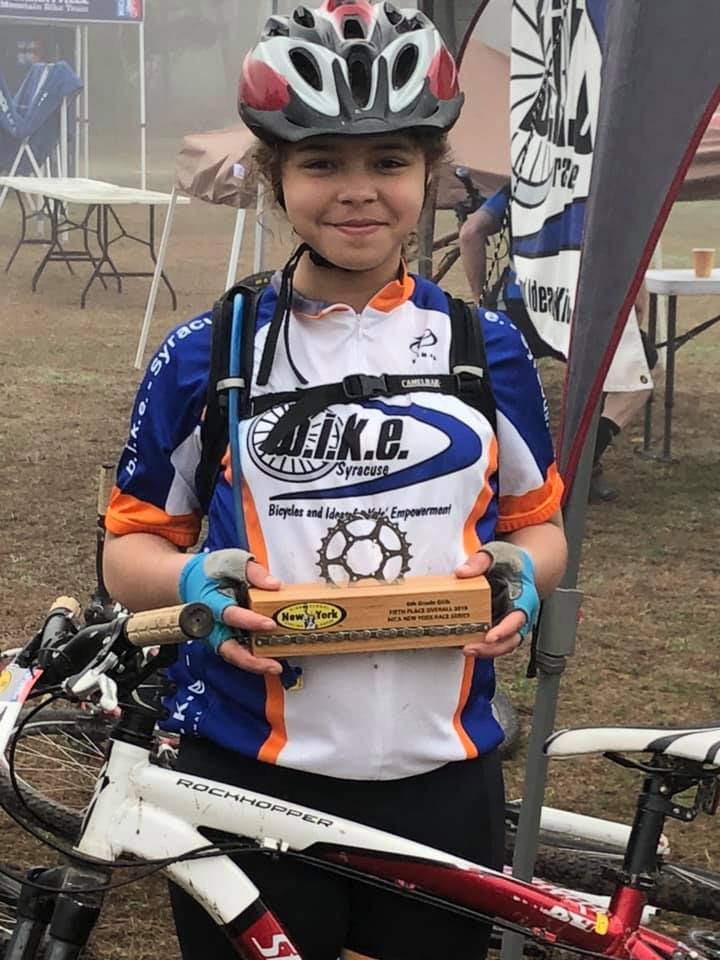 April 13, 2019
A big thank you to Coach Scott Chimber and Coach Steve Anderson and Coach Christina Germano. Could not have done this race weekend without your help! Thank you - Thank you - Thank you!
---
Team dinner before the race. Italian food. Yum!!! The wait staff was amazing. Thank you Lombardi's!!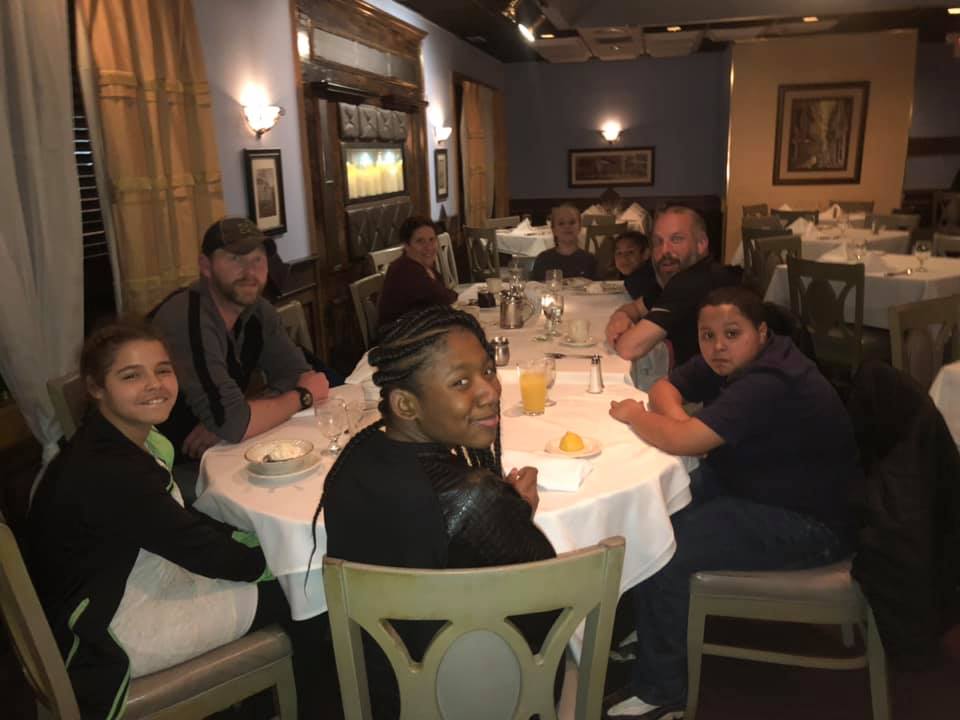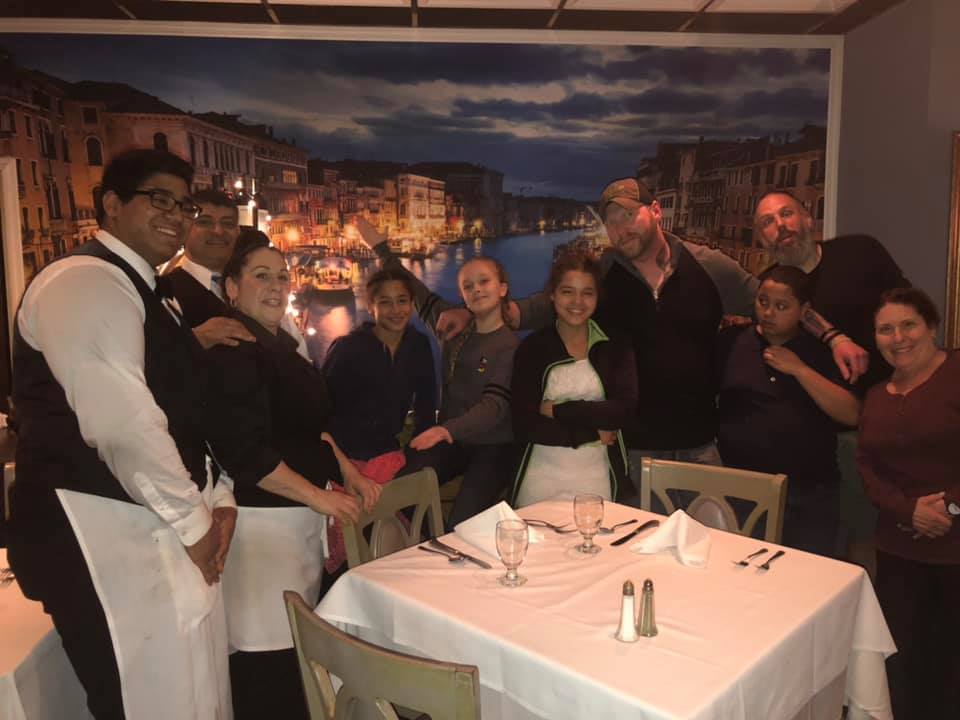 ---
The ladies ROCKED the trails today! So much fun! We are ready for tomorrow's race! On Long Island with NY-NICA for the race. Out to an Italian dinner and swimming tonight. James is sick and not feeling well. He won't be racing. Wishing him well. Can't wait for the race. These ladies ROCK!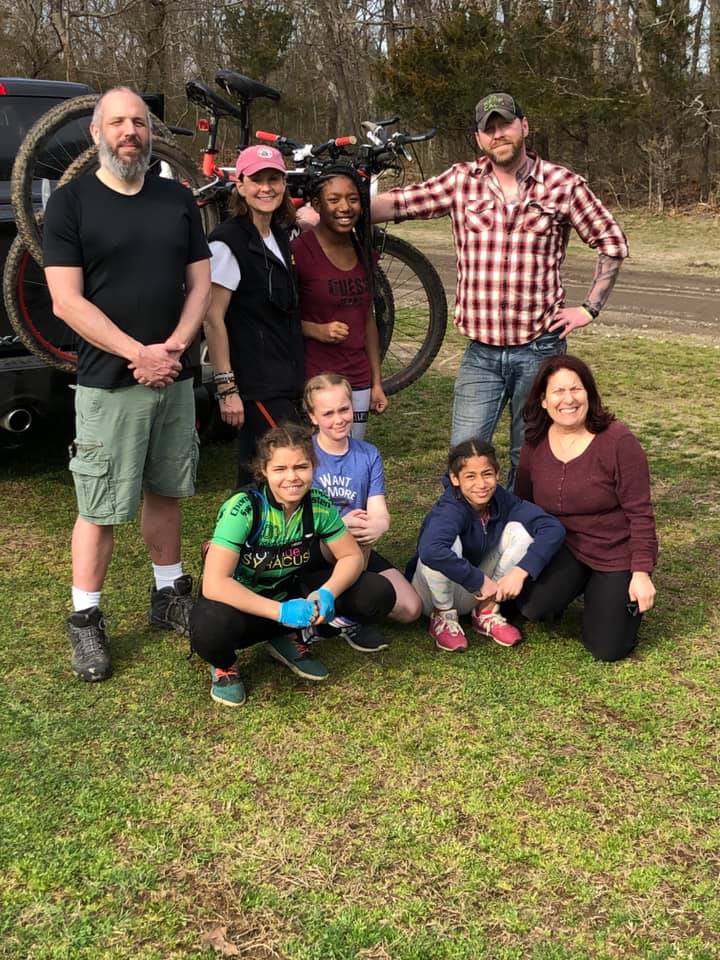 ---
April 10, 2019
Girls rockin the bike tonight! James was amazing! Second time on trails! Wooo hooo. NICA here we come!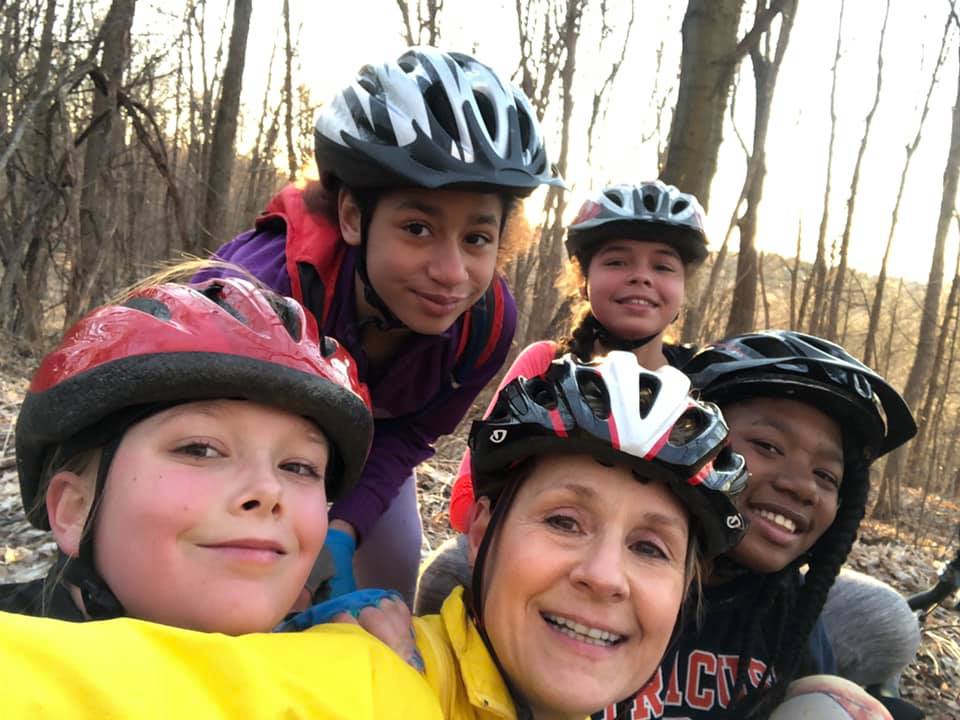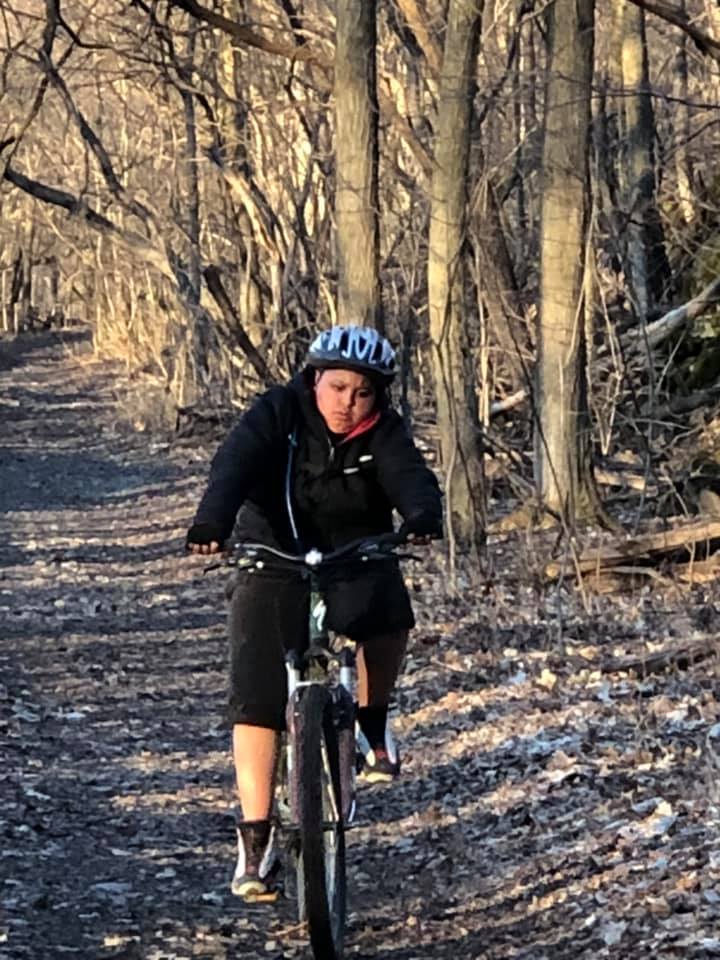 ---
April 9, 2019
Practicing outside. Working on shifting! Race this weekend. Stay tuned!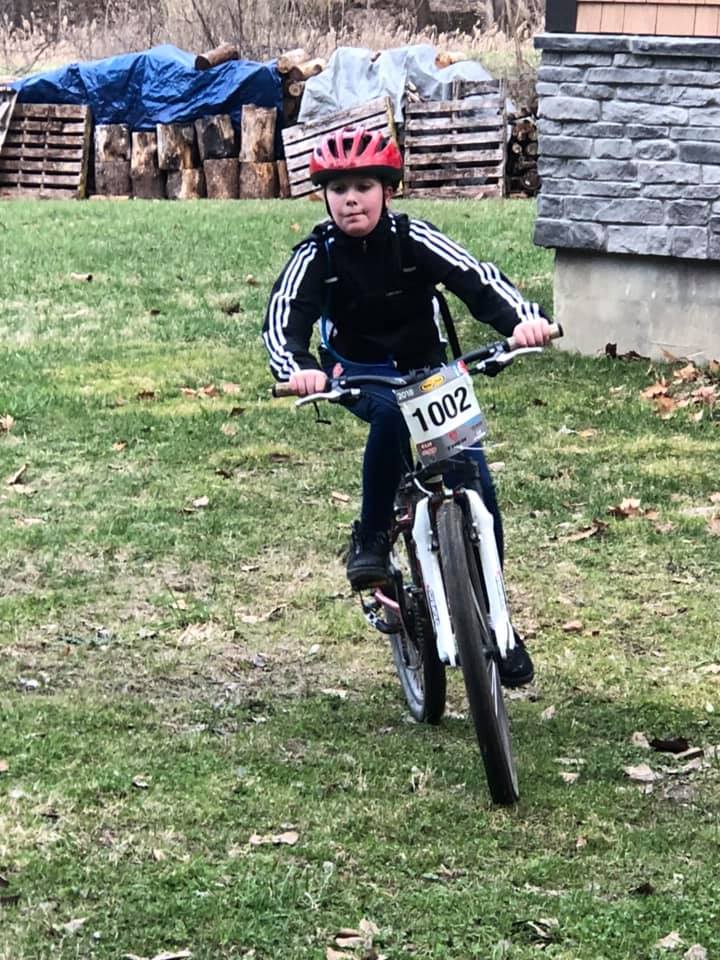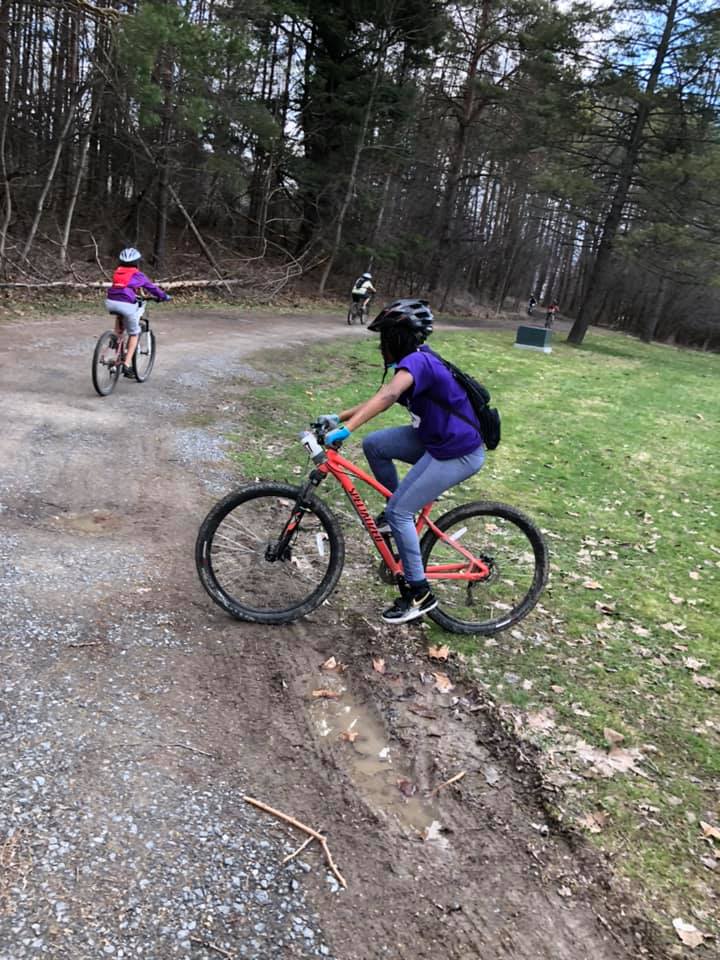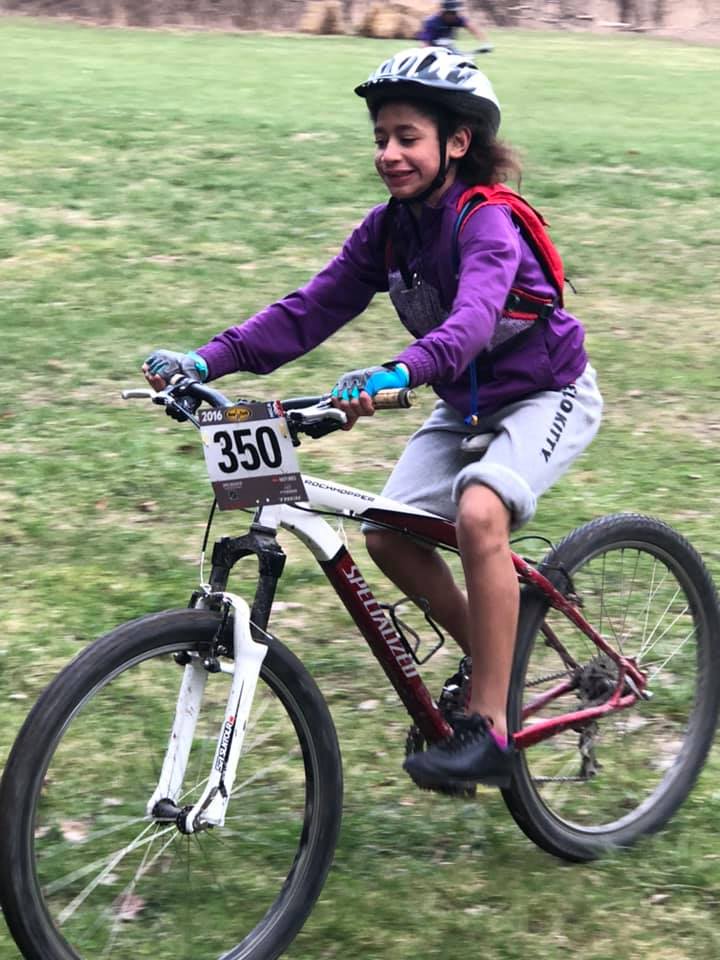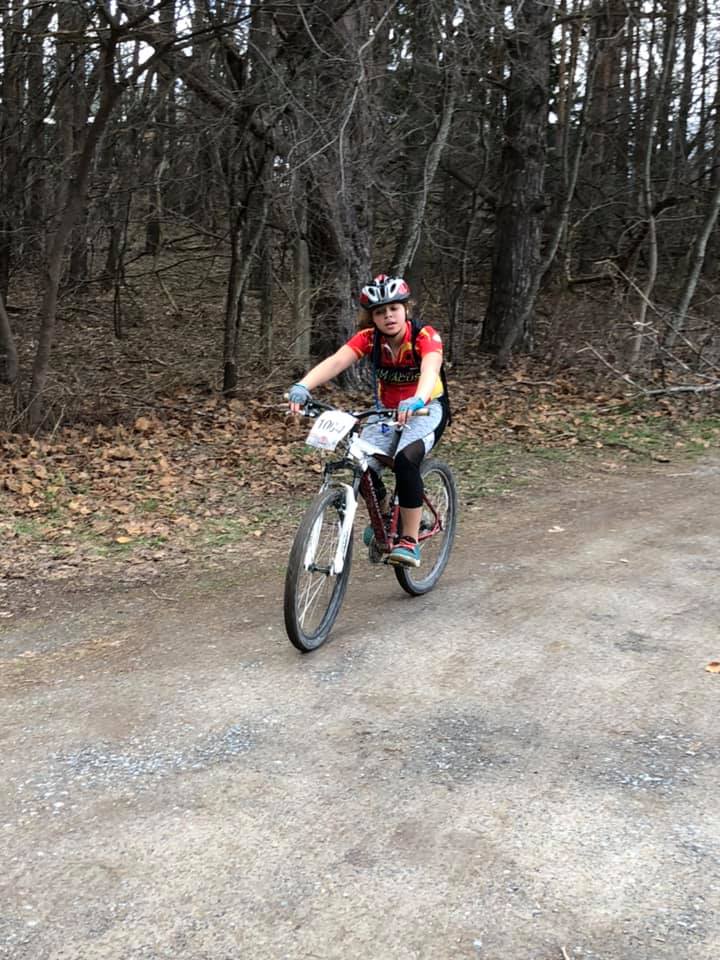 ---
April 2, 2019
Some bike time! Woo hoooo!!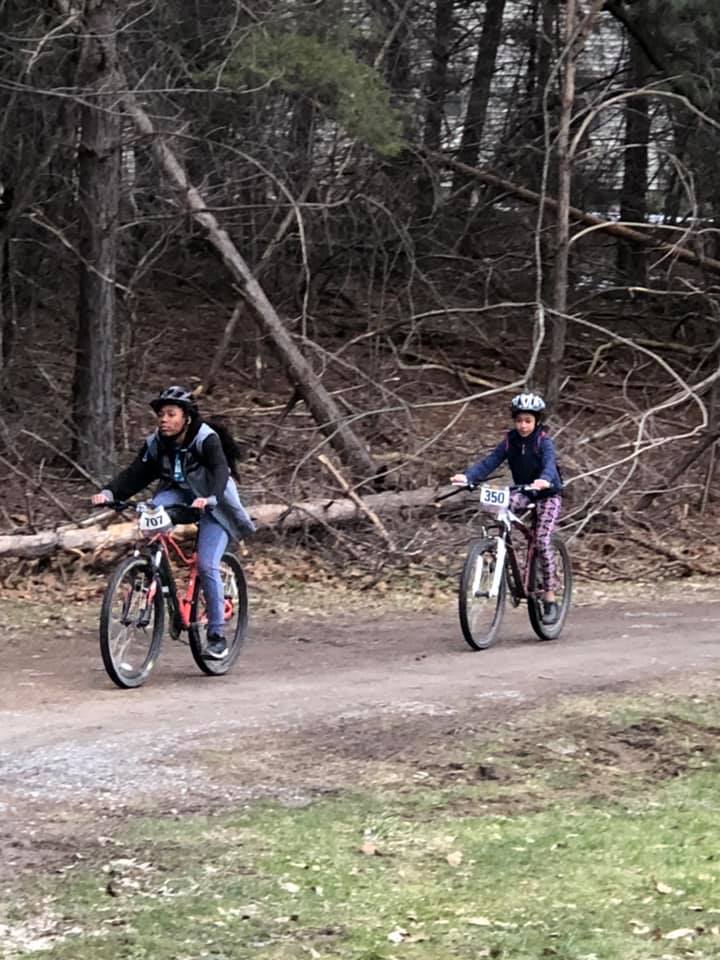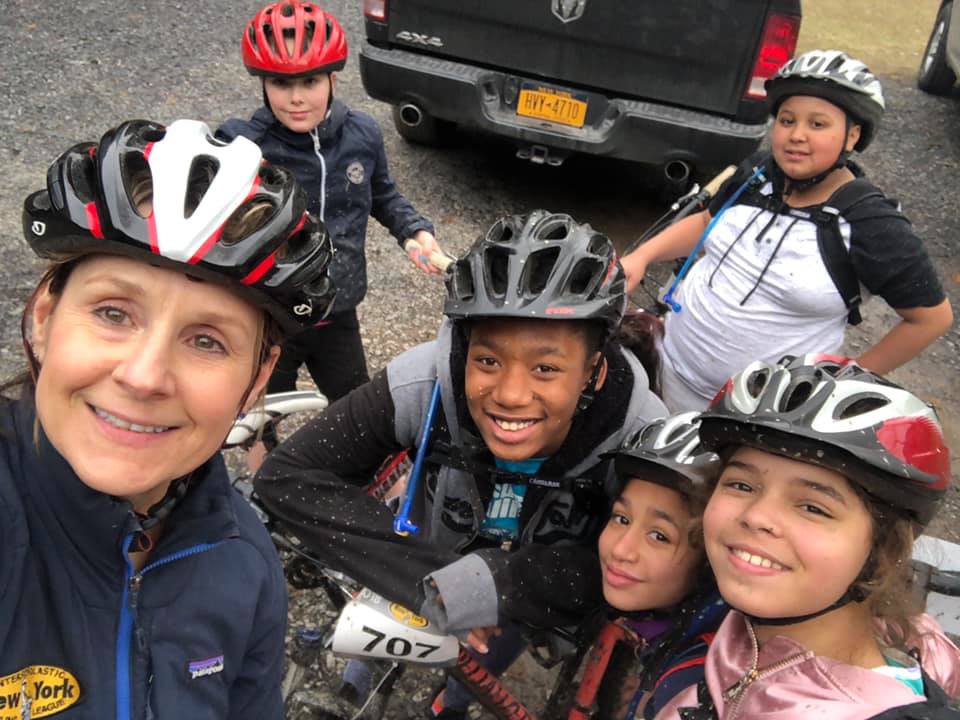 ---
March 15, 2019
b.i.k.e.-Syracuse is proud to be part of the NICA Family! As a female mountain biker - and Coach - I get this article and I'm proud of our female riders and proud to Coach the b.i.k.e.-Syracuse Race Team and participate with in the NICA race season!!
---
March 2, 2019
bike-Syracuse has asked the help, this year, of Military Vets to assist in coaching and mentoring our mountain bike riders. Coach Scott and Coach Steve have stepped up to the plate to help us out.... Our team is honored to have these Coaches on board with b.i.k.e.- Syracuse! Coach Steve was Army - and Coach Scott was Air Force. Coach Peter at Edge Gym has been providing strength training along with our interval training and our riders are getting stronger! We are also learning focus and discipline. Can't wait for race season!!
---
February 13, 2019
So cool - NICA's map of mountain bike teams throughout New York! Go b.i.k.e.-Syracuse!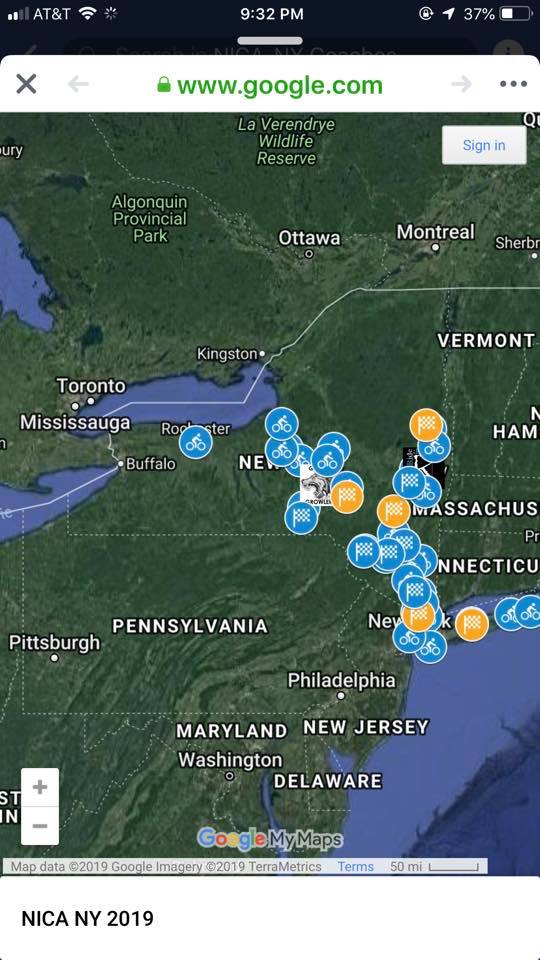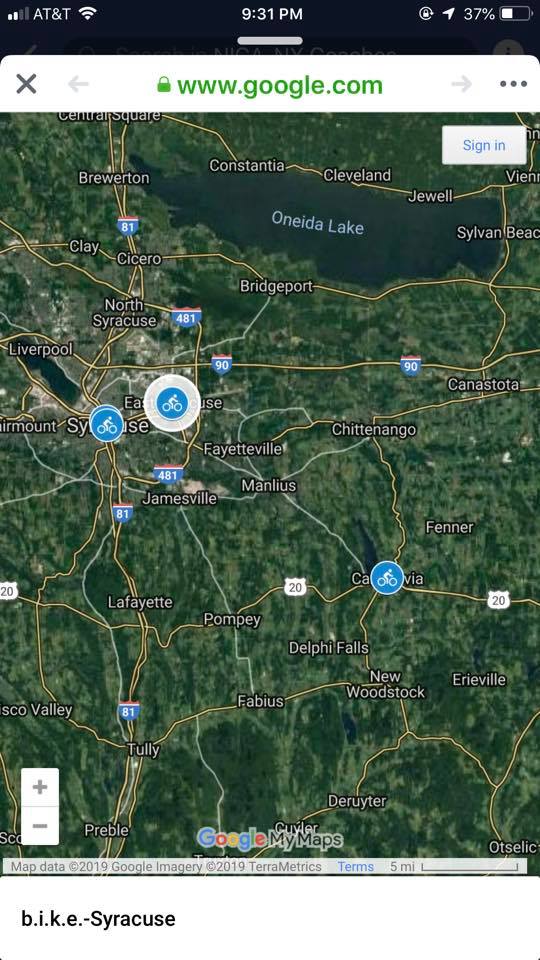 ---
January 31, 2019
Ladies mountain biking around the world - women empowerment - Bwindi, Uganda! These Ladies Rock the mountain bike!
---
January 19, 2019
Thanks Coach Peter - Edge Gym - and Scott and Steve - Veterans - our first strength workout for the NICA NY Race Season was a blast! Our young ladies are strong! First all female mountain bike racing team for b.i.k.e-Syracuse! We are so going to rock mountain biking this year!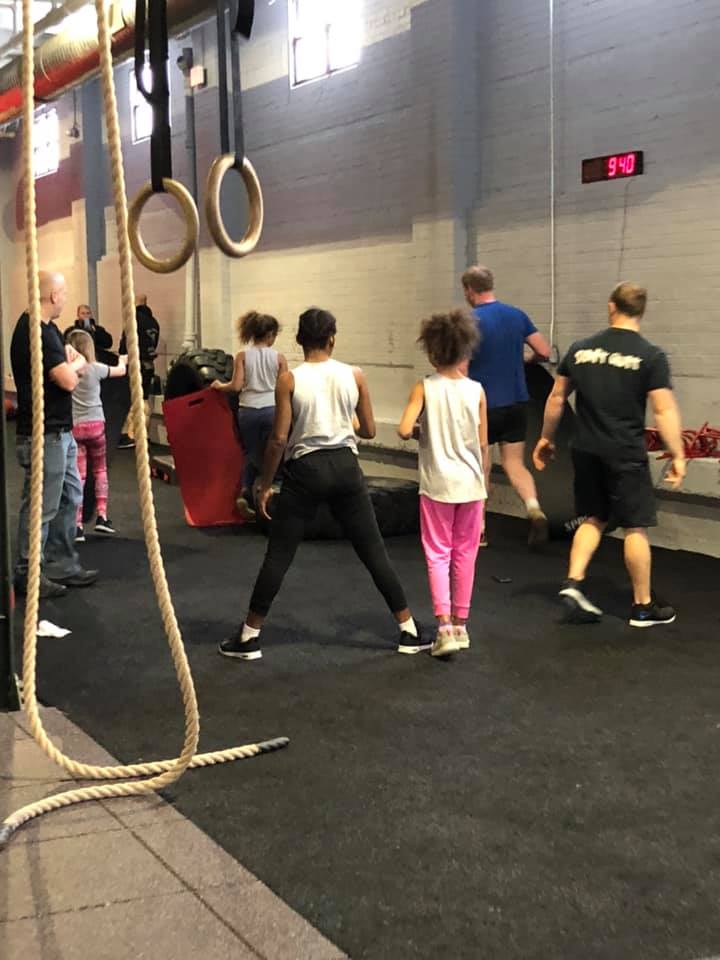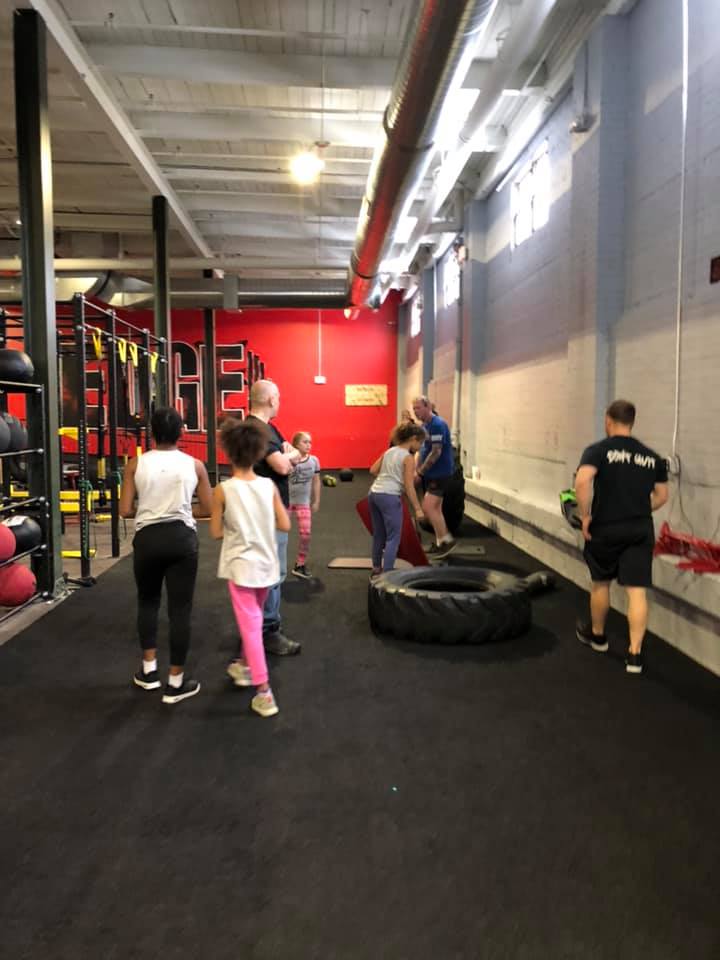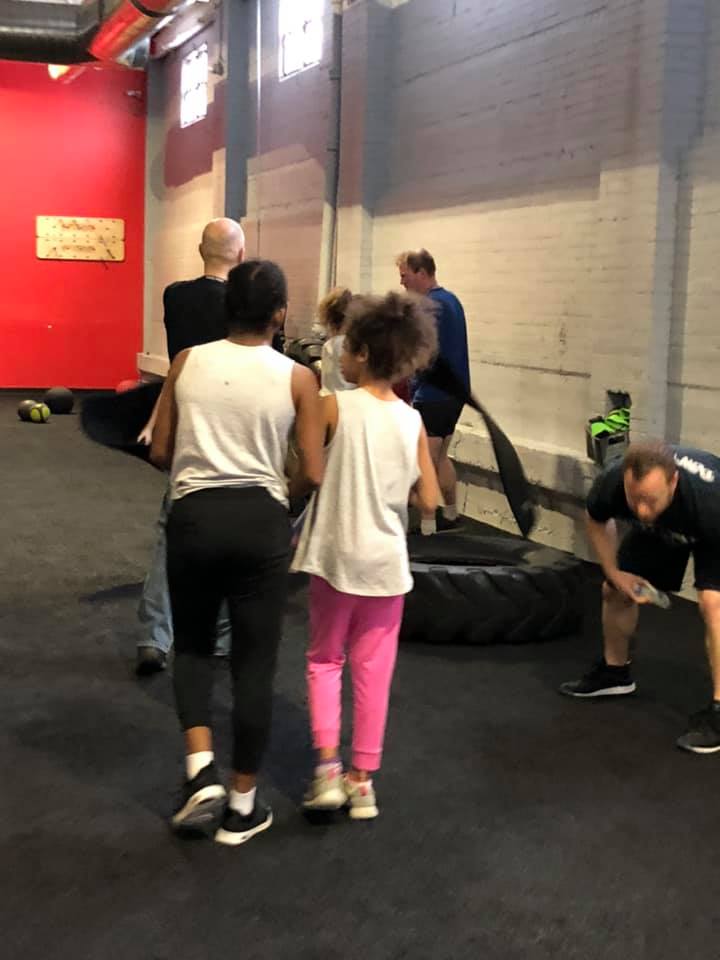 ---
January 7, 2019
Race Schedule for 2019 - NICA - NY is posted! Cant wait!! Click Here
---
January 5, 2019
Practice for the b.i.k.e.-Syracuse NICA NY Race Team begins January 19th! We are all ready. We have two amazing Veterans stepping up to volunteer their time to coaching and mentoring. Steve and Scott - and Lisa Short - mom and Aunt to some of our riders and Christina Germano - teacher and coach from Binghamton assisting. We are ready! Stay tuned!
---
December 21, 2018
Please think about a donation to b.i.k.e-Syracuse and our NY NICA Youth Race Team for the 2019 Race Season. It is tax free as b.i.k.e.-Syracuse is a 501 (c) (3) Non-Profit. You can securely donate here. Happy Holidays and Thank You! Every dollar goes toward the benefit of our youth - for equipment and travel expenses and food. Thank you!
---
December 17, 2018
Practice starts the second week in January. 9 youth riding this year for NICA-NY bike-Syracuse race team. 2 ARMY Vets volunteering with us and 2 Moms helping us out - Christina Germano - assisting Coach. We have returning riders from last year. We are excited and we are ready to start our practices. Thanks to Edge Gym and Aspen Gym for allowing us to use trainers and strength training. Stay Tuned!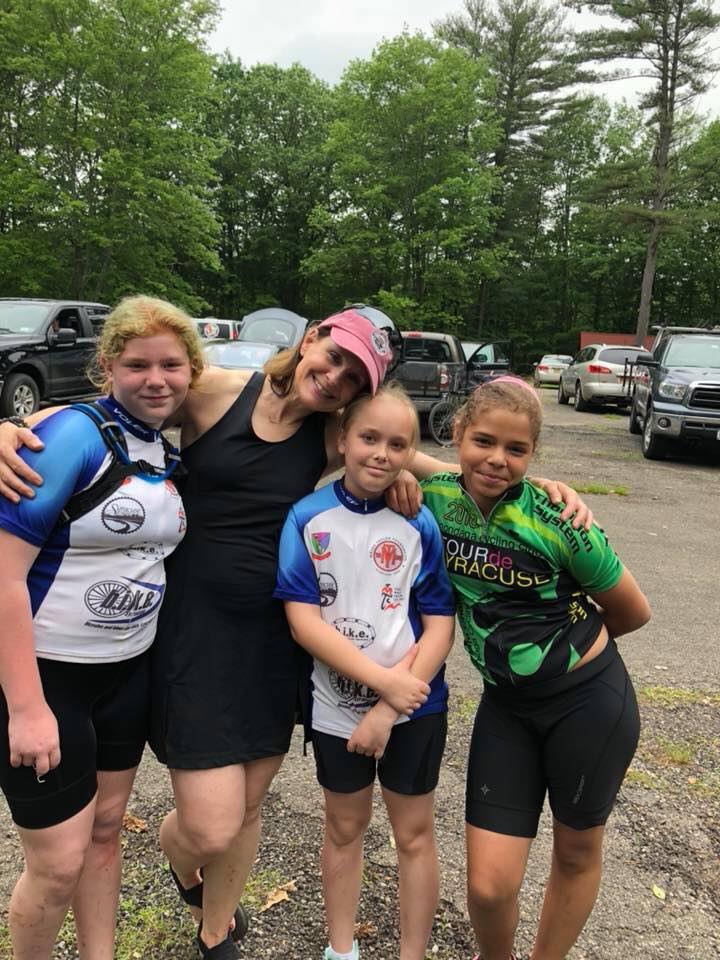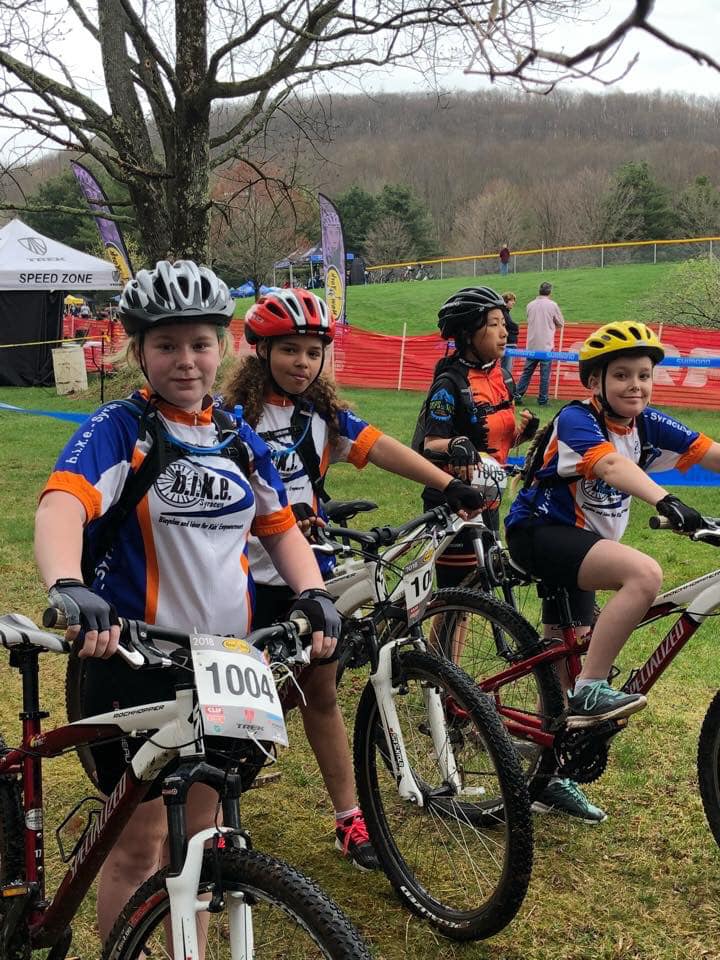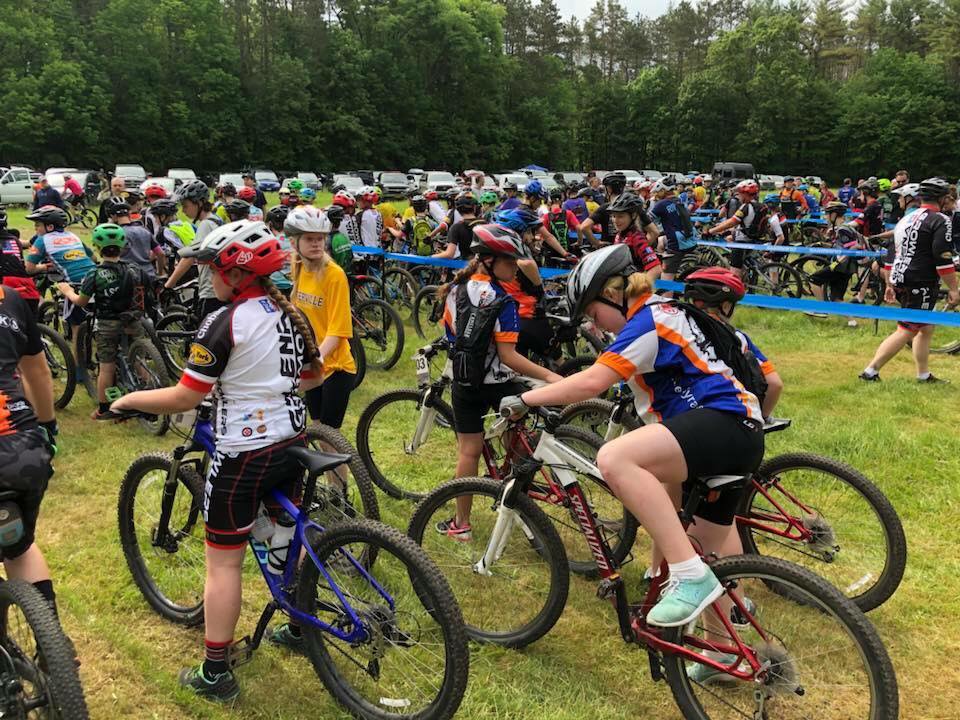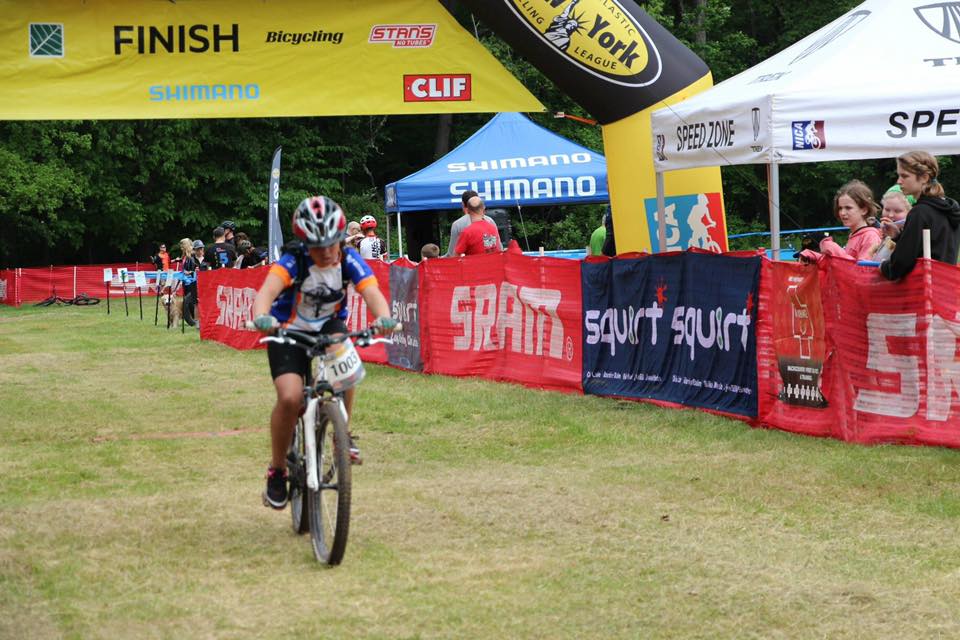 ---
November 29, 2018
Practice starts in one month! b.i.k.e.-Syracuse is discussing partnering our mountain bike athletes with our local Veterans for strength training partners and mentors! A Win-Win for our Race Team!! Stay tuned for more! So exciting!
---
November 12, 2018
b.i.k.e.-Syracuse begins practice for the New York NICA race season the first week on January. Thanks to Christina Germano, Assistant Coach and parents, Lisa Parks-Edet and Susan Gillan - we have extra help to take on more youth this year! Our race team graduated our senior riders last year and this year we start over with Middle School riders and the majority are young ladies! Looking forward to this race season! Natalia will be defending her title as the top 6th grade female rider in the State. Moving on to 7th grade she has some competition! Brothers Omar and Chamar who graduated out of our club will be back to help coach! Just awesome! Both brothers have been riding since they were 8 years old with our program! Wish us luck and stay tuned!
---
October 20, 2018
b.i.k.e-Syracuse has bee around since 2006! All of our kids, that started with our program back then, have graduated on into life. So proud of all our past members. Many past members, have come back to help us with younger kids now. Very cool! The b.i.k.e.-Syracuse NICA NY race team is coming together for this years race season with all middle school kids- mostly girls! Including Natalia, who is the top NICA 6th grade middle school female rider, for last year's race season, in the State. It's like starting over! How cool! Starting practices shortly. Stay tuned and thank you for your support!!
---
August 9, 2018
Purchase with purpose. Amazon donates to b.i.k.e.-Syracuse Inc when you shop for back to school supplies at smile.amazon.com
---
June 10, 2018
NICA-NY race results. Pictures of our kids and other well deserving young men and women riders. Great Season.
Congratulations again, Natalia Thomas, for overall 5th place for Middle School 6th grade Girls! So proud of this team!
Click Here
---
June 4, 2018
Just a note of thanks to all the supporters of our youth program this year....Thank you for your donations and comments and words of encouragement. We could not have done this race season and program without you all.....I wish each one of you could have been at the NICA-NY Races to see the smiles (and tears at times) on the faces of these athletes as they competed. One rider, in particular, increased her self confidence dramatically this race season and, at the race, this accomplishment was commented on by her mom.....I watched another mom cry with tears of joy and pride as her daughter came across the finish line....Moments like these are why I continue to mentor and coach...and this club could not do it without the support from the Community and around the State. So thank you, all, for your donations and support! Ride On!
---
June 3, 2018
We couldn't stay for awards today after the championship race, and the overall point standings had not been tallied when we left, but I was informed that Natalie Thomas, riding for b.i.k.e.-Syracuse made 5th place overall for 6th grade girls in the overall season position with NICA NY. Go Natalia! So proud of this young Lady!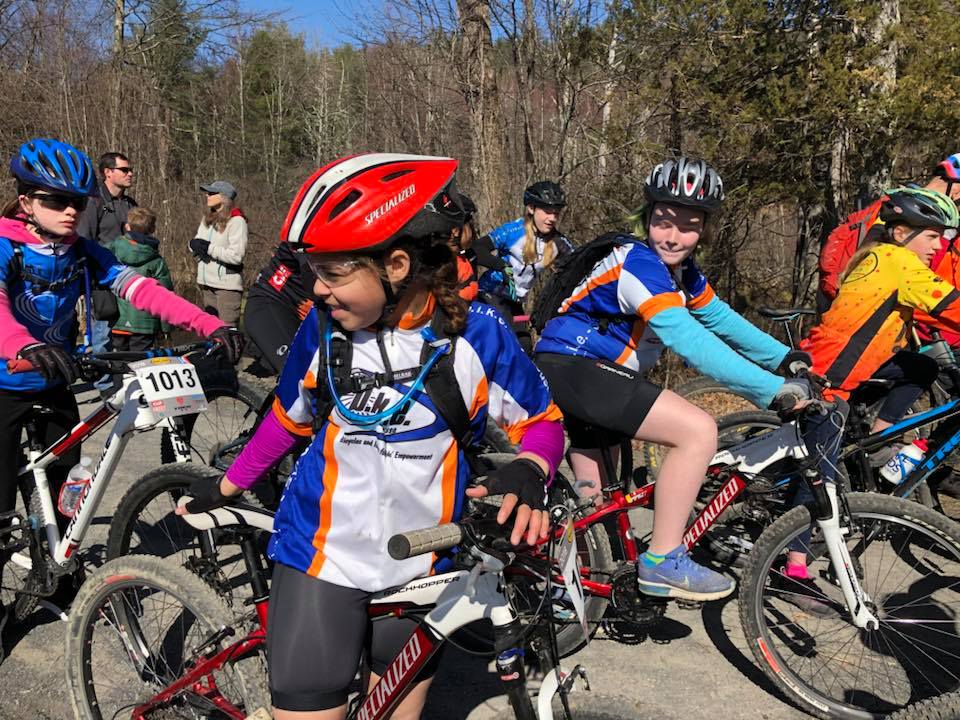 ---
After a great Italian meal the team settles in for swimming to relax before the Championship race tomorrow. We did have to make a pit stop at the bike shop for a bent hanger...however, we are now ready. It's been a great race season. This young team is dedicated. Stay tuned for the race results!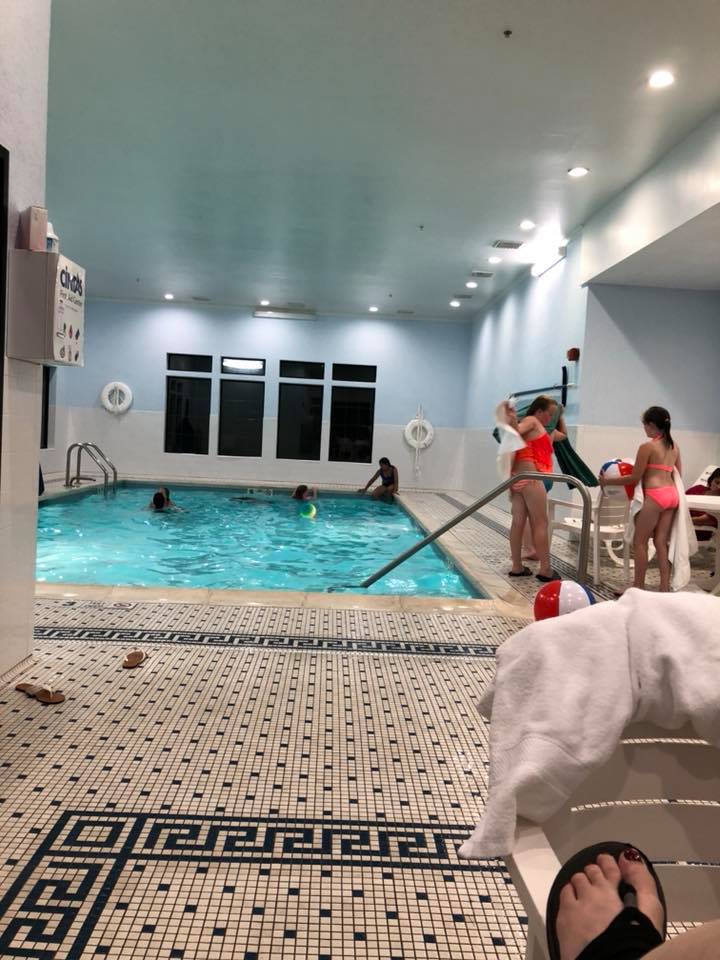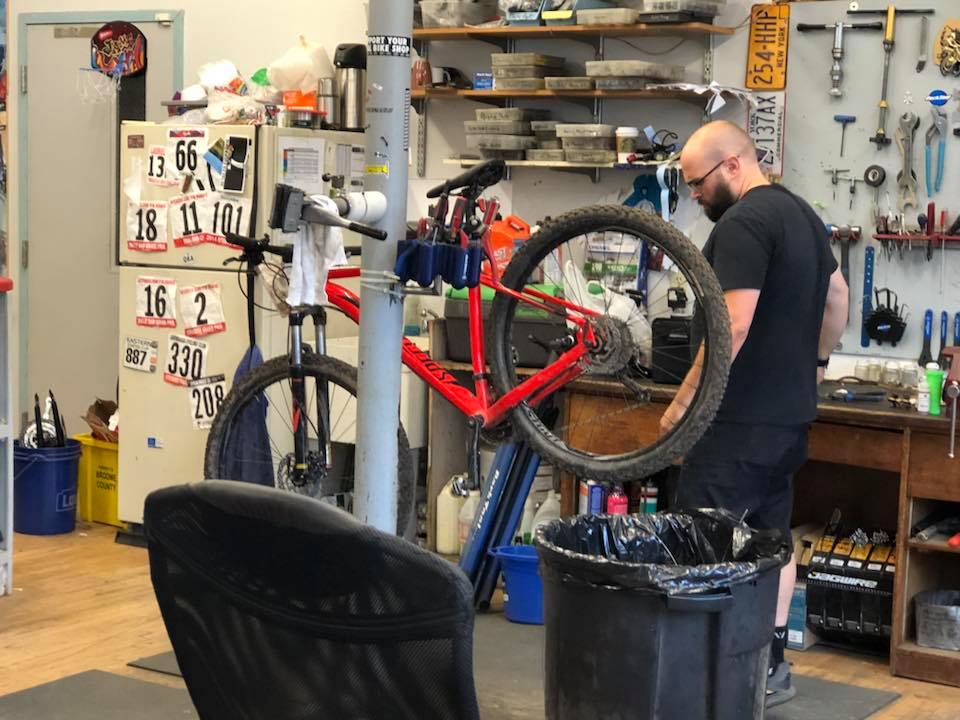 ---
June 2, 2018
We are off to the NICA-New York Mountain Bike Championship Race in Binghamton New York! Wish us luck!
---
May 24, 2018
Two of b.i.k.e.-Syracuse's riders honored in the ELA showcase at school....Very nice! Very proud of these young ladies! They Rock their school work and they Rock the mountain bike!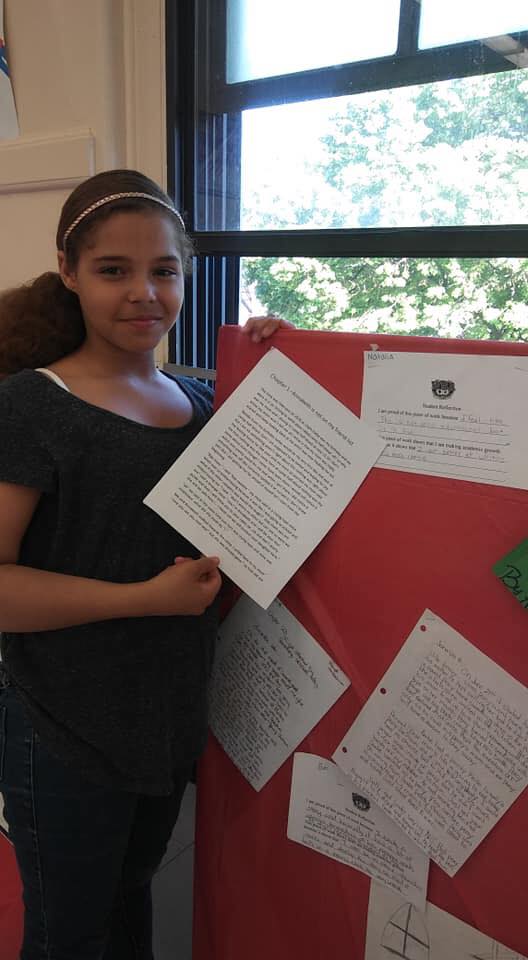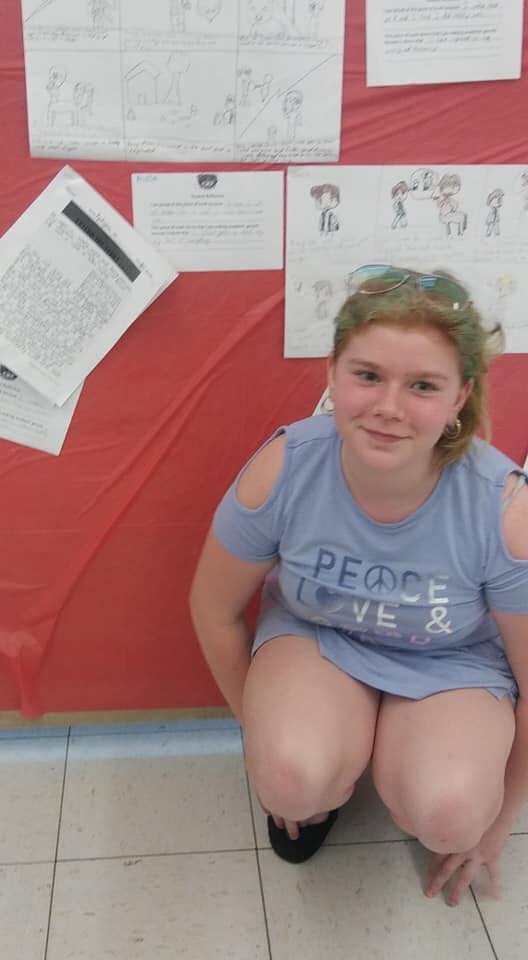 ---
May 20, 2018
We made it! Queensbury, New York NICA New York Mountain Bike Race- overcast but at least no rain!
---
May 19, 2018
Last year riding for b.i.k.e.-Syracuse. We will miss Chamar! One good mountain bike rider!
Proud of this young man. He has worked hard this year.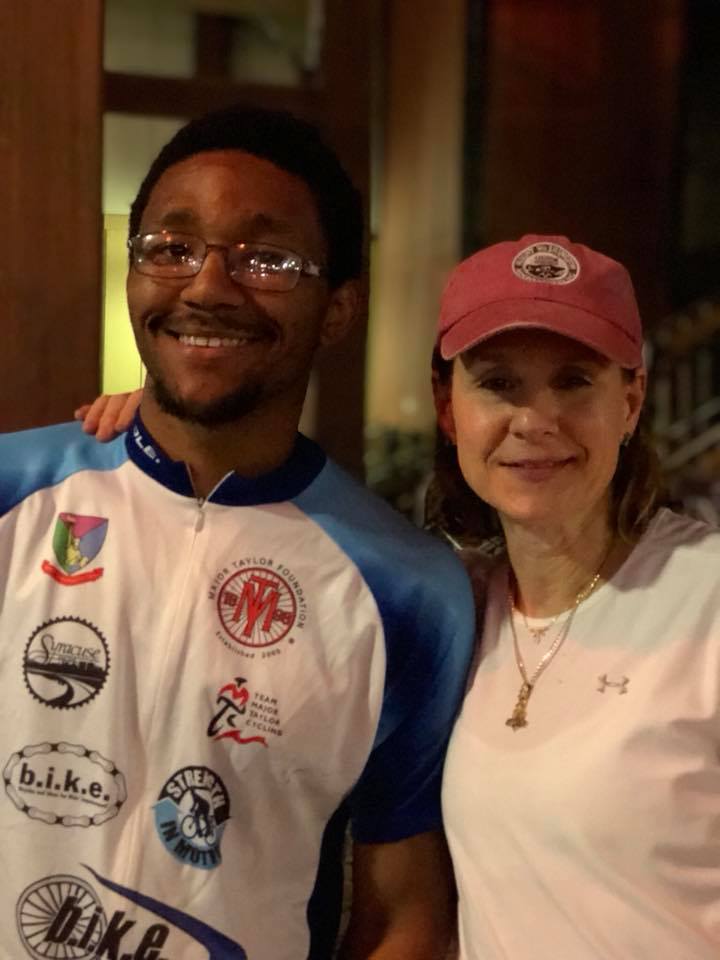 ---
In Queensbury New York for the NICA New York Mountain Bike Race! Pre-ride canceled due to rain, however that didn't dampen our spirits!
We are at Six Flags Water Park still getting our workout in! Stay tuned!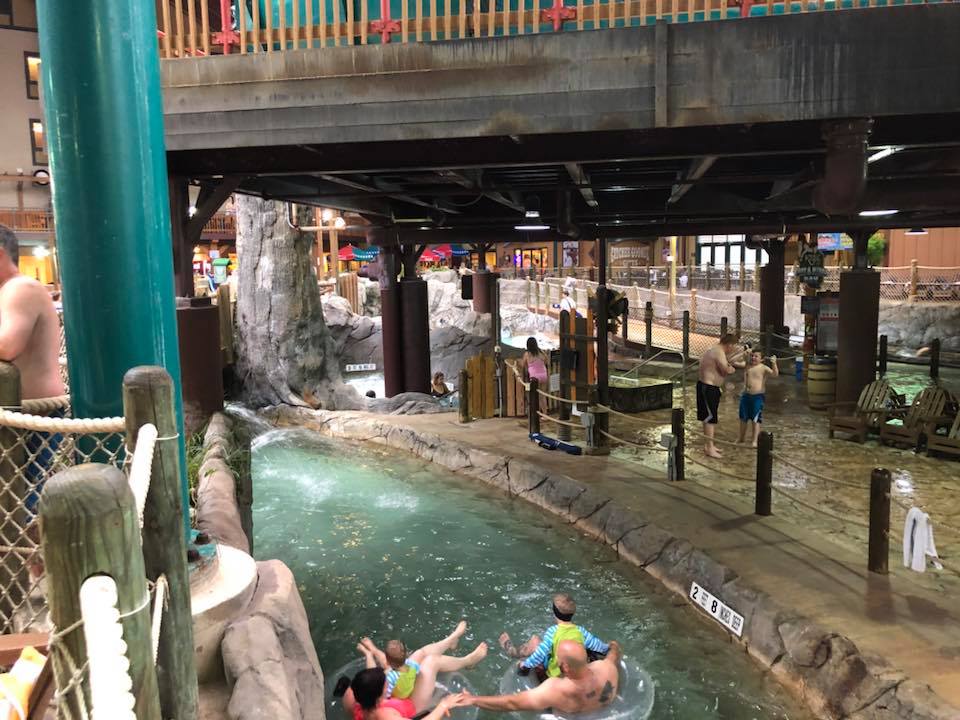 ---
May 16, 2018
Chamar's first practice ride with clips. He needed a little help from teammates! Great ride!
]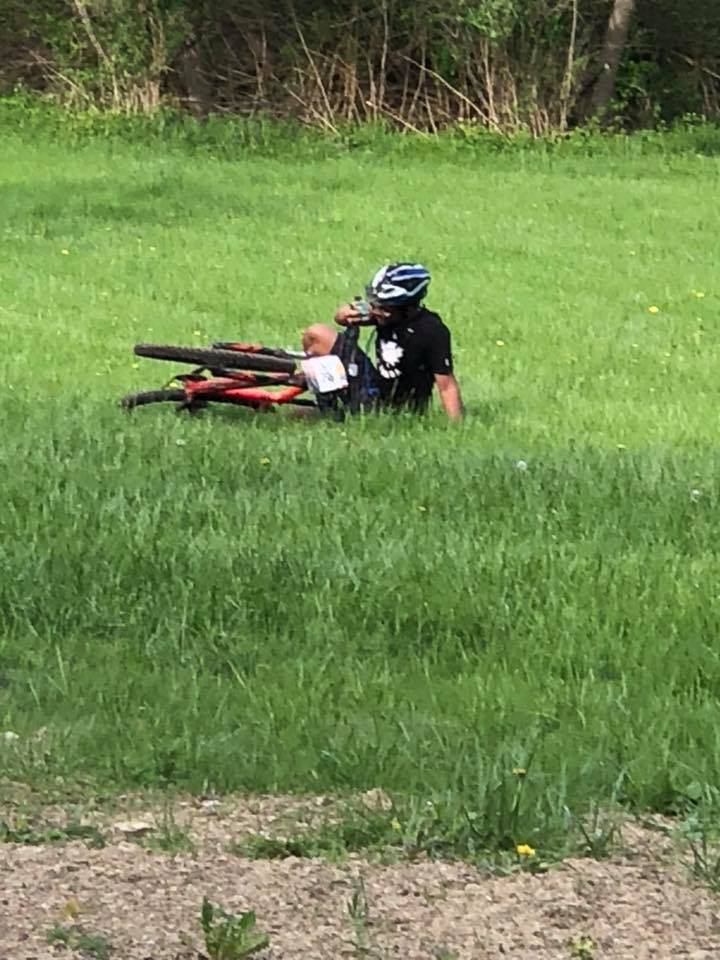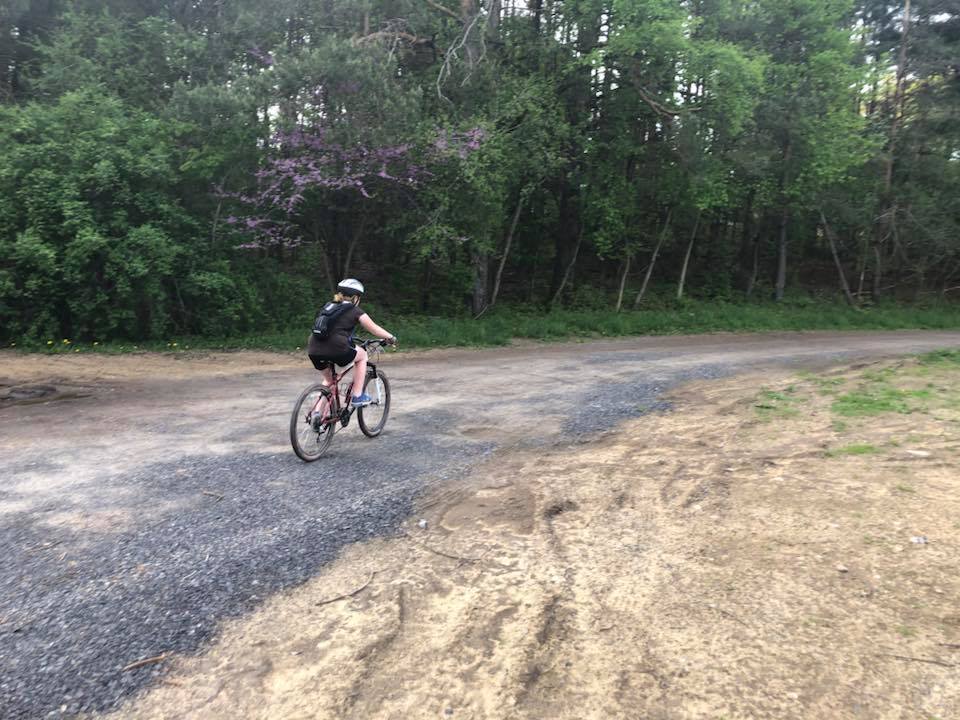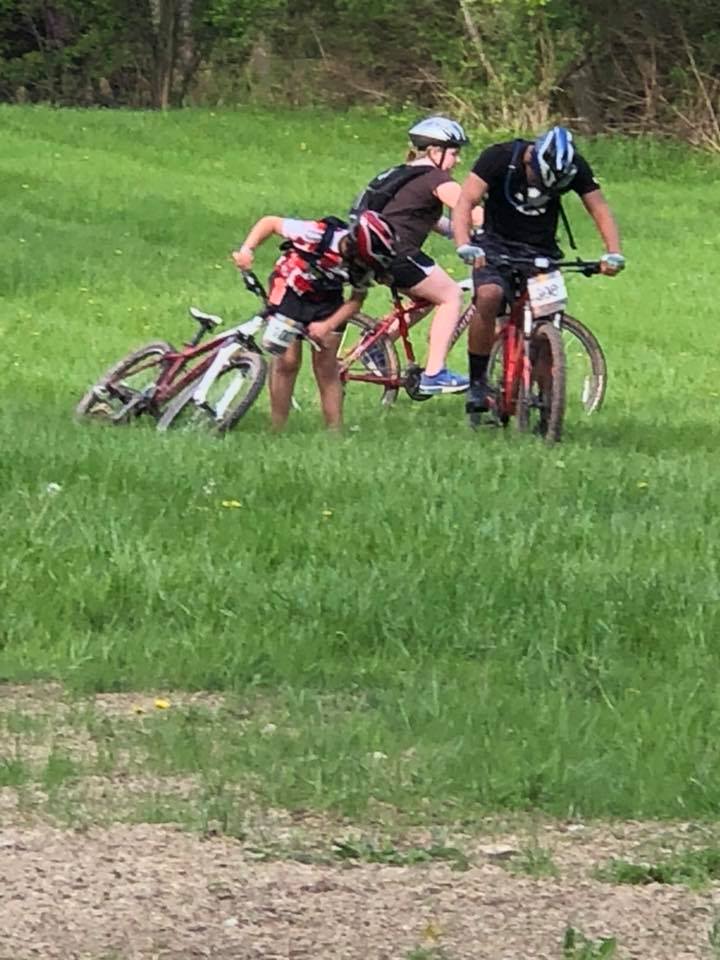 ---
May 12, 2018
Strength training today. Riding tomorrow. Working hard!
---
May 10, 2018
Race Results of NICA-NY, Walnut Mountain Race. Pictures. A great day! Next race next week! Stay tuned !
---
May 6, 2018
Great day of racing and challenging! So proud of our riders! The course was wet and greasy but they rode on...not giving up!
---
One heck of a course. Rain and mud and our middle school girls did awesome. Kyleigh finished her lap! Wooo hoooo! The sweep told me that she is one young lady with Grit! So proud. Chamar is off. Incredible high school course. Huge climb. Bridges and slippery downhill. Good luck!
---
Race Day! And Rain!!
---
May 5, 2018
Pre-race team dinner....b.i.k.e.-Syracuse. Omar came out to support his brother Chamar and Christina Germano (Coach Germano) came out to assist. Thank you Susan Gillan and Lisa Parks-Edet for all your help! Awesome day. Pray for no rain tomorrow!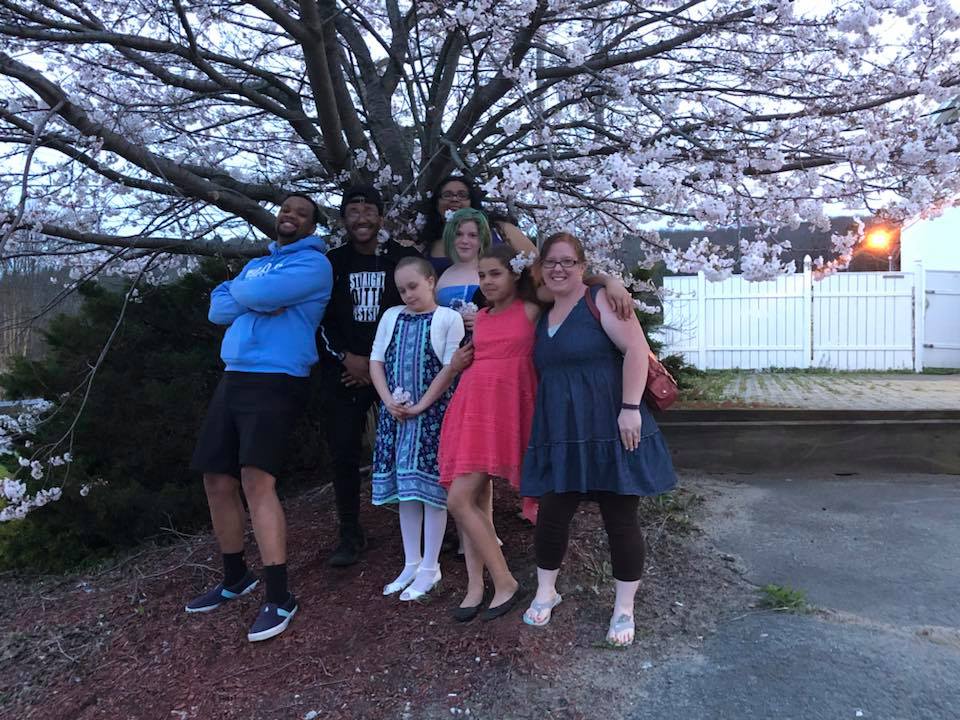 ---
Girls on mountain bikes! So much fun today riding with NICA-New York - preride to the race - honoring WOMEN'S MOUNTAIN BIKING DAY! Go b.i.k.e.-Syracuse.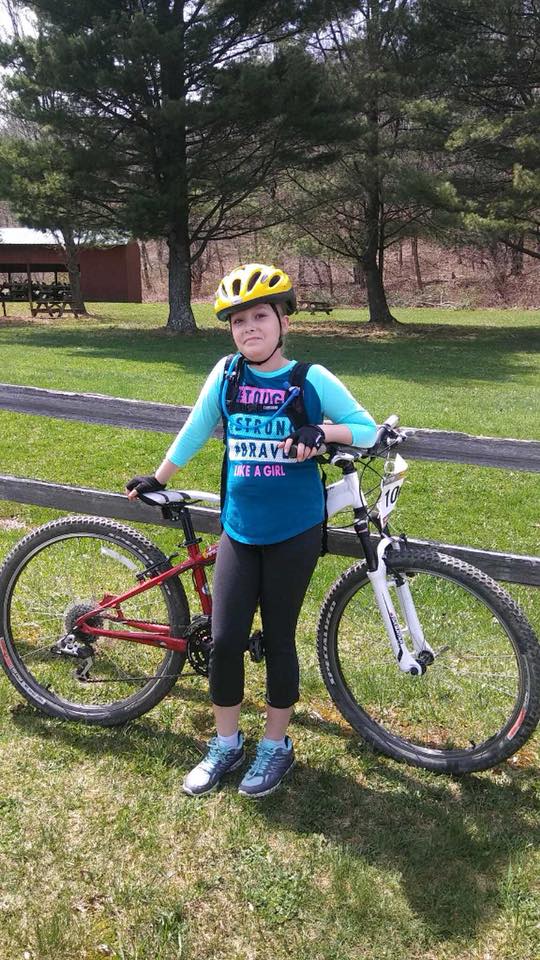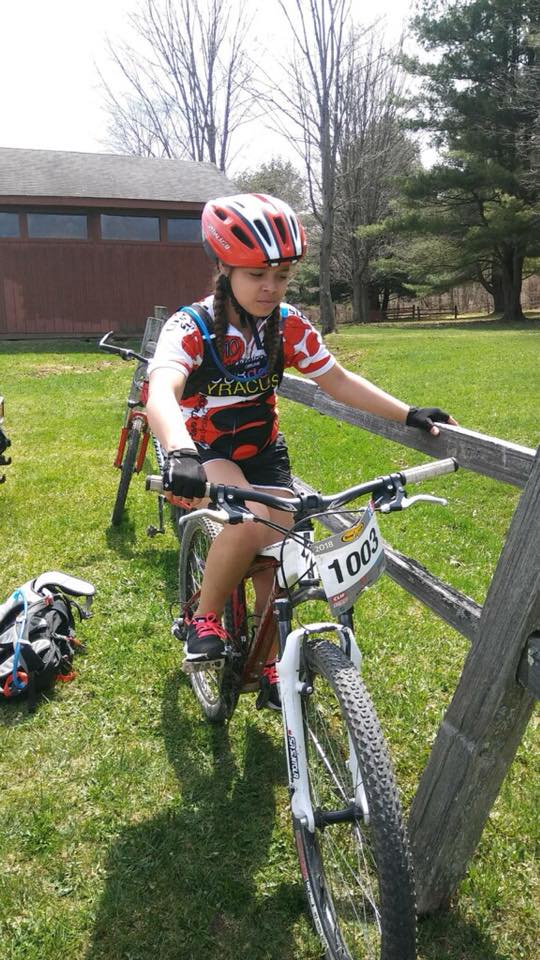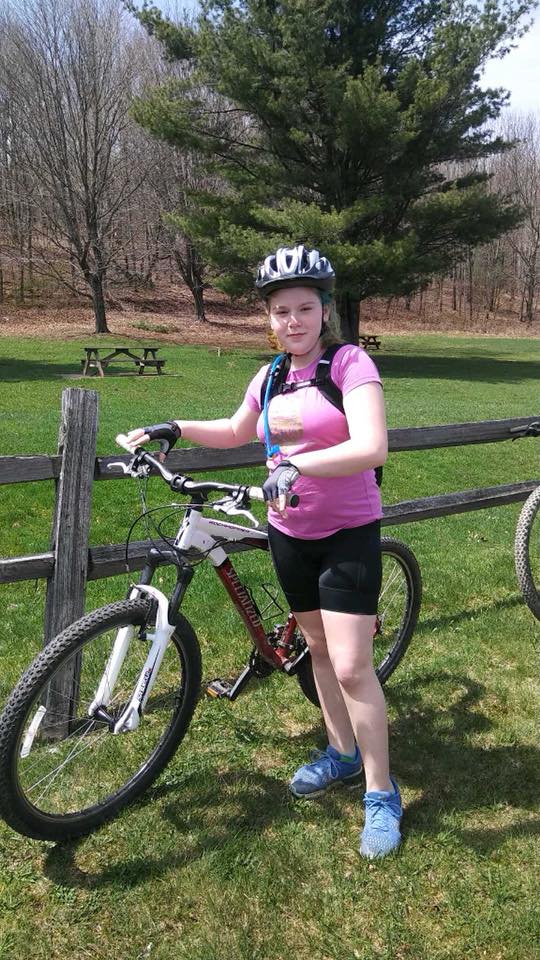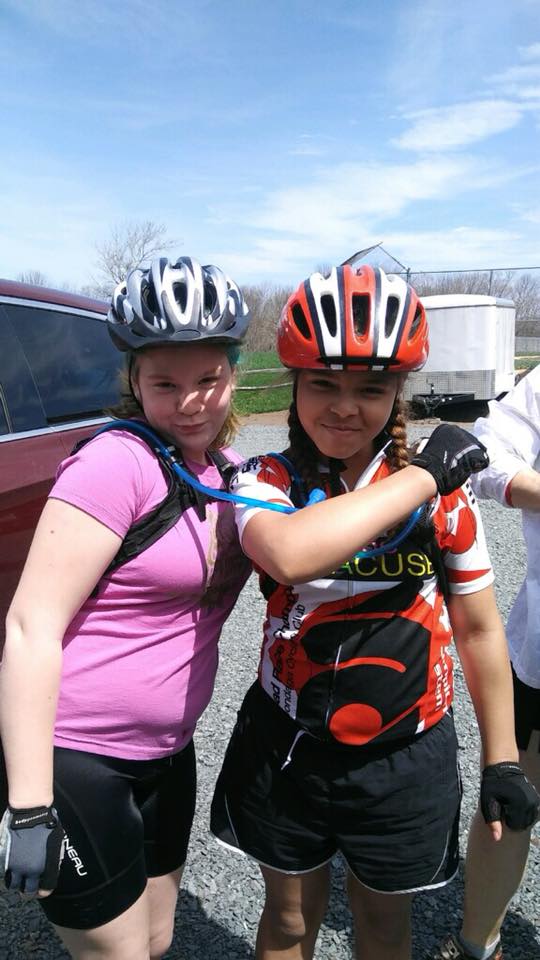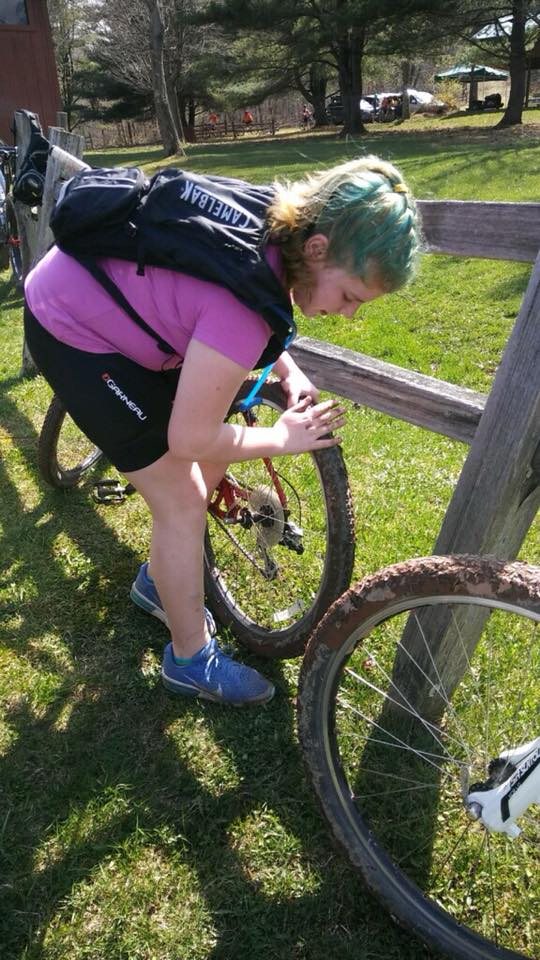 ---
Happy Women's Mountain Biking Day!! On our way to our second mountain bike race in Liberty NY. Stay tuned!!
---
April 30, 2018
Tough practice tonight - strength training. Girl Power. IMBA Women's Mountain Biking Day is May 5th. The woman of b.i.k.e.-Syracuse will be joining all the females at the NICA NY race in Liberty New York this weekend and riding in honor! This day was the idea of Andree Sanders - Coach, Friend and director of Trips for Kids Metro New York. IMBA ran with her idea and now May 5th is Officially Woman's Mountain Biking Day! Congratulations Andree! We salute the day!
---
April 29, 2018
Andree Sanders, Friend, Coach and Director of the nonprofit "Trios for Kids Metro New York" took these amazing pictures of b.i.k.e.-Syracuse at the NICA NY race last weekend. Enjoy!
---
April 28, 2018
Practice today. Middle School girls kicked some serious mountain biking - taking on a pretty good hill! Chamar demonstrated his leadership skills helping to coach some technical skills.
---
April 25, 2018
RACE RESULTS!! With the limited amount of practice that we had outdoors due to the weather - These results are amazing! Three of our middle school athletes have never been on mountain bikes or off road on trails before this race - So very proud of this team....no one gave up! Even Chamar who had mechanical trouble ran his bike for the last lap and finished to pick up points... Katty, one of the three middle school athletes, on her second lap had to leave the course due to the next wave of older racers. She did not want to quit! Lee Lee did exactly what she said she would do....and she did it..finishing her race and picking up points for the team!.........Awesome job! Where we placed overall is a tribute to this team not giving up! We have alot of racing ahead of us and a chance to move up in the standings! On to more practice outdoors, now that the weather is breaking... So proud of this Team!! It also should be noted that each member is taking their diets seriously and watching their intake of fat and sugar during racing season - asking for fruit instead of french fries, water instead of juice.....healthy snacks like cheese and nuts instead of chips and candy.....GO b.i.k.e.-SYRACUSE!!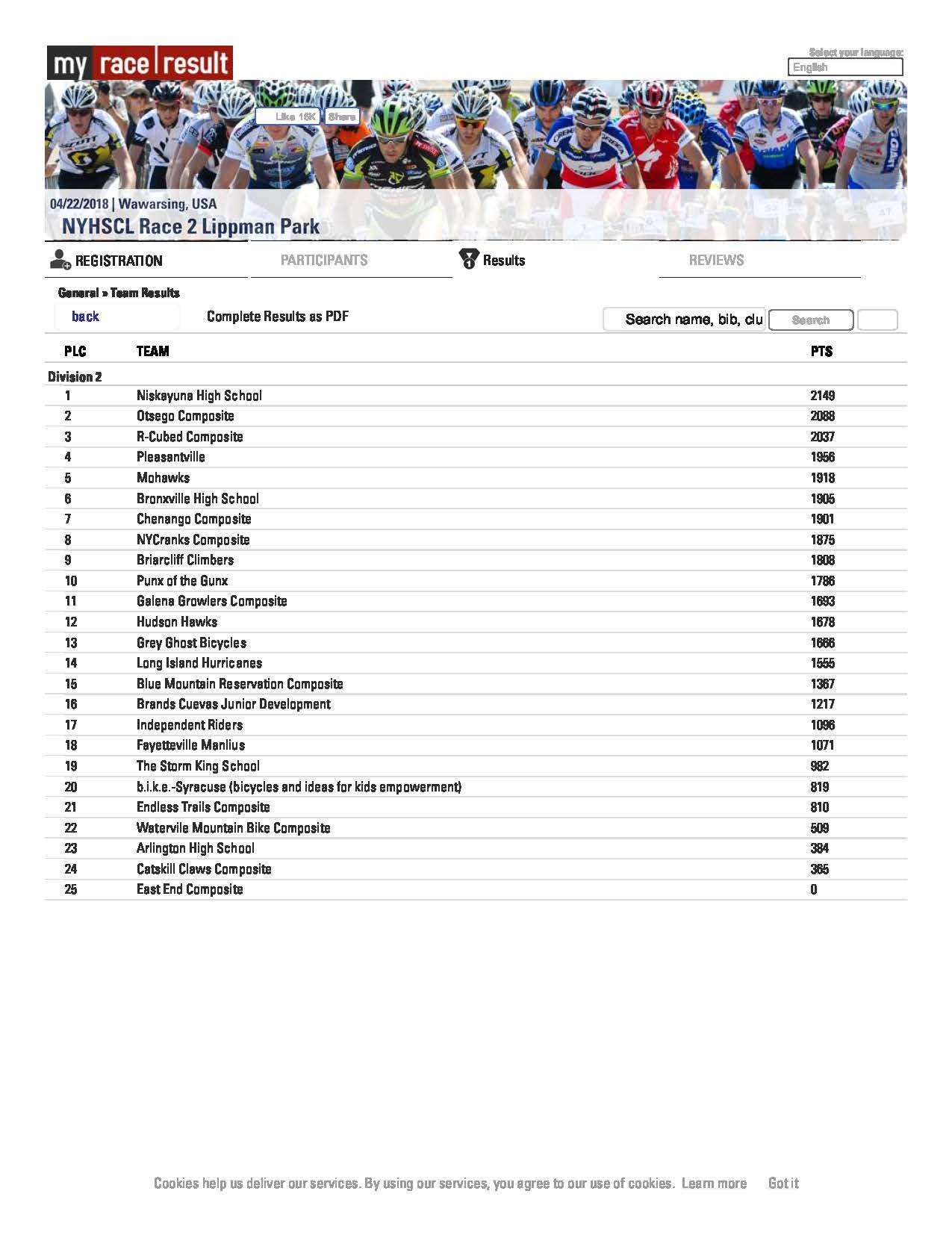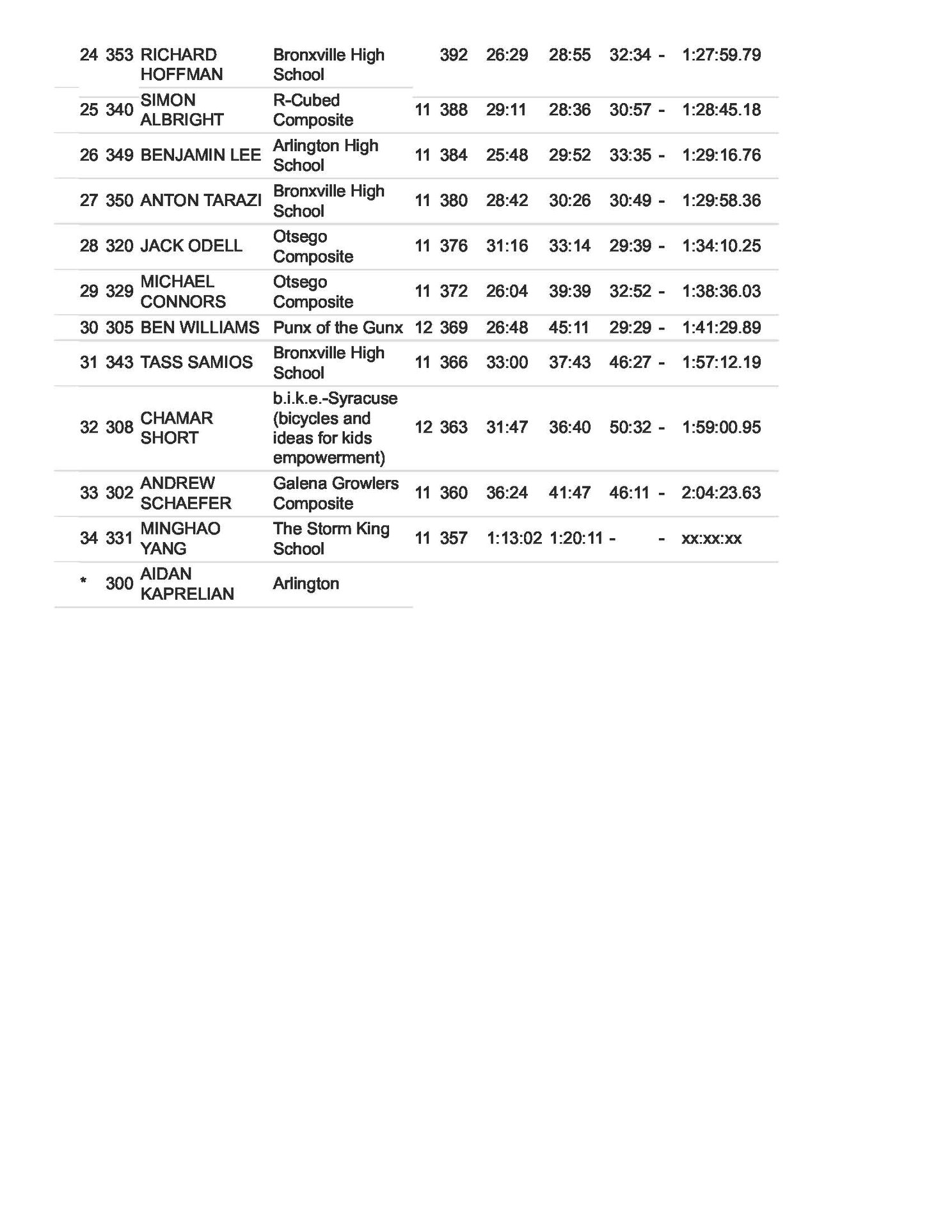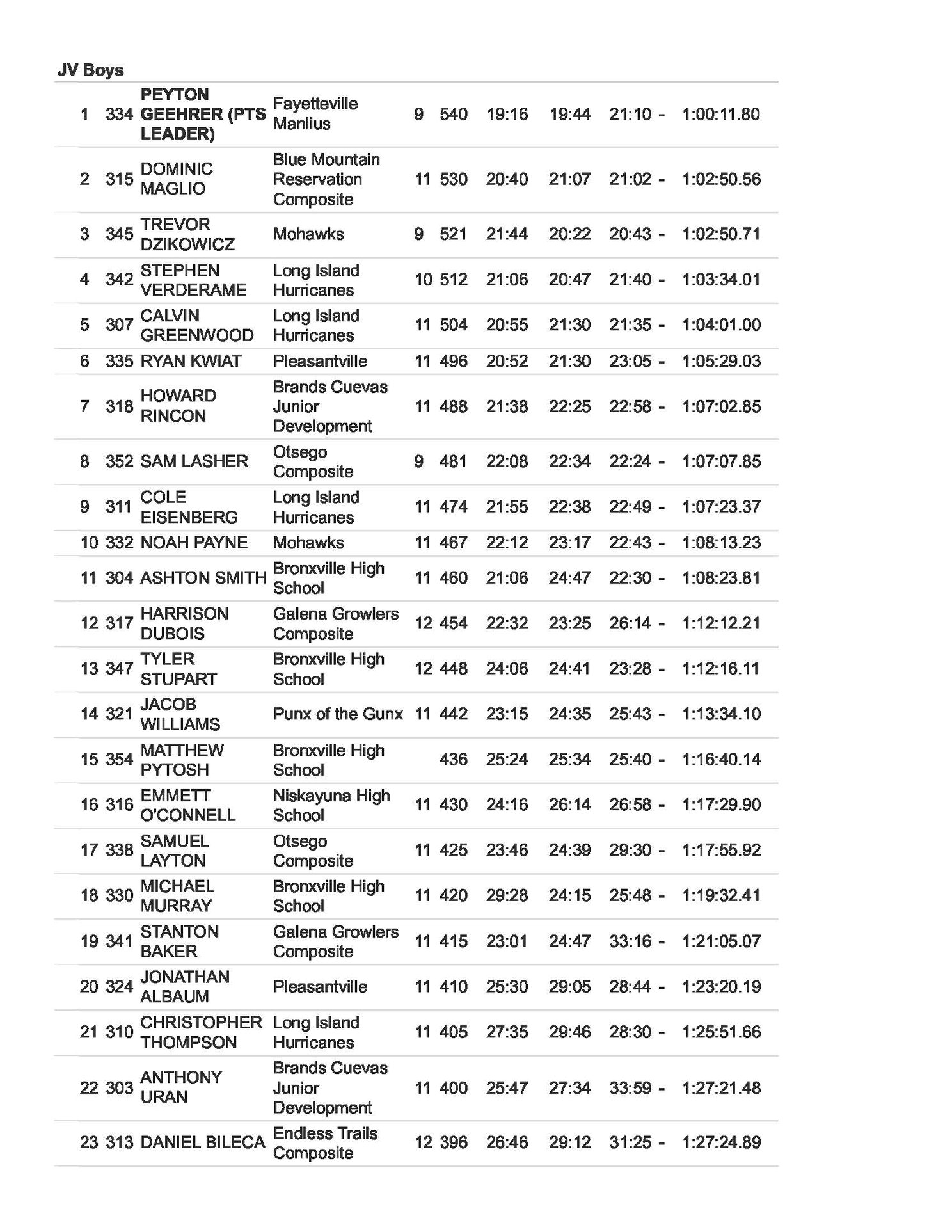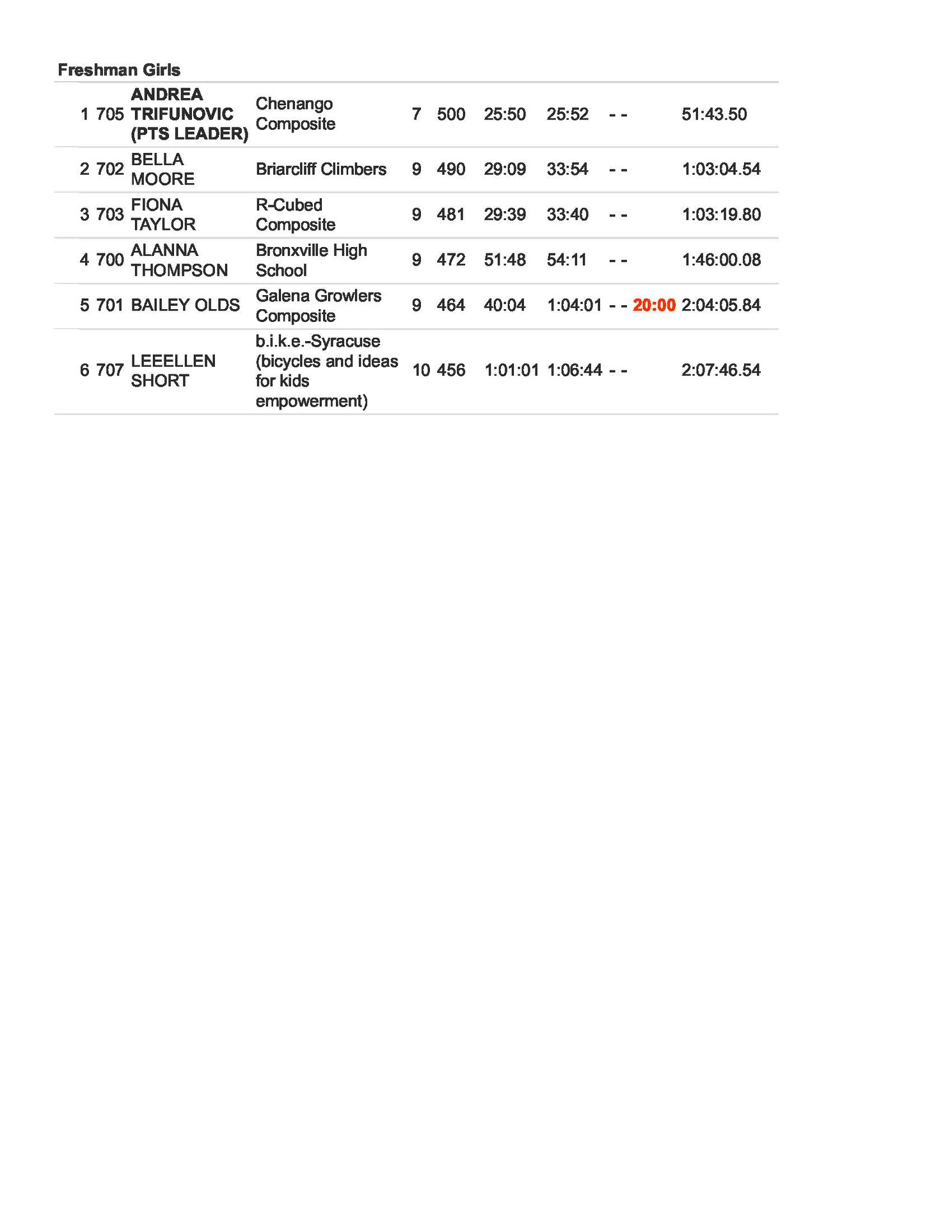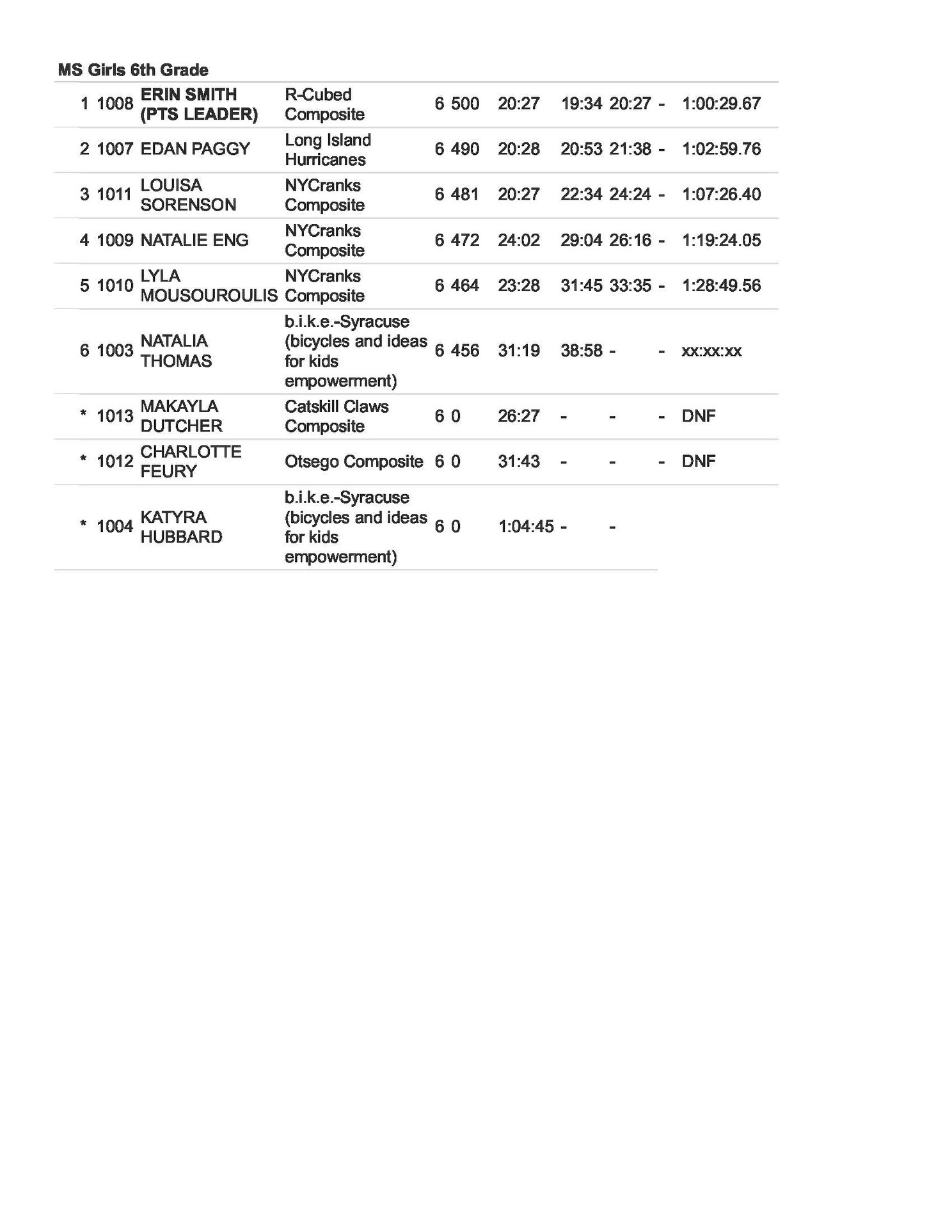 ---
April 22, 2018
Good day racing. Natalia finished her first MB race and came in 6th out of 9 riders in her age group! First time on trails for Natalia. Although Katyra did not finish she wanted to continue, but the Marshalls had to take her off course due to start of next race. She didn't want to stop and this was Katyra's first race and first time on trails! Wow! During pre-ride Kyliegh decided that she wanted to practice a little more before racing and decided to not race this race- but Kyliegh was there to cheer everyone on. Chamar had some great times for his first two laps, but in his third and last lap, tore his derailleur off his bike and had to run 2/3 of the race to finish-however Chamar finished! Lee'Ellen did an amazing job completing both her laps in the female freshman division and refused to give up finishing strong. So proud of these riders. With hardly any outdoor time and with no trail time, we all are so very proud of our riders! Next race in 2 weeks! Thank you Susan Gillan and Lisa Parks-Edet for your help. And thank you Susan Lanz Kerr for driving up from Long Island to cheer us on. Jerry was with us today.
---
April 21, 2018
Getting ready for the pre-ride! Lippman Park Wawarsing New York.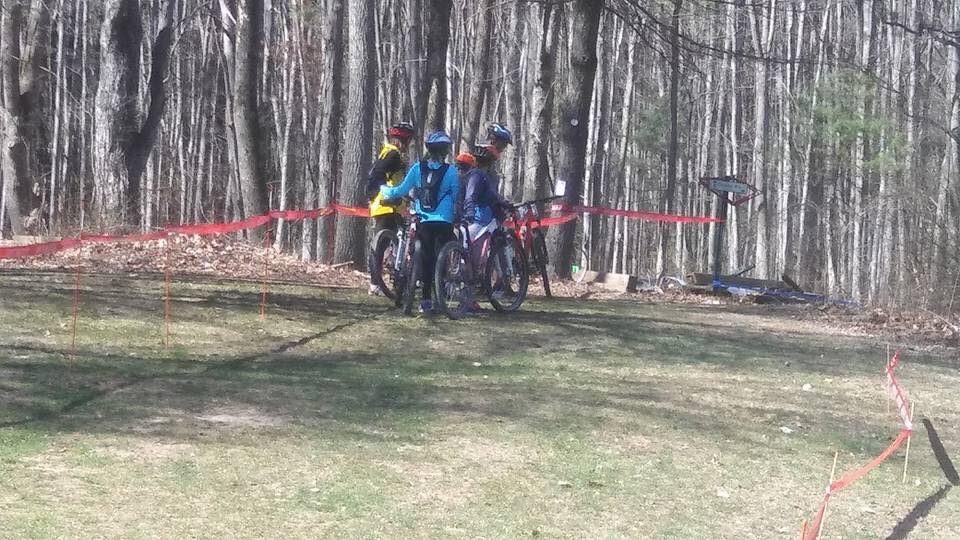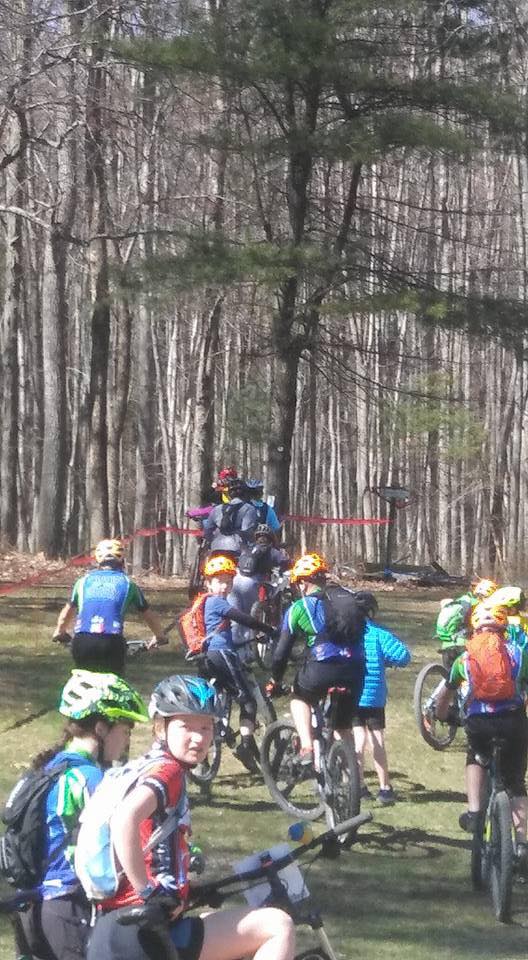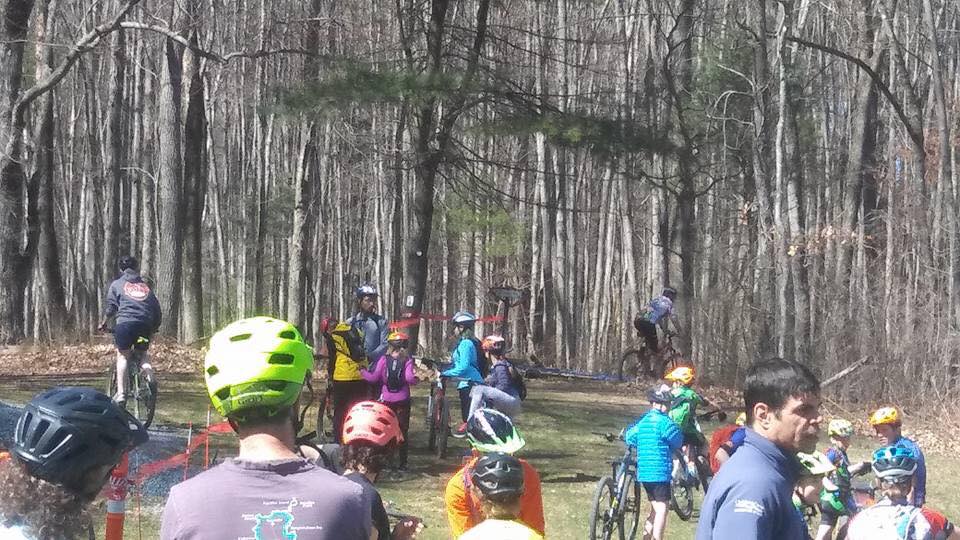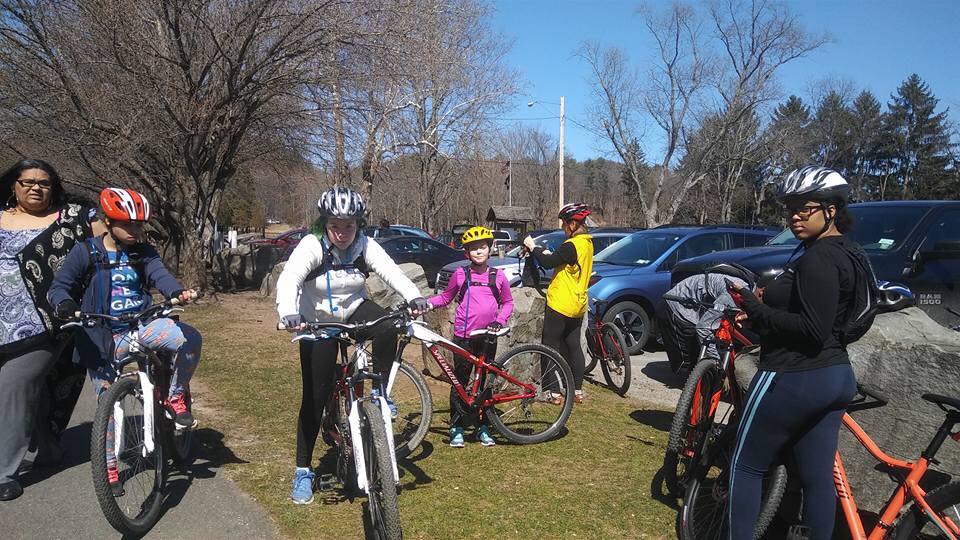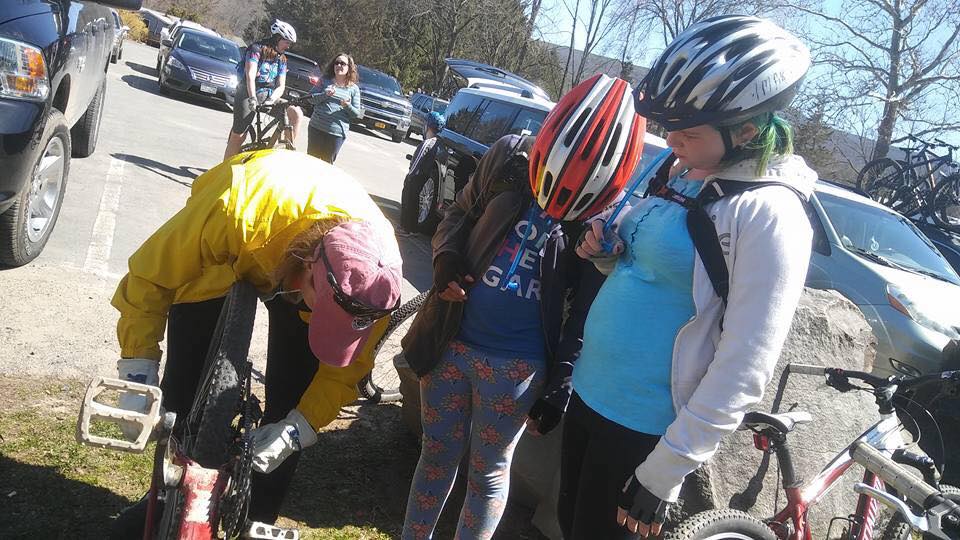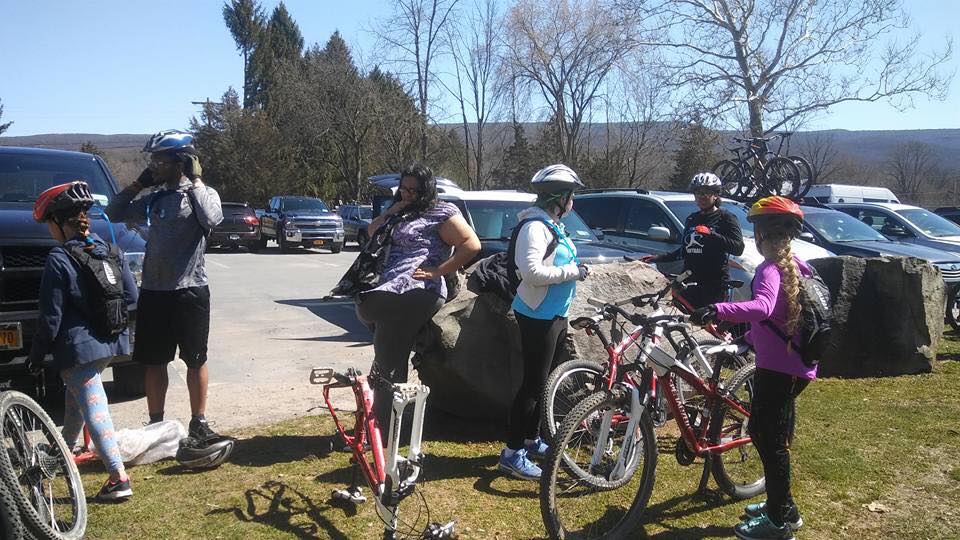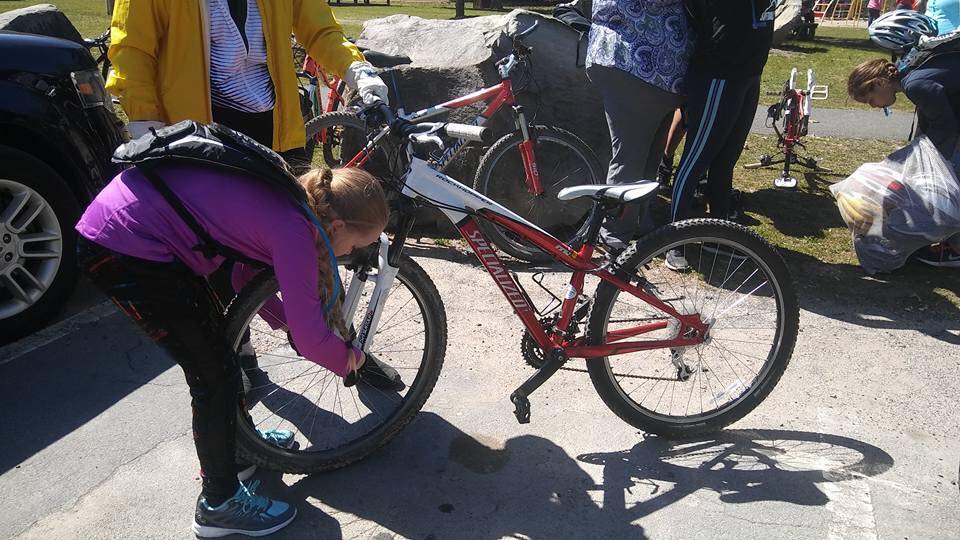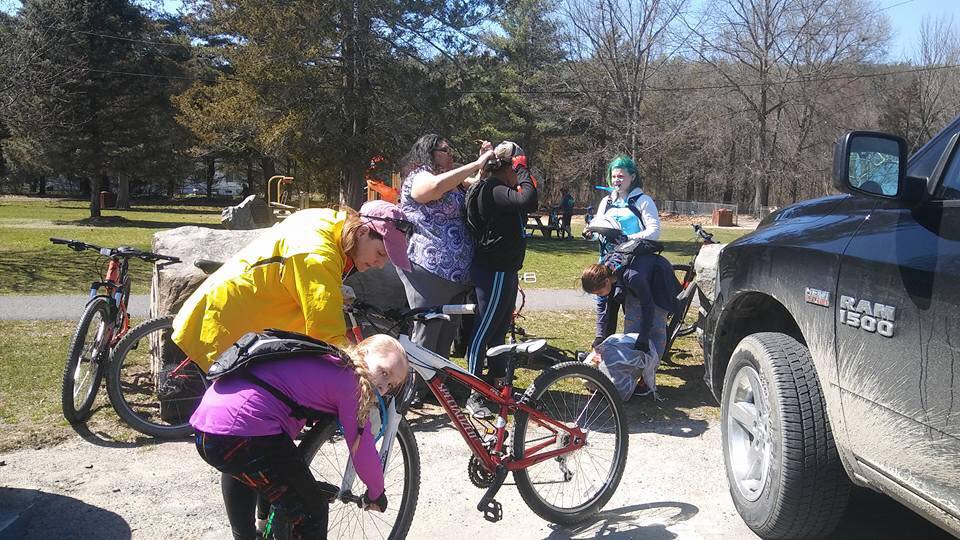 ---
Team dinner after the pre-ride. Great day!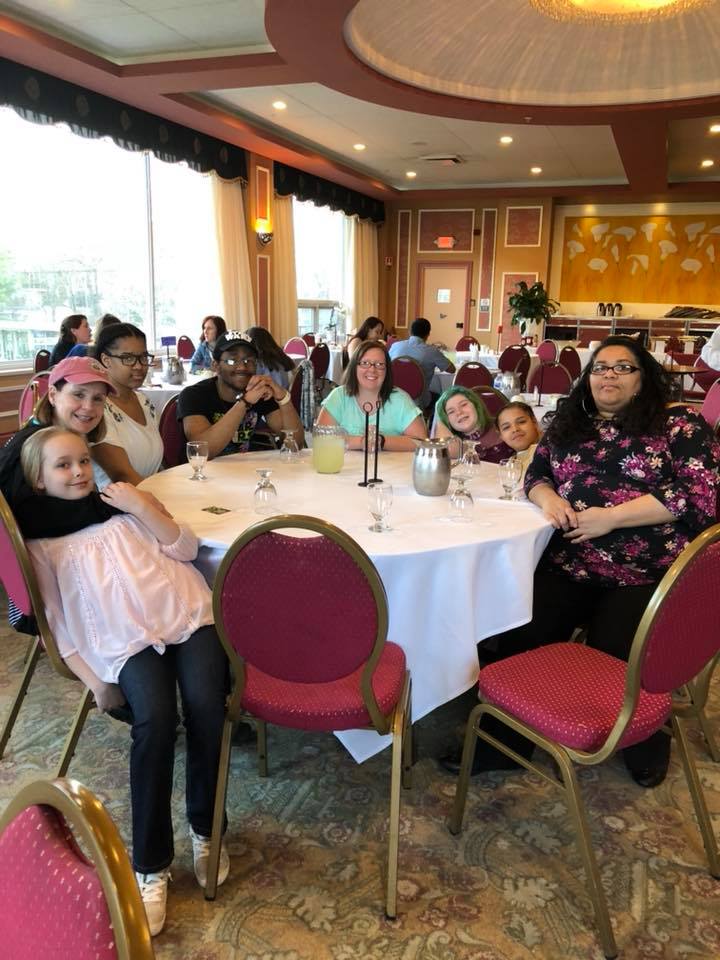 ---
Flash back to prior bike-Syracuse race team. All graduated out of program! Proud of these young men!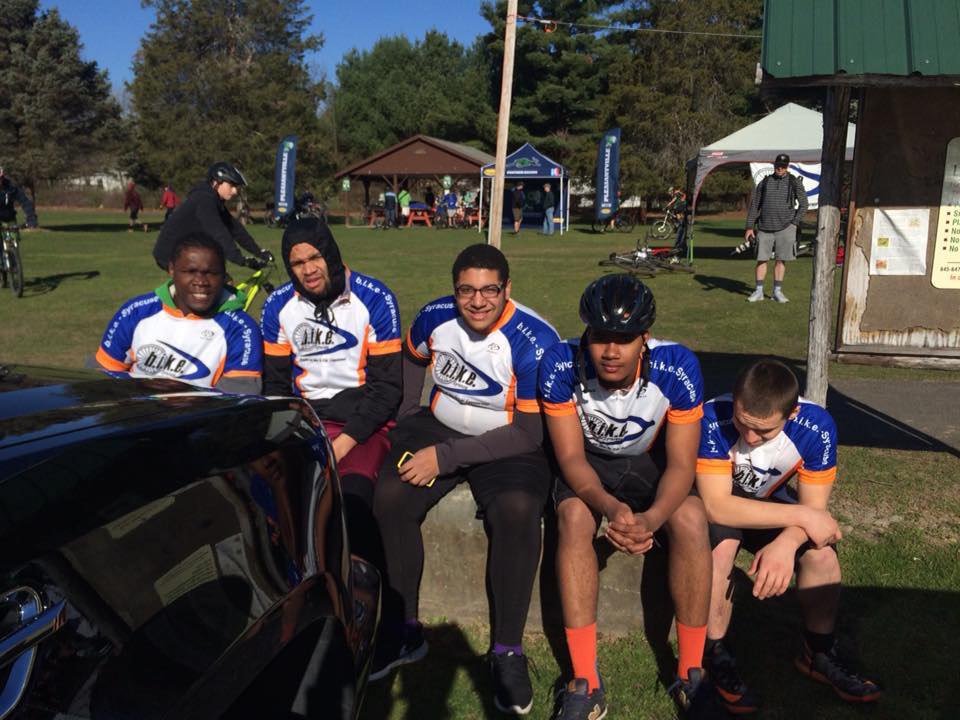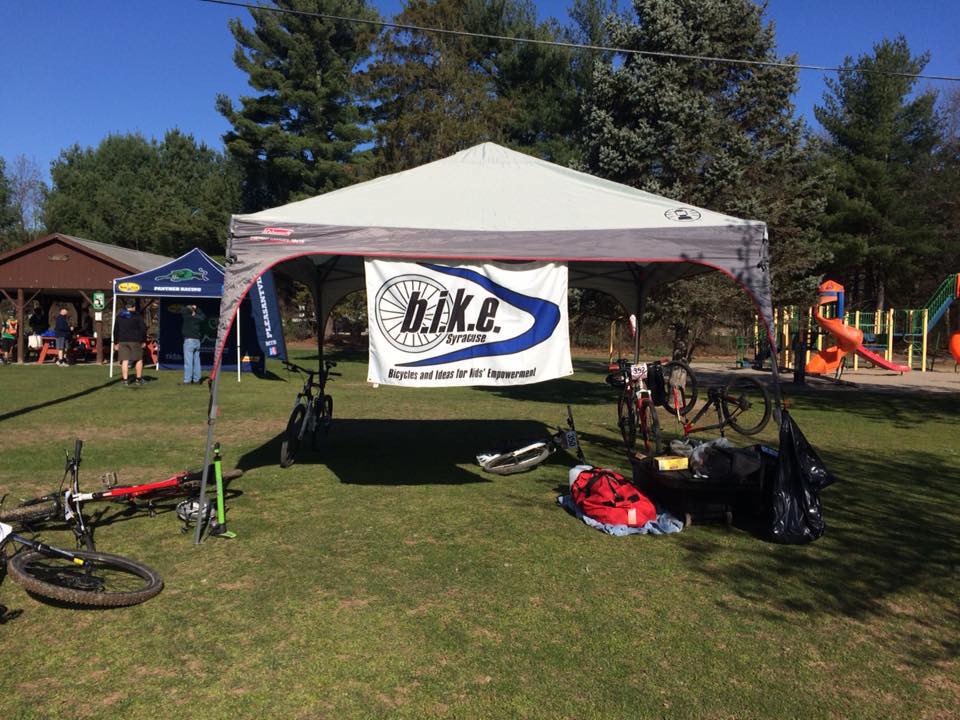 ---
We are off to Lippman Park! Wish us luck!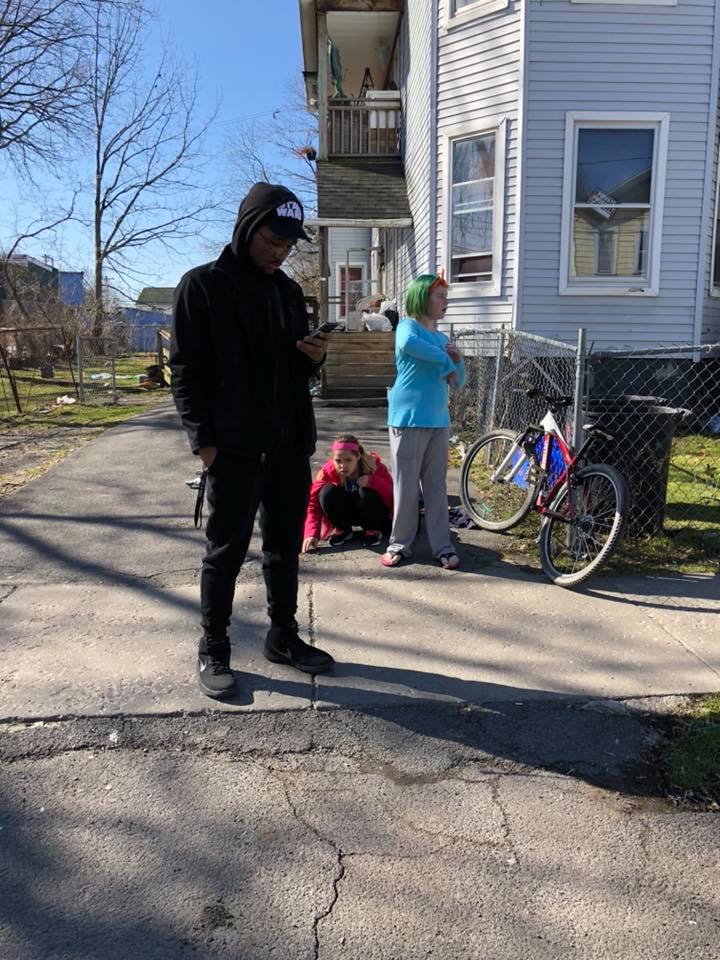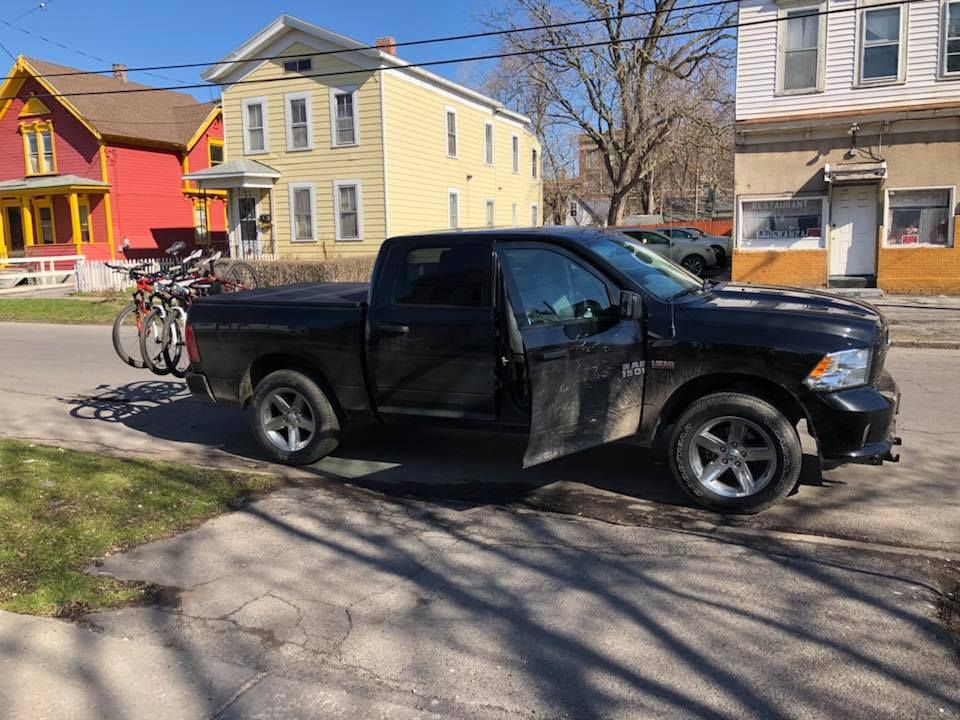 ---
April 20, 2018
On our way tomorrow morning to Lippman Park in Wawarsing New York for the NICA New York Mountain Bike Race. FINALLY after two weeks of cancellations due to weather we are racing! Stay tuned! We have middle school riders and high school riders this year! More young ladies this year than young men! Chamar is the senior rider on the team and a high school senior. Chamar has been riding mountain bike with b.i.k.e.-Syracuse since he was 8 years old! Chamar says he's ready to race! His brother, Omar, who also raced with bike- Syracuse and a sophomore in college, now, is going this weekend to support his brother, Chamar and his sister Lee Lee. Lee Lee is a sophomore high school rider this year and had also been riding with b.i.k.e-Syracuse since she was 8 years old. We have two moms going, Lisa and Susan and Susan Kerr will be meeting us at the race to cheer the riders on. We are all so excited. Wish us luck and RIDE ON!
---
After practice last night we had a team dinner at Sumera, a Middle Eastern Restaurant. Some of our riders did not want to go because they thought they would not like the food. But after trying the food, (we counted seven new foods that the kids tried and never had before)- everyone fell in love with Middle Eastern food! We also talked about the health benefits of eating vegetables and foods low in fat and sugar - no soda - not allowed in bike club. Great night of trying something new and different and coming away with a positive experience!
---
April 18, 2018
When we ride our bikes in traffic , bike-Syracuse enforces the rules of the road with our young riders. However lately we have been stumped for answers as the kids ask "why is there a bike lane in the city going up a one way street the wrong way?" AND, more importantly as we are riding along in the bike lane suddenly, "where did the bike lane go?"
---
April 12, 2018
So disappointed! The NICA Mountain Bike race on Long Island is canceled. Cold and rain forecast. Safety first! Oh well we have a race next weekend. We all need to beg Mother Nature to let us go! Perhaps this season's weather will influence the NICA League to move to a fall race season. Our winters are just too long
---
April 11, 2018
We were notified by PayPal that we have received individual donations and bike-Syracuse would like to thank you all for your generous donations and support. Every dollar received goes towards equipment, food, outdoor camping fees and racing expenses. bike-Syracuse covers all expenses for each child and assist parents who wish to travel the State with us during MB races. Thank you very much for helping us to provide these services. We do appreciate the help!
---
Finally on our bikes today for an hour and half before it began to rain. Kyleigh, - a 6th grader - who has never ridden a mountain bike before - says - as she's climbing a hill - "wow, I can do this - wow! - this is just like our interval!" Chamar and Lee Lee were true leaders today - both riders - high school students have been riding since they were 8 years old. Tonight they helped to teach some technical MB skills and coach younger riders in traffic. Nice job Chamar Short and Lee Ellen Parks!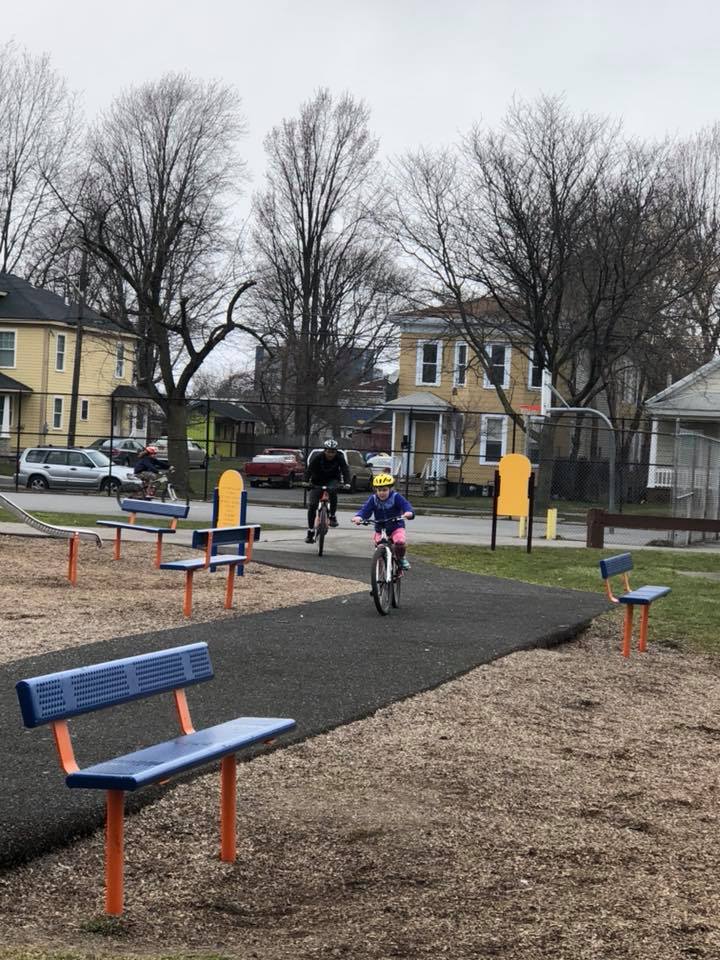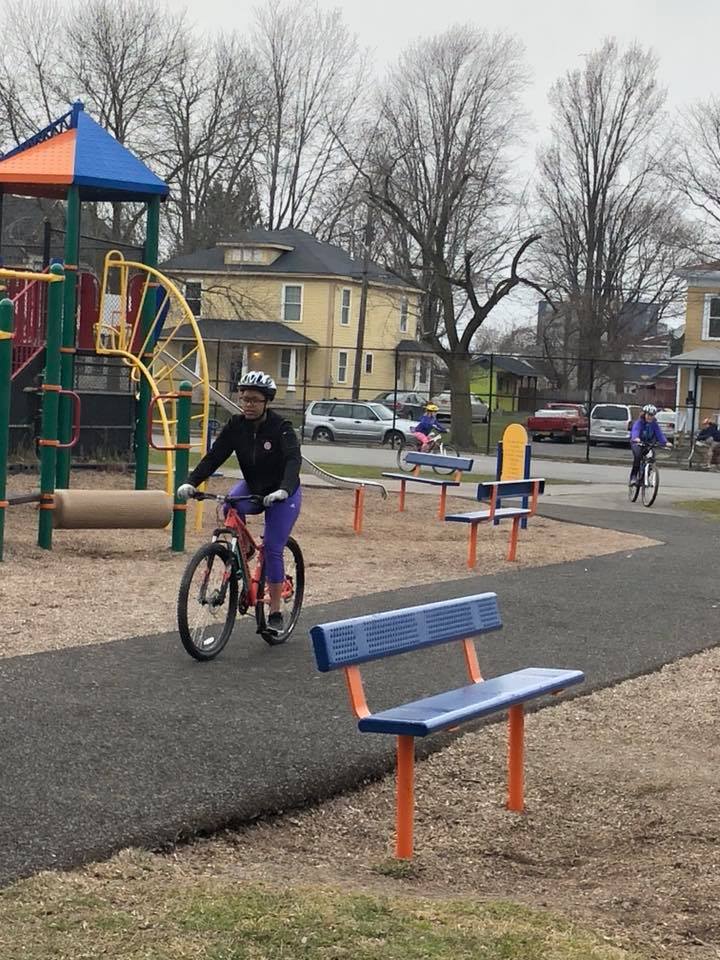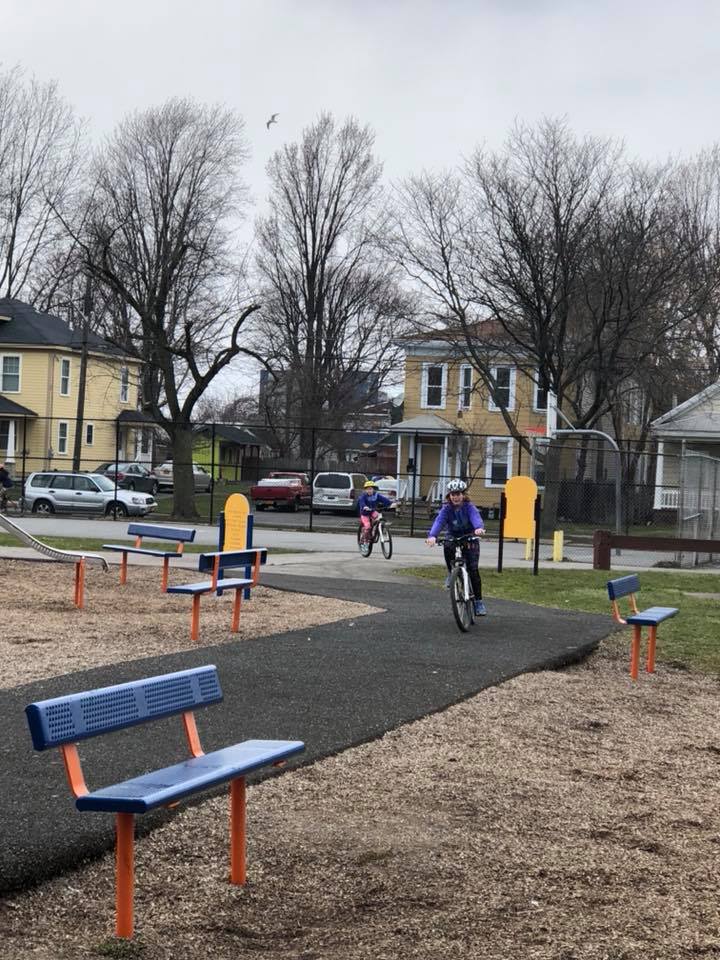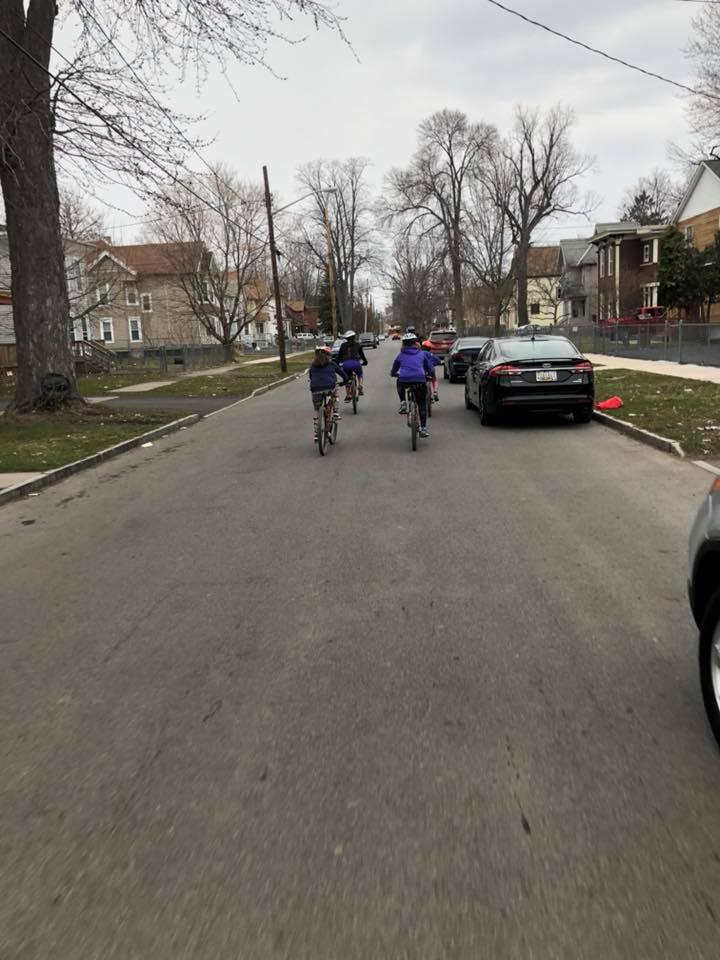 ---
April 10, 2018
Today, our b.i.k.e.-Syracuse received the following email from Pacific Life Foundation a division of Pacific Life Insurance Company. The timing is amazing....we are so low on funds and the race season is just beginning! THANK YOU PACIFIC LIFE!! THANK YOU!!

Good Morning, On behalf of the Board of Directors of the Pacific Life Foundation, we are pleased to inform you that Bicycles & Ideas for Kids Empowerment has been selected to receive a $5,000 grant for the January 2018 submission period. The grant has been sent to the charitable organization with reference to your participation. We appreciate your partnership and extend our best wishes for continued success in 2018. Thank you.
---
April 9, 2018
Spinning hopefully indoors for the last time! Race this weekend. Riding outside on Wednesday. Praying for no rain! bike- Syracuse is ready!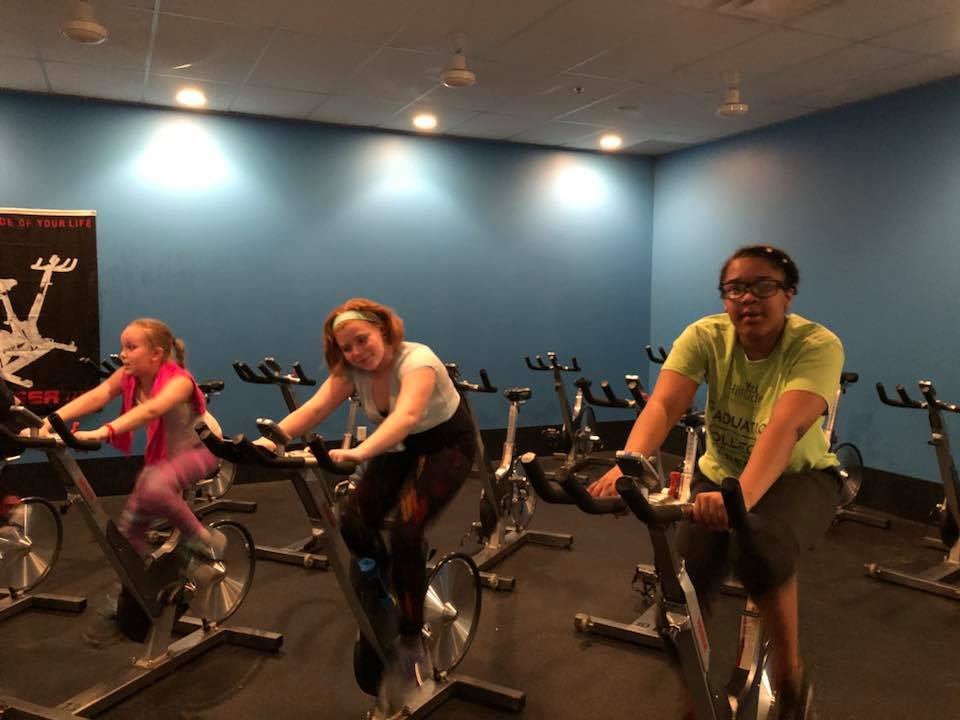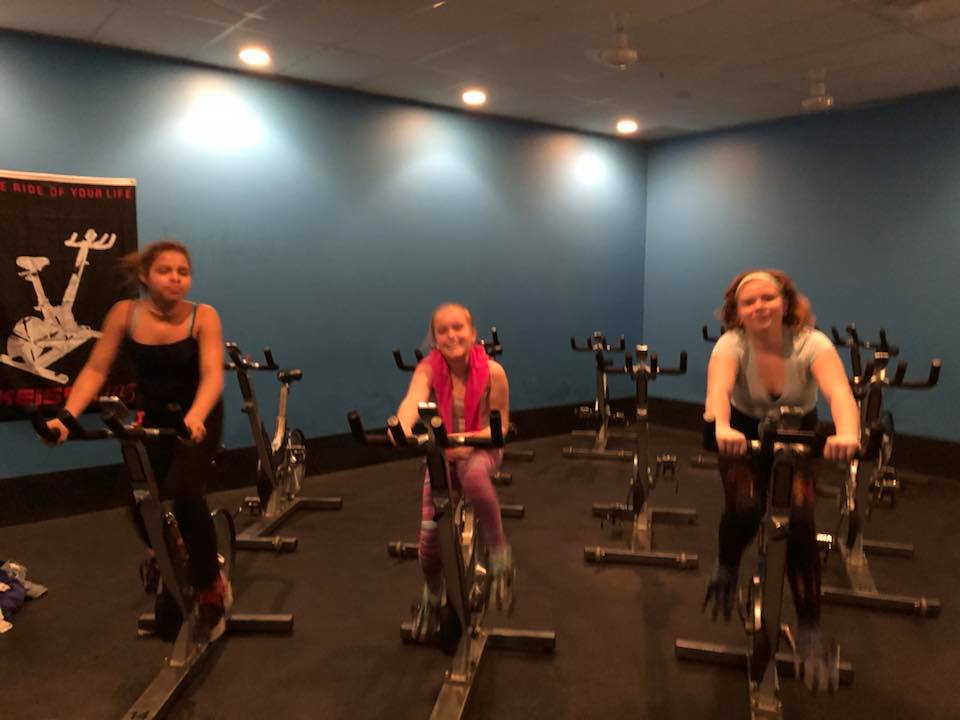 ---
April 7, 2018
Thank you Black River Adventures Shop for tuning up our bikes and getting us ready for the race rescheduled for next weekend!
---
April 4, 2018
Sadly our first race was canceled due to weather. However we will take advantage of this time to get outside and practice some MB skills - and do some hill climbing for endurance. Now we just need Mother Nature's cooperation and blessing! The race was rescheduled for next weekend...
---
March 31, 2018
Thank you Omar Short and Enmanuel Mateo for coming back and supporting our riders/athletes and your brother and sister, Omar! You made a dream come true. This club started 12 years ago, almost to the day, with the hopes that our members back then would come back as adult coaches and positive role models for the younger members/riders! So very very proud of you Omar and Enmanuel and all our past members!
---
More pictures of today's strength training. Finally getting outdoors on our bikes woooo hooooo!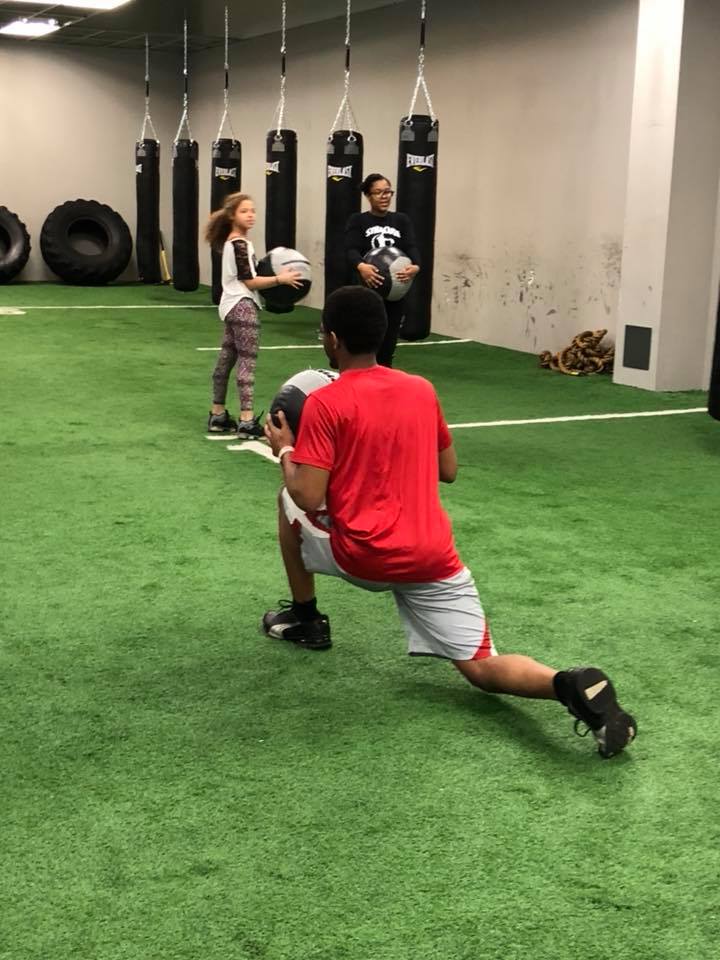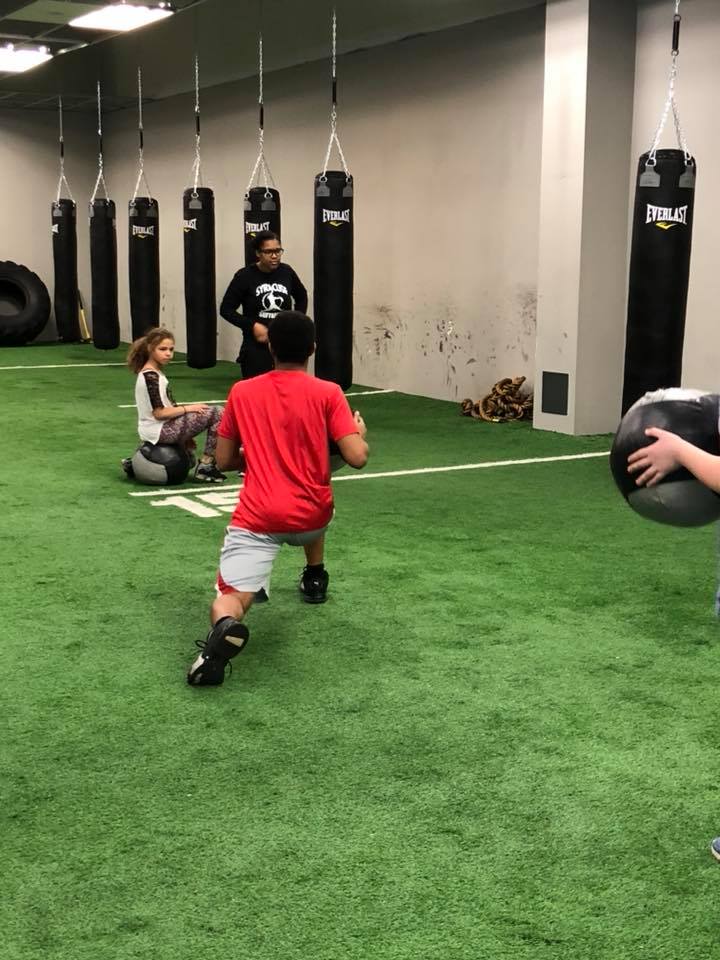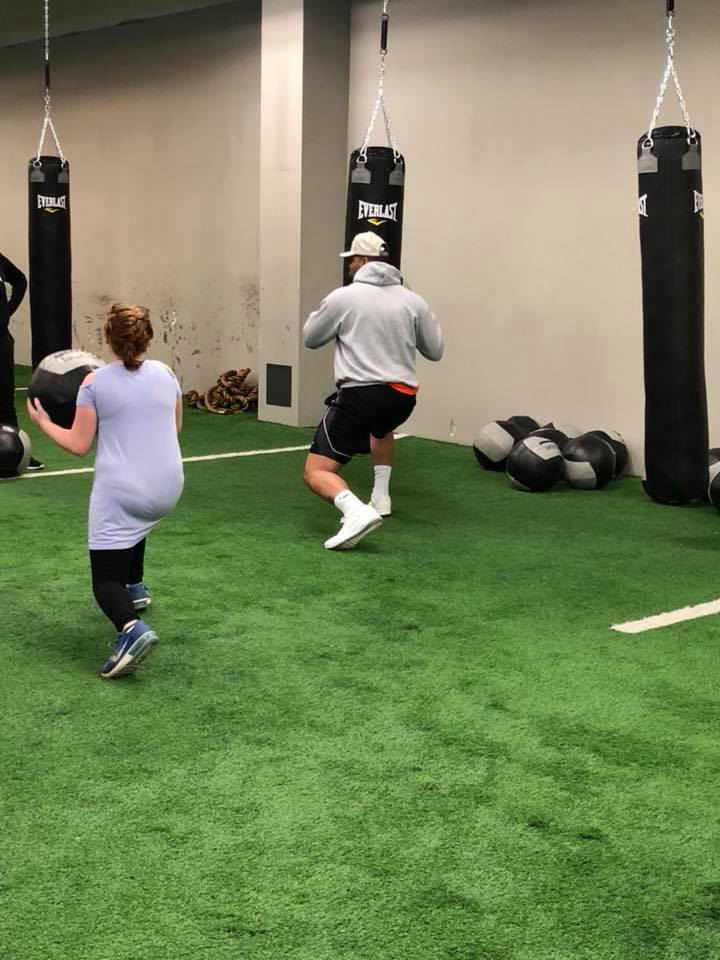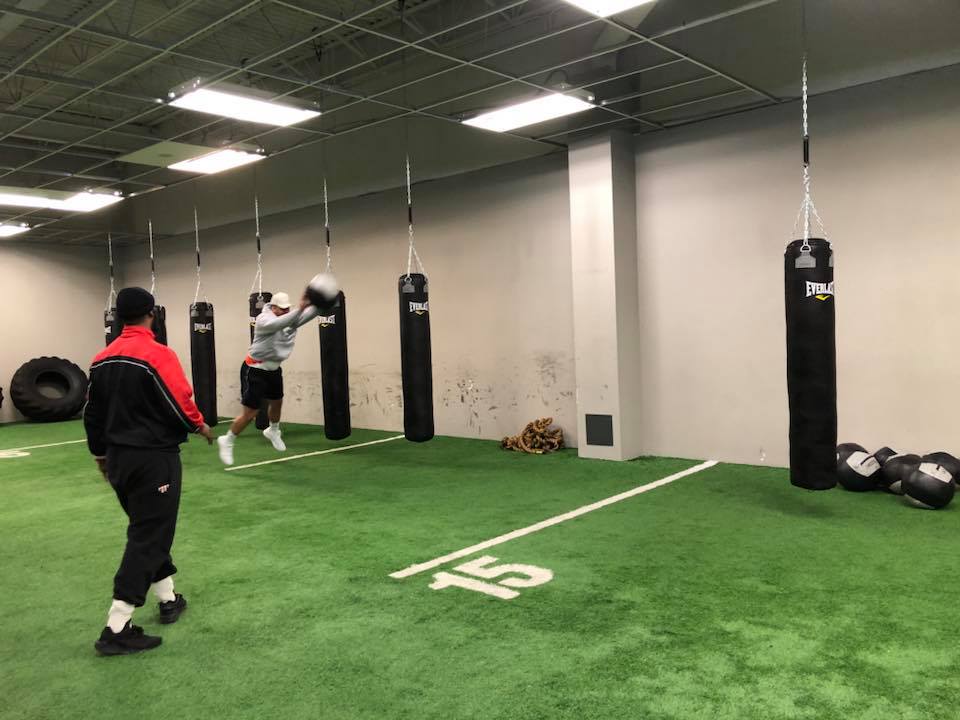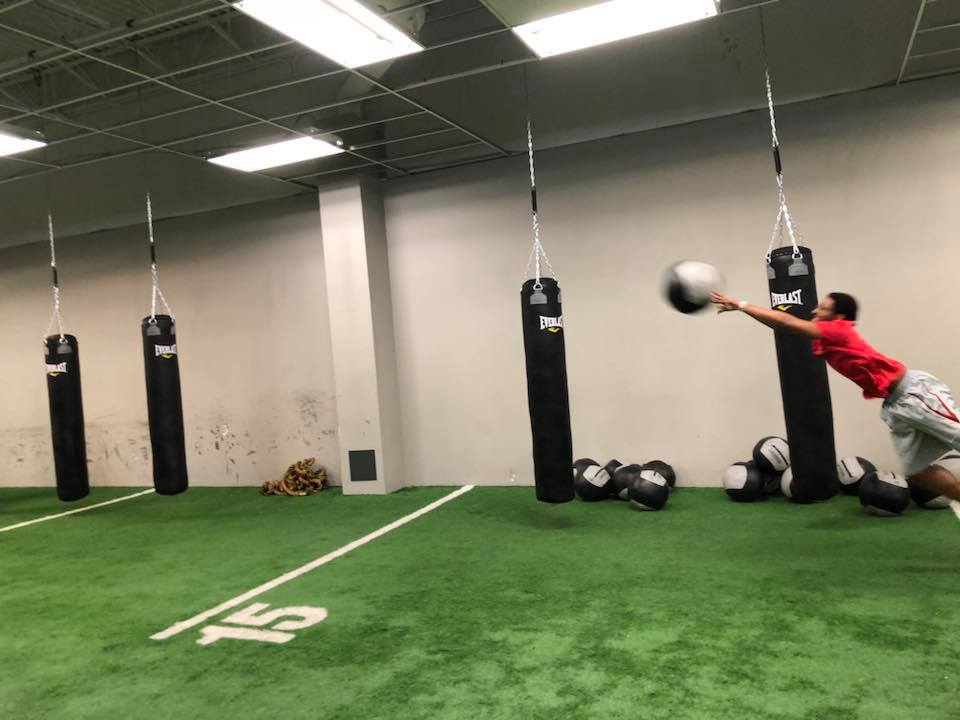 ---
We are almost ready for the race next weekend! Omar (volunteer now and athlete/rider who has ridden with bike-Syracuse for 12 years!) came out to support the team and challenge the riders! This team rocks! So proud!
---
March 26, 2018
We love Kyliegh's shirt! Girl power!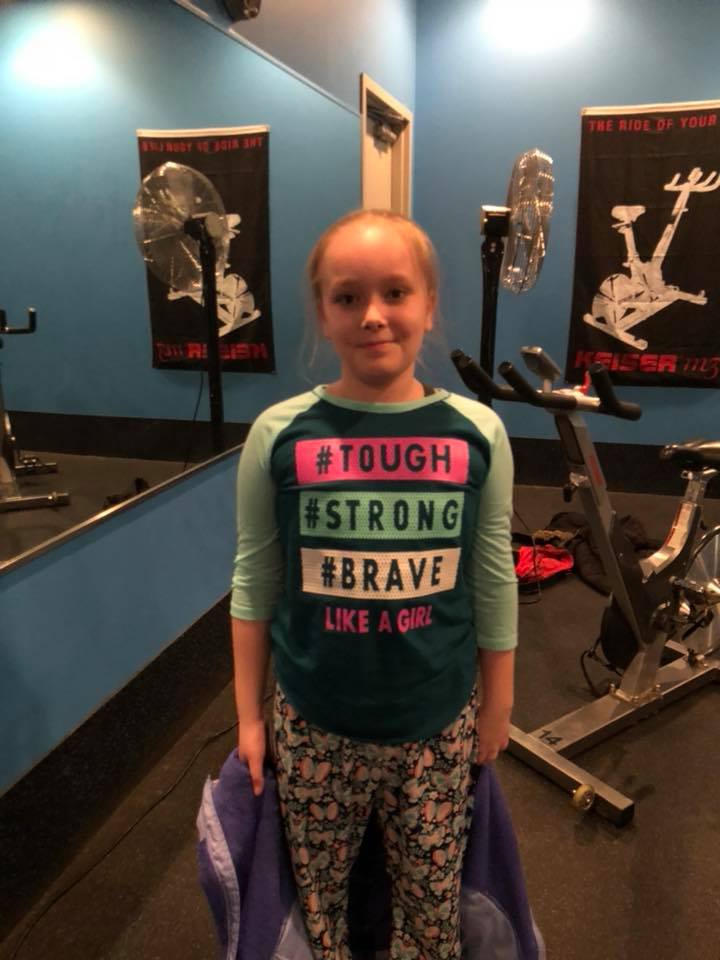 ---
Intervals tonight - after a 14 minute interval we are still smiling! These riders Rock. Time to get outdoors!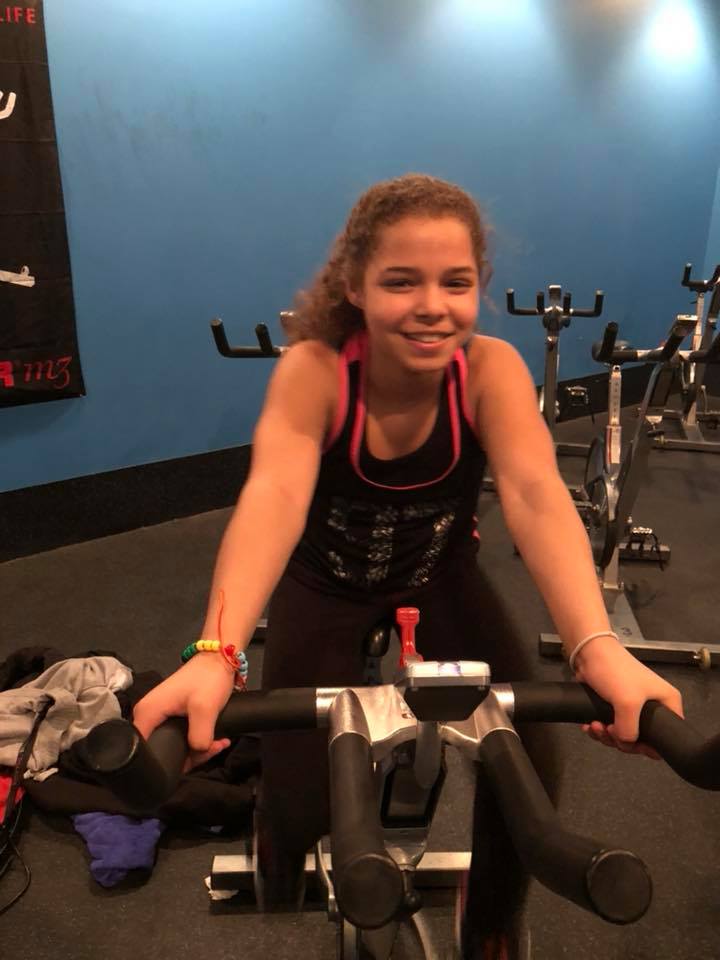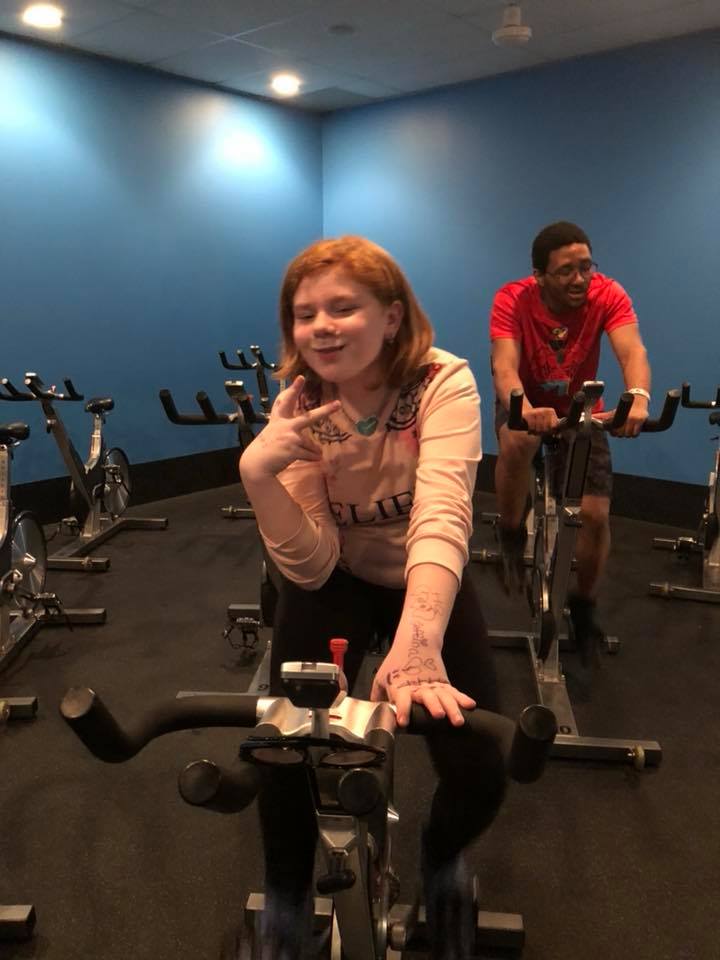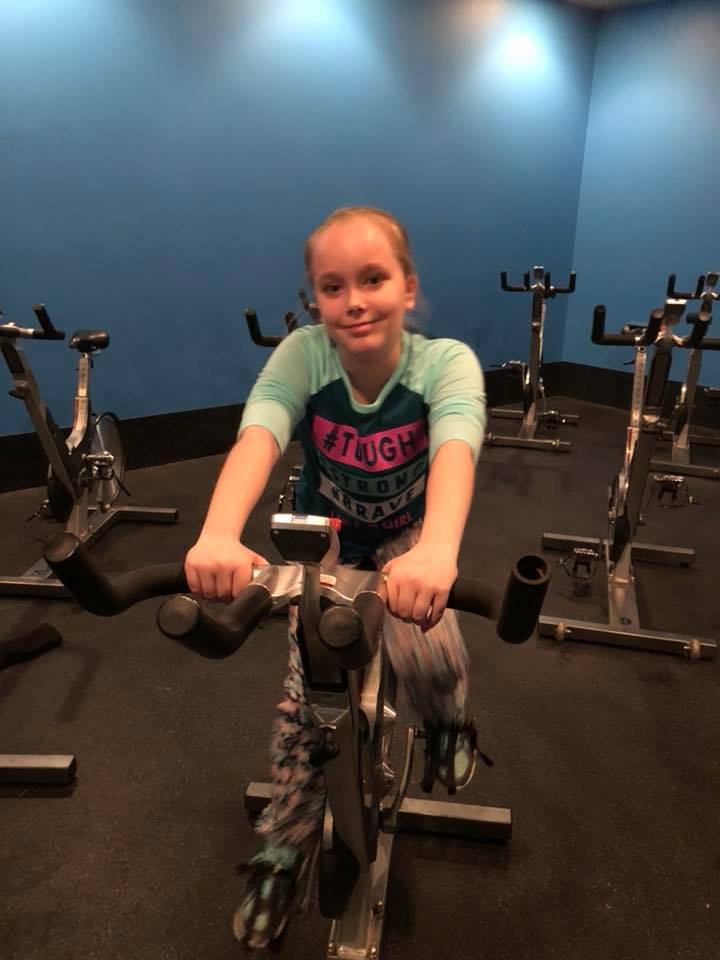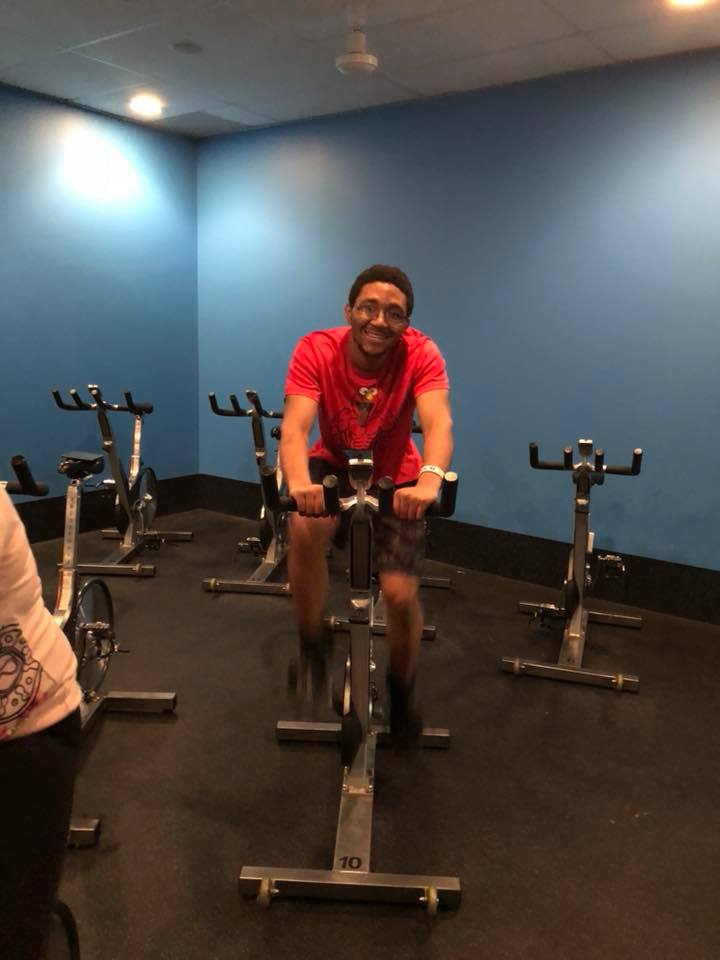 ---
March 24, 2018
Great strength work out today! Race in 3 weeks. We are almost ready! Woooo hooooo! Bring it on!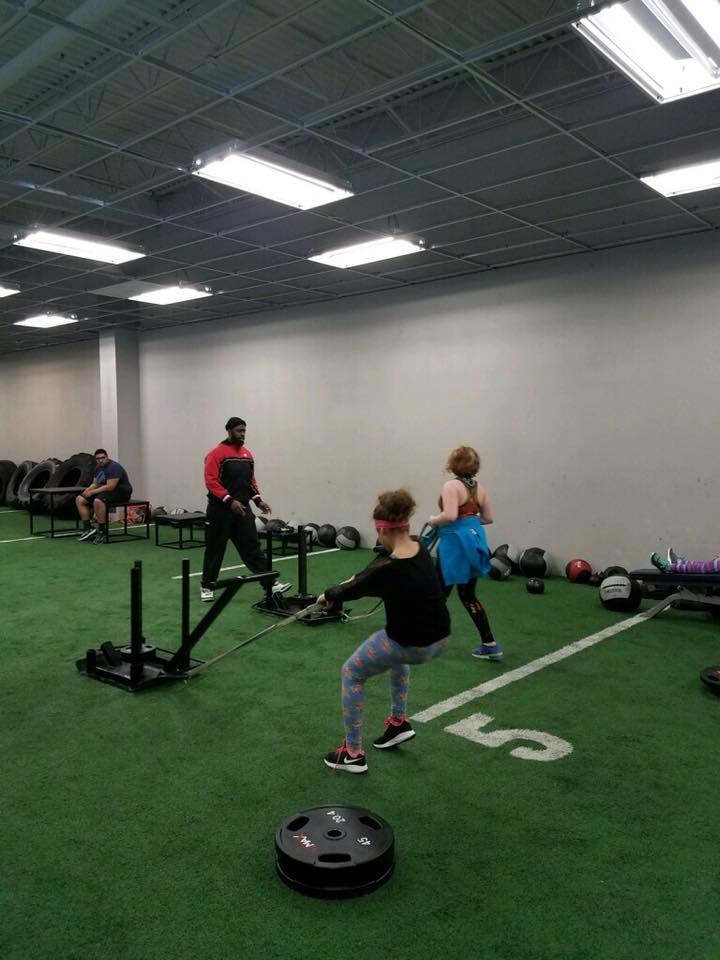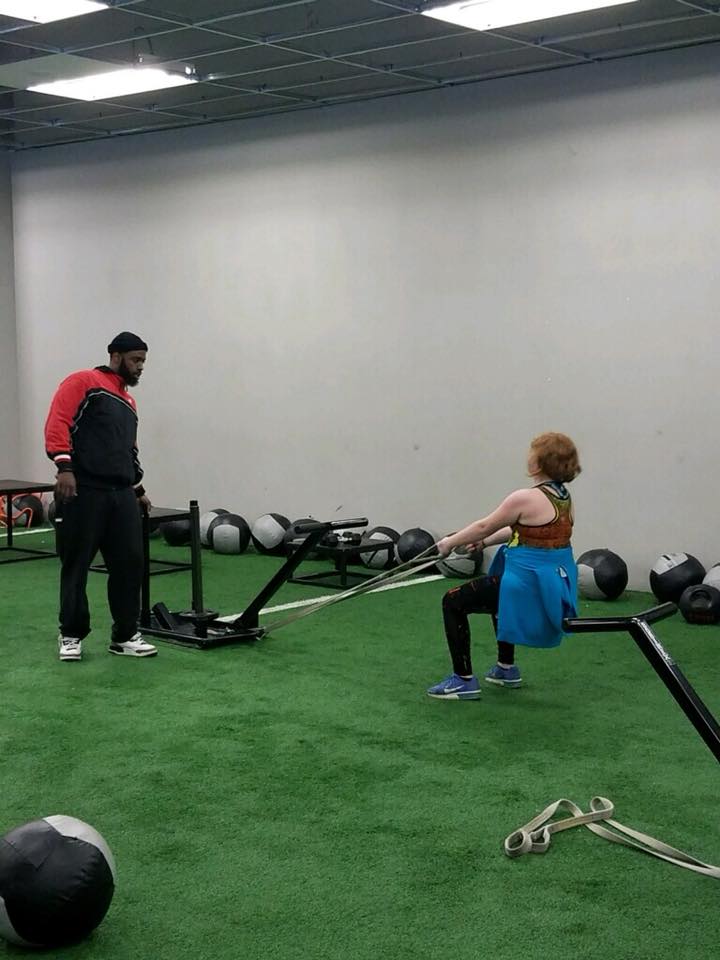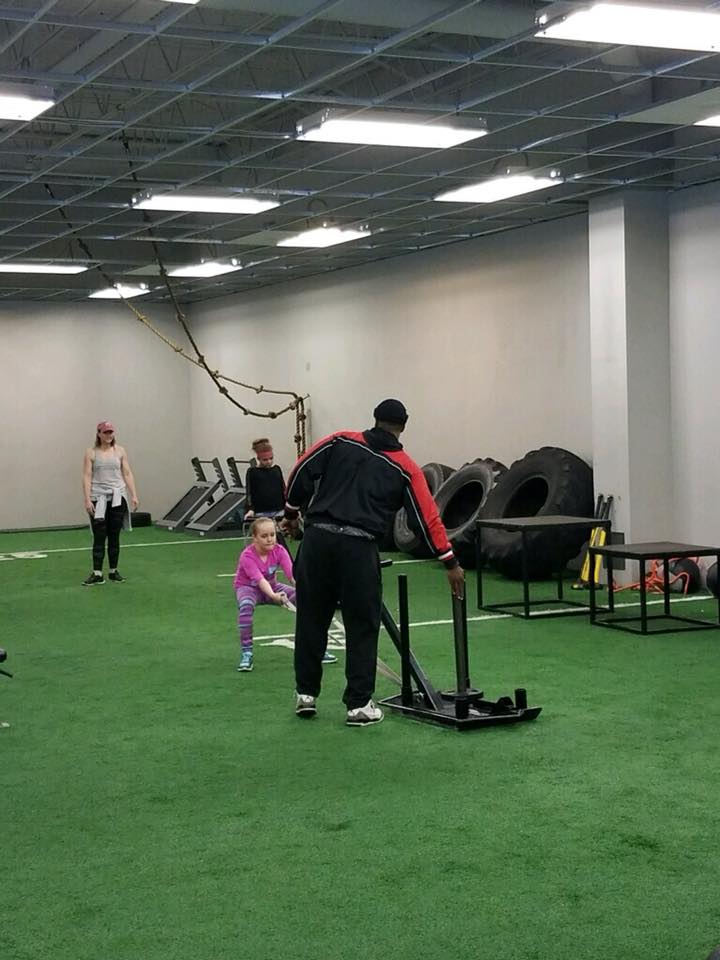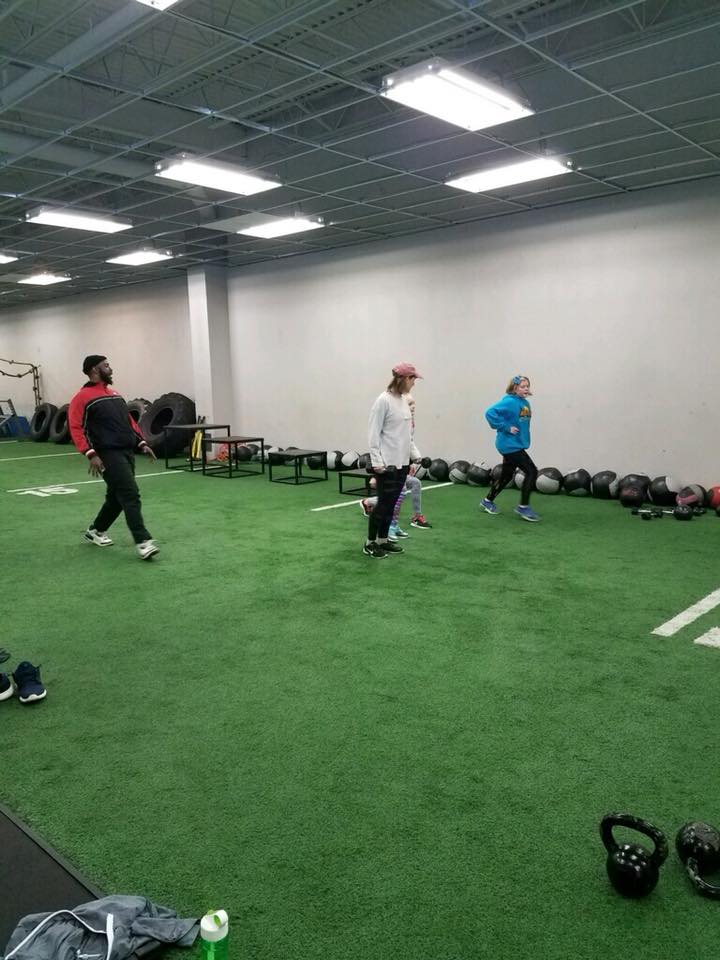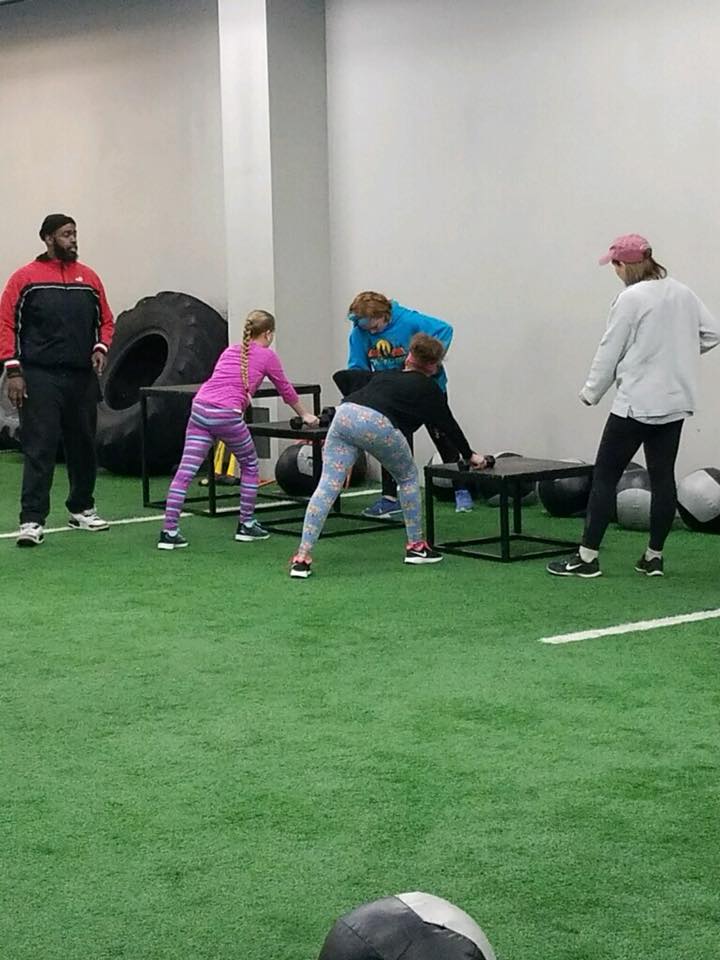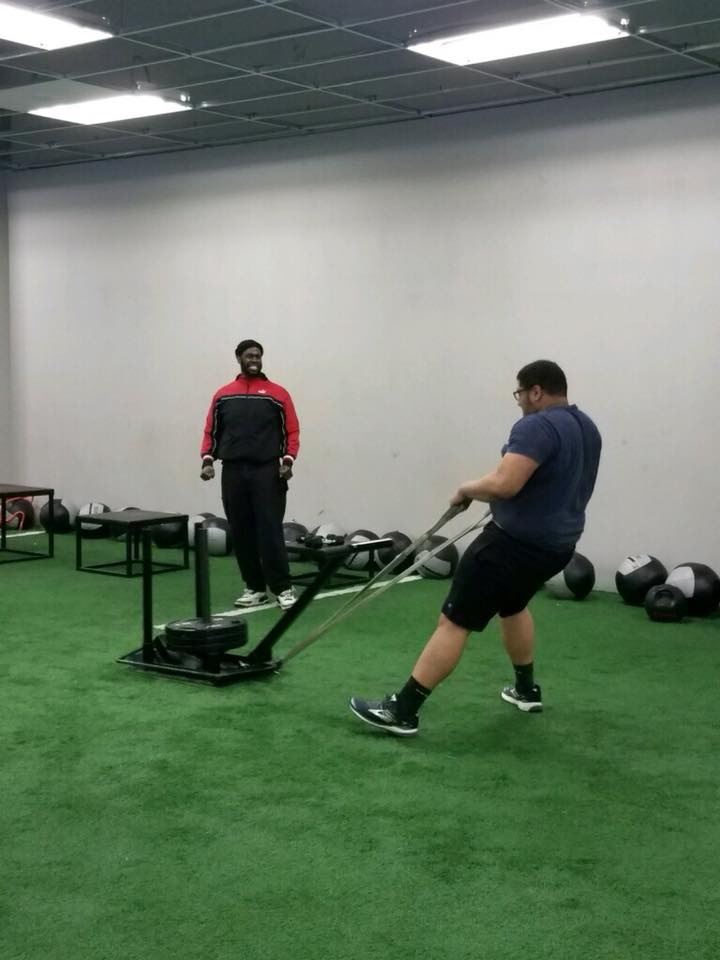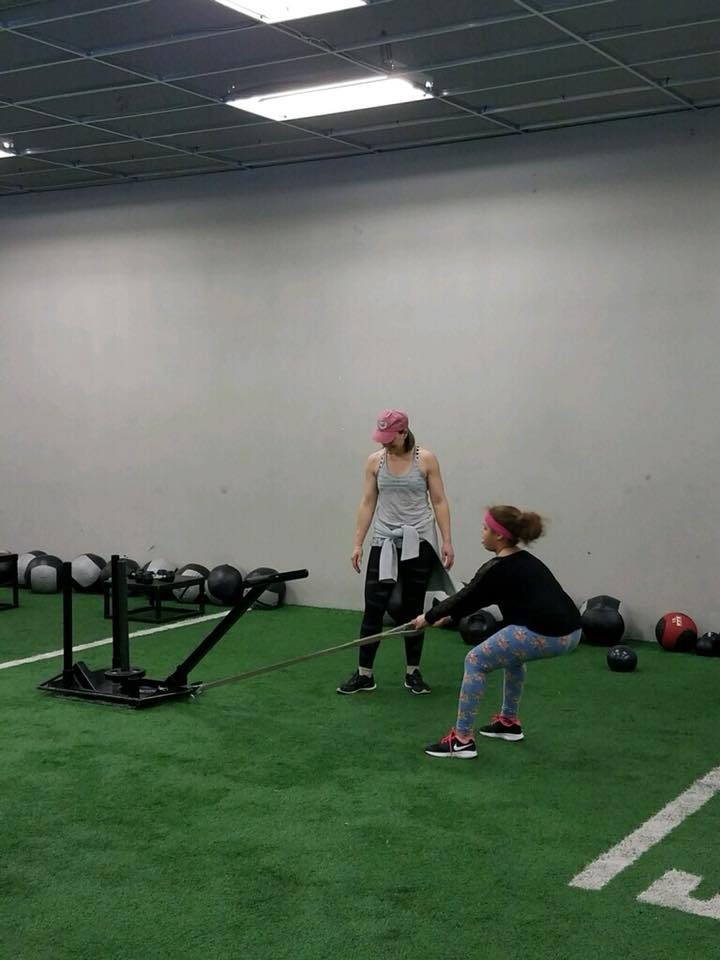 ---
February 28, 2018
Great practice tonight. Out middle school female athletes/riders and sophomore female athlete/rider—Rock! Girl power! Just when the weather appears to be giving us a break.....Cant wait to get outdoors to finally ride on trails. Thanks Coach Jason Webb for helping tonight! First year in 11 years that we have more girls than boys riding mountain bikes! So proud if these young ladies...working hard for our first race April 8th! Ride on b.i.k.e-Syracuse!
---
February 22, 2018
Denver Airport police vehicle. Heck Yah!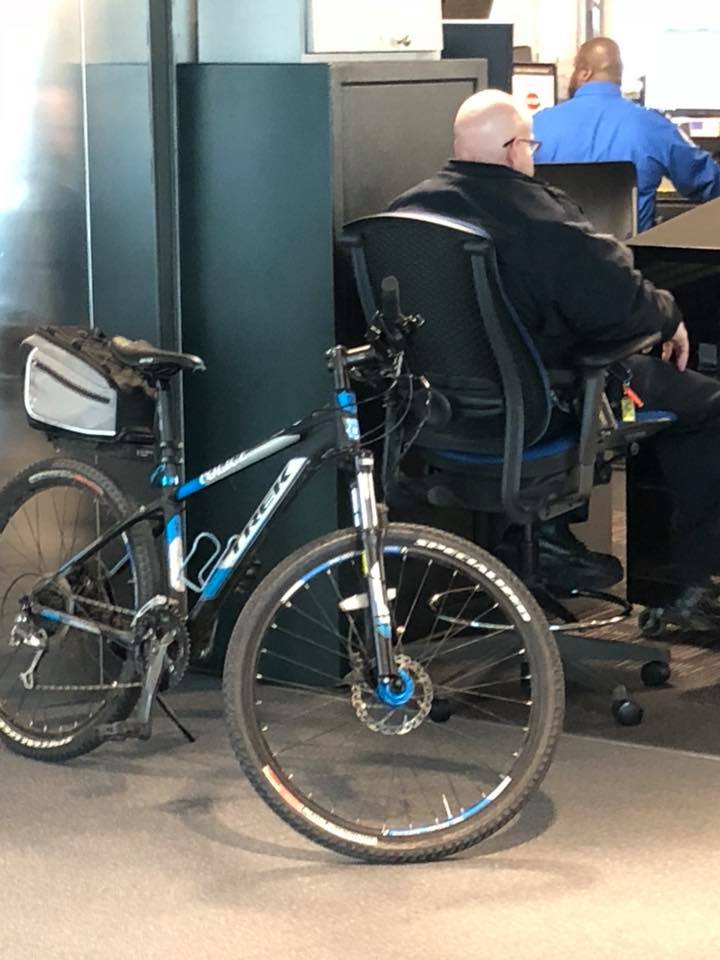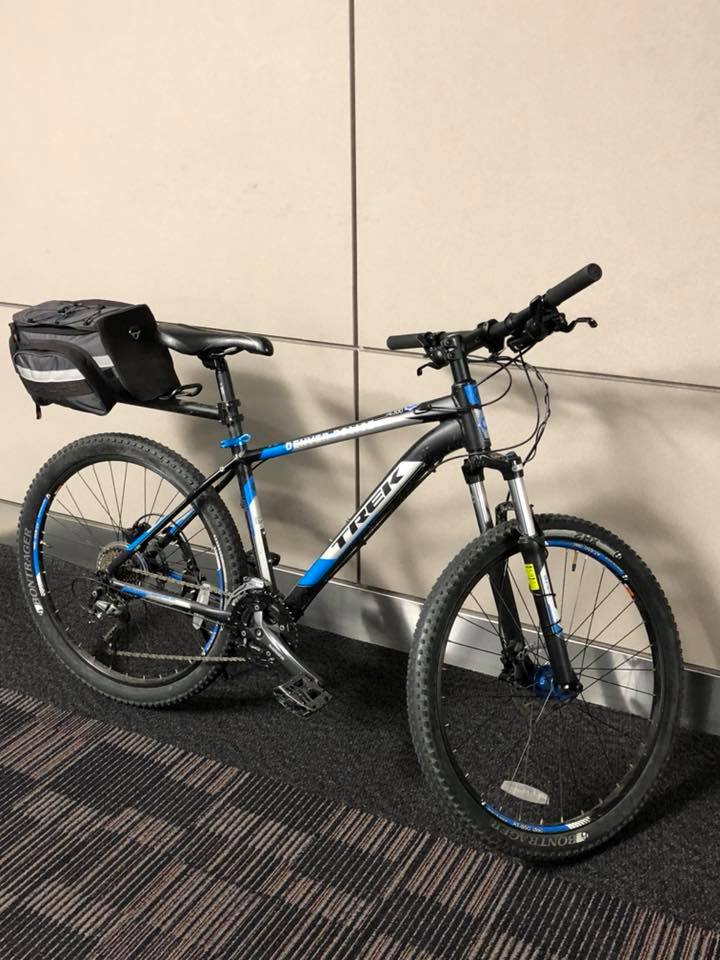 ---
February 17, 2018
Working on broad jumps and core strength today in strength training for the race team. Our first race is April 8th. The break in weather will allow us some outside trail riding can't wait.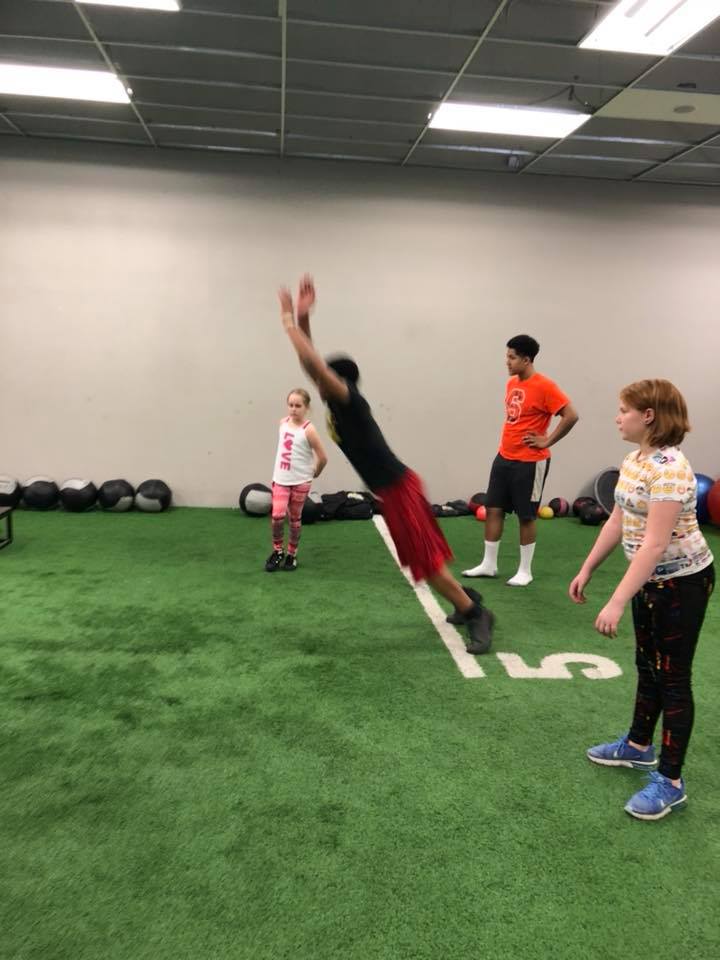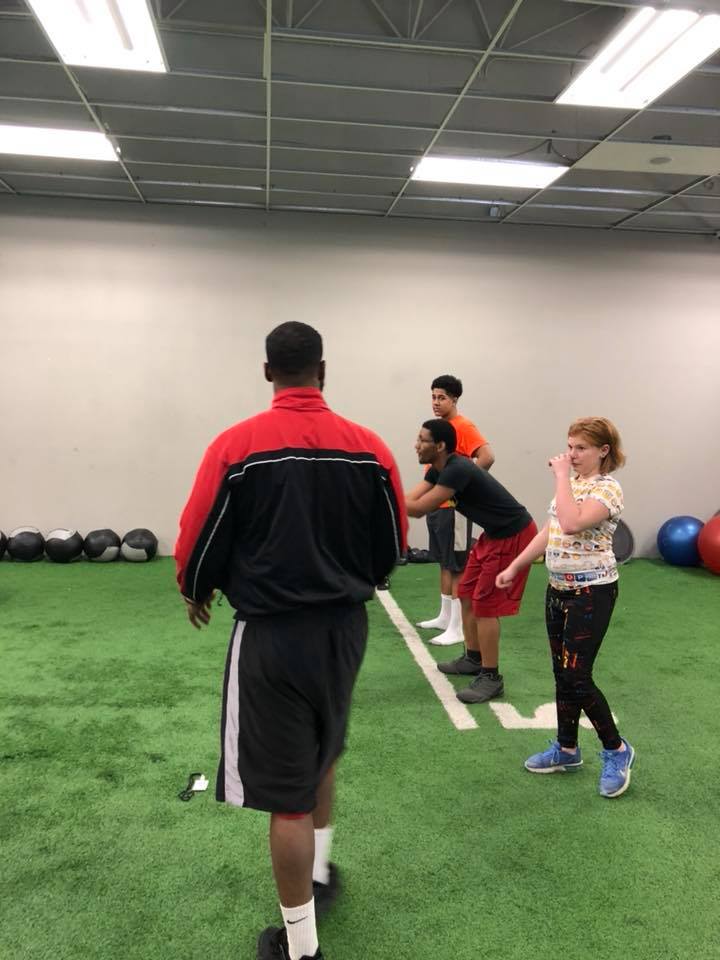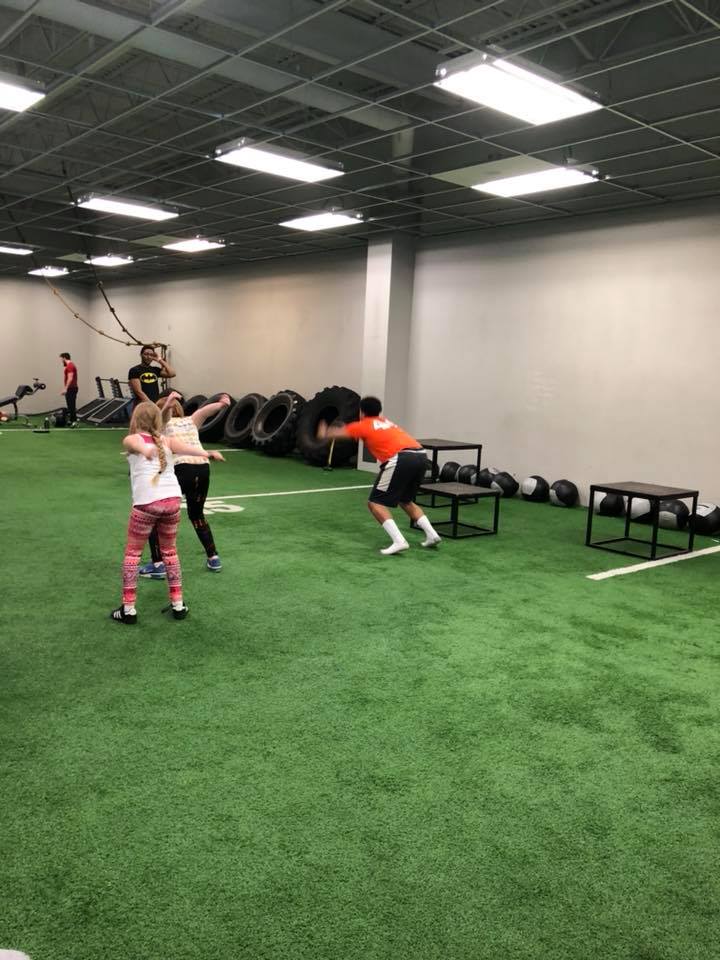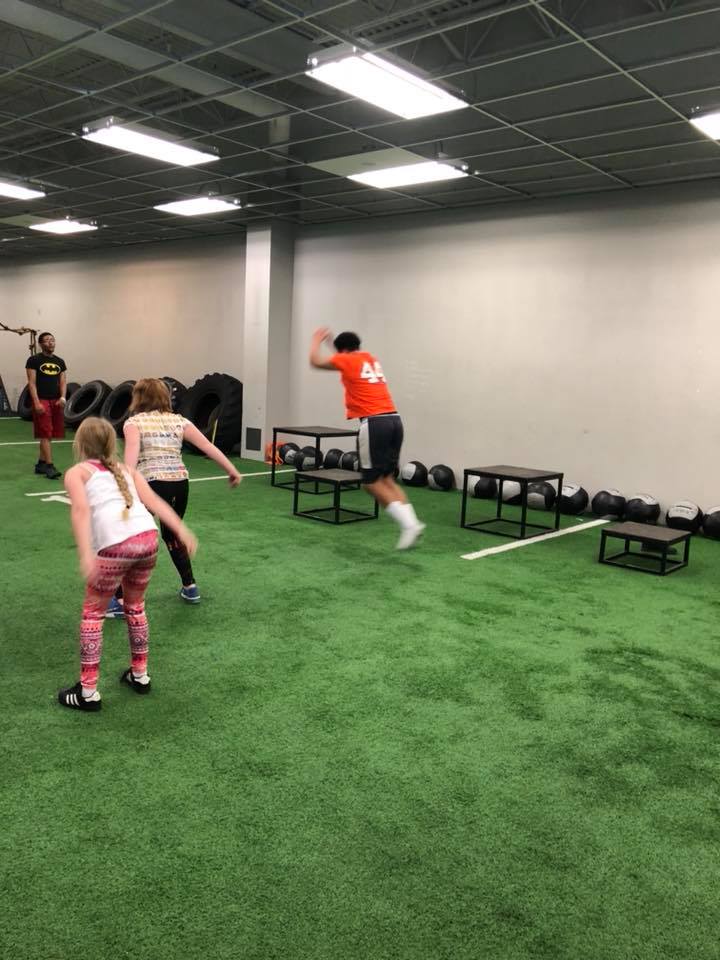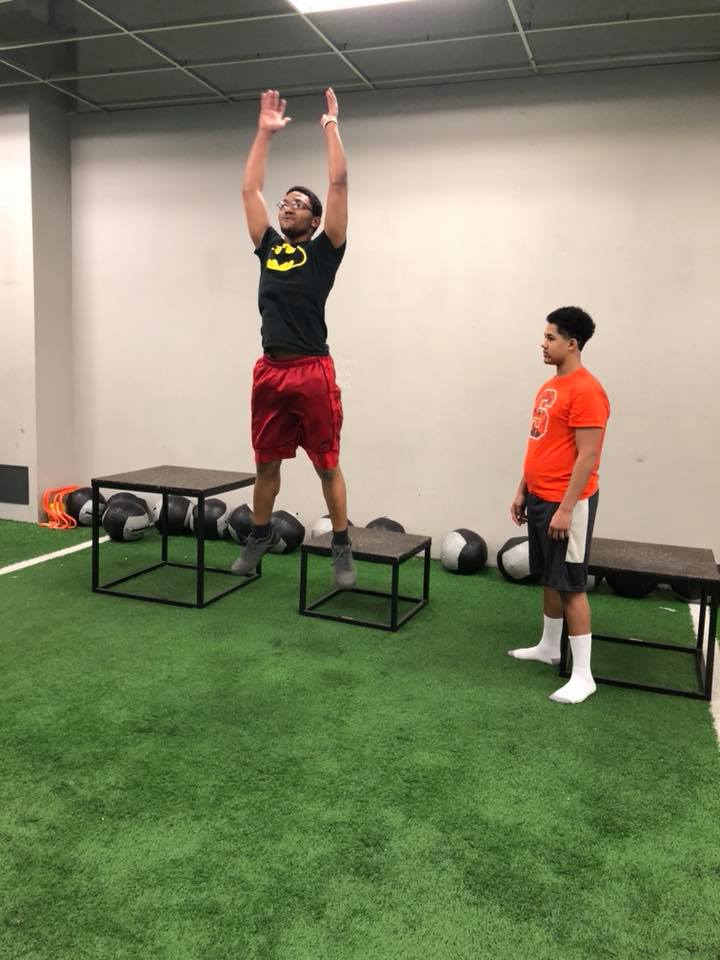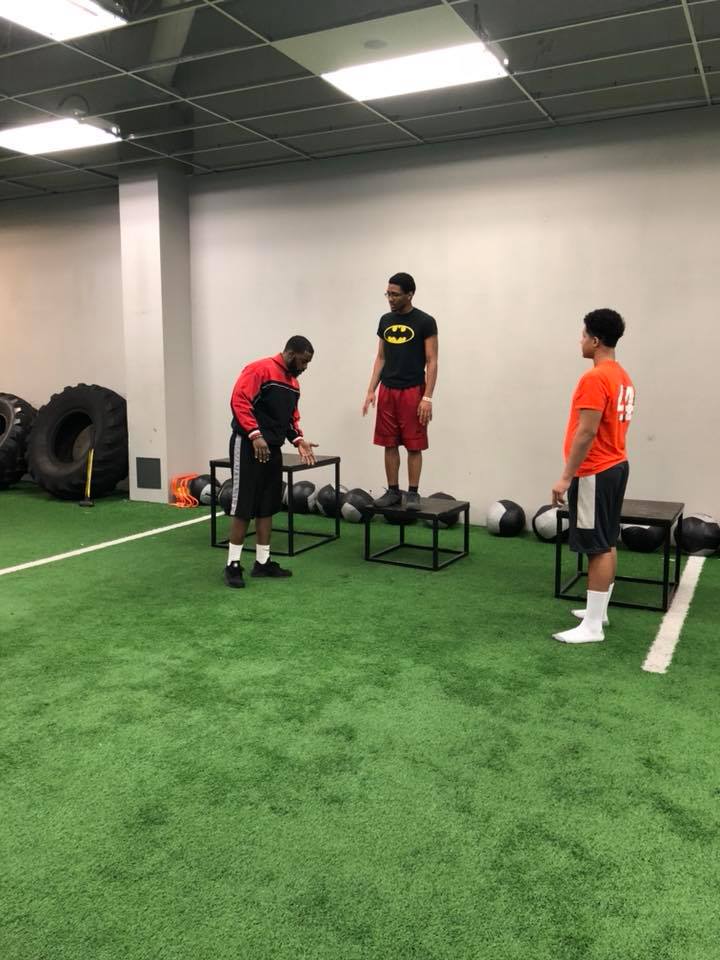 ---
February 10, 2018
Strength training today. Girl Power! Woooo hooooo!! First year we have more girls racing than boys! Finding our upper body strength and inner strength!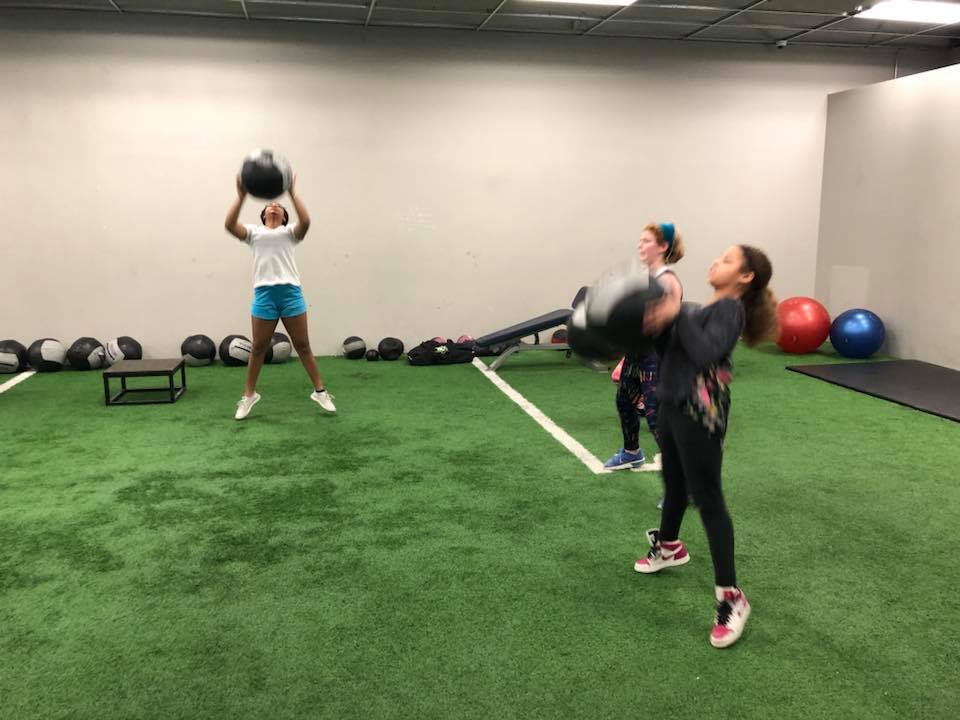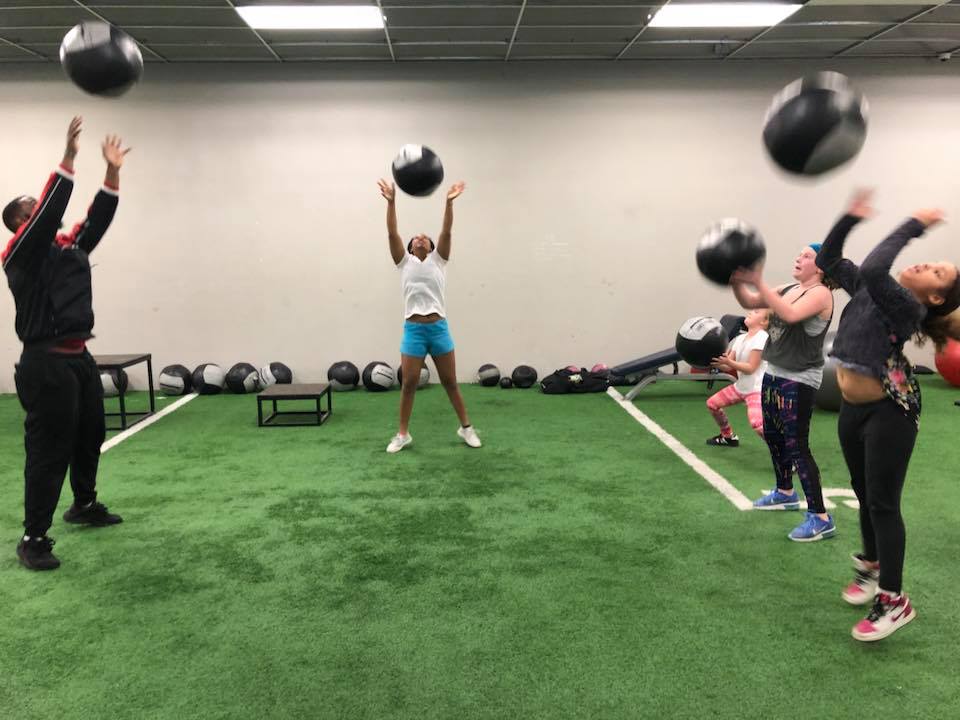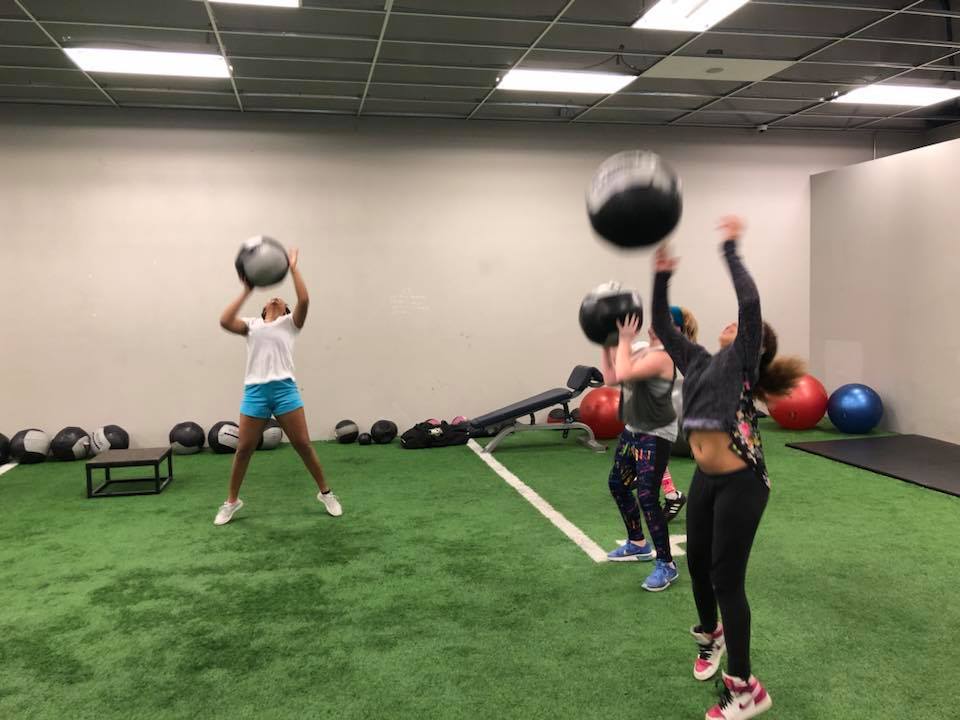 ---
February 3, 2018
Strength training today. So proud of these riders. Senior riders like Chamar coaching and supporting our female middle school riders. Graduated riders like Enmanuel Mateo coming back to out practice on a Saturday morning to coach.....so proud of these riders! We also want to congratulate Emmanuel Mateo for his admission to Utica College to complete his BS and he's looking into a 4 year program that includes a Masters Degree. So proud of this bike club!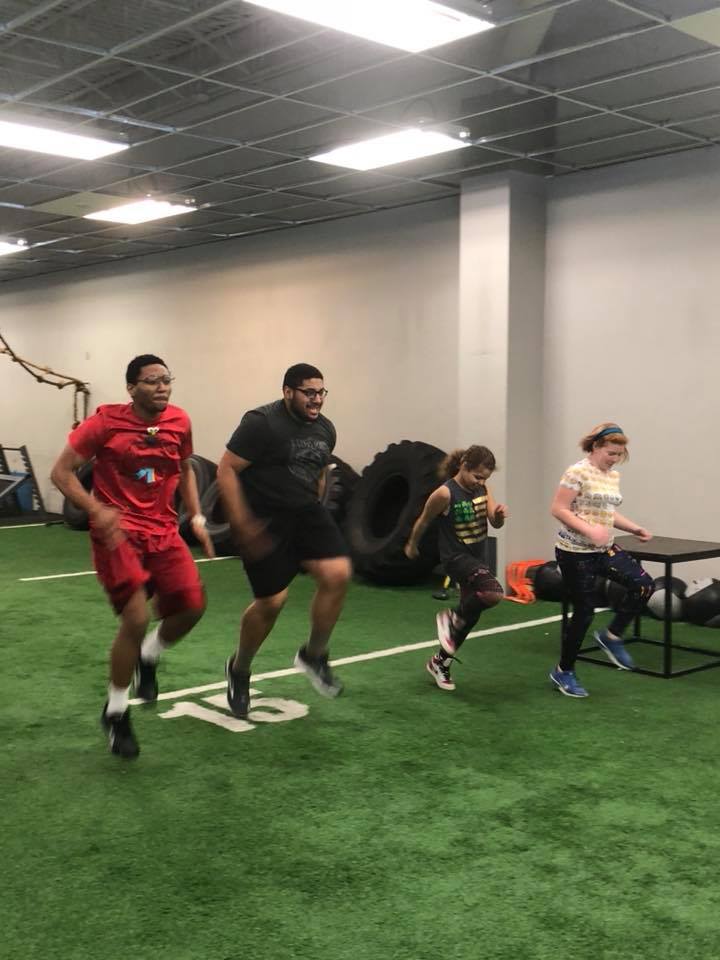 ---
January 27, 2018
Awesome upper body work out today. We have some strong young ladies riding this year! Chamar Short is looking to place this year! We have our goals! Go b.i.k.e-Syracuse!!
---
January 22, 2018
Practice Mondays, Wednesday and Saturdays, thanks to Aspen Health Club - spinning, intervals and strength training - until we can get outside on our bikes! b.i.k.e-Syracuse riders are on their way to racing this year!
Donations for registration fees and equipment for riders welcome. Please visit our Donation page to donate and thank you in advance for your support!
---
January 20, 2018
Upper body workout today for the bike-Syracuse NICA Race Team. Girl Power! Chamar this year is leading the team. Nice job!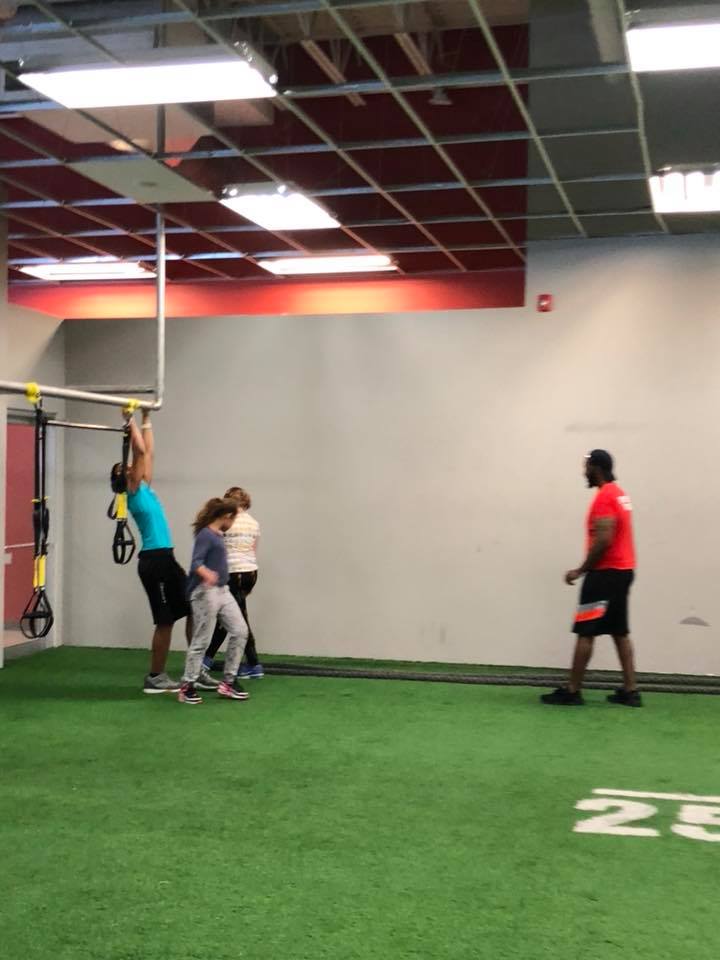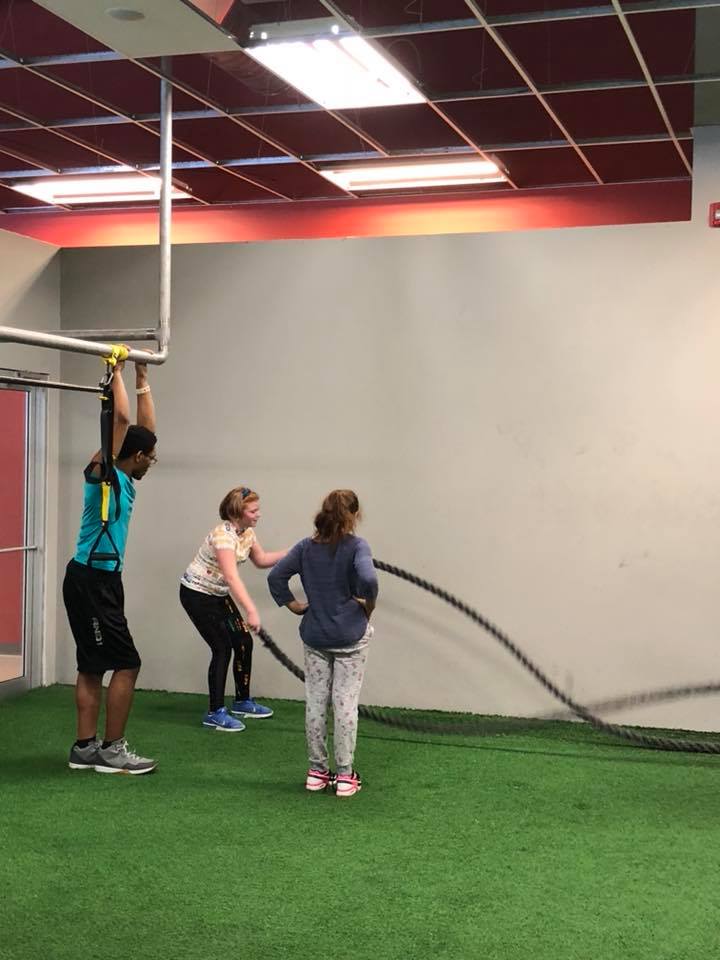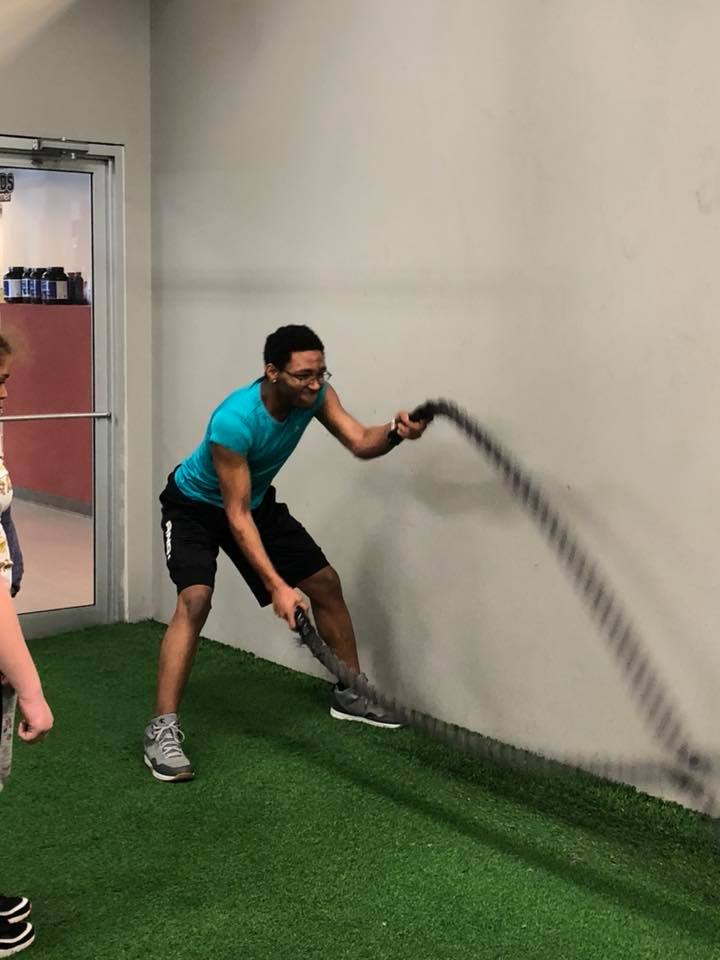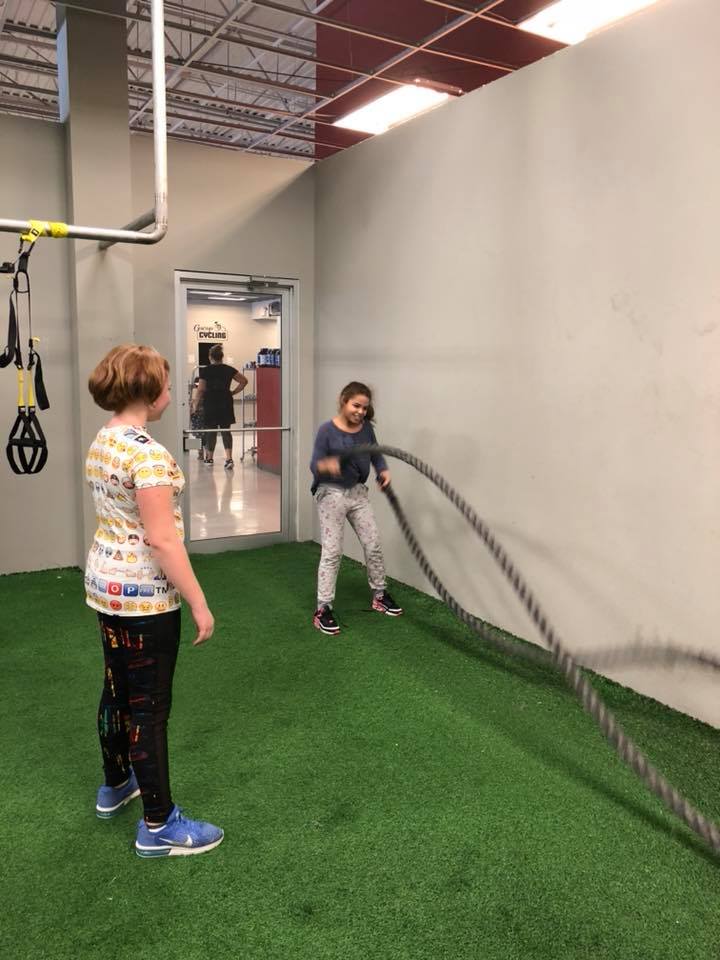 ---
January 16, 2018
Practice starts tomorrow 1/17! Pick up at Chamar's at 5:00. Bring shorts and sneakers and get ready to get our legs and cardio in shape for the upcoming New York - NICA race season! Wooo hooooo!!
---
December 27, 2017
Dinner with some of our present members and past members of b.i.k.e.-Syracuse ....NICA race season here we come!
So proud of these young men and women of bike-Syracuse! Enmanuel Mateo - awesome mountain biker and ranked 6th in the Nation - NJCAA Division III - Community Colleges -for the hammer throw and sophomore at OCC majoring in Computer Forensics - looking to transfer to Utica College in the fall. Omar is a sophomore at OCC majoring in Sports Management and coming back to help coach his brother and sister this year with bike-Syracuse. Michaela Roche is a freshman at OCC - enrolled in the nursing program and eventually will transfer to St Joe's School of Nursing. Chamar Short has enlisted in the Marines and will be going in once he graduates this year. So proud of these young men and woman. Wow. Just yesterday they were riding their bikes down trails at split rock giving me a hard time! Wow. Just wow.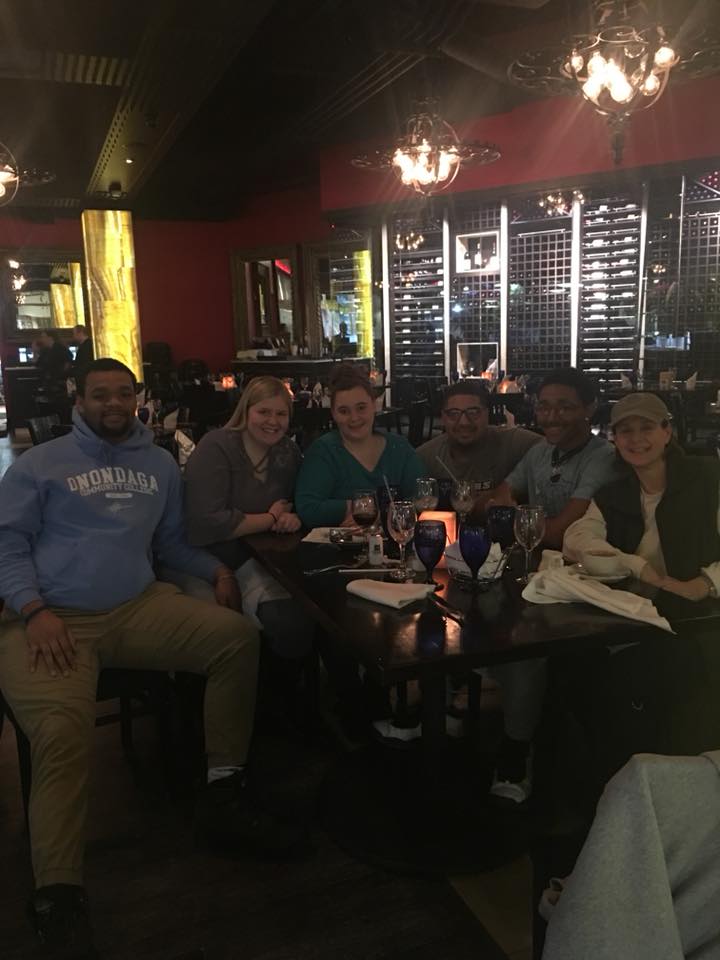 ---
December 16, 2017
Practice starts January 2 2018 for bike-Syracuse NICA race team. Stay tuned for details! If interested in riding, please inbox bike-Syracuse! In the meantime, Happy Holidays!
---
October 30, 2017
Enmanuel Mateo wrote a beautiful tribute to Jerry. He touched many people

"Truly disheartened to hear about my friend, supporter, and mentor Jerry Kerr. Throughout my life b.i.k.e. Syracuse has helped me grow physically and emotionally into the man that I am today. Through b.i.k.e Syracuse I have been introduced to a sport that I will never let go of. Biking helped me turn away from the negativity that I was faced with everyday growing up. All this would not be possible without the support of Jerry and for that I thank you. My prayers go to Jerry and his family through these tough times. Although we may not understand why things happen, we do know that everything happens for a reason. May we all find peace, comfort, and love in these confusing times. Amen."
---
October 5, 2017
It is with a heavy heart that b.i.k.e.-Syracuse has learned that one of our Board Members and greatest supporters of b.i.k.e.-Syracuse is losing his battle to cancer. Jerry Kerr has been a friend and mentor and a huge inspiration for this grass roots organization. His love of children is contageous. His selflessness and love for children was the very backbone of this club. Ironically, Jerry didn't ride bikes, but he knew the power of adventure and the impact that it has on an individual. Many of our volunteers and supporters know Jerry and if would like to send a message to Jerry through Facebook in any form that you wish, I will be sure that I read your thoughts and messages to him. I know he would love to hear from all the children that participated in b.i.k.e.-Syracuse and the Volunteers that helped to make this club happen.....b.i.k.e.-Syracuse has taken a step back lately and during this time, but - for Jerry - and all our supporters, we will be coming back to the City - to keep this club going for all Youth in the City of Syracuse....that wish to ride a bike!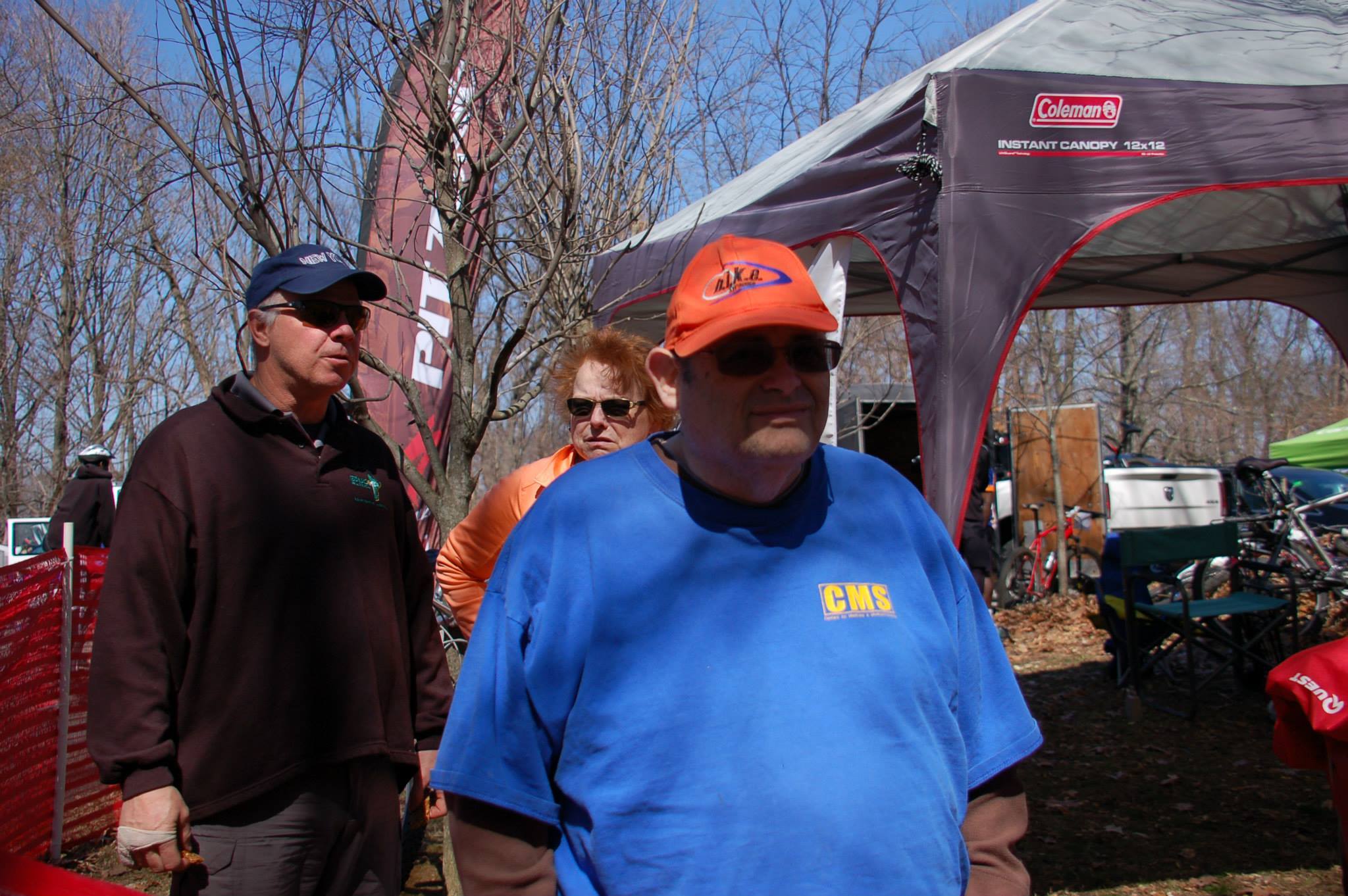 ---
September 19, 2017
So the very building where we stored our bikes for 9 years for our youth program, b.i.k.e.-Syracuse, was recently sprayed with bullets. We had our bikes stolen out of this building, once, in the very beginning of our program, but when I asked the neighborhood to "watch" our bikes, we never had another incident. The City has slowly taken away everything that helped our organization succeed..we had a bus that the city provided to us to bus the kids to parks and trails outside of Syracuse..but they took that away and last year, the City asked us to move our bikes out of the Skiddy Park maintenance building so they could renovate it into a police station..Yes..a police station.....A police station that I have NEVER seen a policeman walk in or out of. This building sits in Skiddy Park...a park that was recently renovated ...with basketball courts and baseball fields...Everything to draw youth out and to be active in the neighborhood....but in the middle of it - they put a police station!! This isn't how you community police...Instead of helping our youth program..the city made it more difficult for the program to exist in the neighborhood by asking the youth program to move out of a city playground park..... and then install a police station that is never used? Is this how Syracuse Community Polices? When will this City Government wake up...I'm so frustrated and disgusted....I have had parents call me and ask me to come back to the West side and bring back this youth bike club/organization every Saturday....We have the NICA race team...but I am going to go back to our Saturday program again..because I don't give up and because the parents have asked me........however, I am so frustrated and disgusted with this City..........Truly SAD!!
---
August 20, 2017
If you see this young man today, wish him a happy 20th birthday! Omar Short has been a part of b.i.k.e.-Syracuse sine we opened our doors on 2006 at the age of 8 1/2! Omar has become an amazing young man and continues to mentor other kids in our group. Omar is a very good technical mountain bike rider and if you in box him would love to ride with you- if you can keep up!! Omar is in his sophomore year at OCC. Please join b.i.k.e .Syracuse wishing him a very Happy Birthday!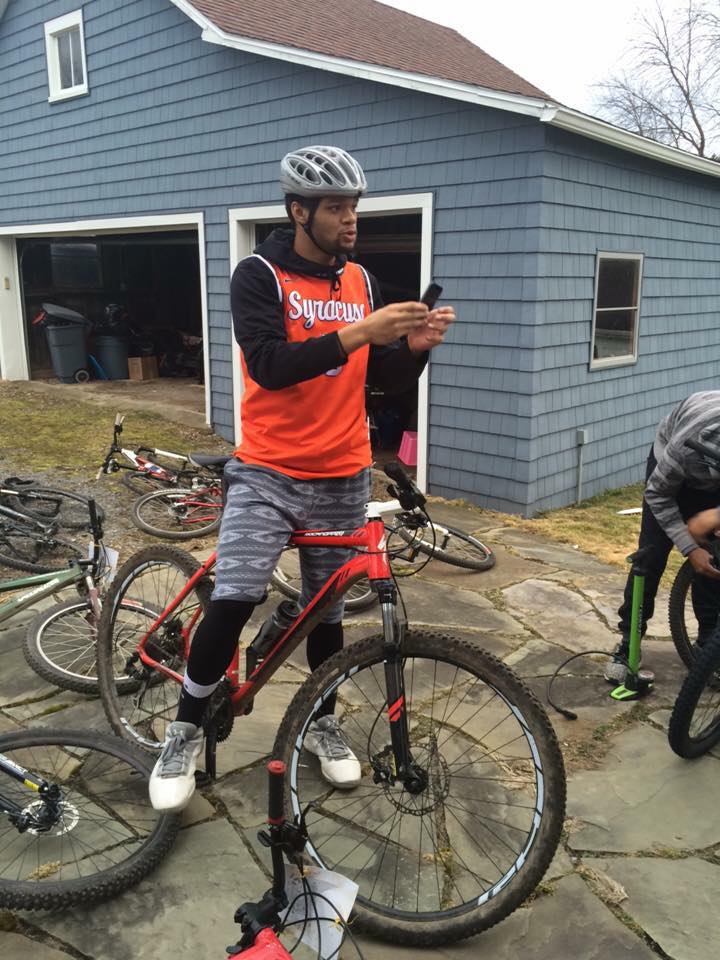 ---
May 6, 2017
Enmanuel Mateo, one of our past members of b.i.k.e.-Syracuse and continuing Mentor, now in college at OCC is going to the NJCAA DIVISION III REGIONAL CHAMPIONSHIP!!!

Manny is in second place for Hammer Throw. He is currently ranked 6th in the Nation . Manny will be competing in the NJCAA Division III National Championship. Next weekend in Maryland. We are so proud of Emmanuel. Please join b.i.k.e.-Syracuse in congratulating Manny! As a mountain bike racer and student, Manny never gave up and all that hard work is paying off! Congratulations, Manny!
---
April 9, 2017
All riders in! Great technical race! We should see our results soon and we will share. Nice day and we have some pretty proud kids! Weather was spectacular. Rumor has it we may have a fall league in Upstate NY with NICA. Nice to hear and wonderful to have a race in Syracuse! Where would the race be Trish Dugan?? Stay tuned!
---
Noah and Chamar on their last lap. Noah looks strong and is in good standing. Chamar in good standing but lost some time with muscle cramp. He did walk it off. Chamar drank some water...some gel and he is off to complete last lap. 12 mile technical course! Awesome!!
---
Noah and Chamar are staging! Go guys!
---
Noah and Chamar are scheduled to go off at 11:30 am. Stay tuned!!
---
We are here at Blue Mountain Park and Lee Lee goes off at 9:30 with Freshman girls for two laps. Pretty technical trail but she is excited! Lee Lee has been riding since she was 8 years old with b.i.k.e.-Syracuse. 24 Teams and 300 kids. Spectacular! Stay tuned!
---
April 8, 2018
Staying at the hotel for the race tomorrow. Some things are just too important to leave outside!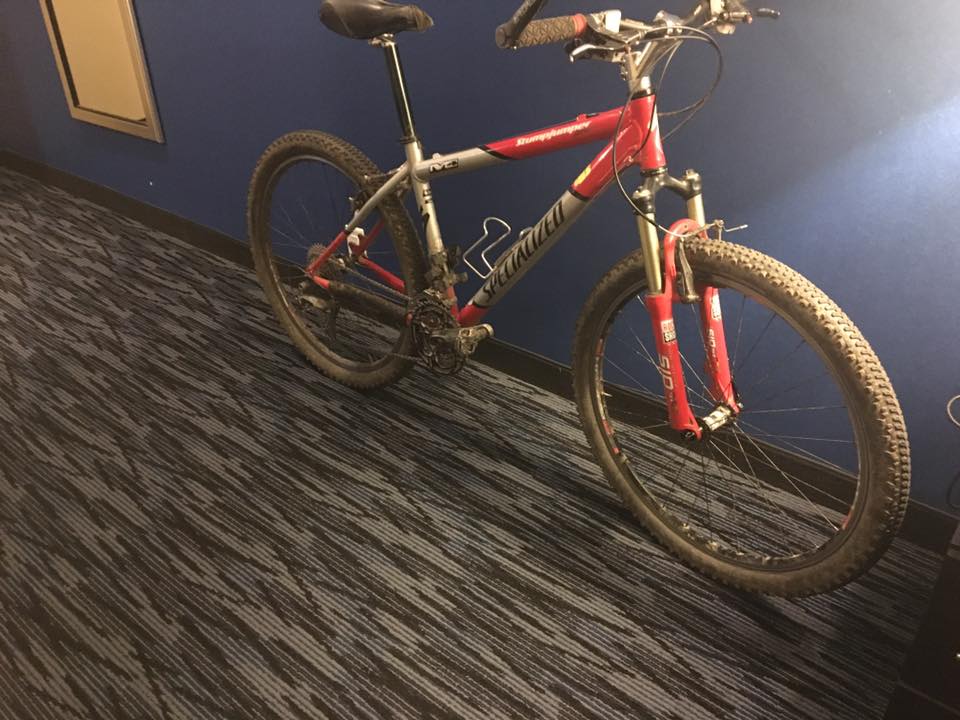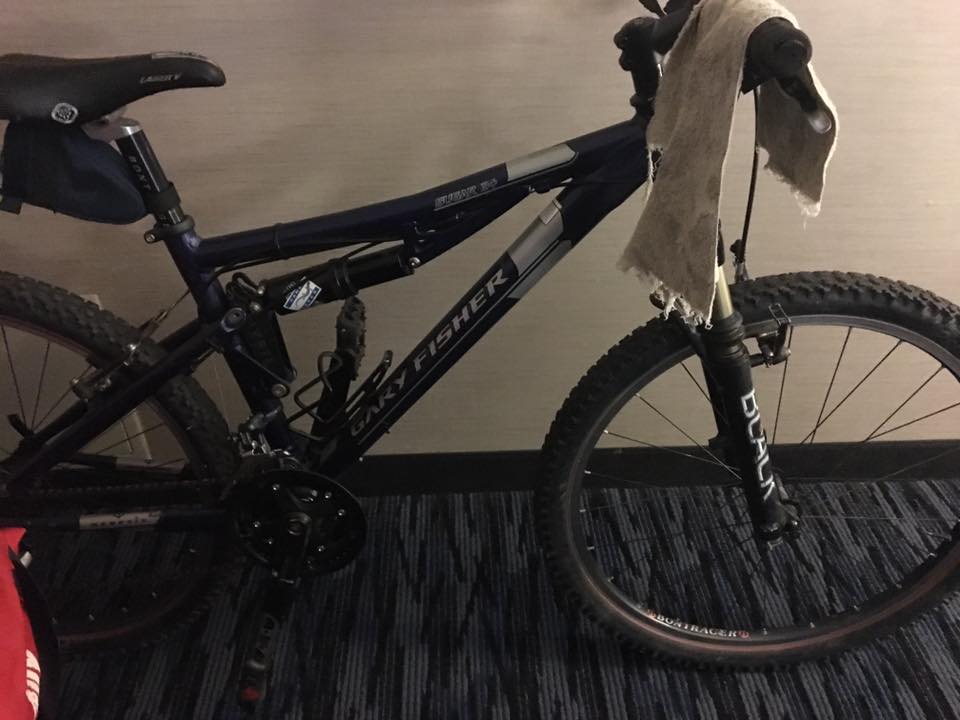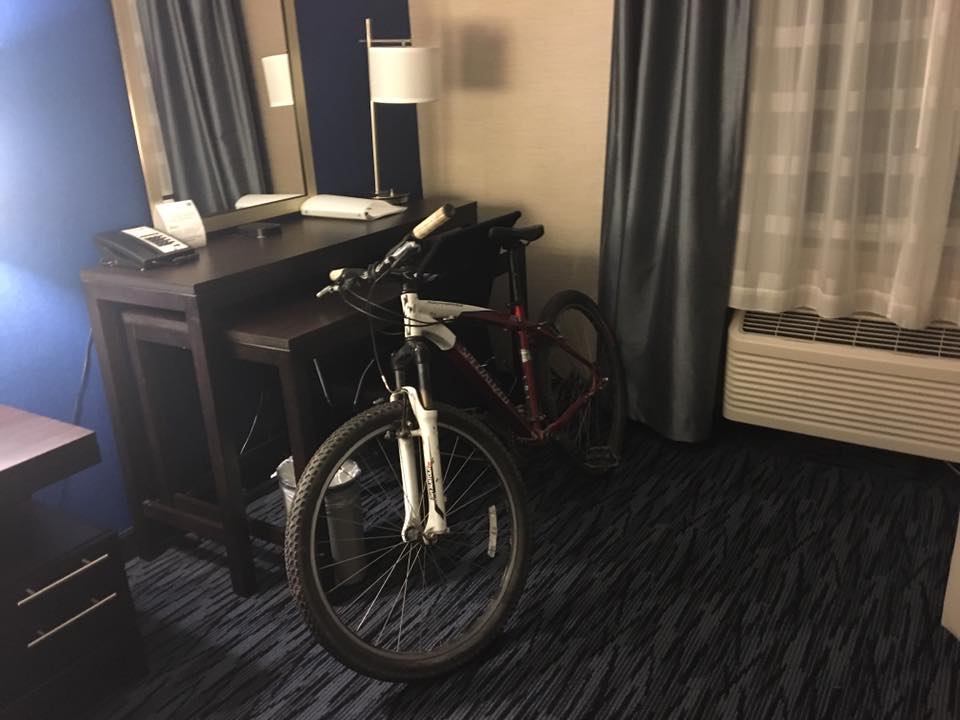 ---
We made it! We are at Blue Mountain Park in Peekskill New York. B.i.k.e.-Syracuse's riders are racing with 300 kids from across the State of New York with the New York Interscholastic Cycling League (NICA), tomorrow, Sunday, April 9th.....We did the pre-ride today and the course is fun..but there are some technical rock gardens to be aware of and lots of mud! We are excited to be here and stay tuned for pictures and results!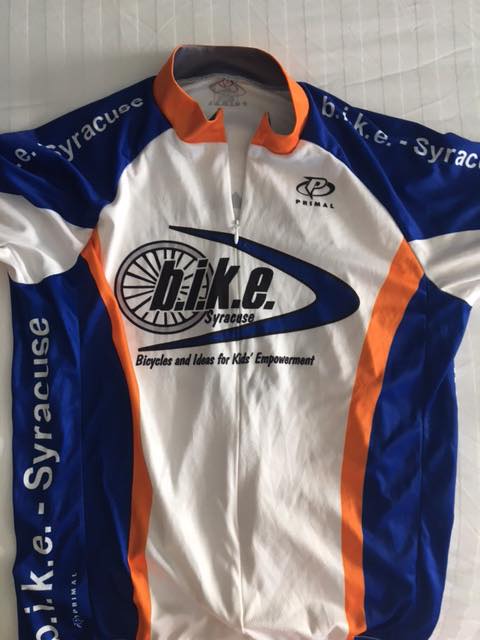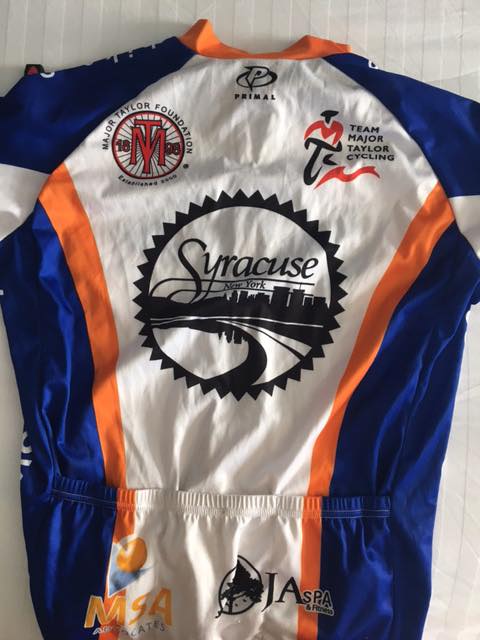 ---
April 3, 2017
FINALLY on the trails yesterday and an awesome ride it was. We road Coach's trails around her house up to Split Rock. Epic time working on skills thanks to Coach Jason Webb for his awesome training and John Leggat for his help..... Enjoy. The race is this weekend. BRING IT ON!!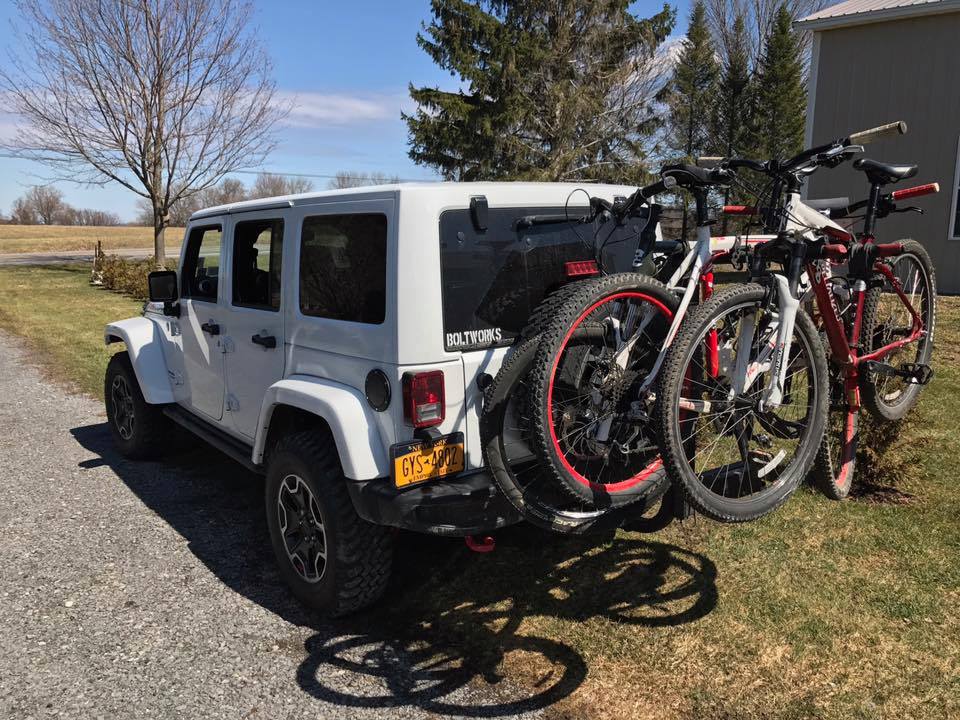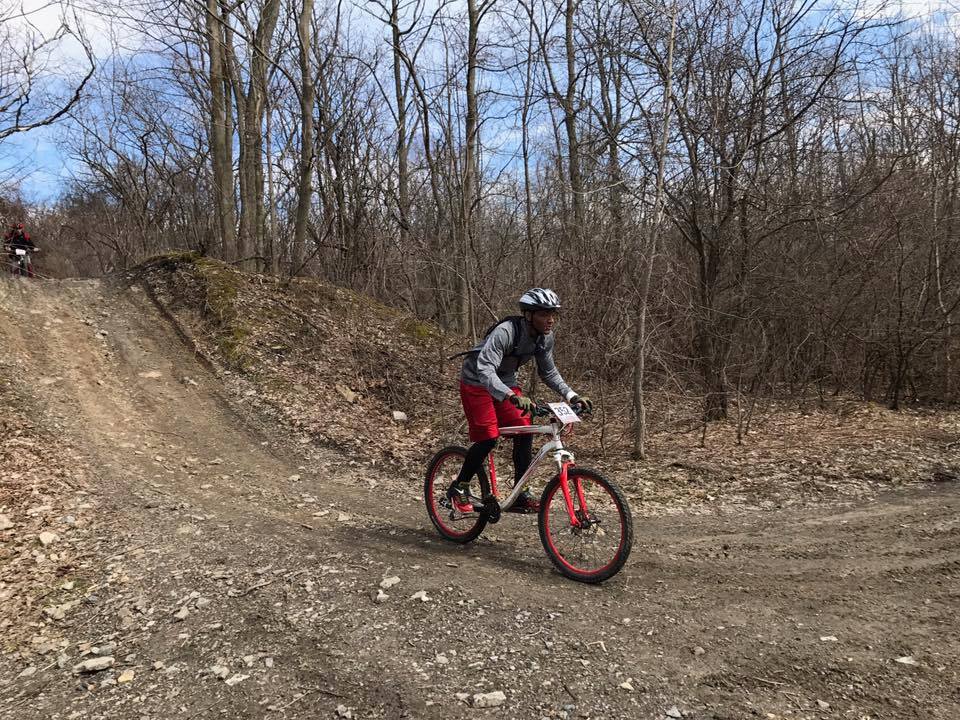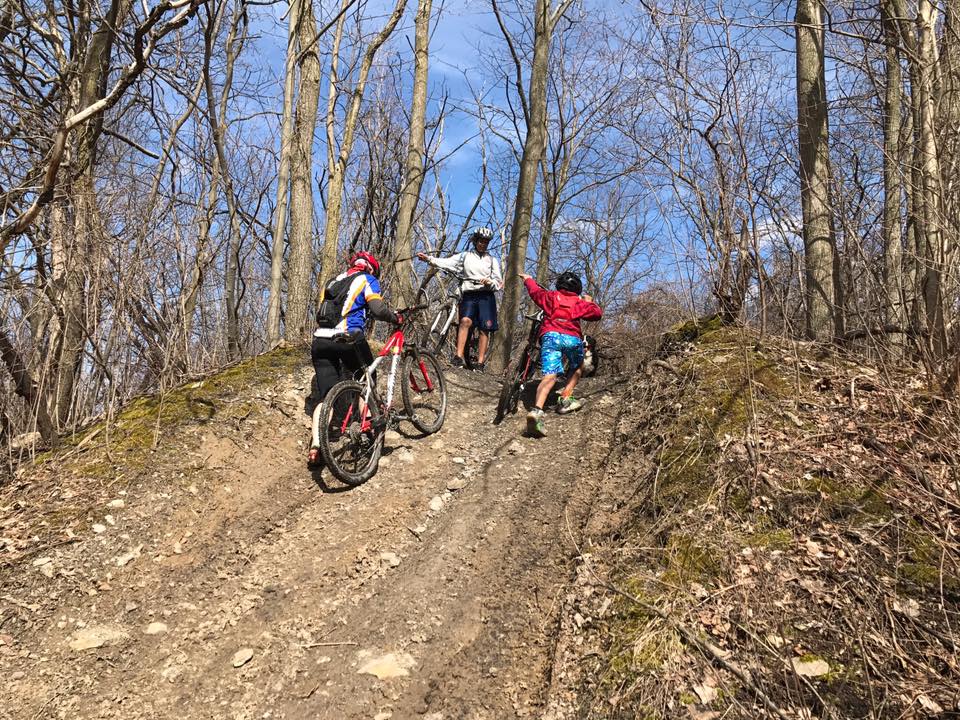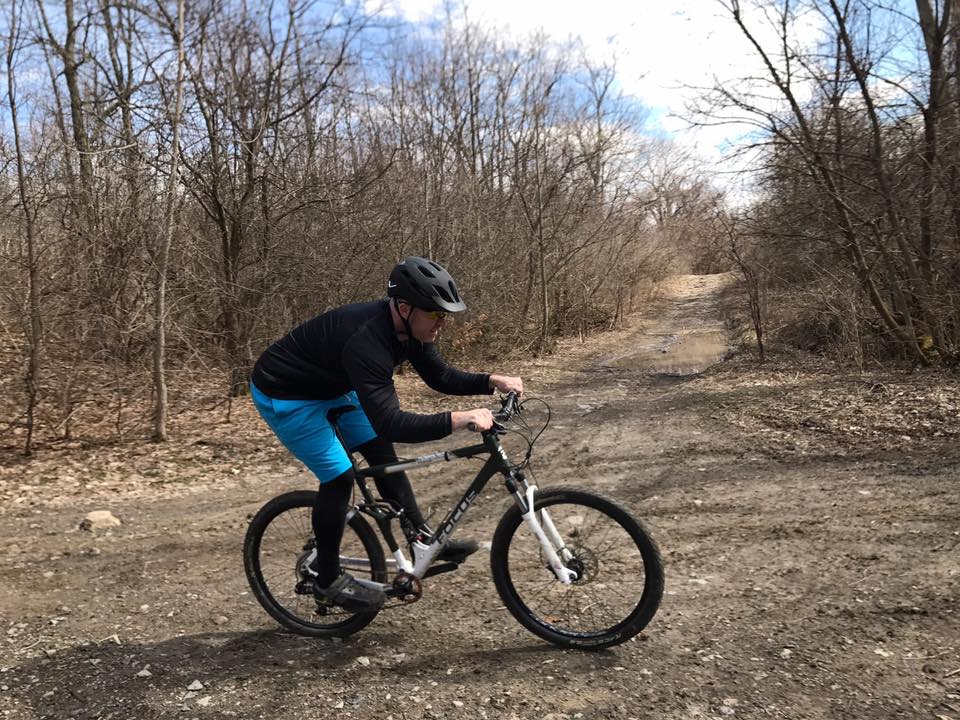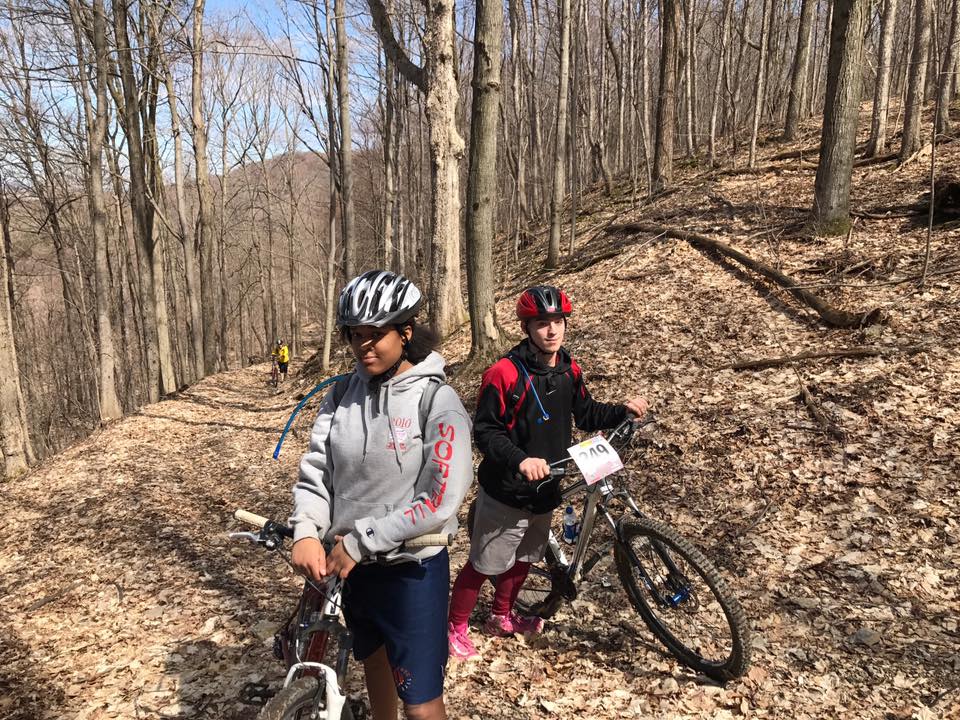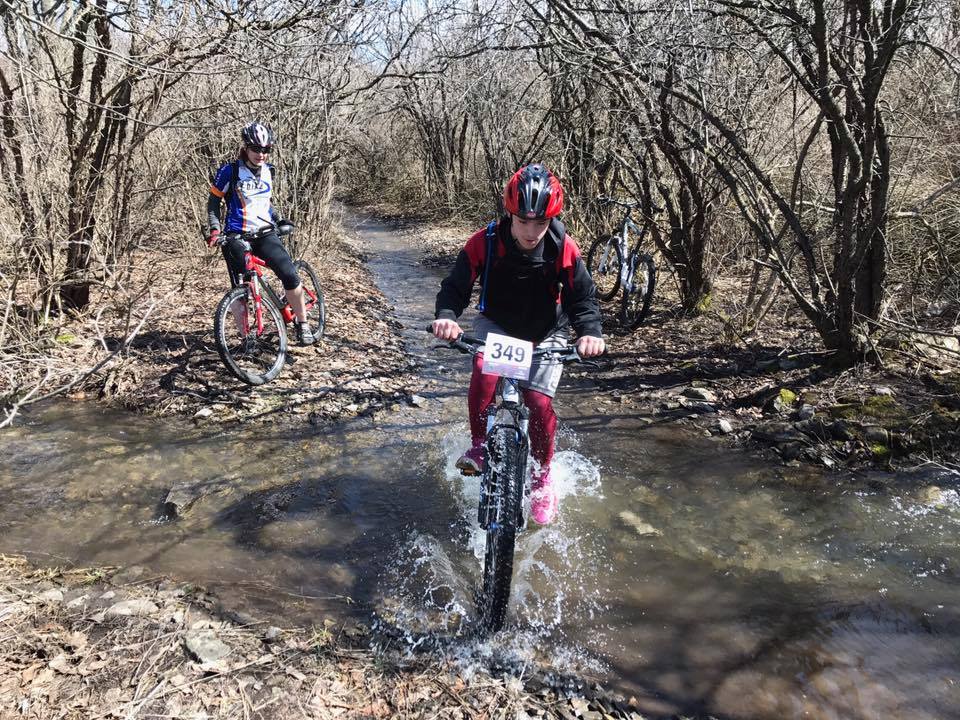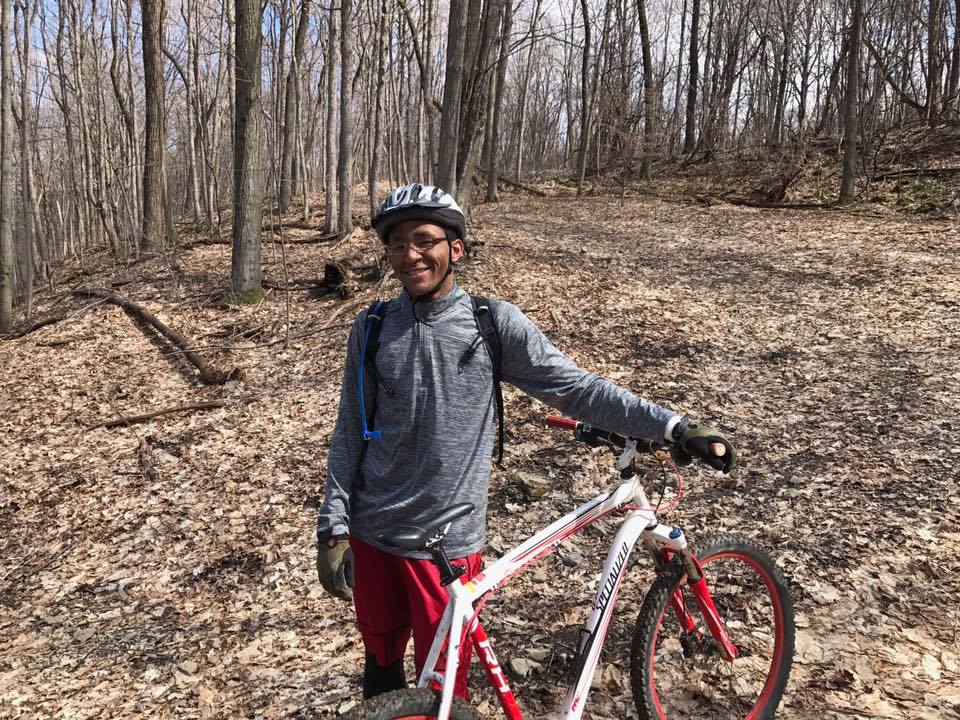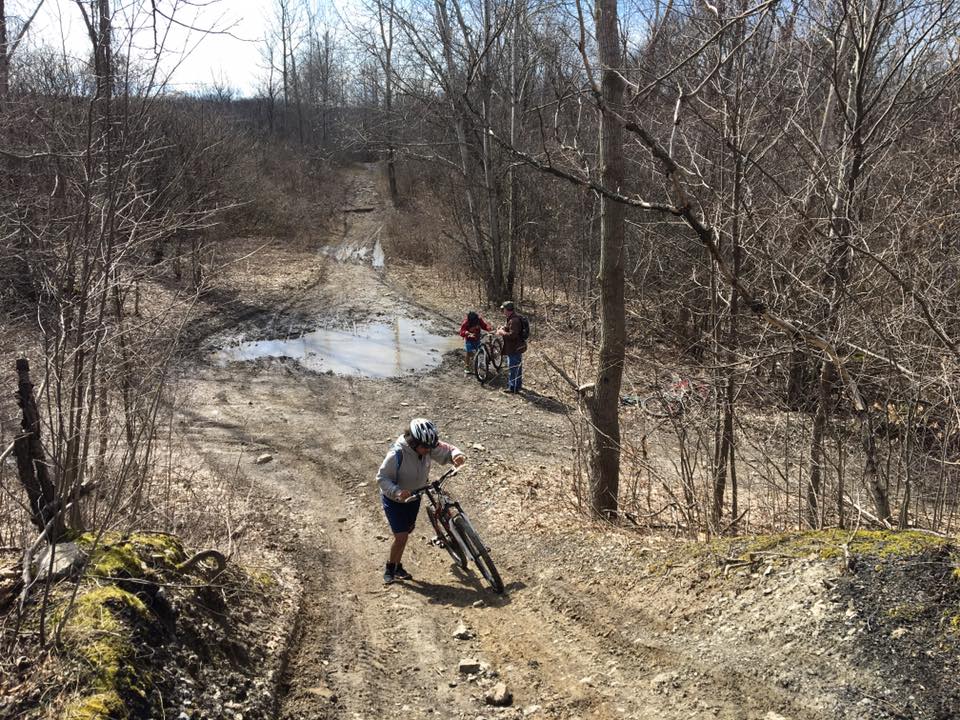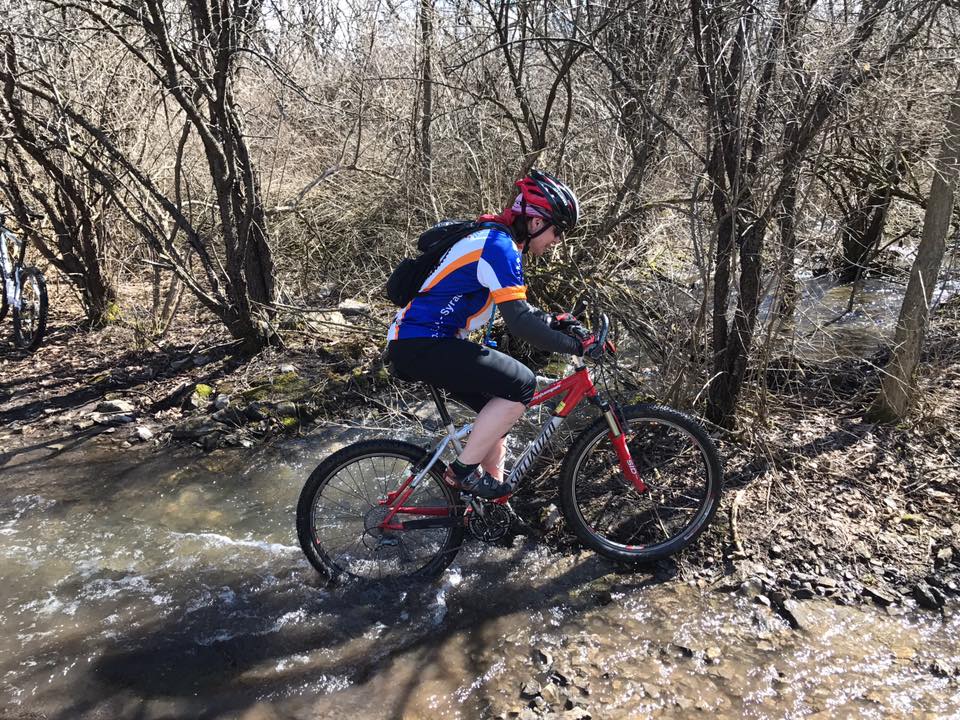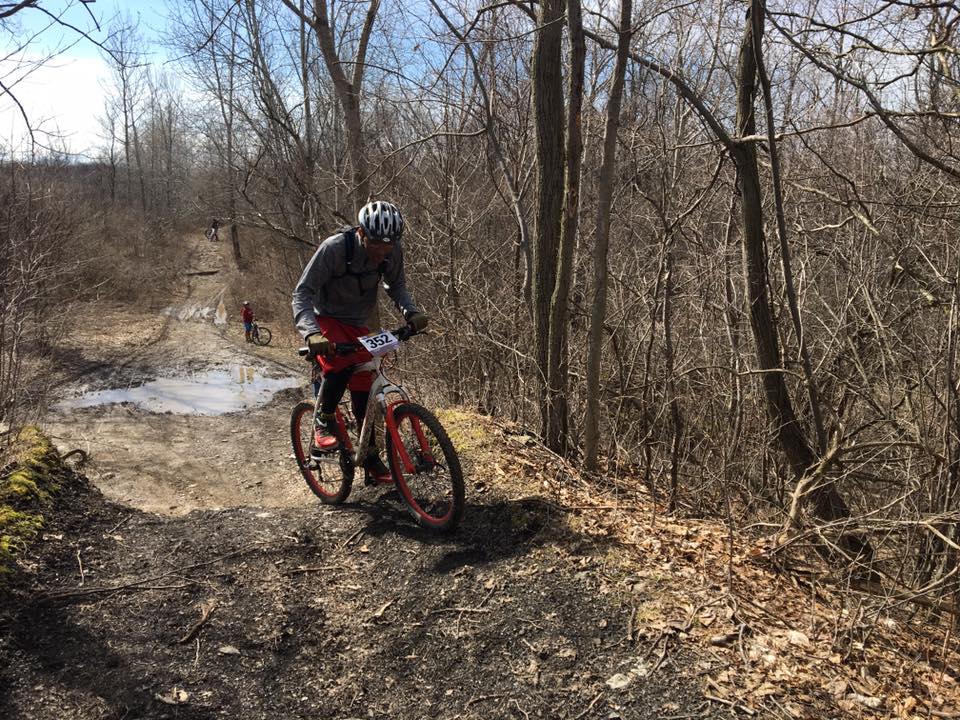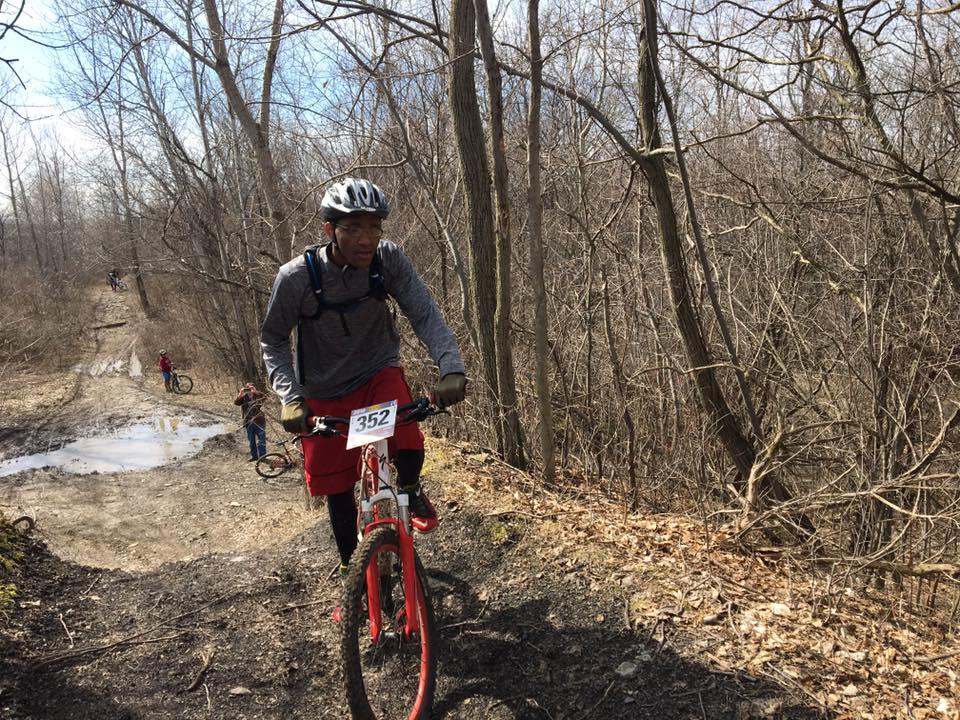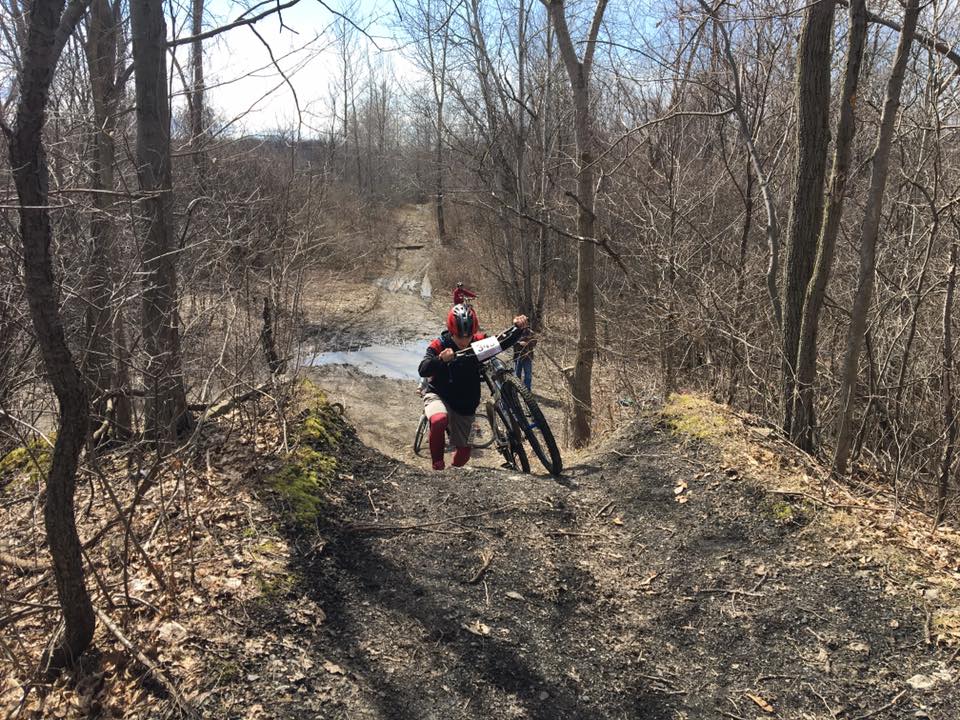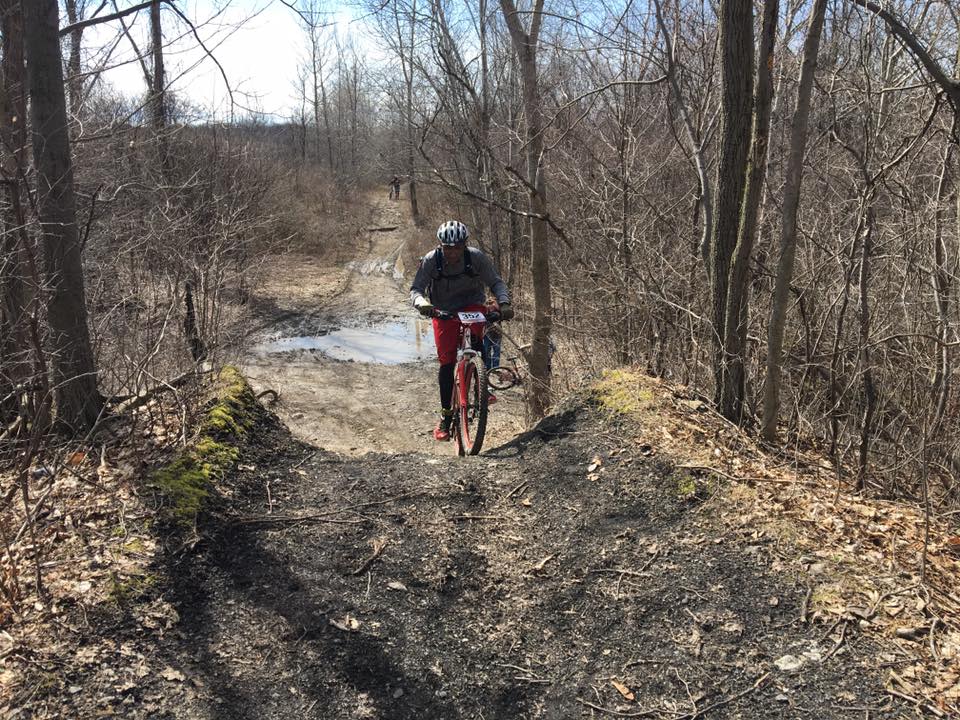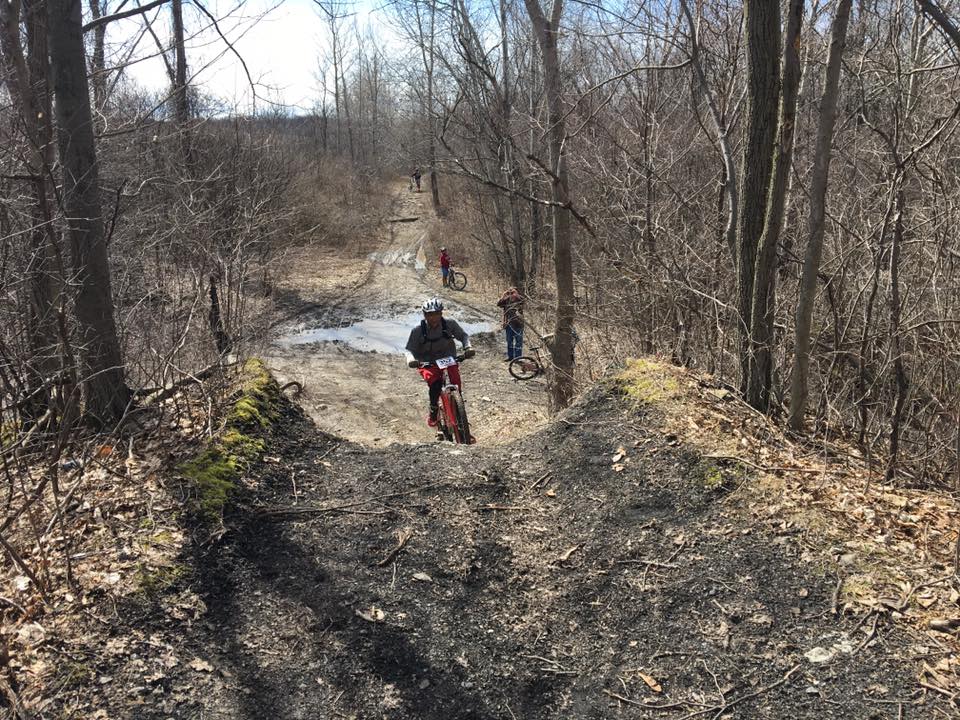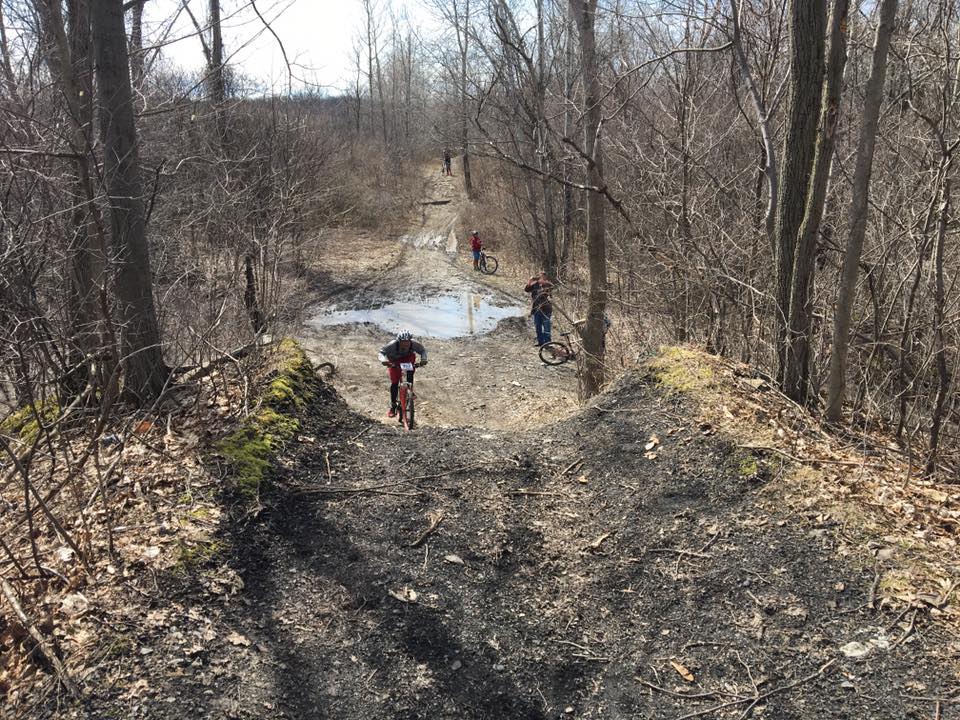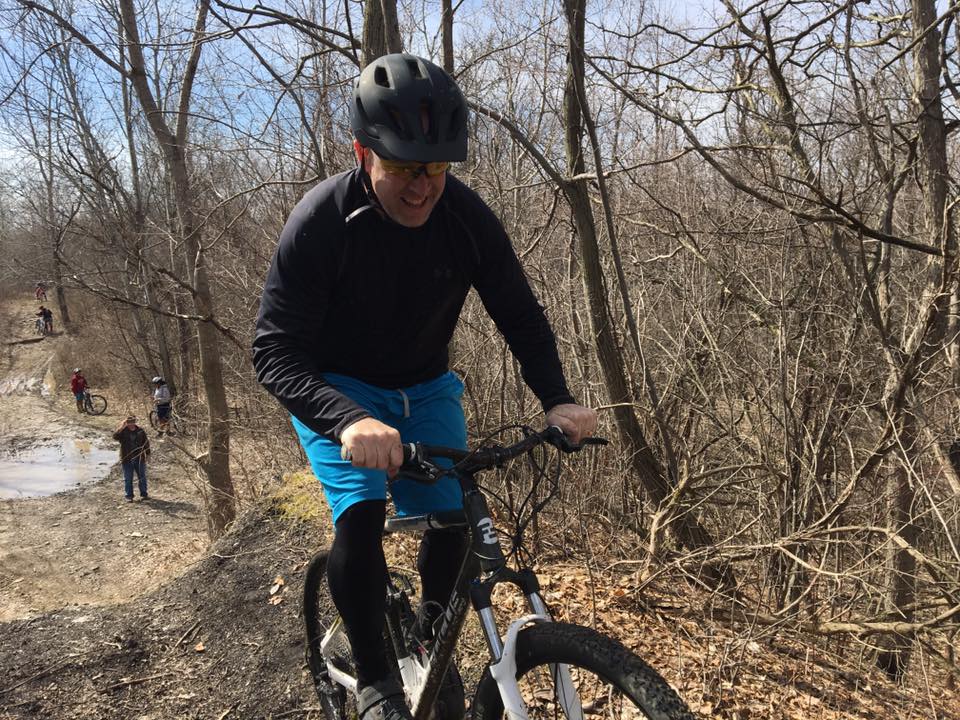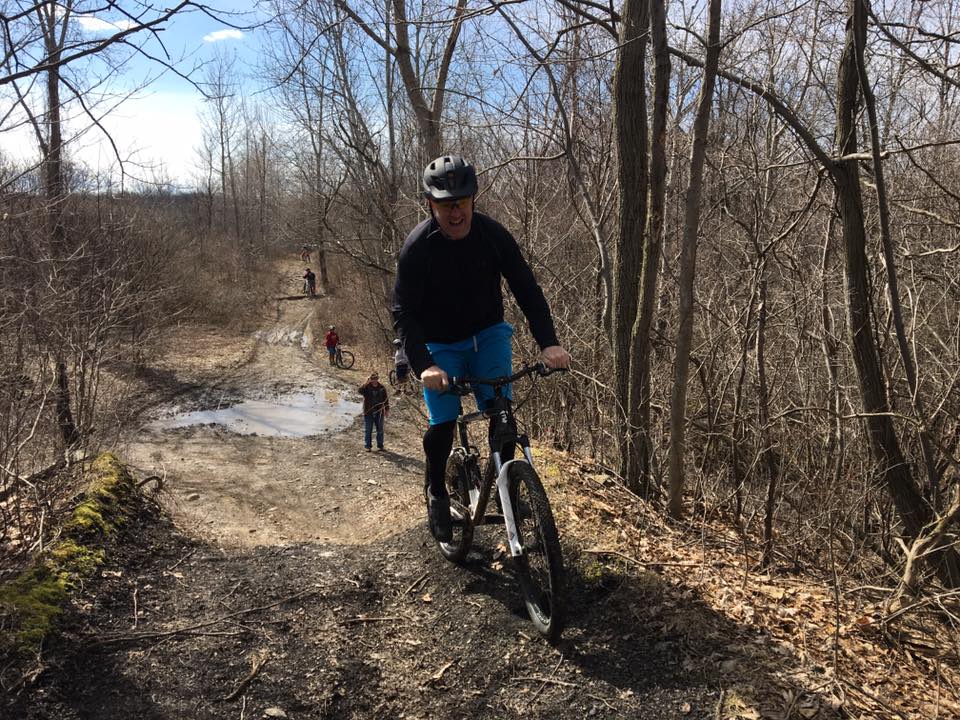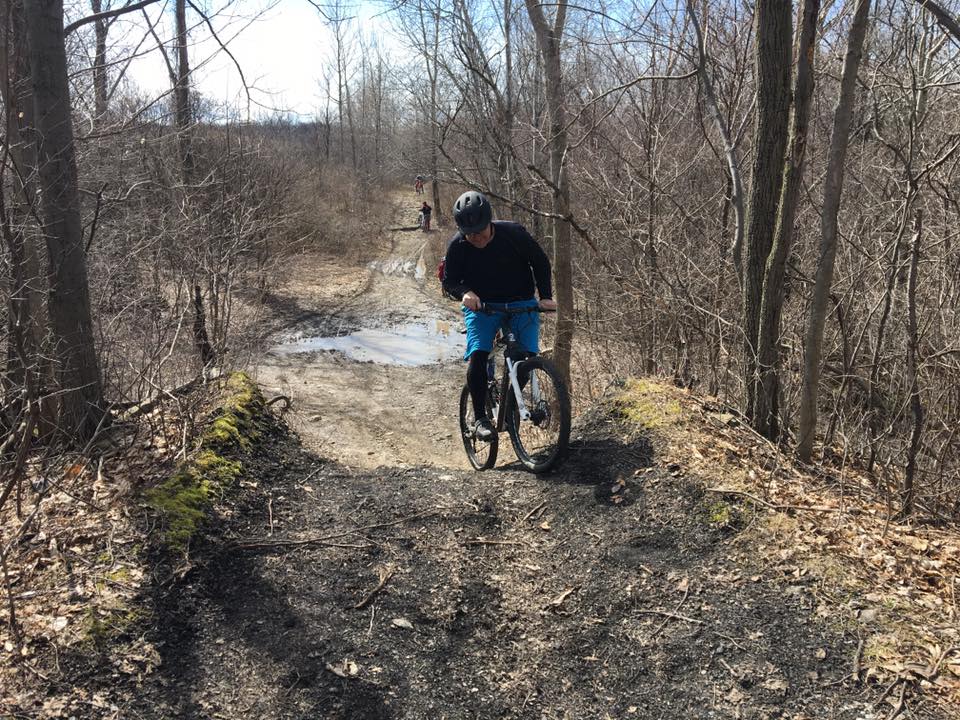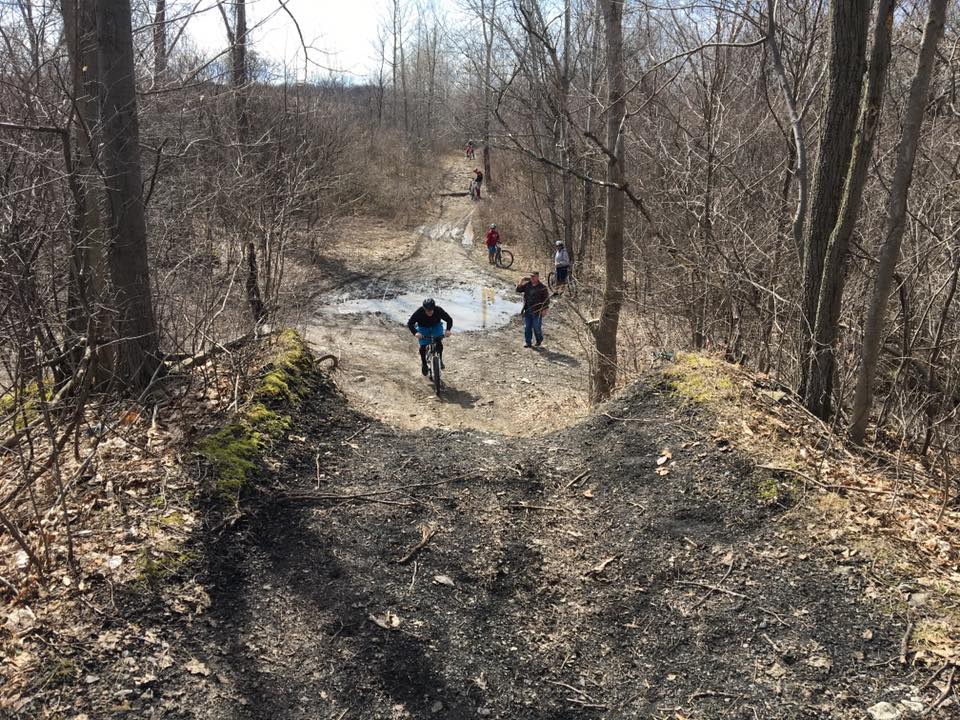 ---
April 1, 2017
New York High School Mountain Biking. We are working hard towards the first race. This weekend will be the first weekend we have been able to get on trails! Wish us luck!
---
March 8, 2017
Interval training tonight and ending with stretching. Awesome athletes! We are almost there for the first race April 6th. Please ask the weather Gods for good weather. We need to get on the trails!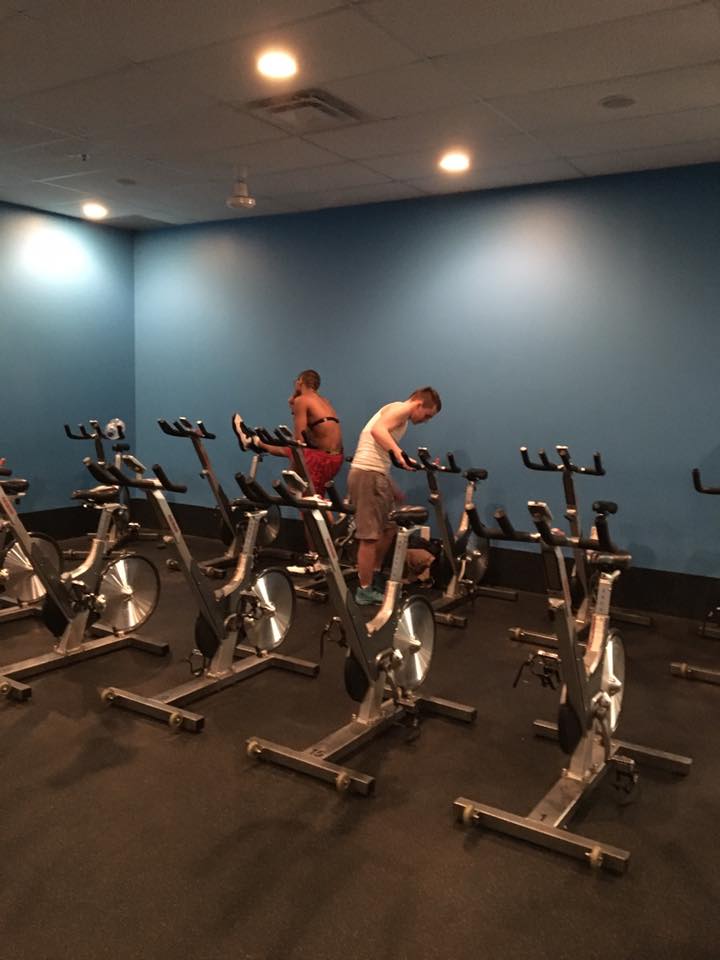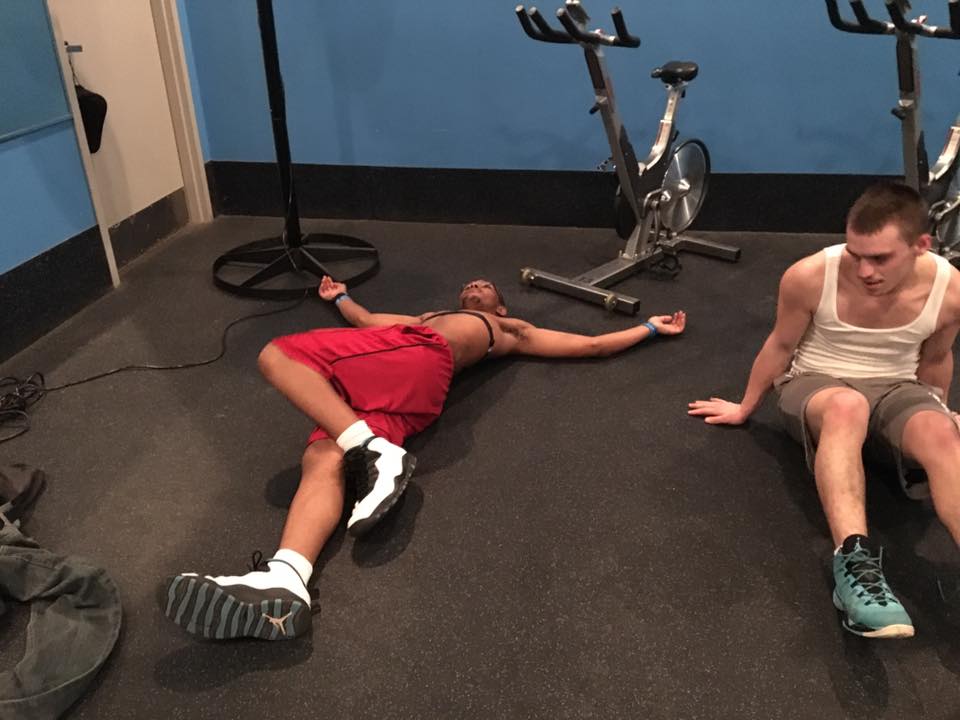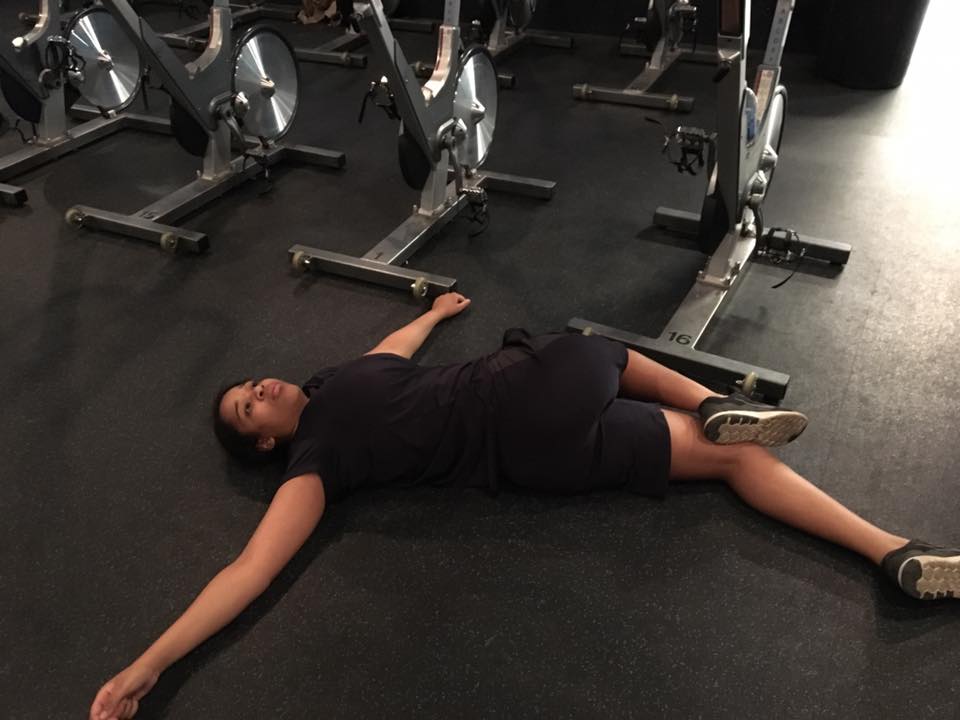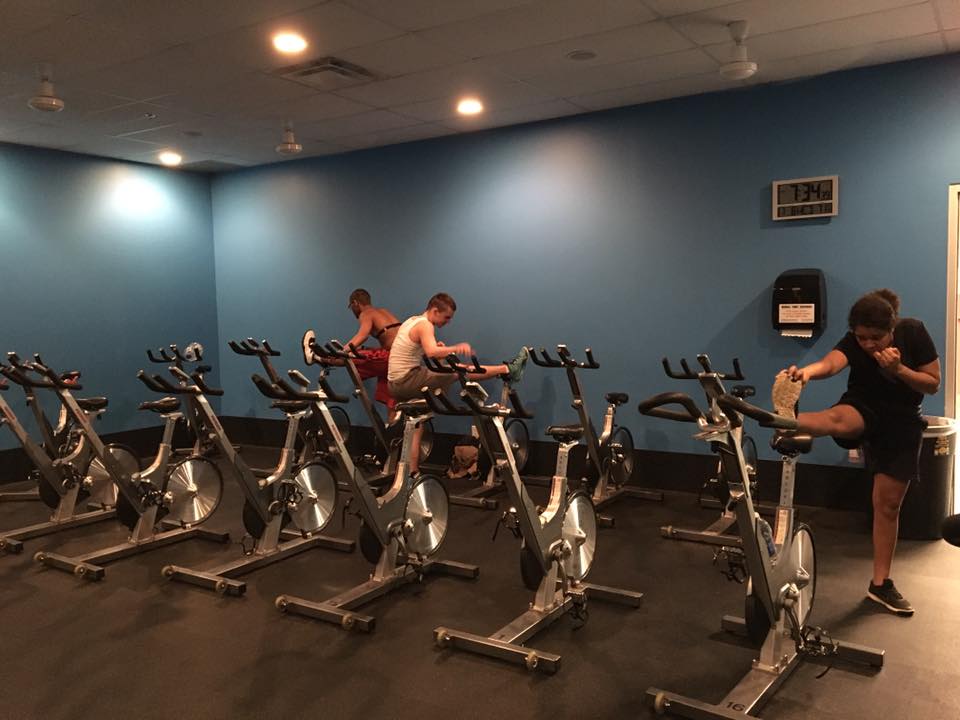 ---
March 4, 2017
Some of the bike-Syracuse NICA race team members, Noah, LeeLee and Chamar, worked on bikes today to get them ready for our first NICA race in April. So disappointed we could not ride. Too cold. We did check out the trails though at Coach house ....the trails meet up in split Rock and we can't wait to ride them!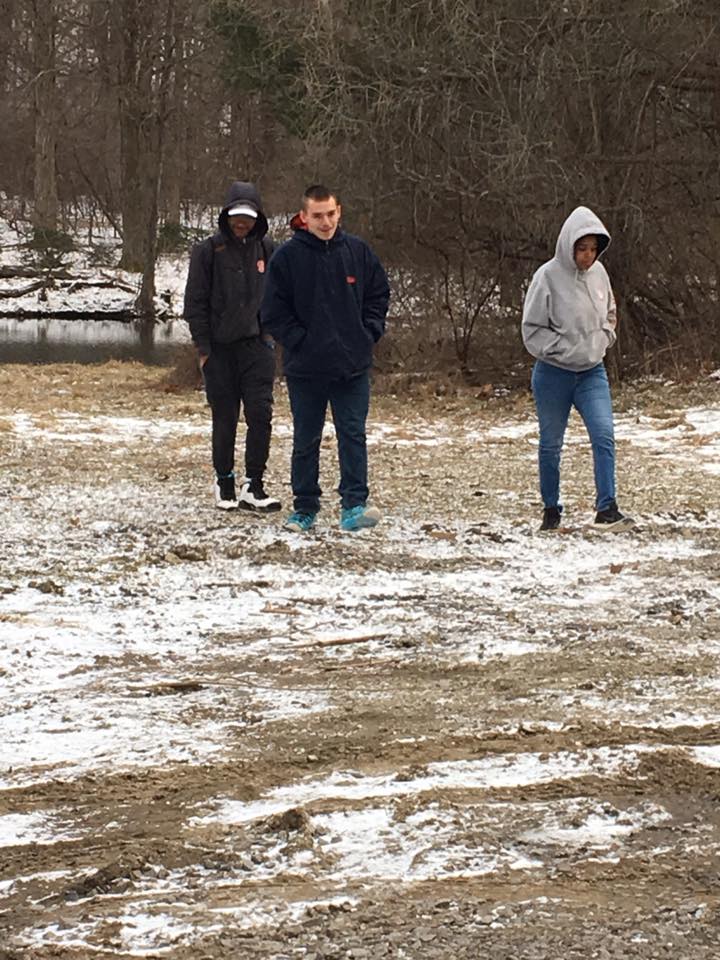 ---
February 6, 2017
Noah Oakes helping Lito with his heart rate monitor. Getting ready for cycling practice. Lee Ellen Parks spinning warming up!!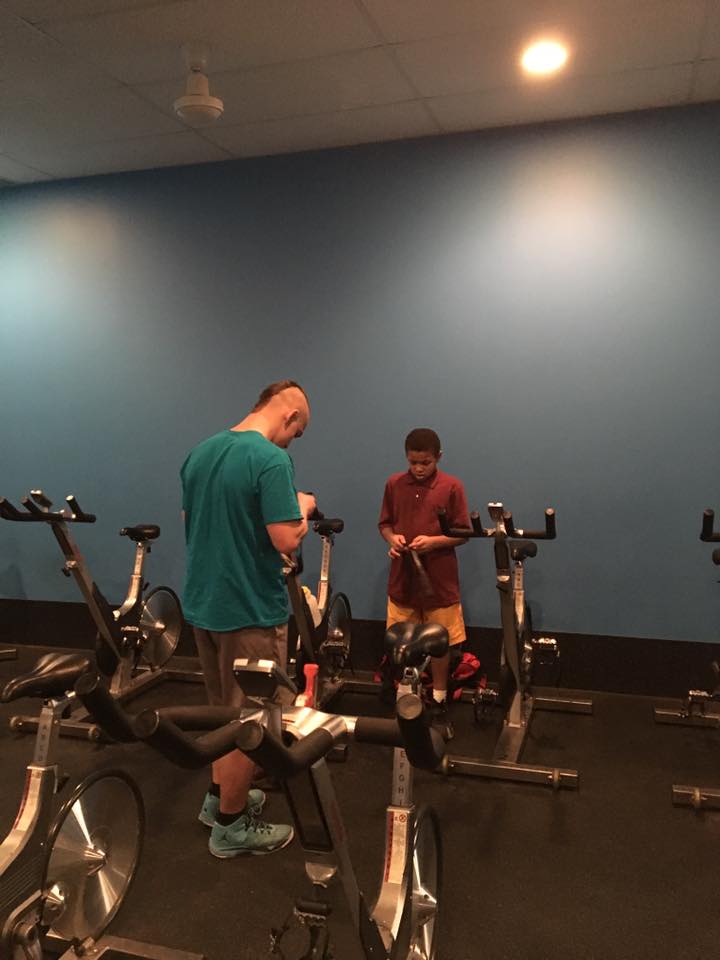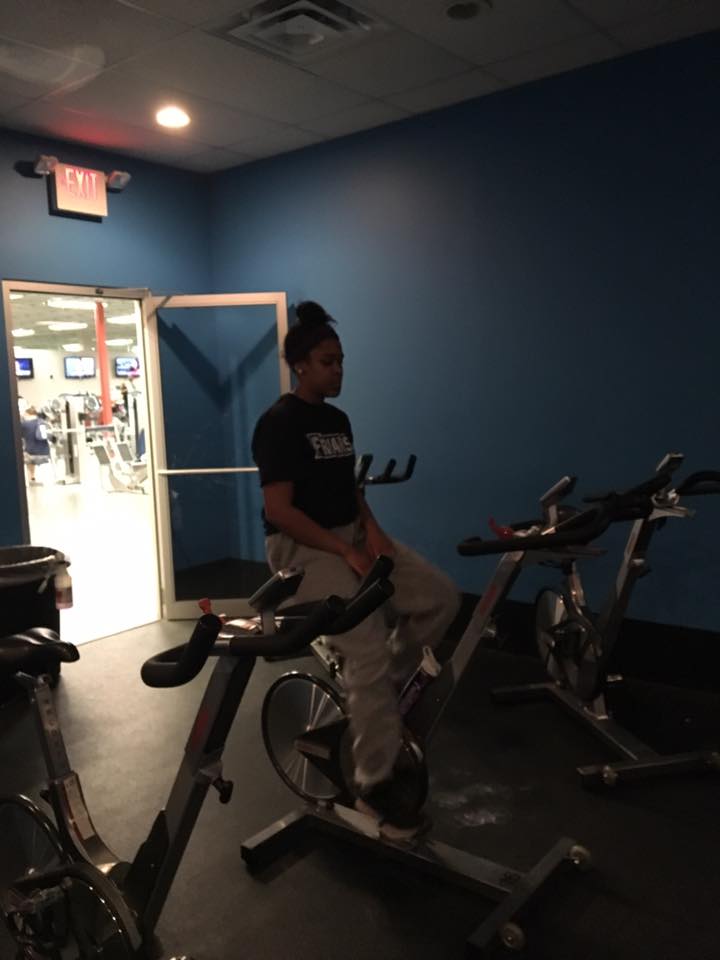 ---
January 12, 2017
Club dinner...awesome time with Ameen Buchanan and Enmanuel Mateo and Omar Short who graduated out of bike club and have come back to help mentor the young new bikers. Awesome time. Wow!!
---
December 31, 2016
Racing practice starts 2nd week of January. Stay tuned for details! Happy New Year to all our Youth Members, their Families and our Supporters. Thank you for supporting b.i.k.e.-Syracuse in 2016. Looking forward to a great 2017! Happy New Year!
---
December 4, 2016
Great day at the movies yesterday! Thank you Enmanuel Mateo and Sam Townsend and Lisa Parks-Edet for your help! bike-Syracuse kids Rock!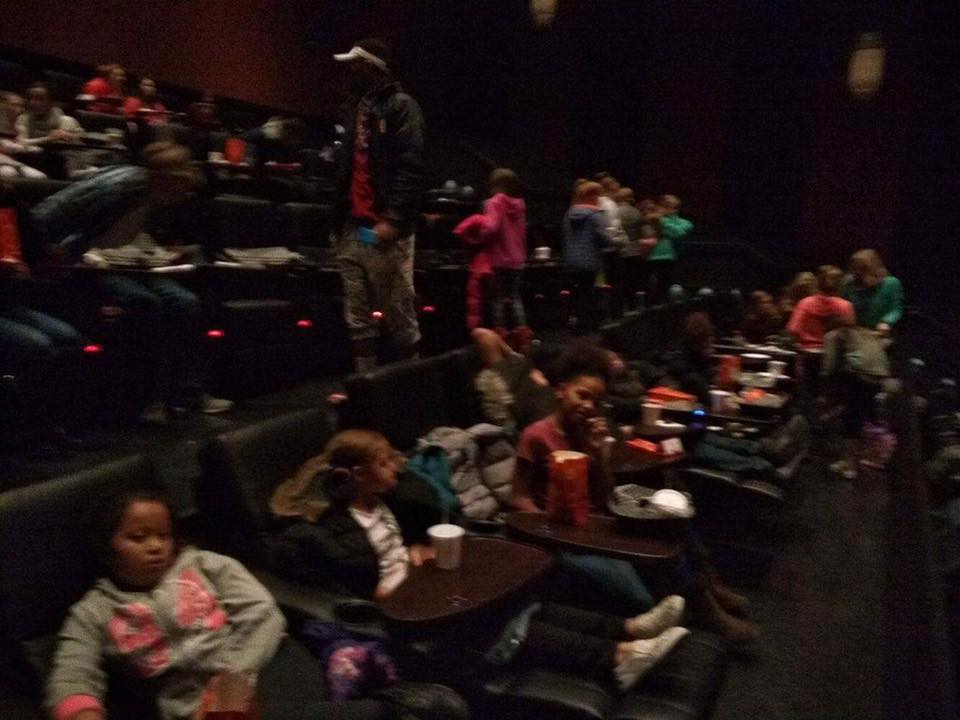 ---
December 1, 2016
Hey bike-Syracuse members what do you think: With all the fighting and conflict going on in the United States it's time that bike-Syracuse members teach our fellow Americans how to resolve their conflict------bike-Syracuse members will call a "CFR" on the US to resolve the conflict and if that doesn't work we will call a "WOMP"!!!!!!! Let's show the US that we at bike-Syracuse all know how to resolve conflict without violence or disrespect....Lets show our fellow Americans that we here at bike-Syracuse know how to resolve conflict by respecting each other's feelings through "CFR's and "WOMPS". We all can make a difference! What do you say? Let's start at home and move out to the streets and school! Let's spread the conflict-resolution-goodness of CFR's and WOMPS! Start teaching CFR's and WOMPS to mom and dad and your teachers and your friends and anyone that wants to learn! It starts with you! Thank you Outward Bound!
---
November 12, 2016
Breakfast with the club! Hotel Syracuse!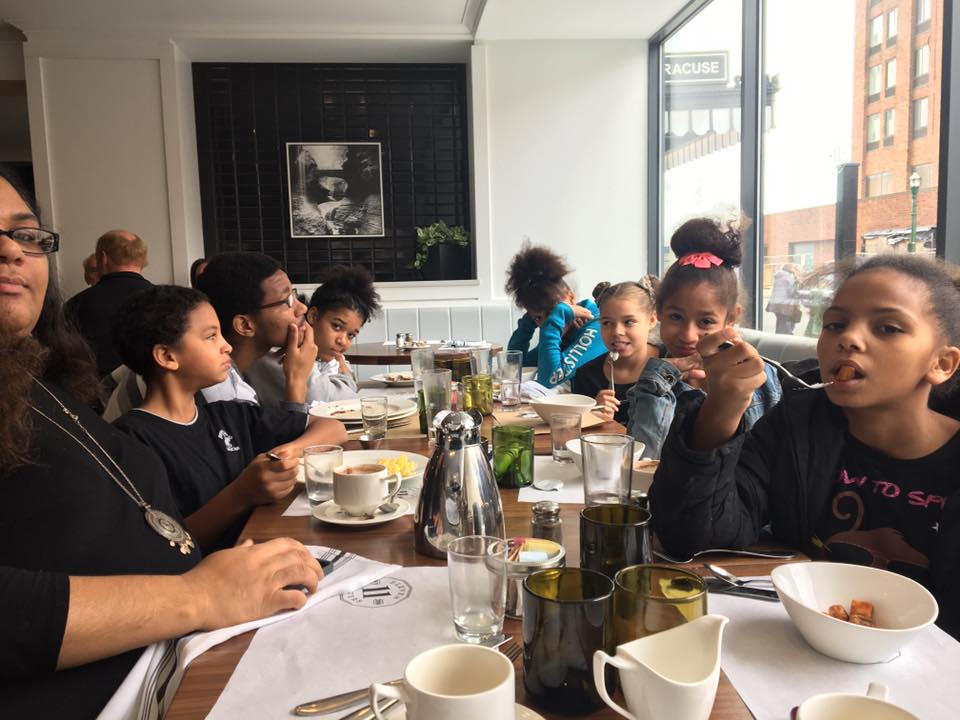 ---
October 23, 2016
Great day at b.i.k.e.-Syracuse! Thank you Lisa and Mrs Thomas and Lee Ann for your help! CFR's and WOMP's and conflict resolution skills ! GREAT role playing! Our youth learned a lot and so did the adults! Who said we only bike???
---
October 8, 2016
Creating shadows! With b.i.k.e.-Syracuse. No bikes, though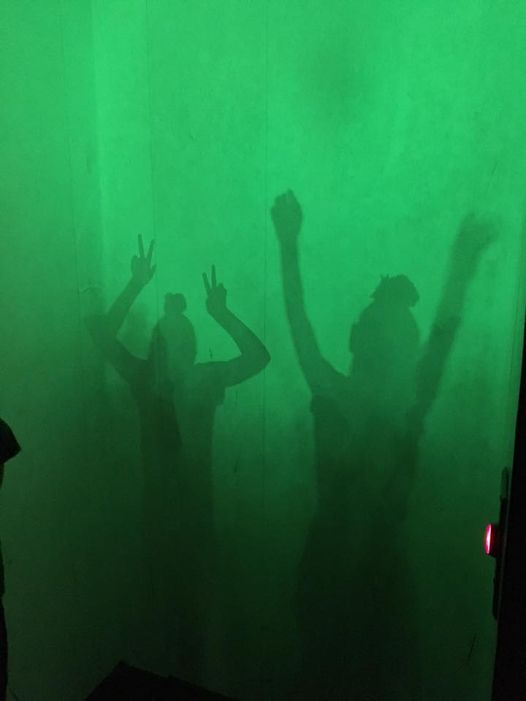 ---
Learning about sustainability and the future of our planet with b.i.k.e.-Syracuse - The MOST Science Museum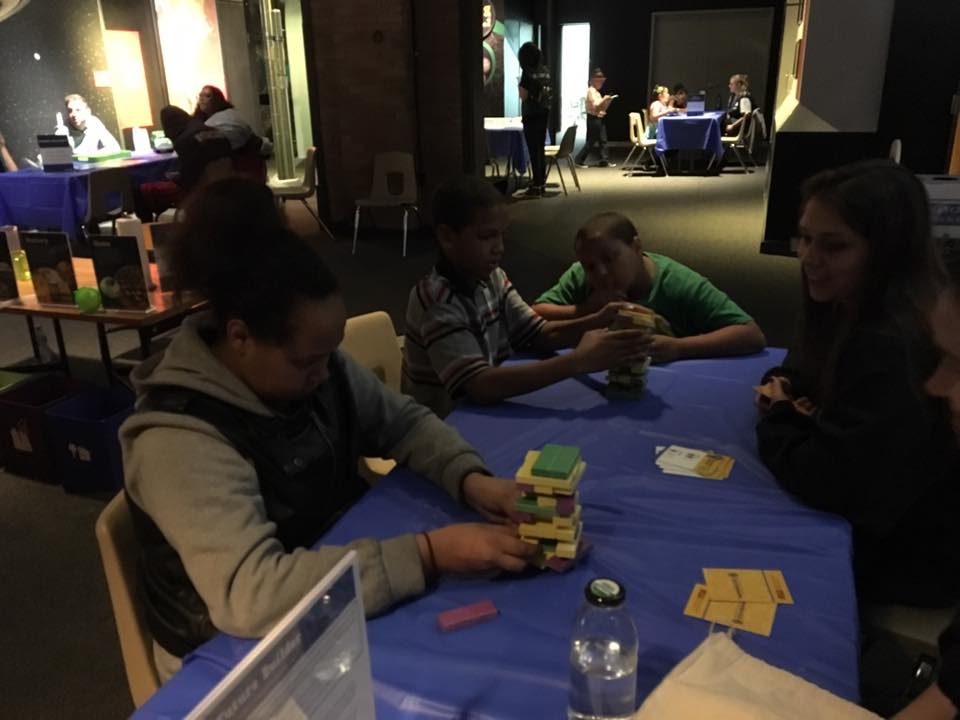 ---
Guess where we are?? Thanks to the rain we could not ride our bikes so we are honing our climbing skills! Who said bikers can't climb??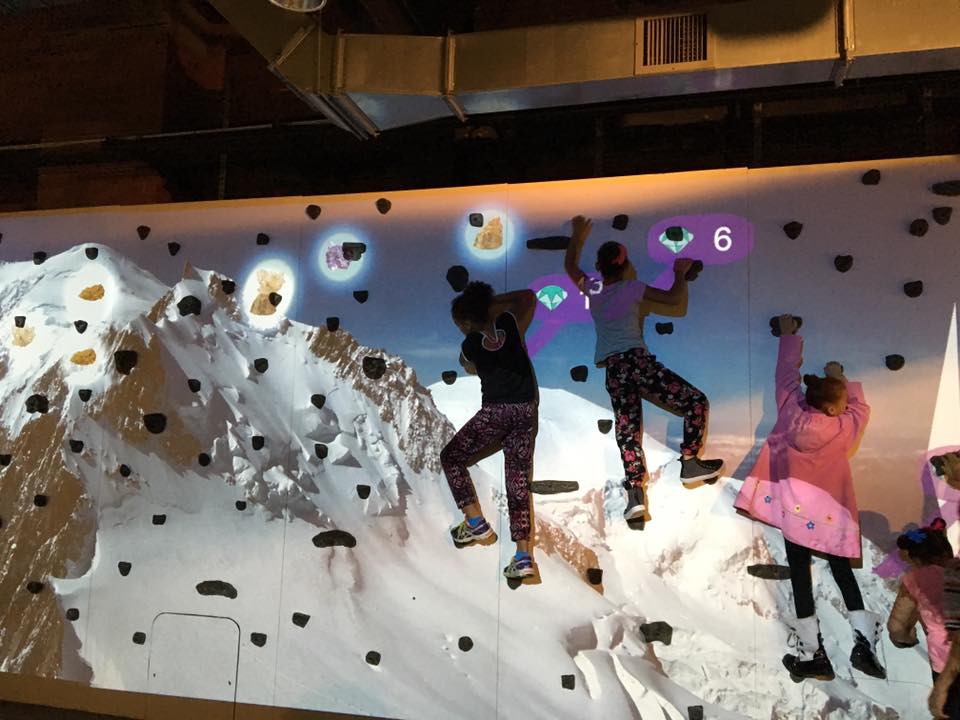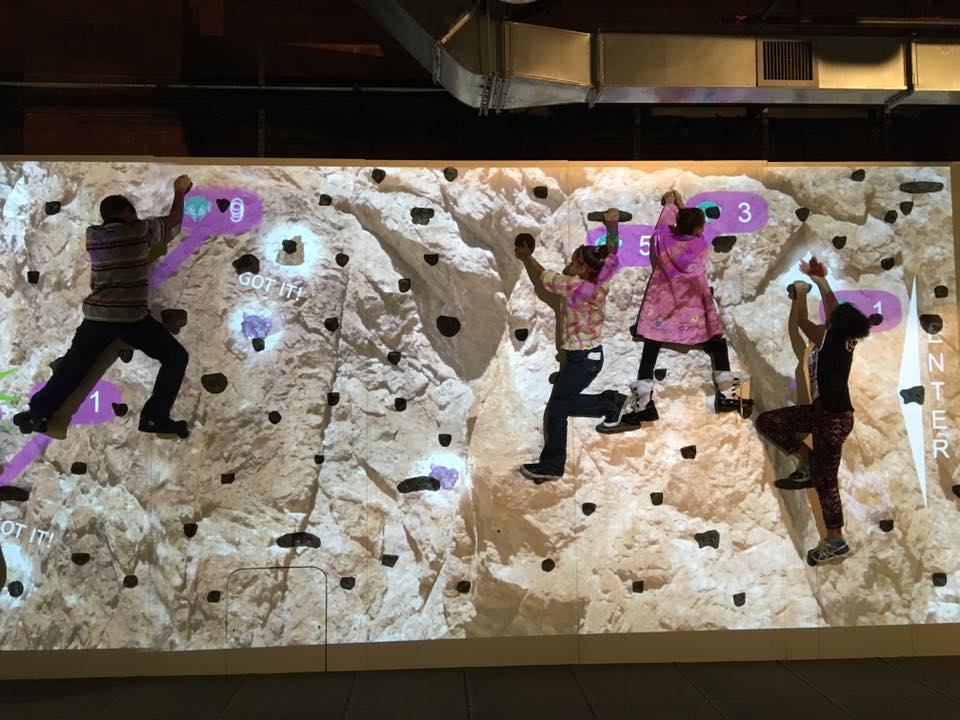 ---
July 20, 2016
See this wonderful picture...yes, that is Enmanuel Mateo at the White House in Washington DC a guest of Michele Obama's! I am gathering all the details, but it appears that Enmanuel was chosen as only one of 100 students across this Nation to attend this event. Evidently, the 100 kids chosen for this event represented successful college bound students from around the country! We are so very proud of Enmanuel....as a b.i.k.e.-Syracuse Member he never gave up in anything he ever set his mind to and all of his hard work and dedication has paid off....What an amazing young man....please join us in congratulating Enmanuel! (P.S. Yes, that is Enmanuel Mateo in our Cover Photo for our Facebook page....although Enmanuel struggled in a couple of races, he never opted to take the DNF....he finished every race he started....an amazing young man!)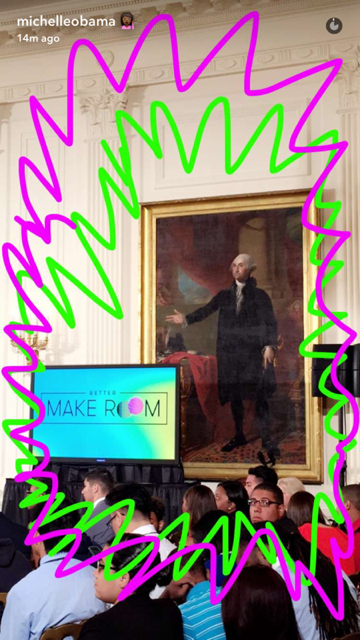 ---
June 30, 2016
Go Omar! Great Picture....you truly standout in the crowd!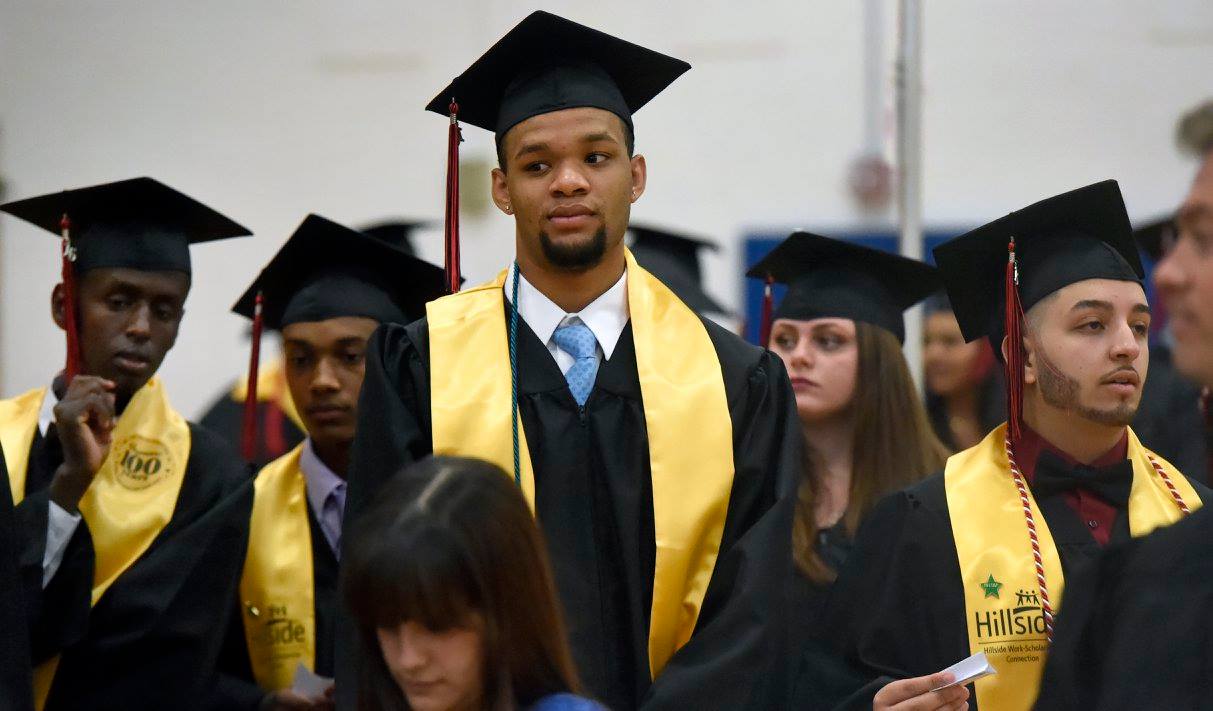 ---
June 26, 2016
Enmanuel and Mom and Family! Congratulations!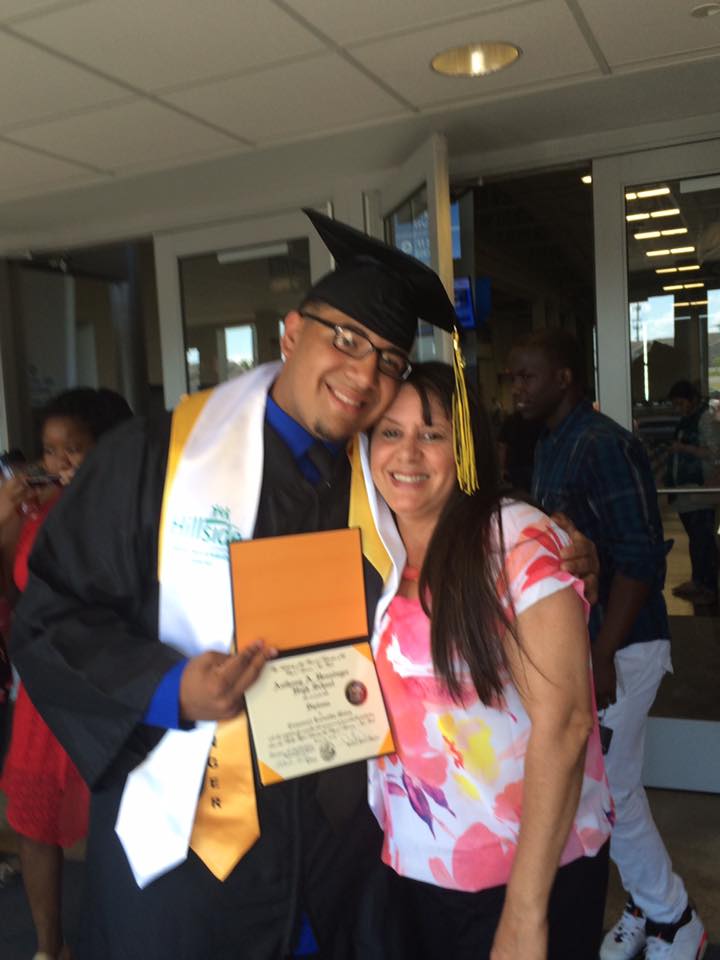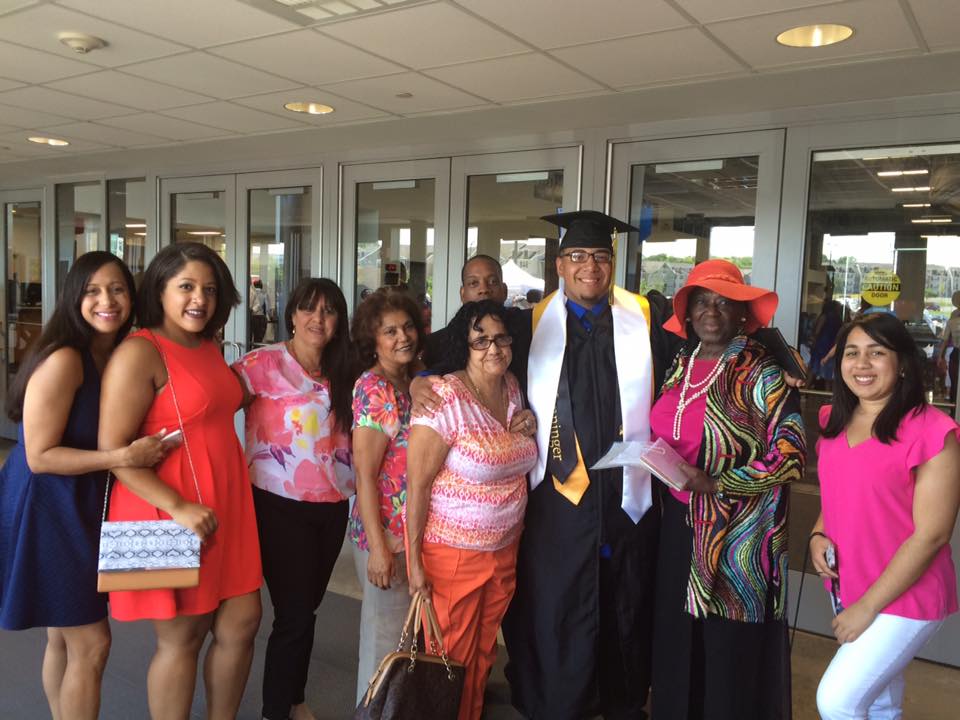 ---
June 25, 2016
It is official! Enmanuel graduates! Whoop hooooo. So proud of these athletes! Emotional weekend!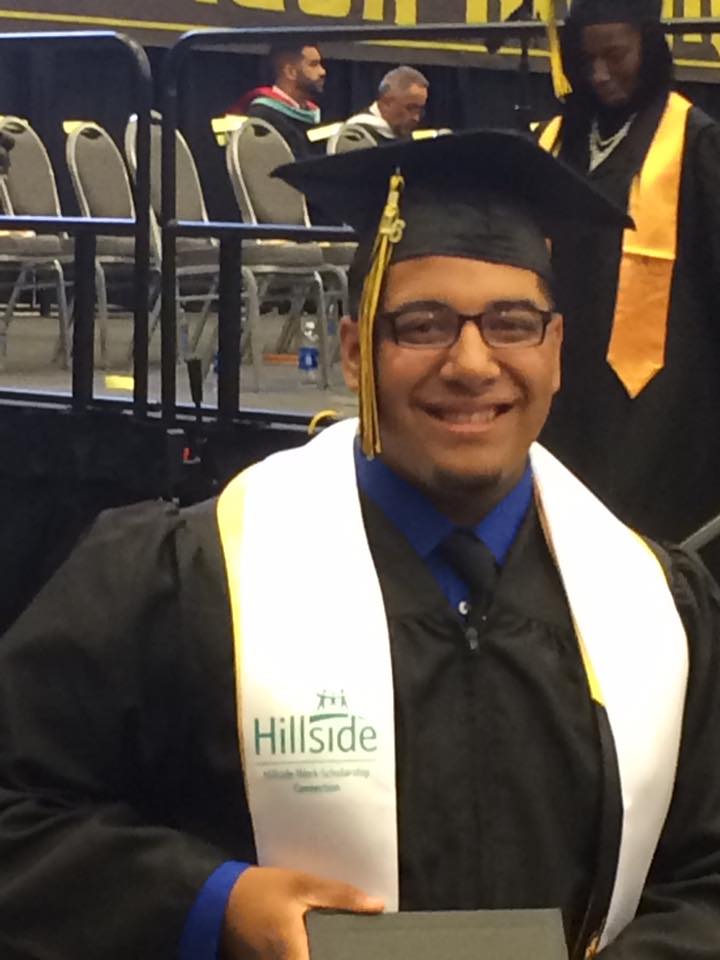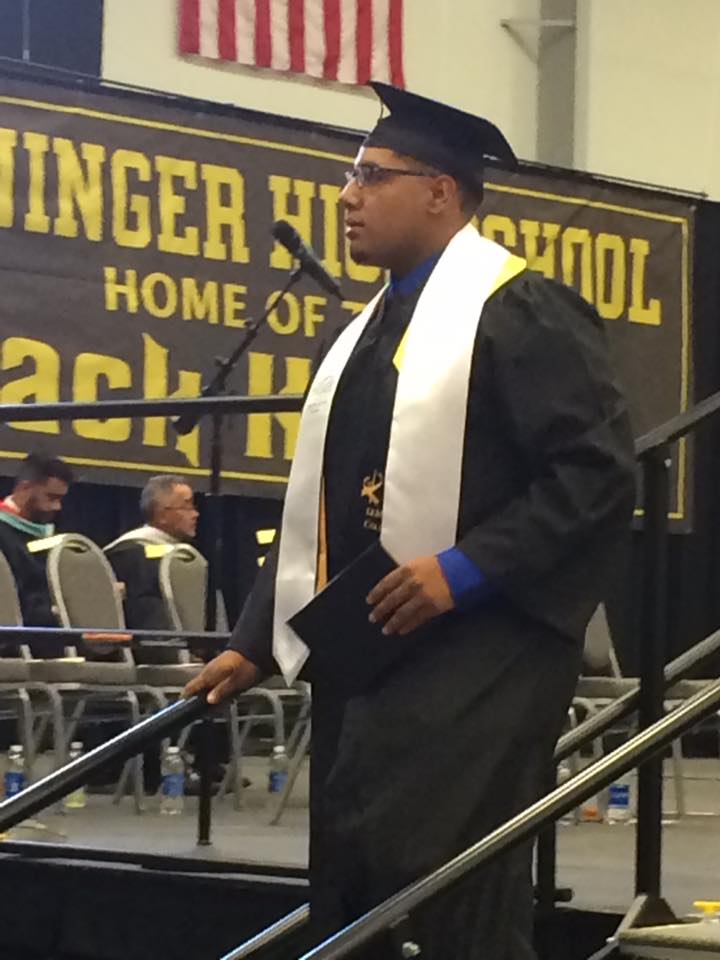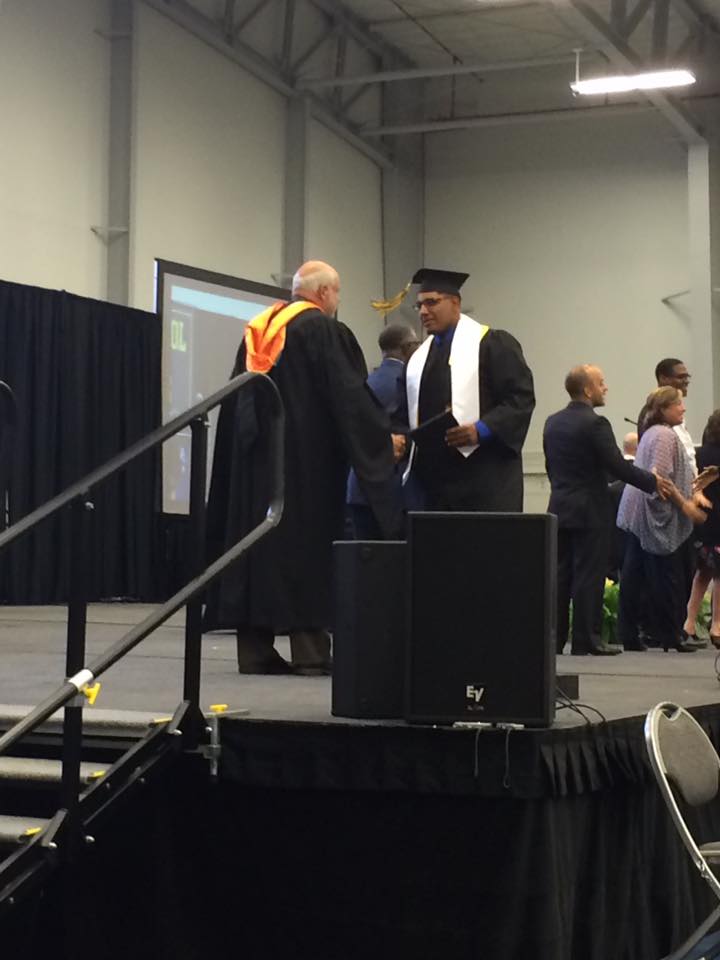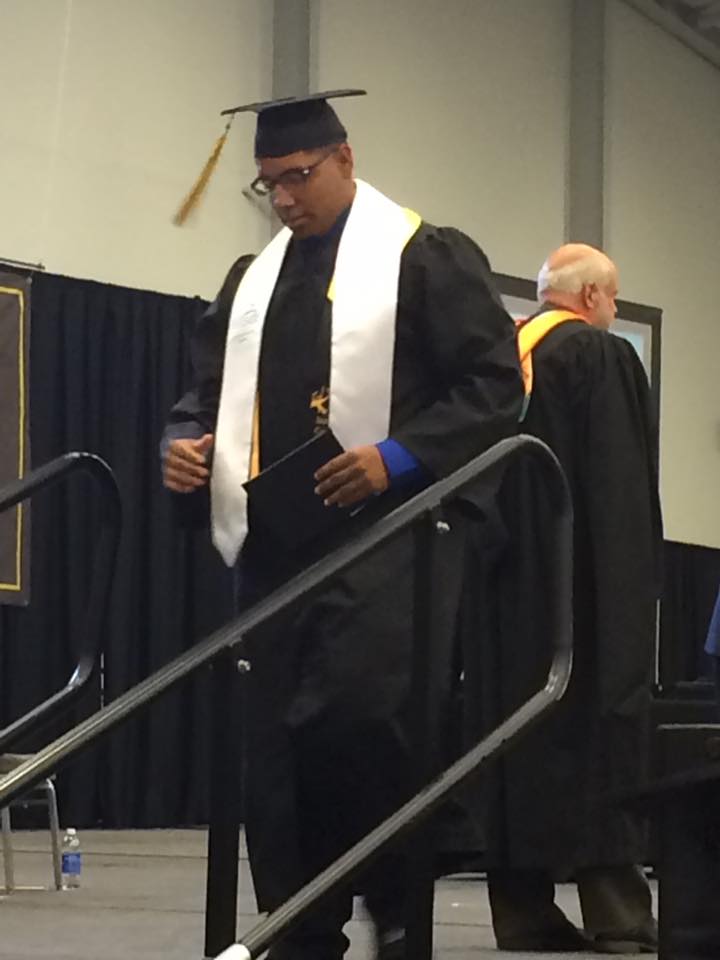 ---
Way to go Enmanuel Mateo! Another member of our mountain bike club graduates! Way to go Manny! So proud of you!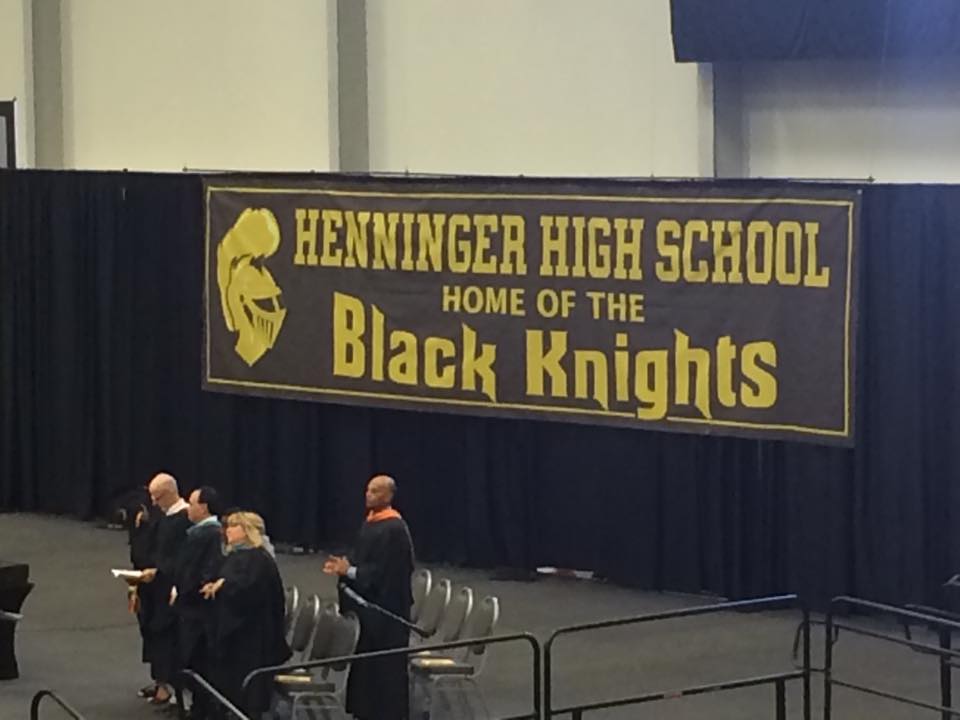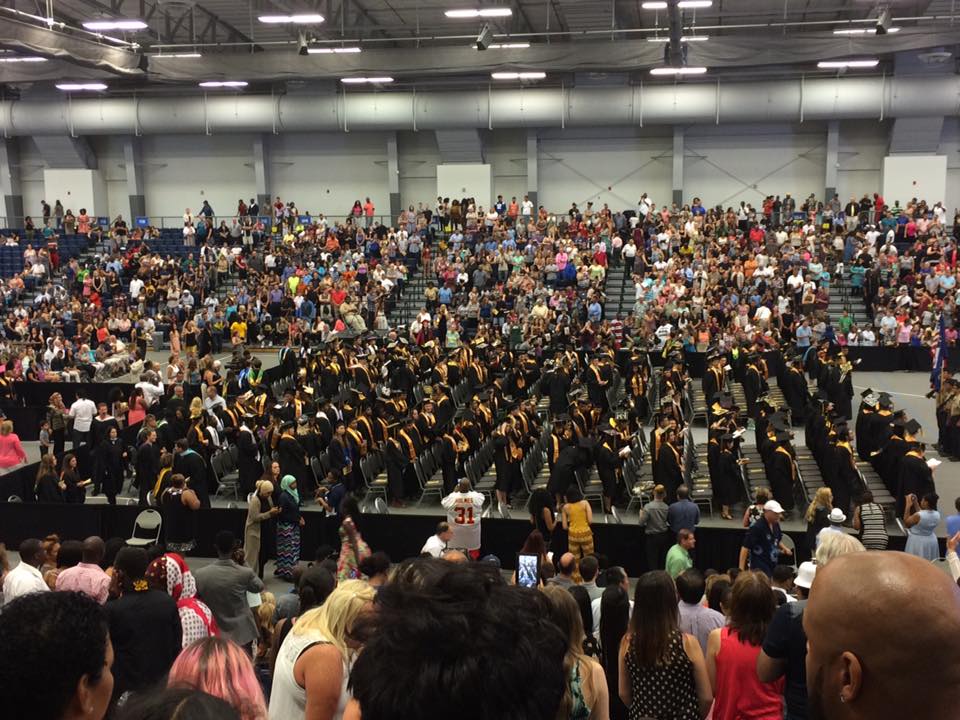 ---
June 23, 2016
Wooooo Hooooooo!! Way to goooo!!! Good luck Omar!!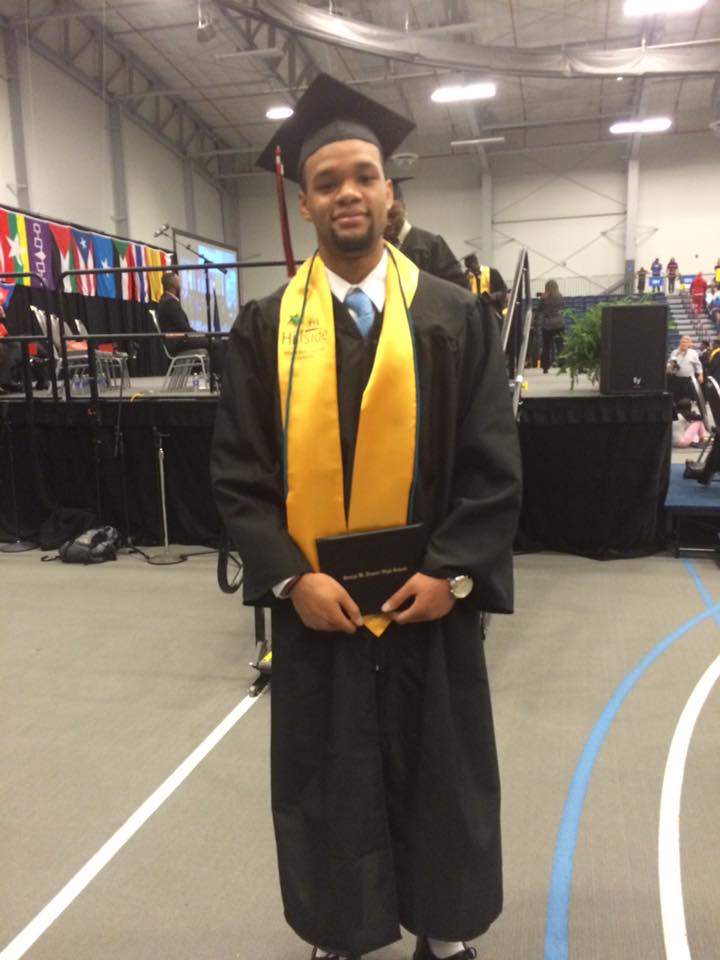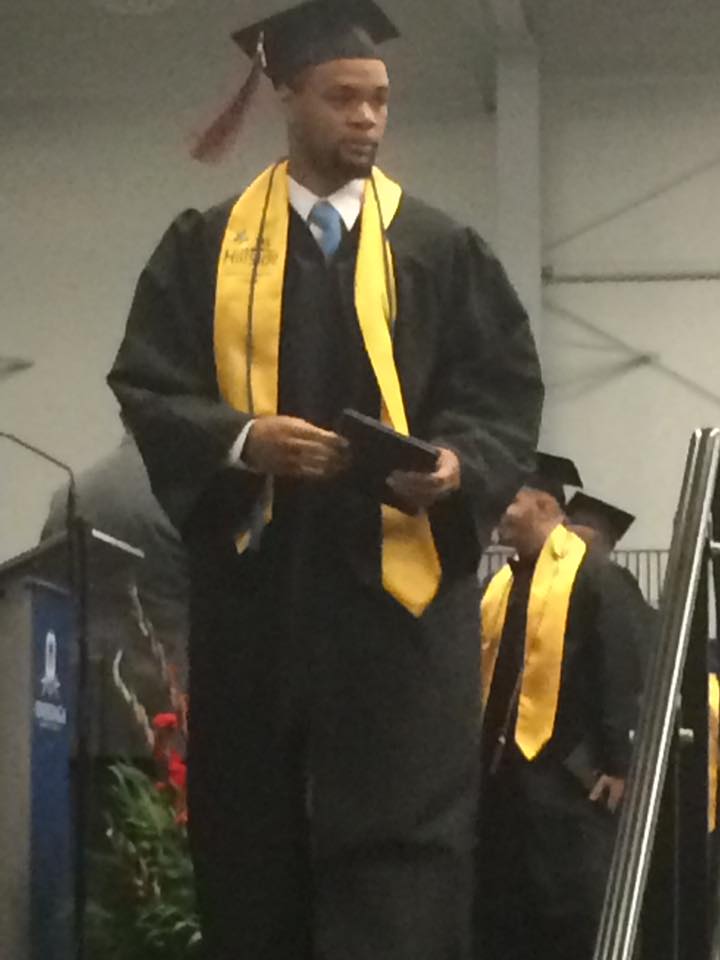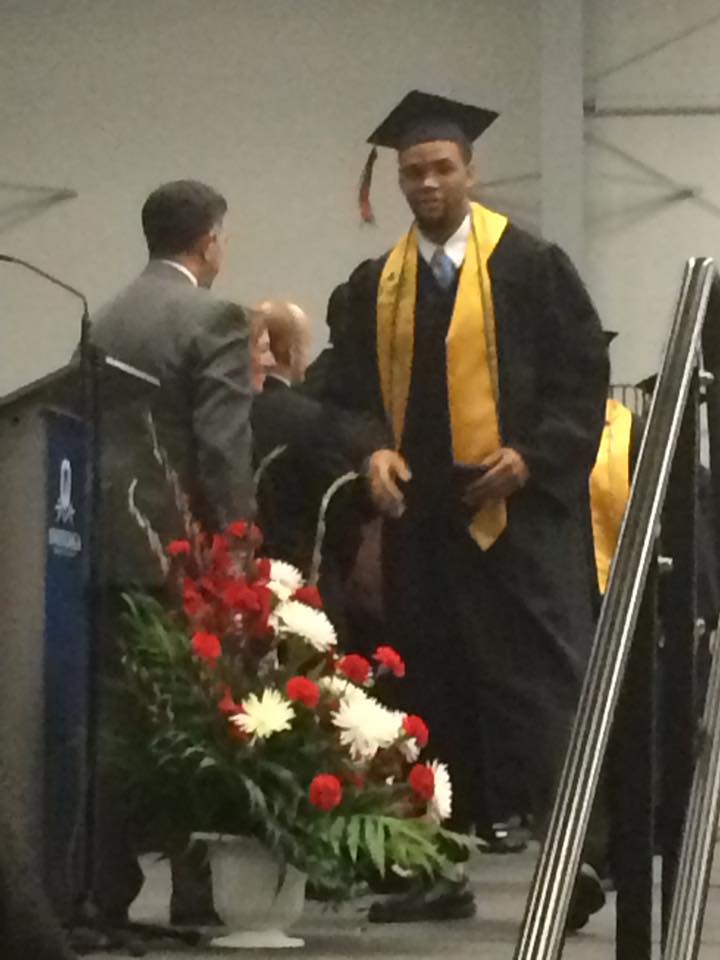 ---
We would also like to congratulate Tin Phan. Tin rode with bike-Syracuse NY NICA Race Team last year but due to work conflicts could not ride this year. Tin also graduated with the 2016 Fowler graduating class. Congratulations Tin and good luck!!
---
Congratulations Omar and Fowler Graduating Class of 2016!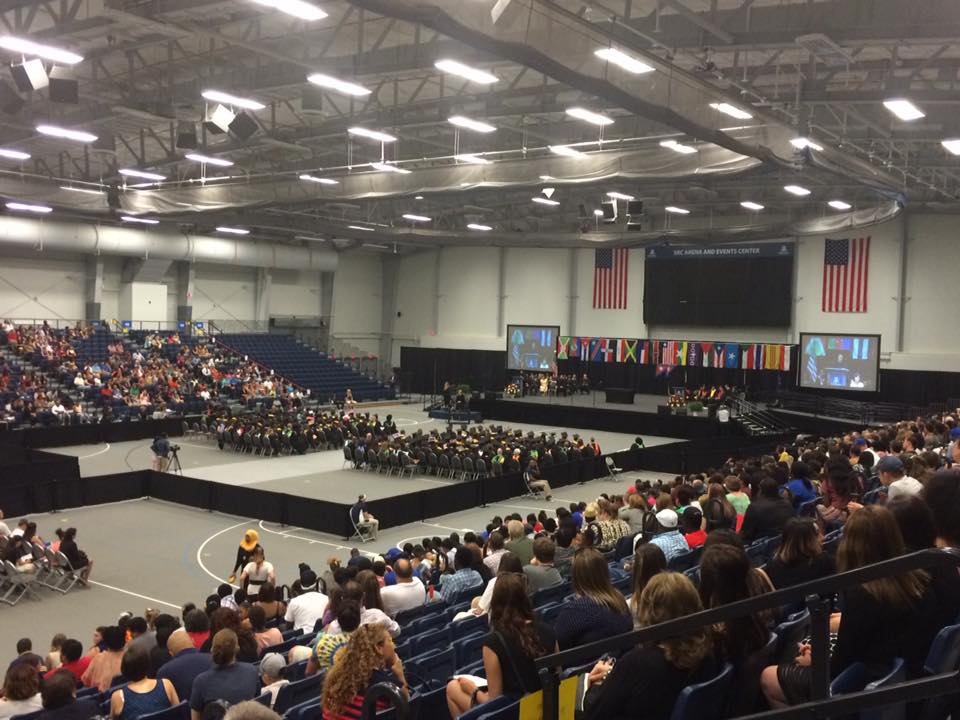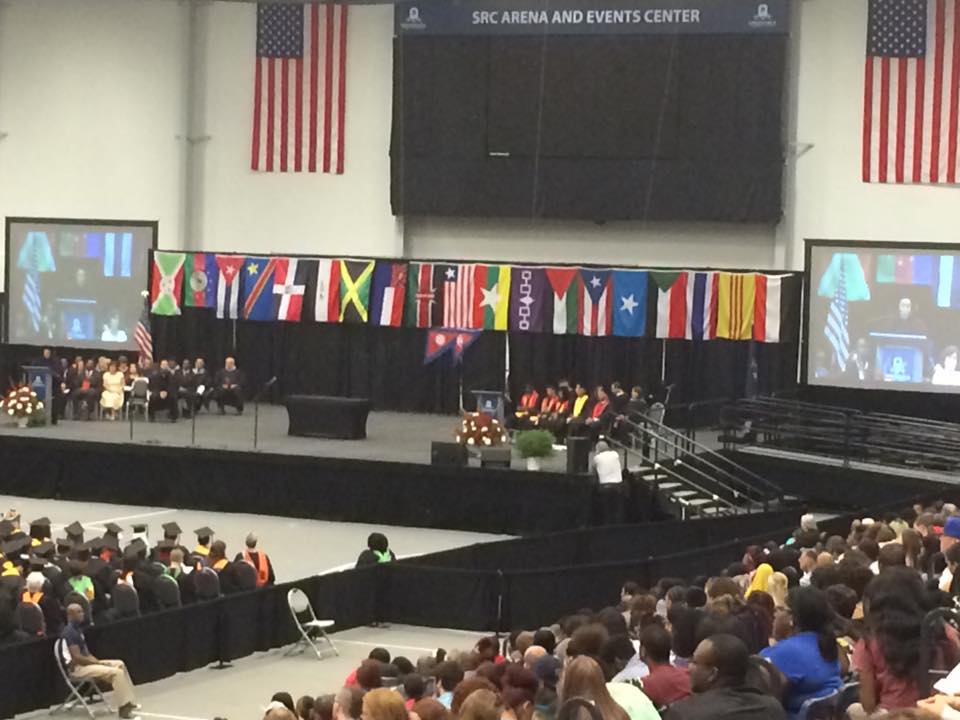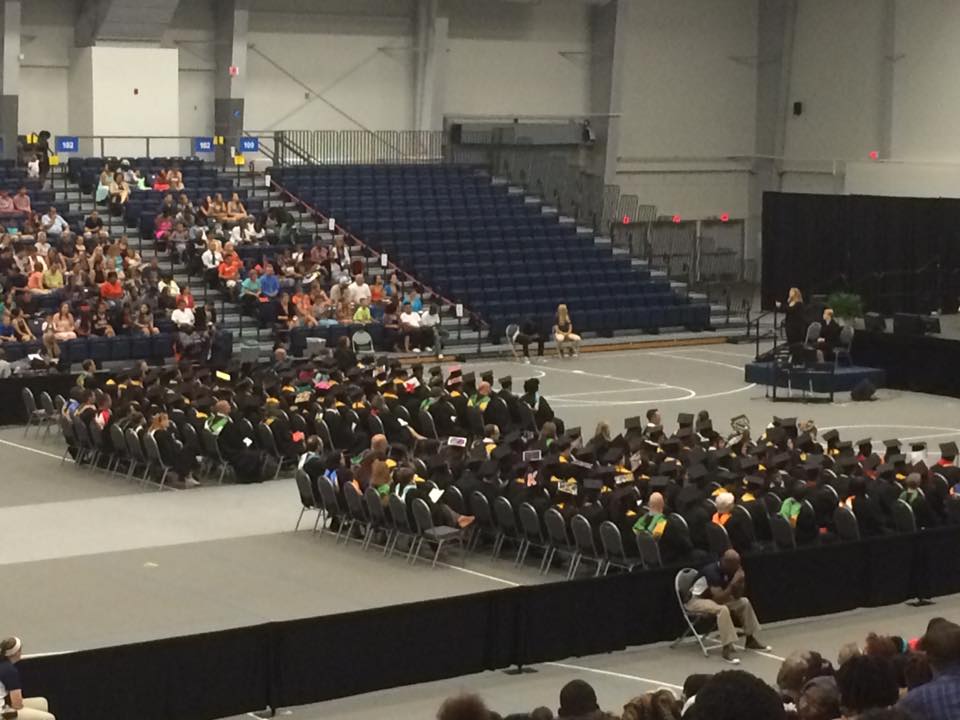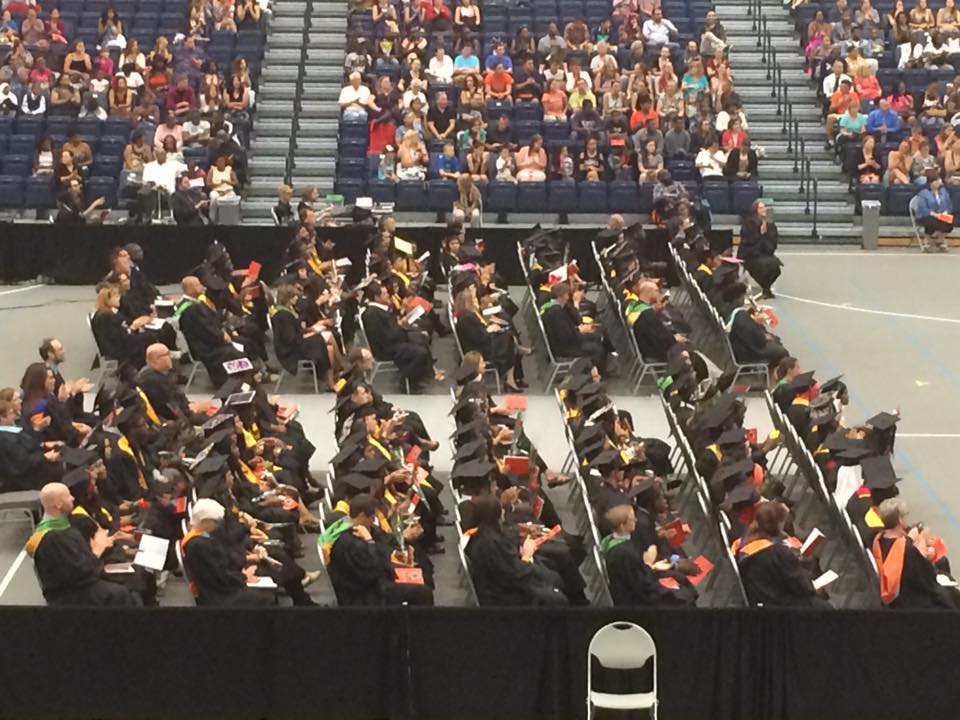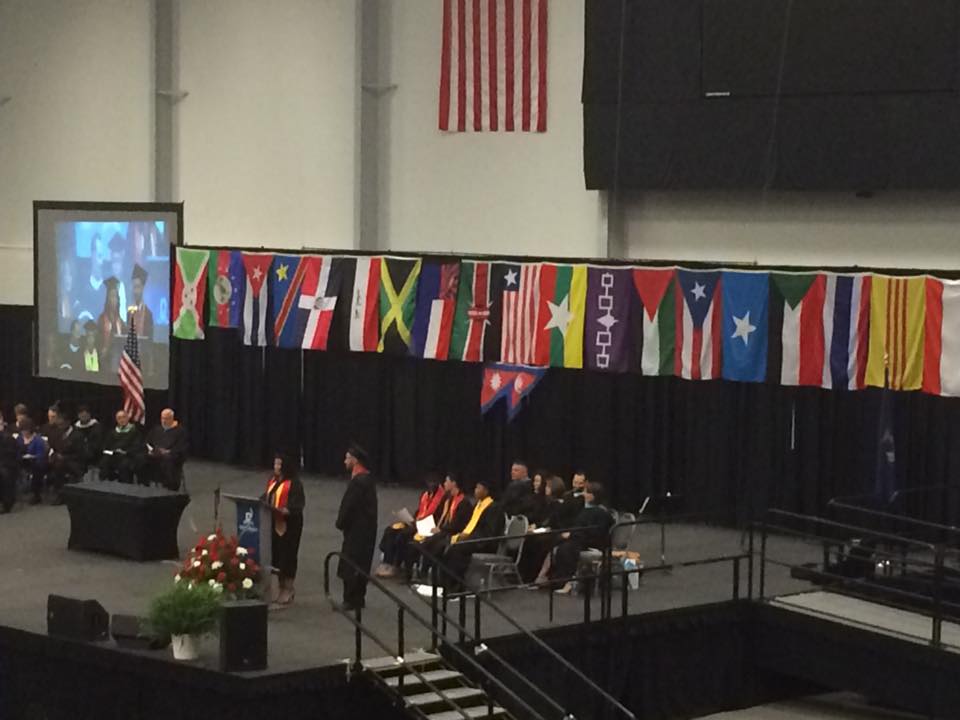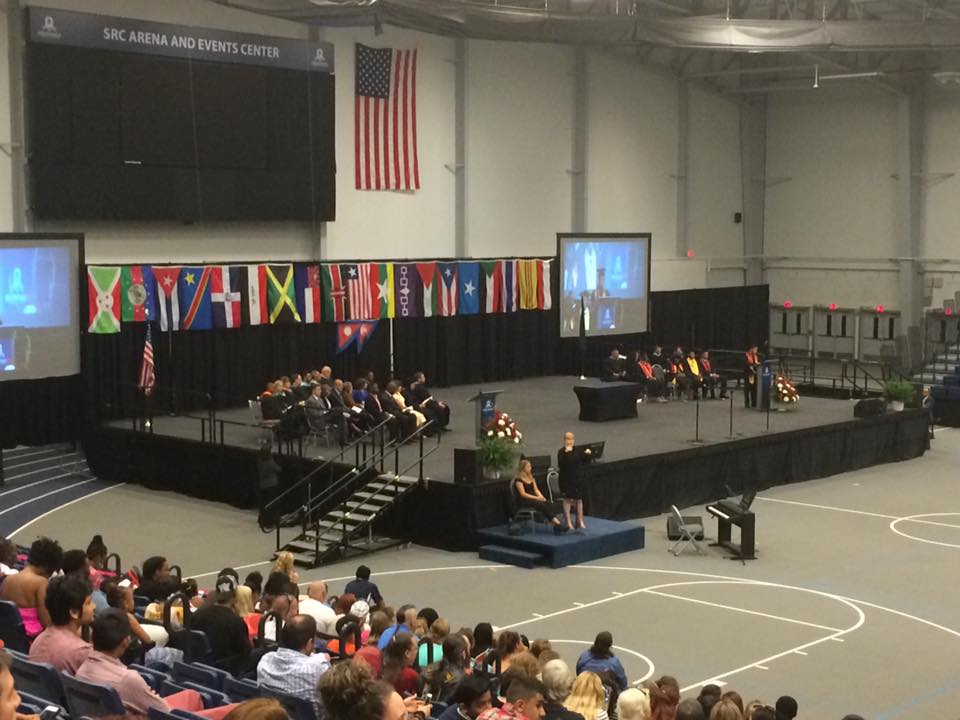 ---
After 8 years in our program, Enmanuel Mateo is graduating from high school and b.i.k.e.-Syracuse. I will MISS Enmanuel so very much in this club! Enmanuel and I started out on a rocky road...literally. As the story goes, Enmanuel was a middle school young man who, at that time, was being bullied and being made fun of because of his weight. During one of his first rides with b.i.k.e.-Syracuse, Enmanuel frightened himself doing a rather scary downhill. When he got to the bottom of the hill, his fear overcame him and he got off the bike, said some not so nice words to me and threw his bike., announcing he was not going to ride any more. After some long conversation, I was able to get Enmanuel back on his bike...when we came out of the woods, the whole club applauded Enmanuel on his ability to ride the "hard" trail for his first time....that was all it took....Enmanuel was hooked. Over the next two years, Enmanuel became determined to lose weight (he lost 50 pounds) and do the "Black Fly" (a 40 mile Adirondack mountain bike race) and race with the b.i.k.e.-Syracuse NY NICA MB Race team. Enmanuel has never taken a DNF in any race that he has raced with b.i.k.e-Syracuse. His hard work and determination and grit has allowed him to accomplish everything he sets his mind to. And did I say he talks ALOT???? LOL! Enmanuel is our greatest marketing rep! His friendliness and art at conversation will leave you speechless..literally, you can not get a word in edge wise!! LOL! Pia, Enmanuel's mom, is very supportive of our program and Enmanuel's brother Jeffrey rode with us and graduated from our program 2 years back. Jeffrey is attending Lemoyne College. Enmanuel will receive his mountain bike as a gift from b.i.k.e.-Syracuse for all his hard work and leadership. And I hope that when the going gets rought, that he looks at this bike and remembers the hard work and determination it took to make those hills and the fear he conquered to fly down the other side of those hills.....I will miss Manny very much....the club will just not be the same without all his conversation. I hope, though, that Manny and Omar and all the kids that have graduated from this program come back to help coach and guide the young kids coming in behind....b.i.k.e.-Syracuse and I wish Enmanuel Mateo luck and success in the future!
---
As Director and Volunteer of b.i.k.e.-Syracuse, I have been struggling to find the words this week to write....You see, after 10 years, two of our b.i.k.e.-Syracuse members, that started with our program in 2006 are graduating from highschool and our program this year.... Omar Short and Enmanuel Mateo are going on to college.... Omar joined b.i.k.e.-Syracuse, in 2006, at the age of 8. I stood a whole head over him. Omar was athletic, but had never ridden a bike "off road"...the first time he rode "off road" at age 8, he was in love with mountain biking.... As time progressed, Omar has developed into an excellent mountain bike rider with strong technical skills on par with some of the expert riders I have raced with in my past.....I remember the day, two years ago, when I was riding with Omar in Watertown....that was the day I realized that the little boy had grown into a 6'5" young man (now he stands a whole head and more over me) and an outstanding mountain biker and leader for our organization....how proud I was in that moment and how proud I am. Over the years, Omar's mom, Lisa Parks-Edet, has supported our organization and all the children involved. Lisa has always been there when we needed a helping hand and Lisa has enrolled all her children with Omar, in our program. Lee Lee and Chomar, Omar's brother and sister, and Imari, Omar's cousin, ride on our NICA NY race team. Omar is an outstanding young man. He is going on to college to play basketball and, I am sure, continue to ride the mountain bike that is a gift from our club for all the leadership and hard work Omar has given to this club over his years...I hope, that when the going gets a bit tough, that Omar will look at that mountain bike and remember how he conquered his fears on the downhill and pushed himself on the uphills....I hope he takes that lesson away from this club because that was my dream......when I started this club. Omar has touched the lives of alot of the Volunteers that donated their time to our club and I encourage each one of those volunteers to reach out and congratulate Omar on a job well done...not only in this club, but in his academic and athletic career. Omar is part of my family and part of this bike club family and he will always have a place to come home to and we hope that Omar will come back to help coach, guide and lead the young mountain bikers of tomorrow, in this club. Good luck Omar Short. See you tonight...I can't wait to see you take your diploma and we all Congratulate you on a job well done....So proud of you.....So very proud of you.......
---
May 22, 2016
Having lunch with the bike club! All talking about college and getting ready to graduate! Wow!! We are so proud!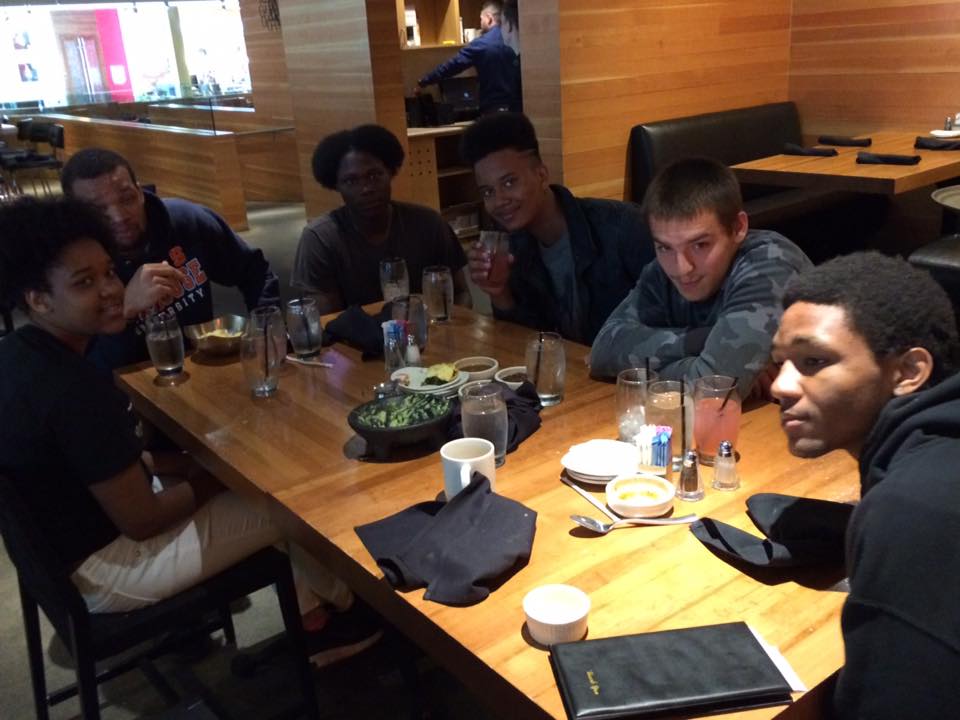 ---
May 1, 2016
Imari, one of our riders was part of the Syracuse Pre College Initiative (PCI) Math Team that placed 3rd in National Competition! We are so proud. Imari wants to be an Engineer and we think he is well on his way !! Woooo hoooooo!!!! Congratulations Imari!!!
---
Due to a scheduling conflict b.i.k.e.-Syracuse could not make the NICA race this weekend. We did get a team dinner in though ! Ride On!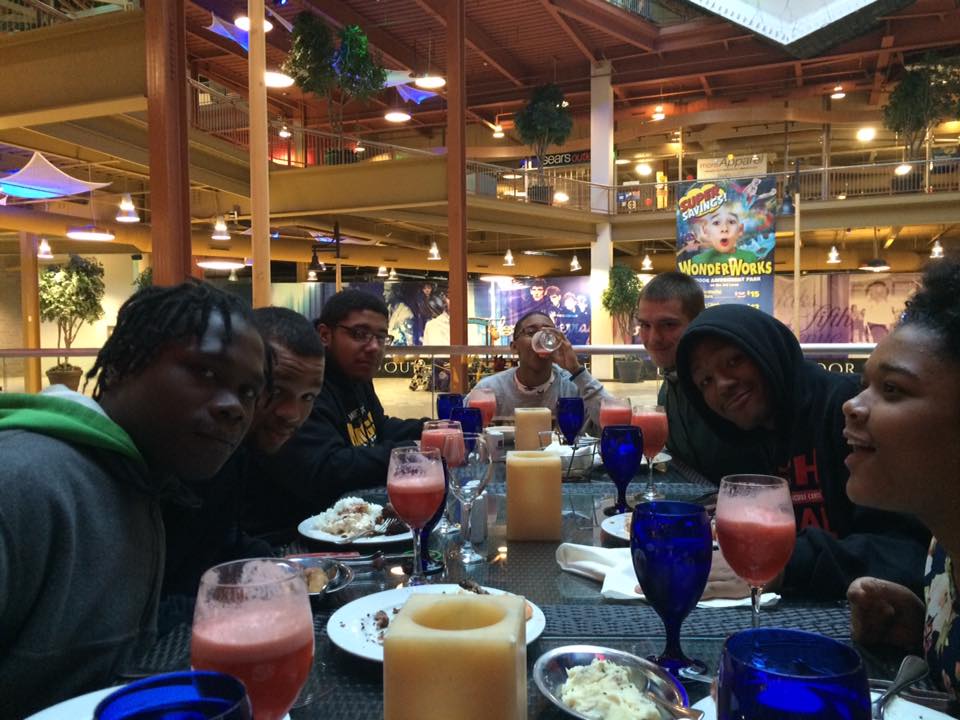 ---
April 23, 2016
The b.i.k.e.-Syracuse Mountain Bike race team would like to acknowledge Noah Oakes' accomplishments in this past race. Noah completed 3 laps or 9 1/2 miles in this mountain bike race with only limited instruction and coaching off road due to the weather CNY had before the race. Before this race, Noah had NEVER ridden a bike off road on trails but completed the required 3 laps in good time. Amazing! I am sure Noah is hearing "neutral position" and "feather brakes" and "sit back" in his sleep! Nice job Noah! Nice job!
---
April 22, 2016
Results are in....b.i.k.e.-Syracuse is 18th out of 22 Teams...I'm proud of this Team for not giving up! Our athletes realized that, had they committed themselves to the training schedule during the week prior to this race that was provided to them...(which they all admitted they did not)....the Team would have done better,overall; and, for some, the race would not have hurt as much!..This New York NICA Youth League is amazing..wonderful life lessons learned by our riders: You have to do the work to be successful and get ahead!

Omar - 22nd place our of 35 riders
Noah - (first time ever off road on a bike!) 28th place out of 35 riders
Enmanuel - 30th place out of 35 riders (and crossed the finish to the entire League applauding him and the fact he did not give up and completed all three laps!
Kevin - 33rd out of 35 riders
Ameen - 35th out of 35 riders..
---
April 18, 2016
Beautiful pictures! Enjoy!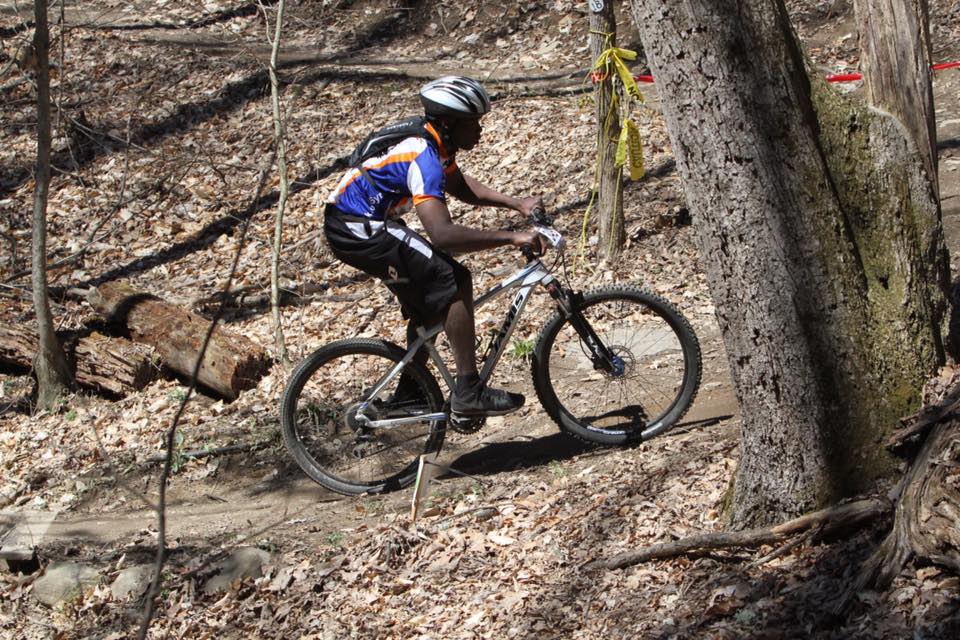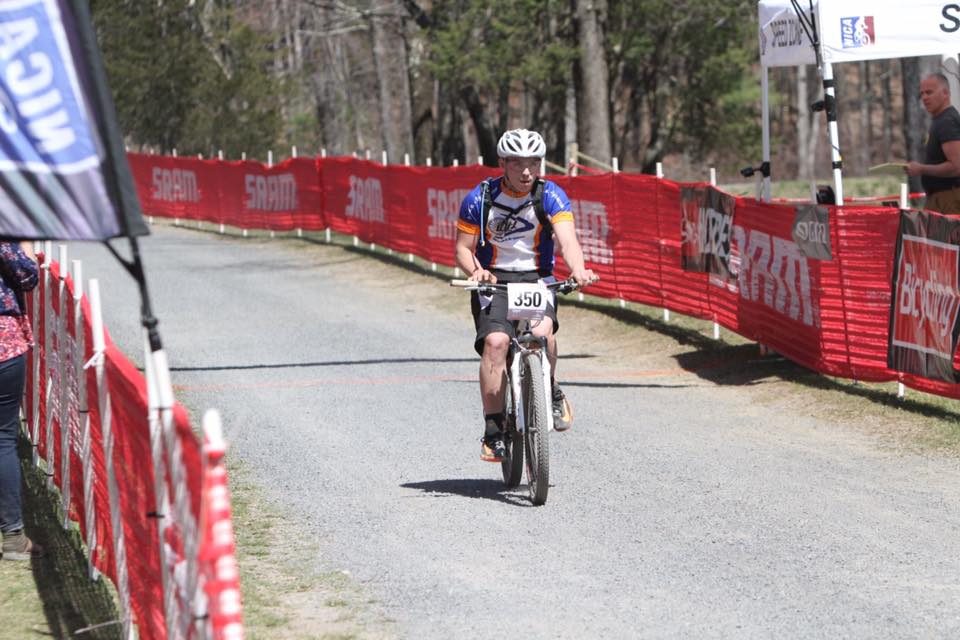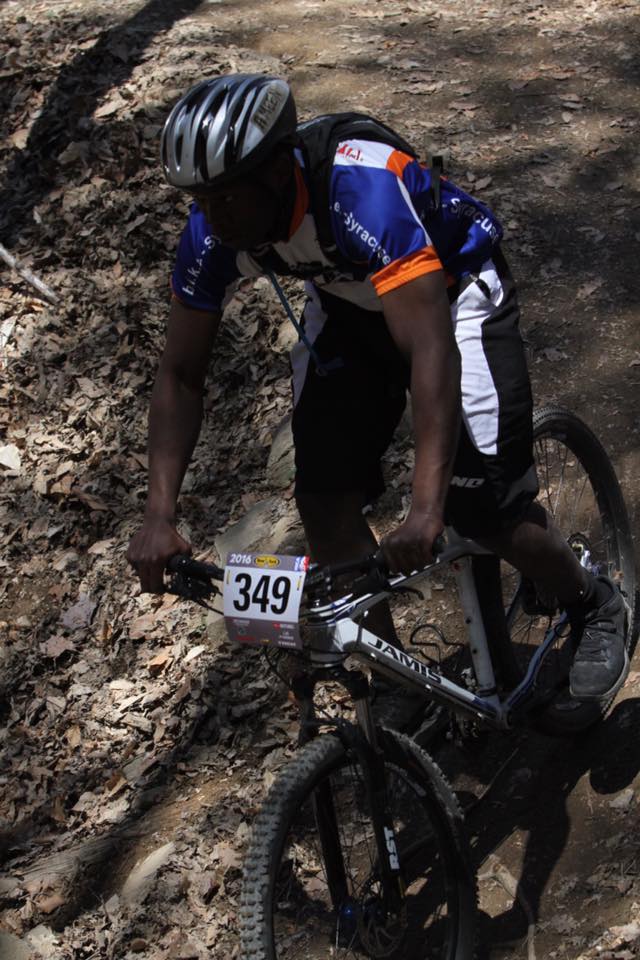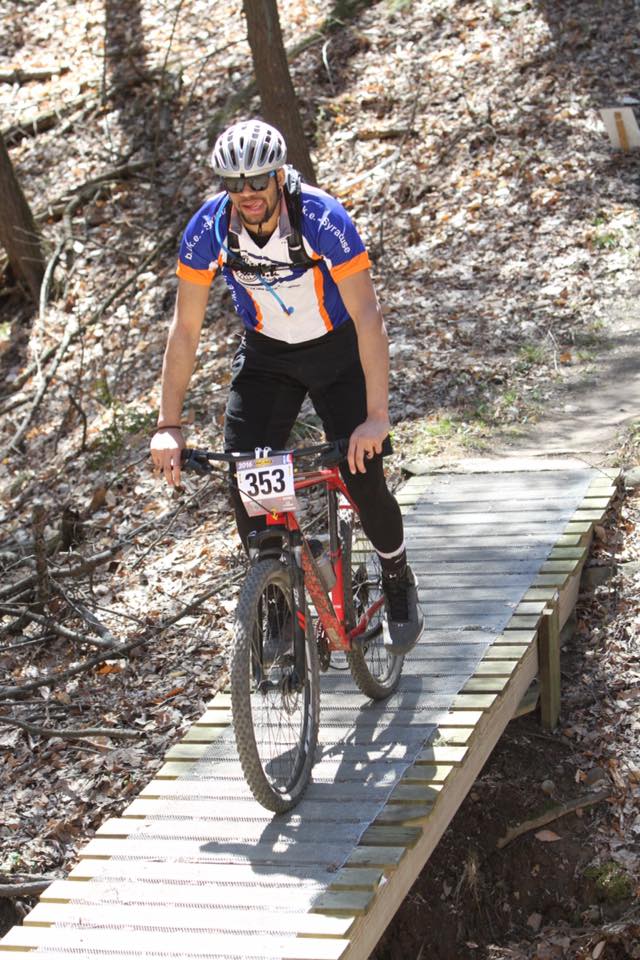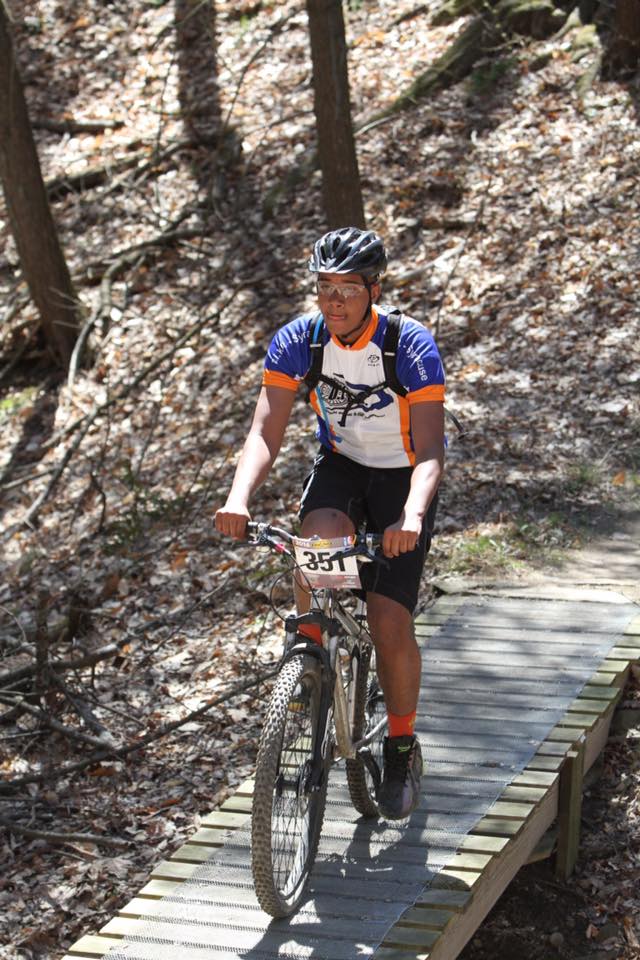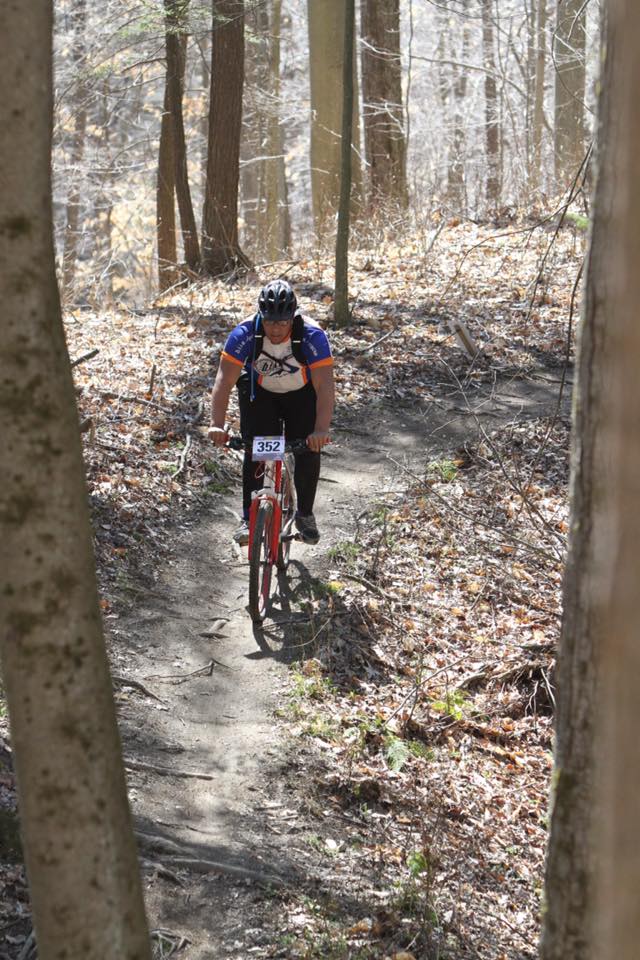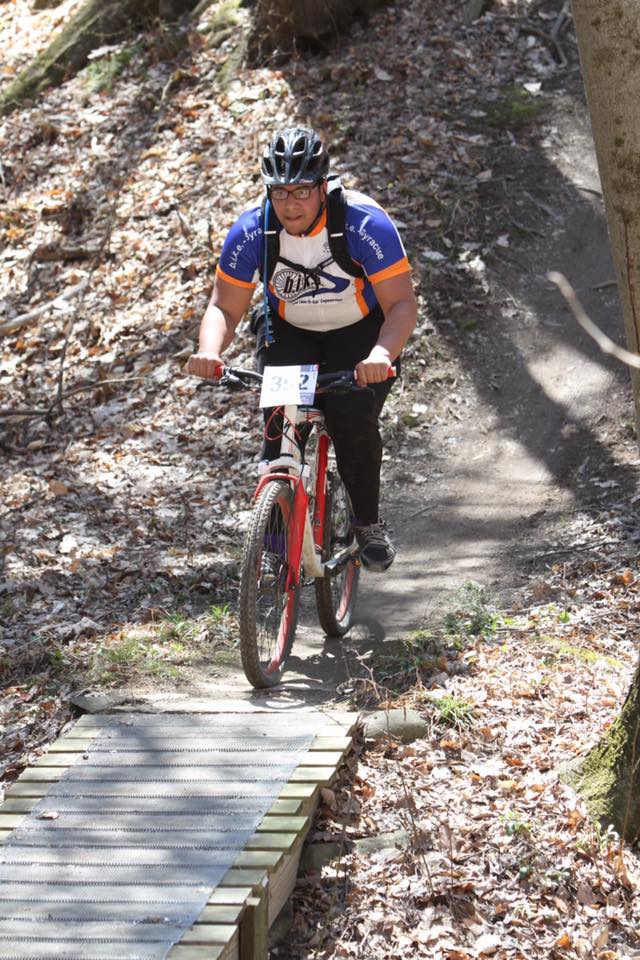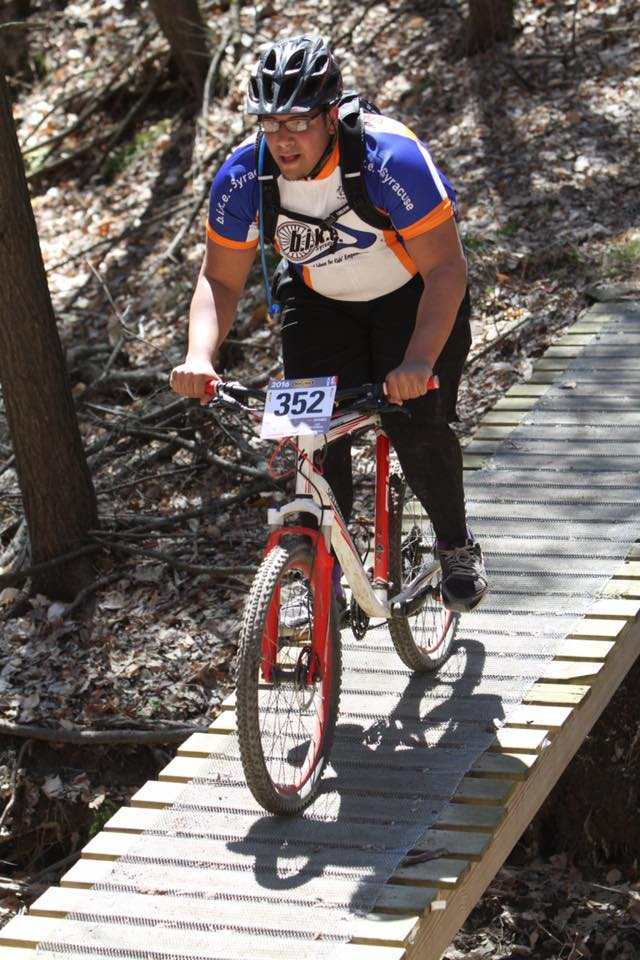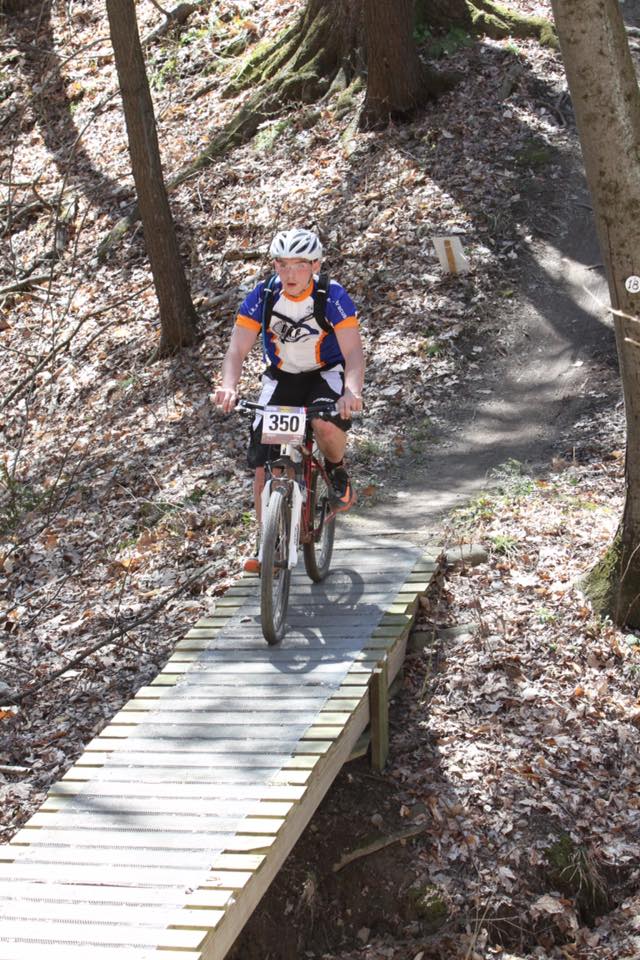 ---
Great Day.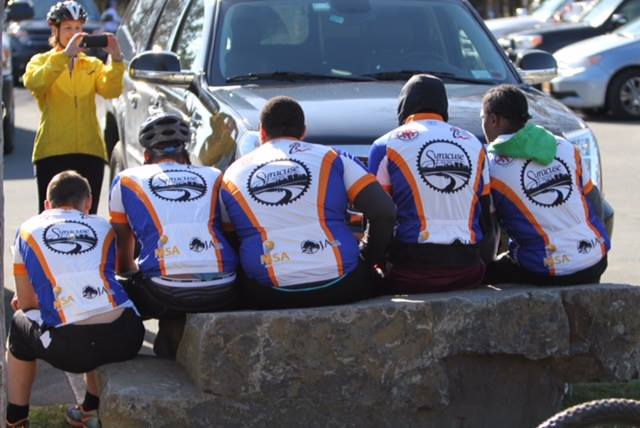 ---
April 17, 2016
Almost time!! They are a little nervous!!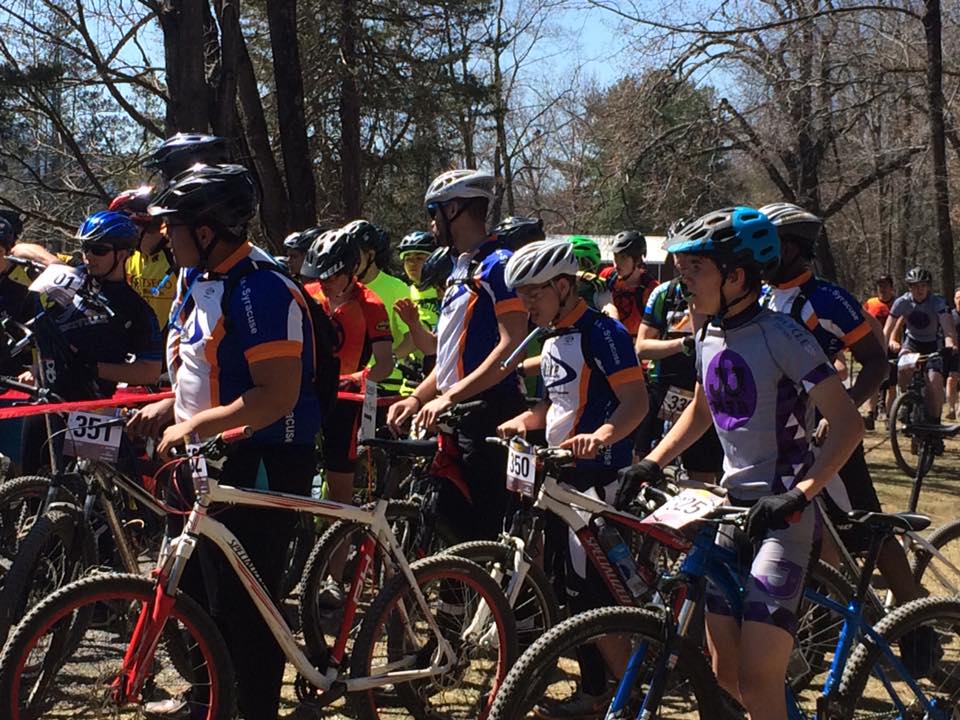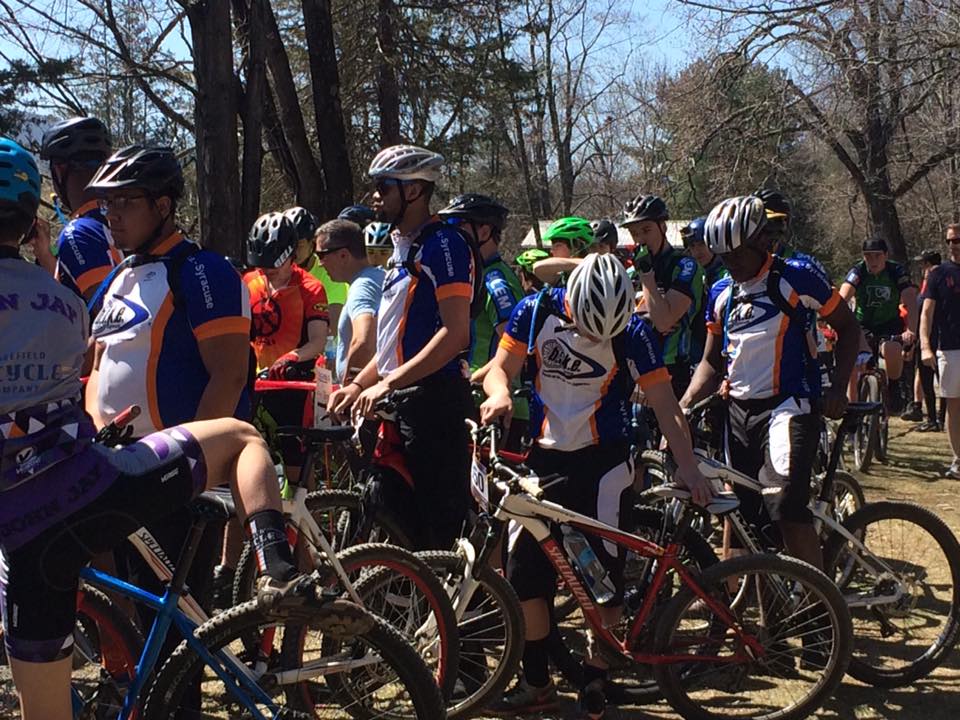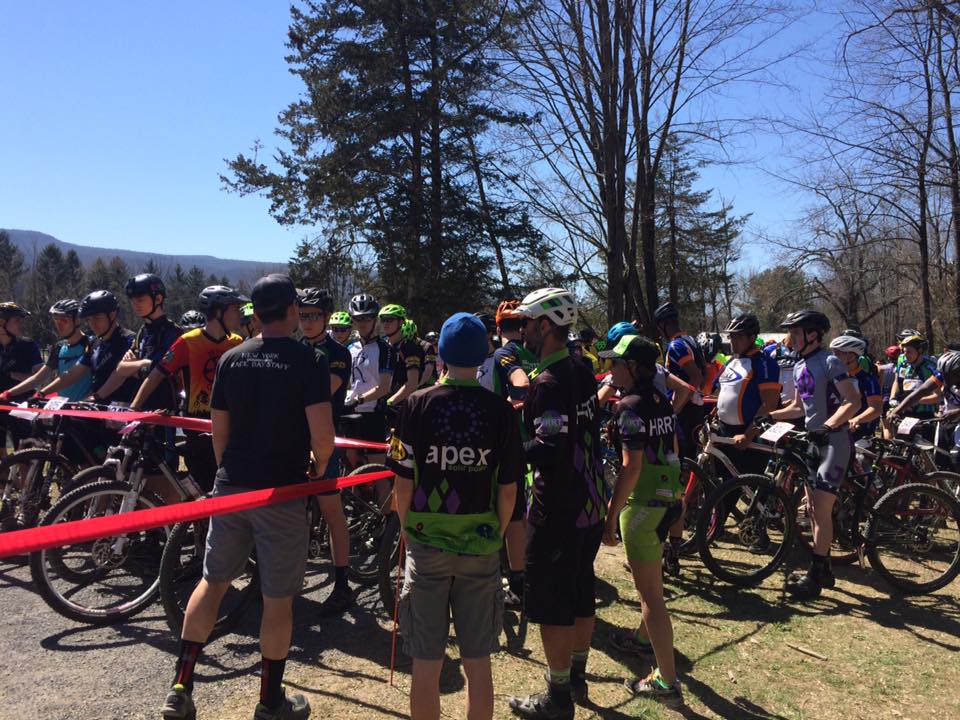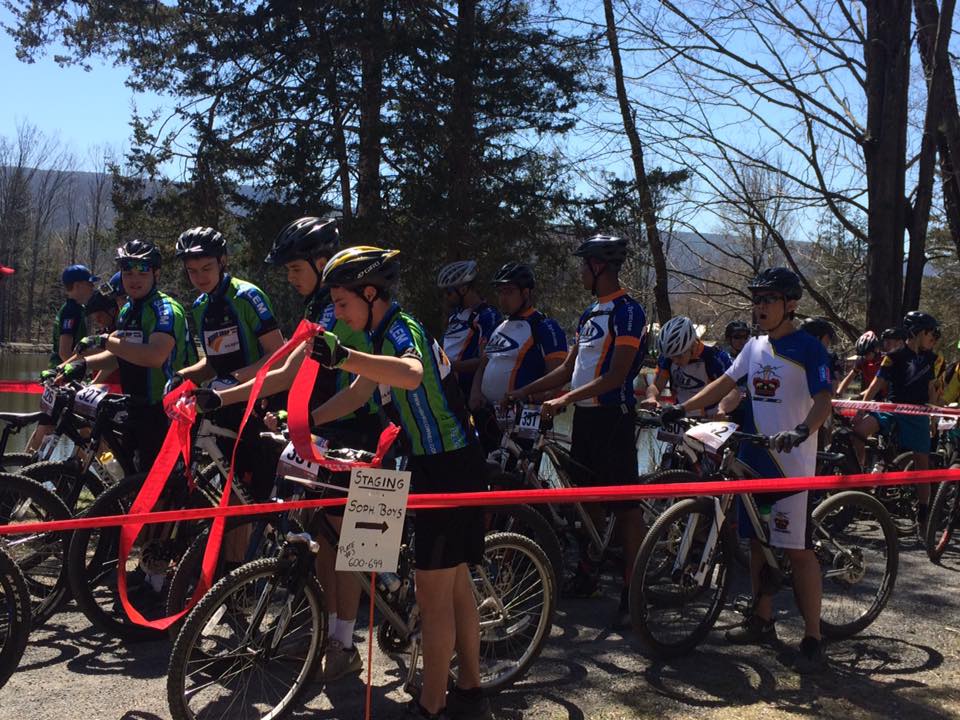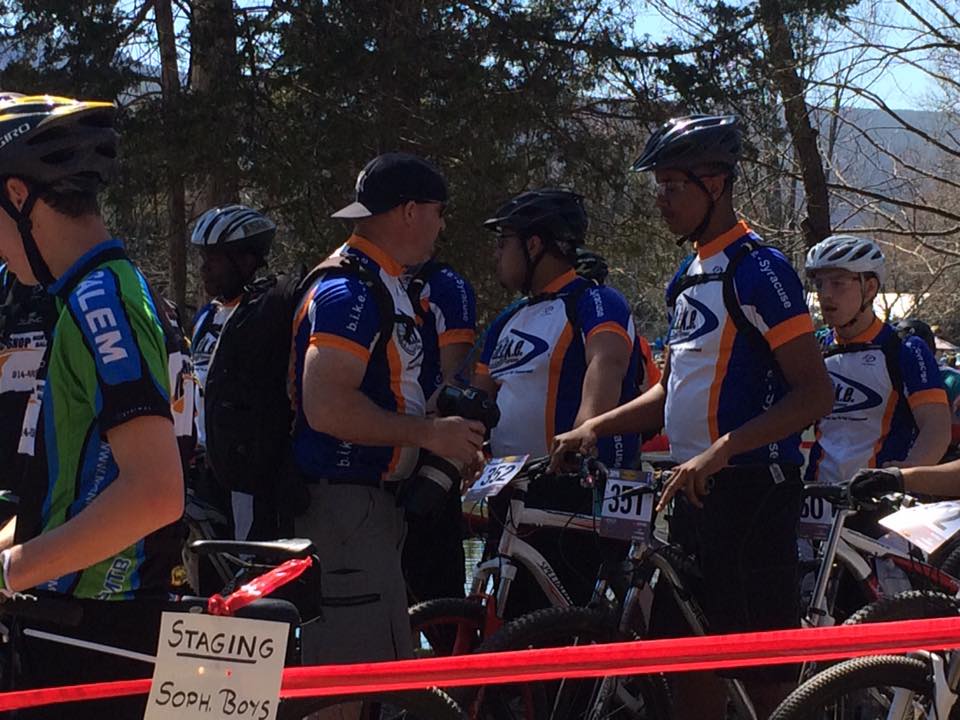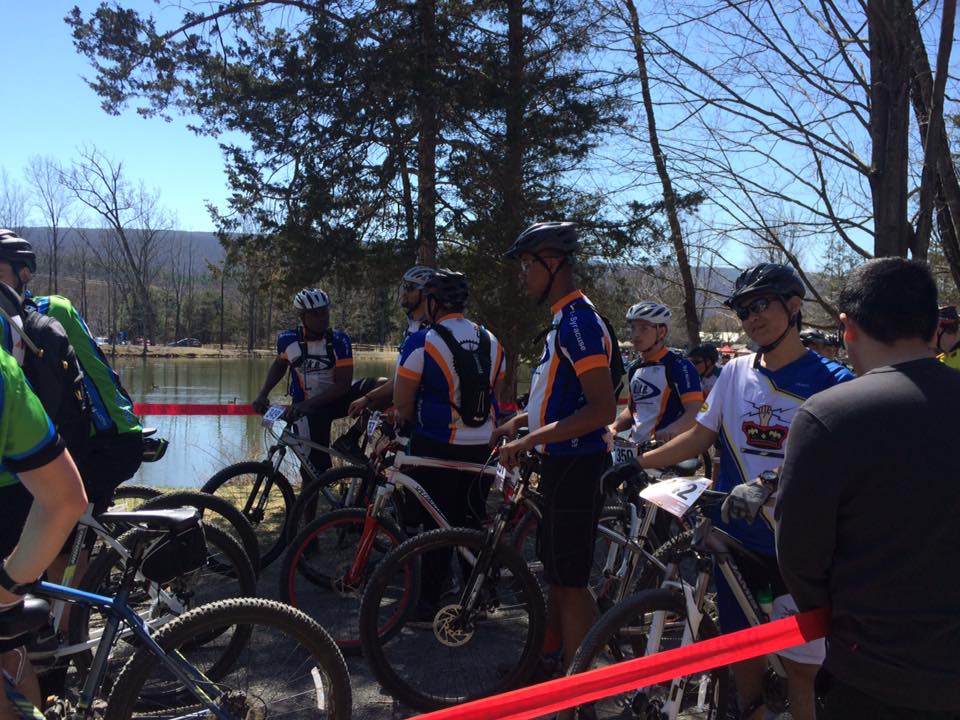 ---
All in. Ameen dehydrated and learned a valuable lesson about water!! Kevin did not finish but learned a lesson about how important participating in training is. Noah finished well and this is his very first time riding off road EVER!! Enmanuel finished to a round of cheers from the League. Although the last rider in for the race, he NEVER gave up. So proud of these riders. Great riding and lessons learned.
---
Omar is in. Somewhere in middle of pack. Ameen taken out with hand cramp. Noah and Kevin and Enmanuel still riding!!
---
Our riders are doing well. All are still riding strong. Lots of smiles. Riders from all over the state. What a great experience. Stay tuned for standings!!
---
270 riders. This Youth League Rocks!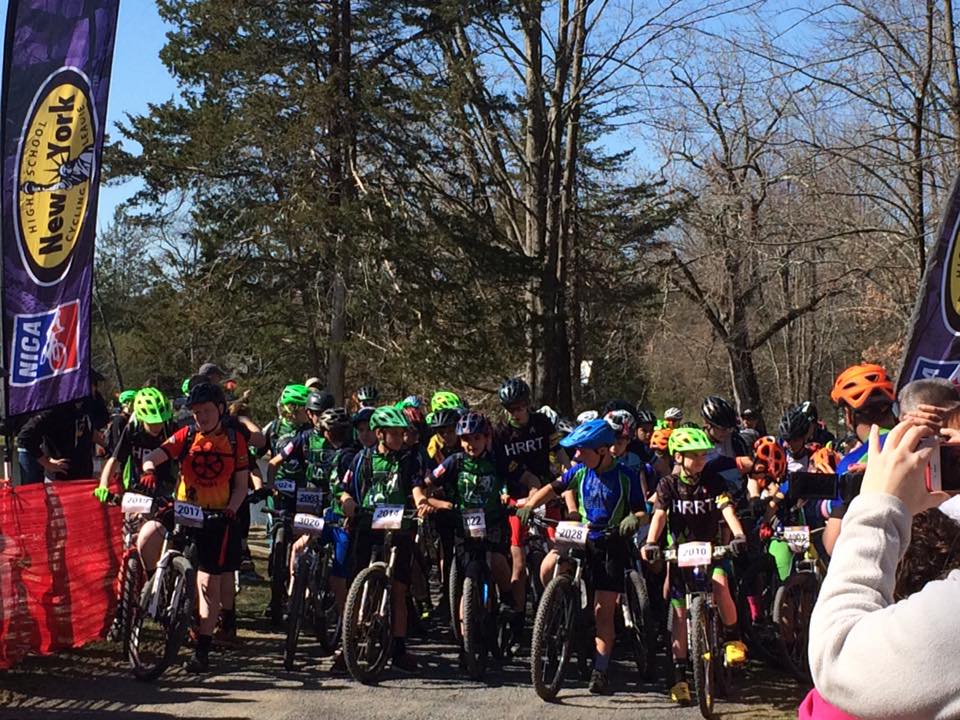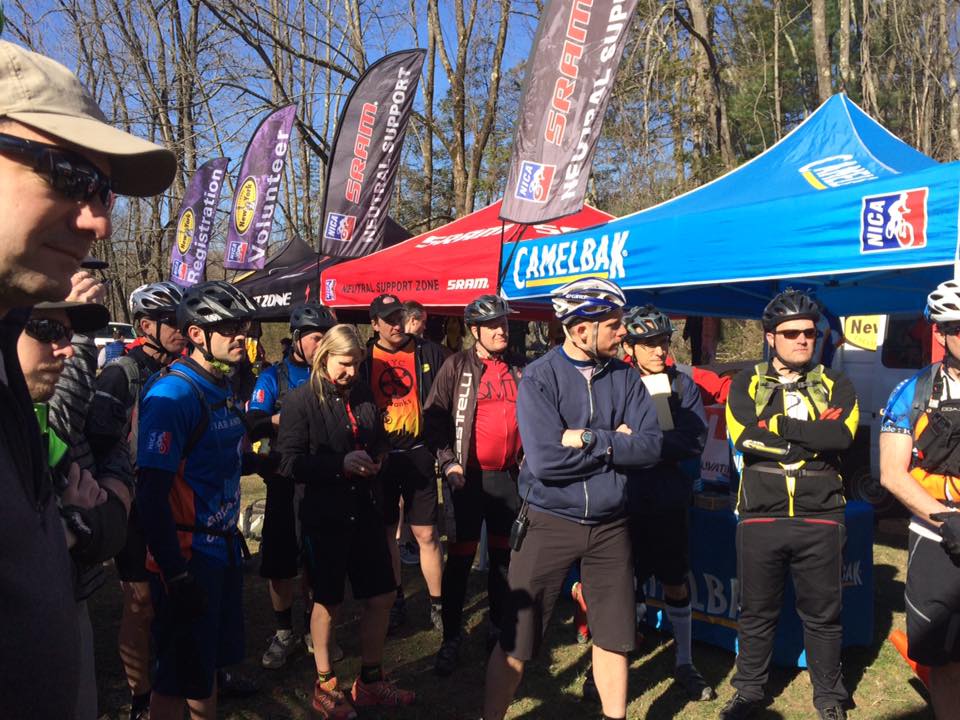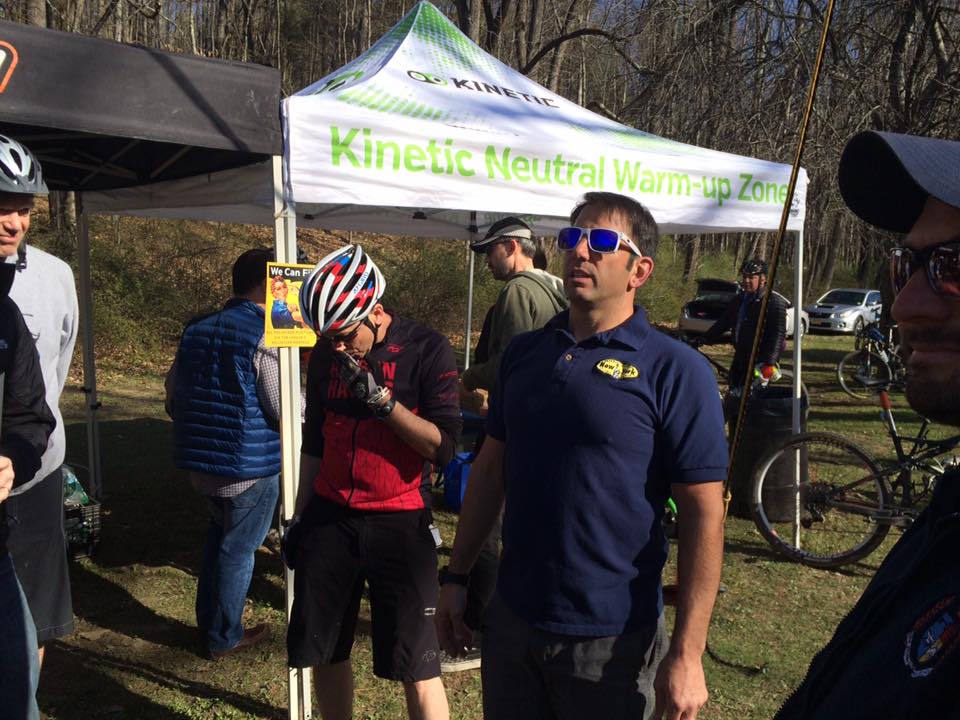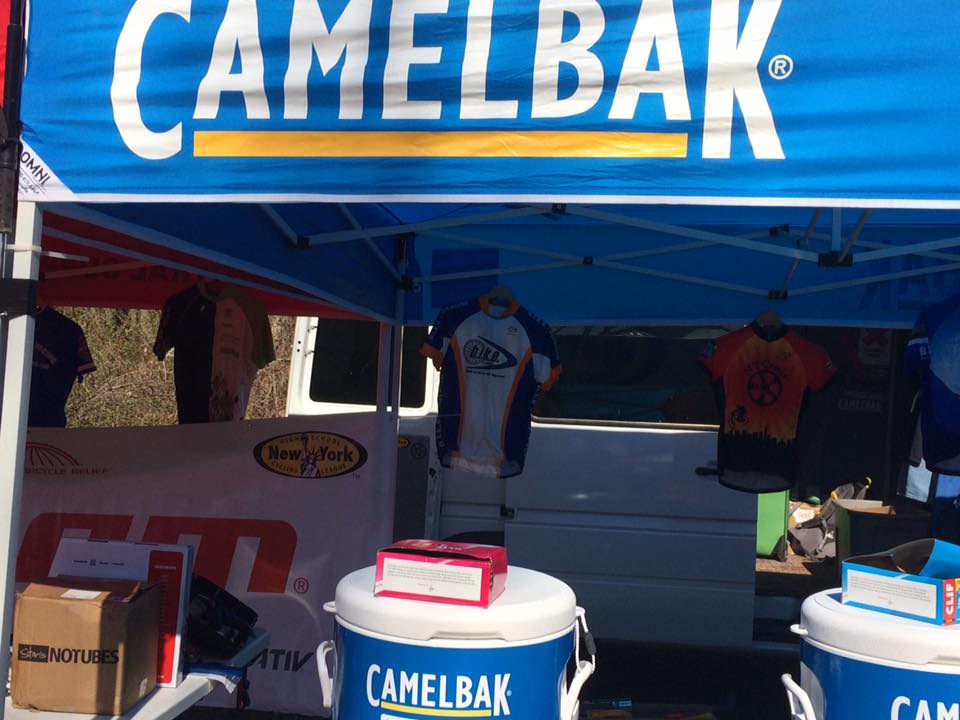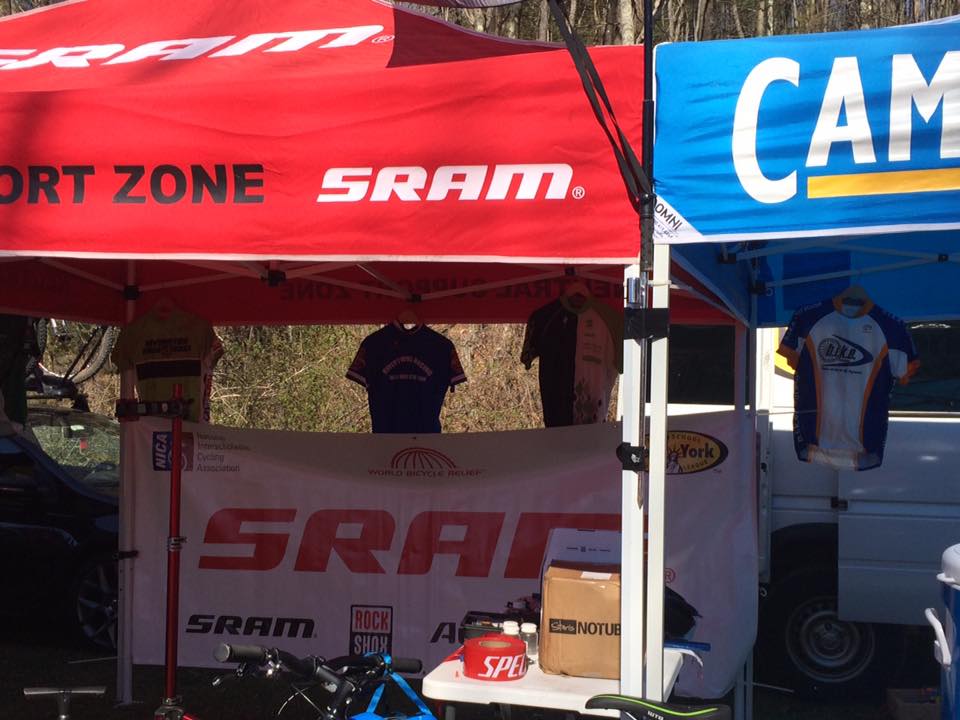 ---
Home tent.....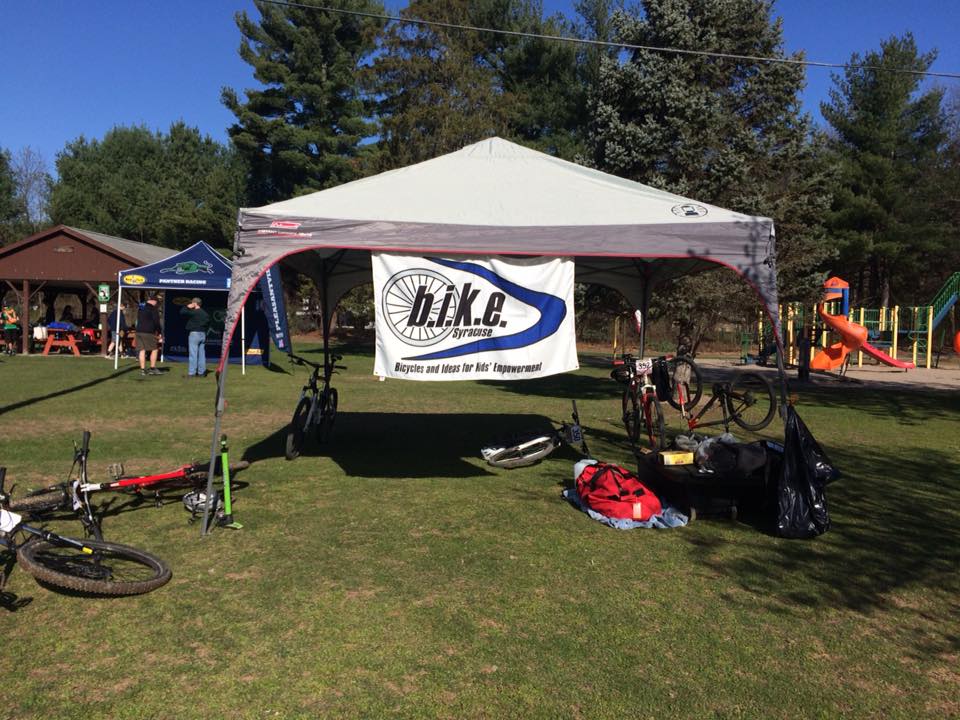 ---
We are ready! Wooo. Hoooo. Go b.i.k.e.-Syracuse!!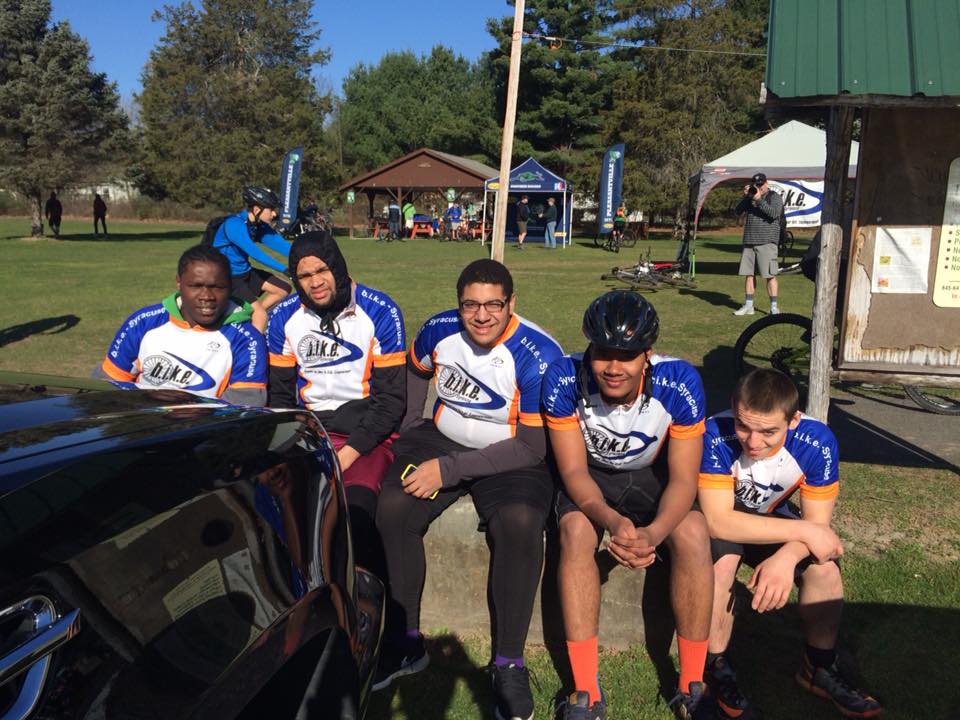 ---
Breakfast! Fueling for the race. A very nice State Trooper took the picture for us and told our guys what they would have to do to become a Trooper. Friendly town!!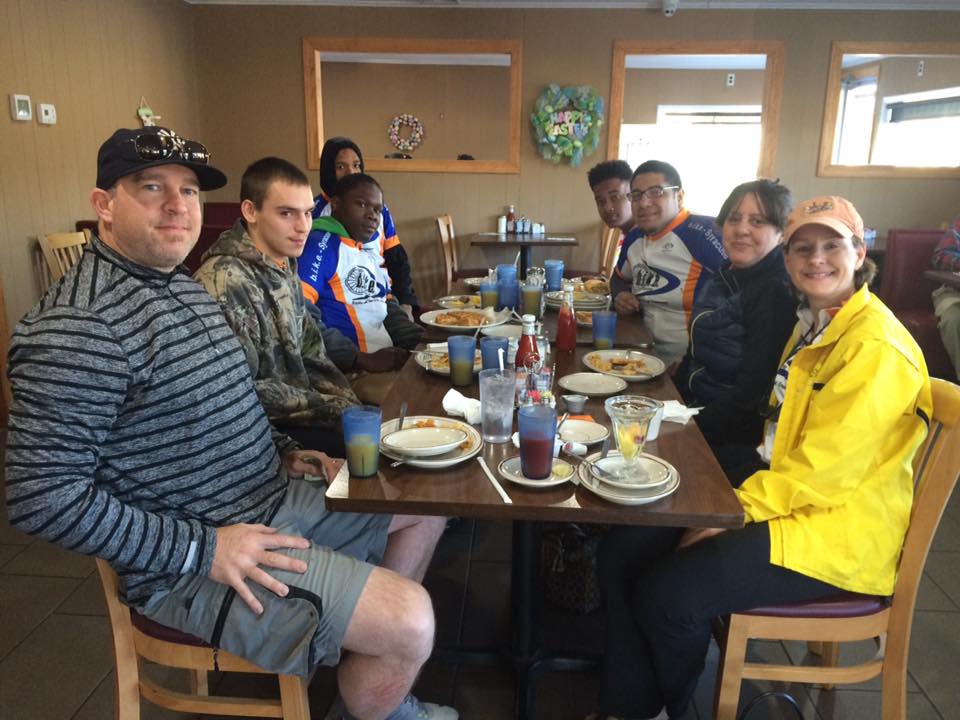 ---
April 16, 2016
Made it to Wawarsing New York for the NICA NY Mountain Bike race! 3 of b.i.k.e-Syracuse riders could not make it. We will miss them. Riding with 5 riders - Omar, Ameen, Enmanuel, Kevin and Noah. This is Noah's first race and first time riding off road! Noah loved the practice ride. Swimming tonight to relax and early call tomorrow for registration. Wish us luck!!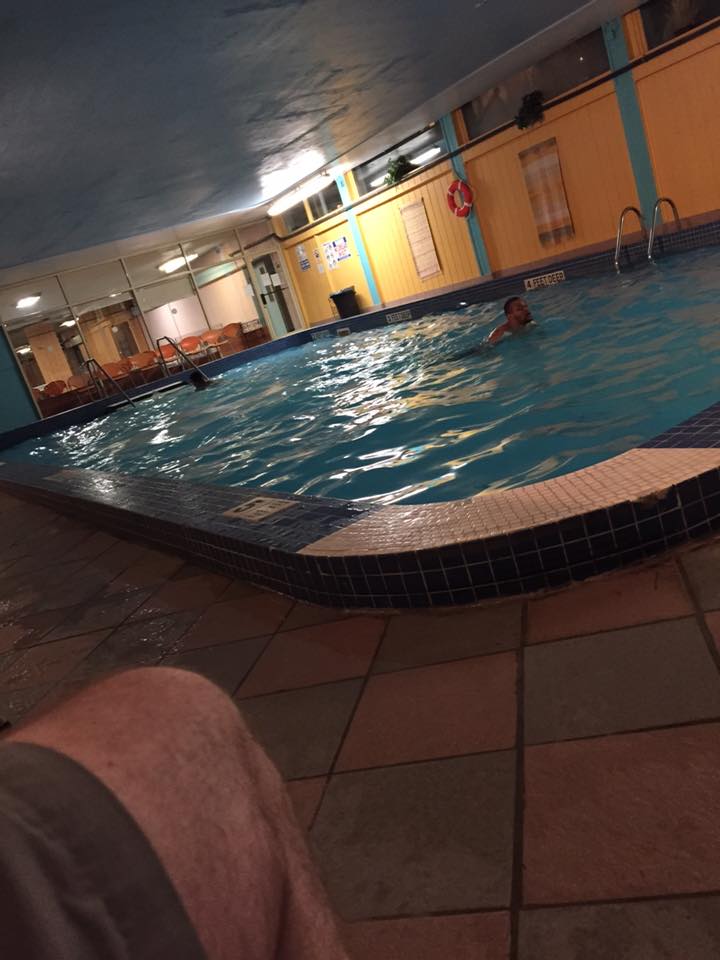 ---
April 13, 2016
Traveling to Lippman Park, Wawarsing New York with the NICA NY b.i.k.e.-Syracuse Mountain Bike Race team. 8 kids traveling and racing. Please wish our riders luck! Stay tuned for photos and results!
---
March 13, 2016
Another great workout for the b.i.k.e.-Syracuse NICA race team. Thanks Jason Webb and Katie for your help. First race is April. Stay tuned!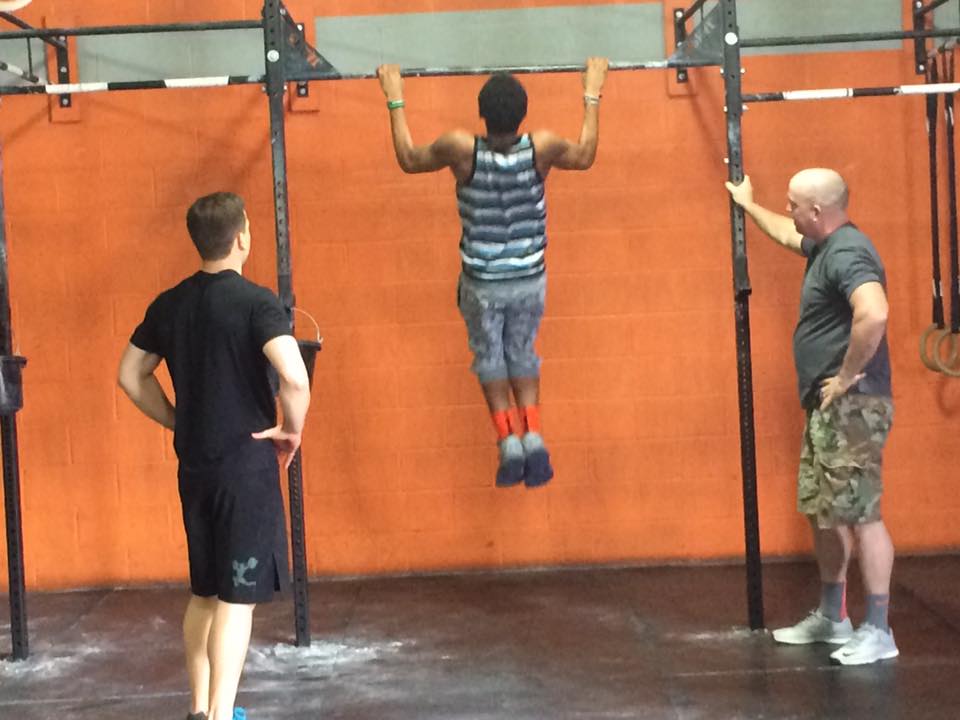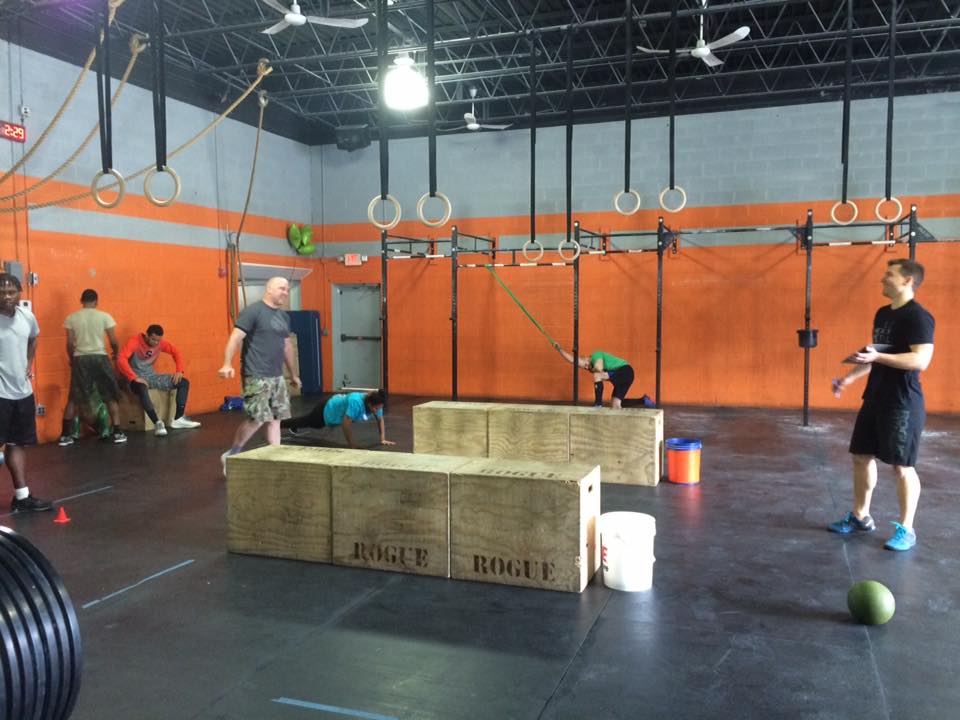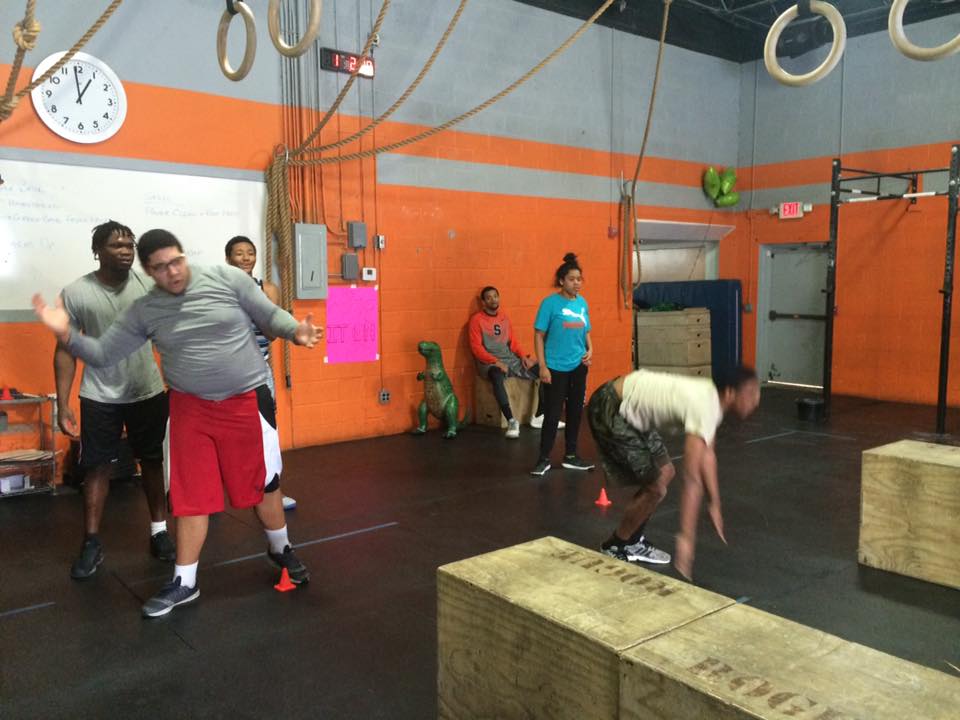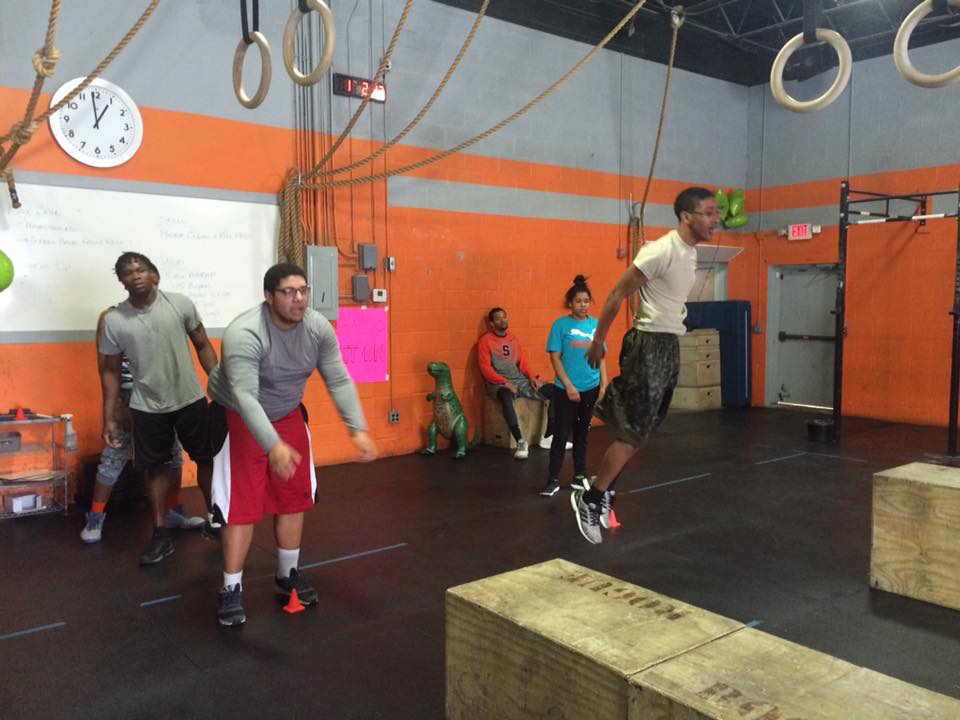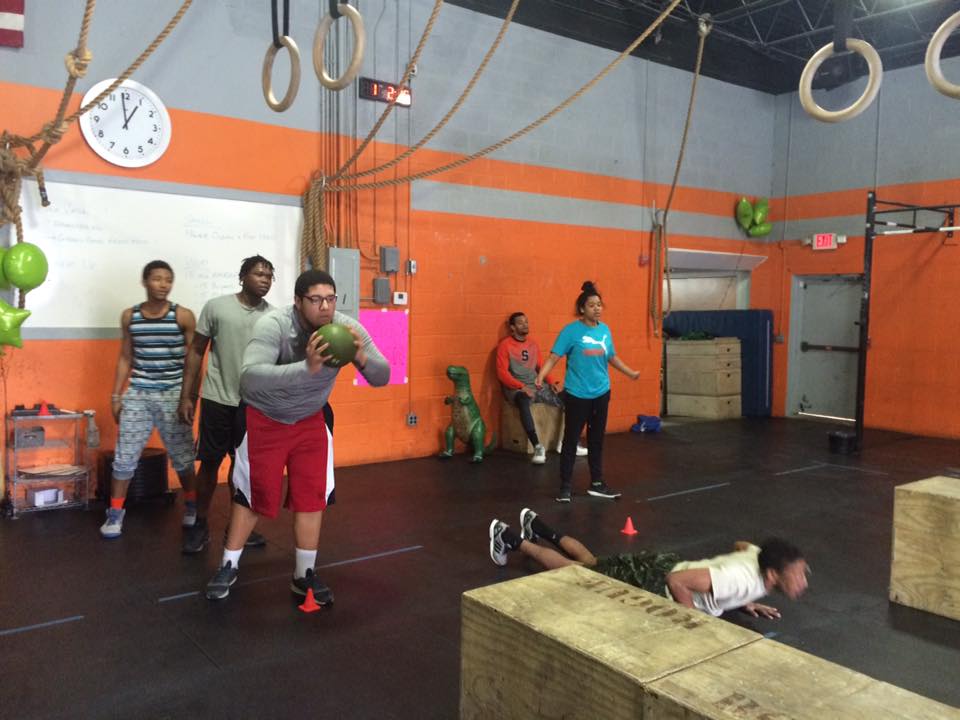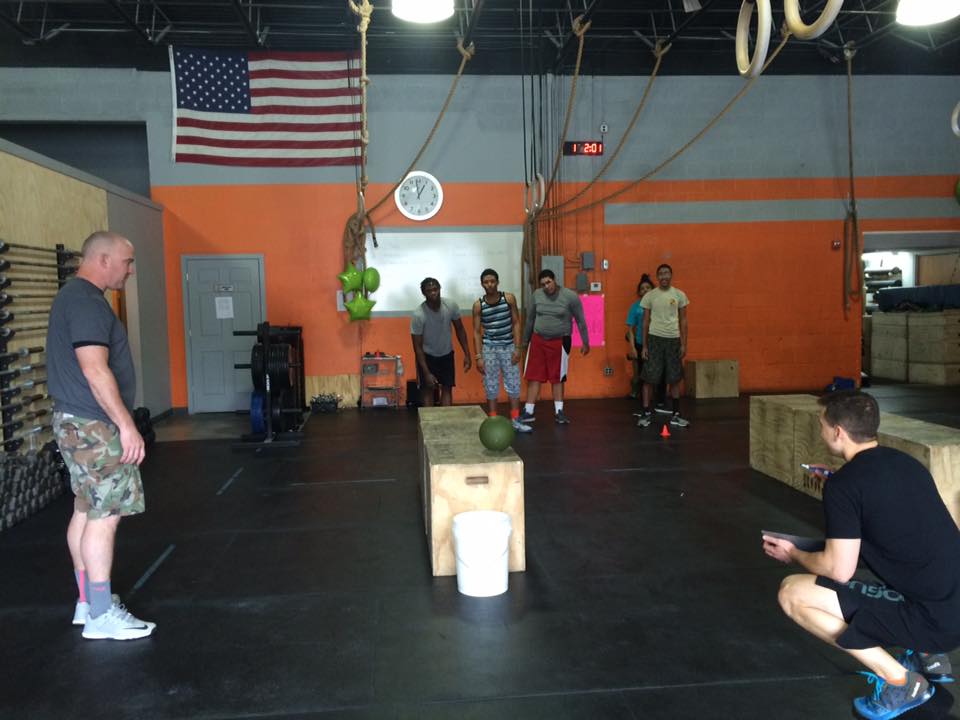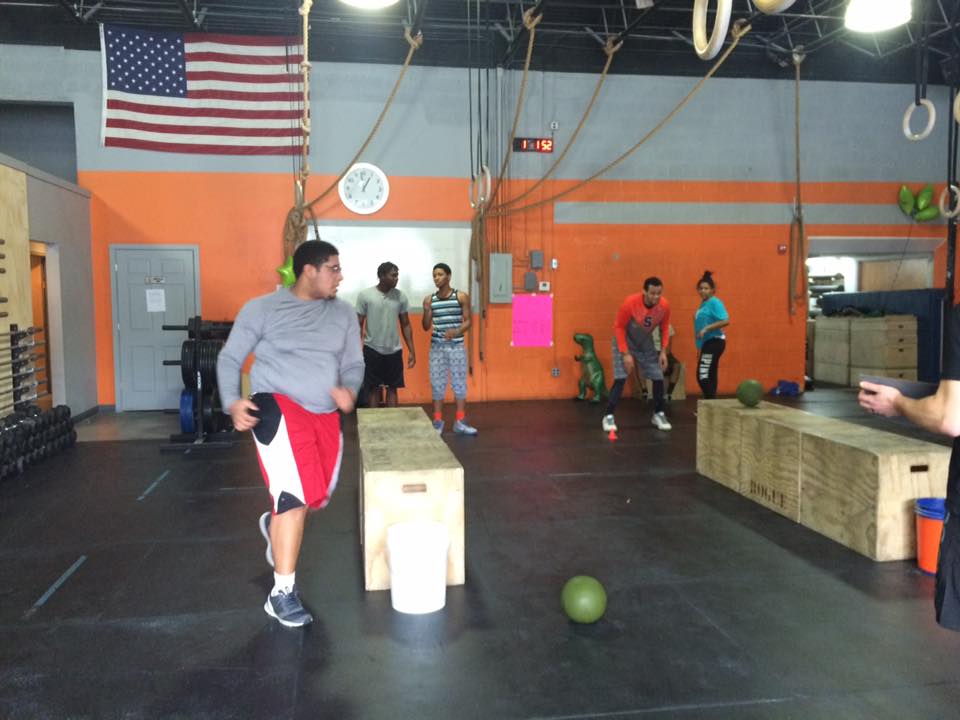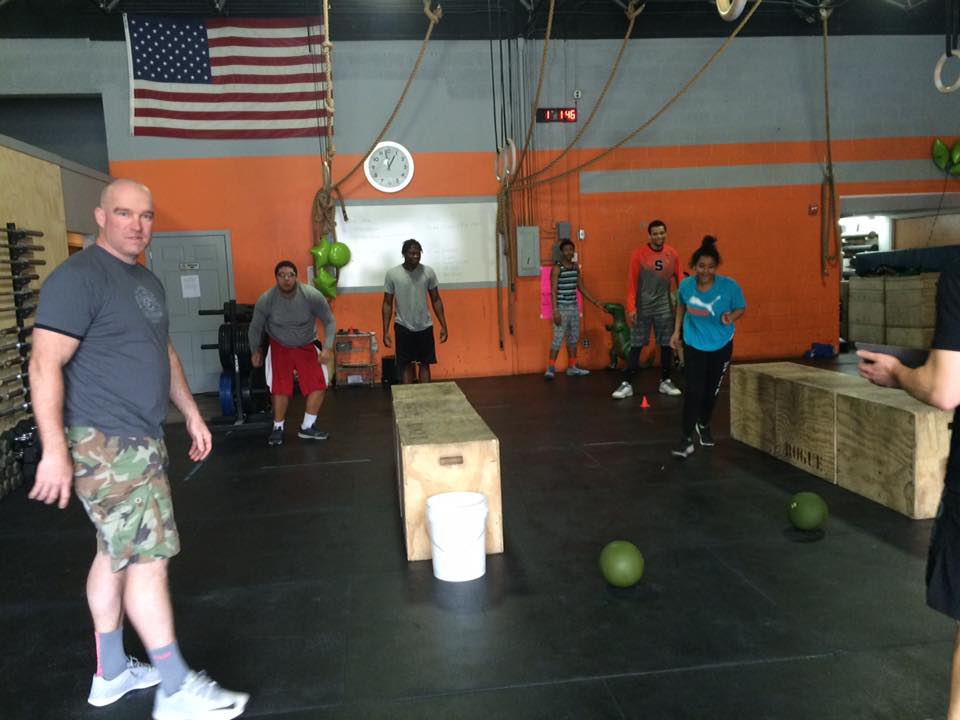 ---
March 9, 2016
Finished the night with a training ride and dinner in Skaneateles! This Team Rocks!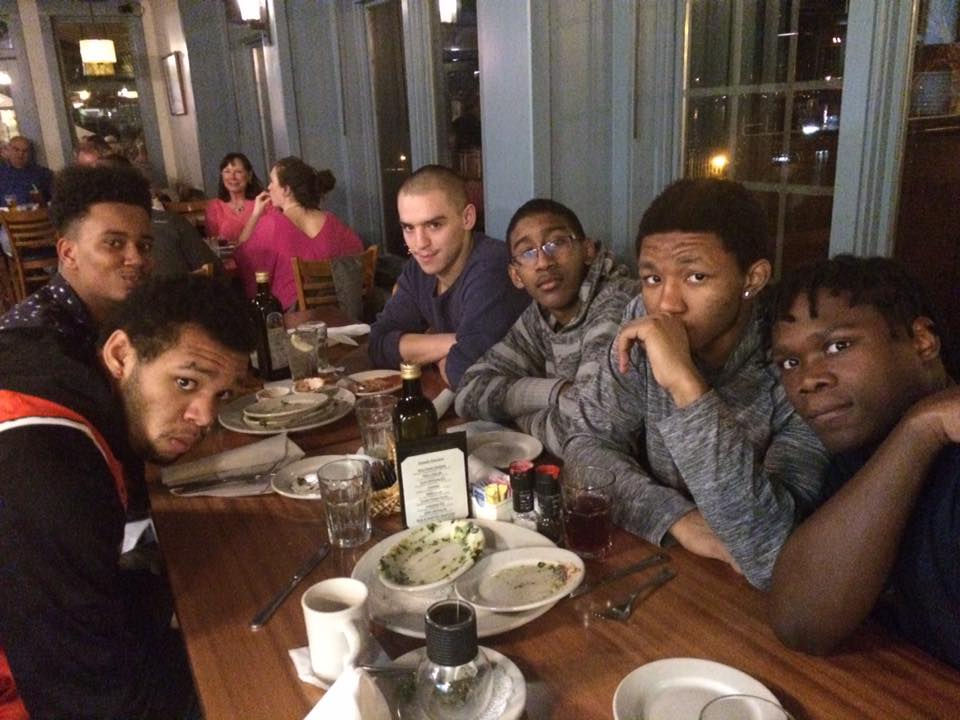 ---
So proud of this Team! Helped me drop the plow off the truck, took the bikes out of the trailer and adjusted seats, changed tires and checked chains all on their own! So proud! Gettin' a ride in!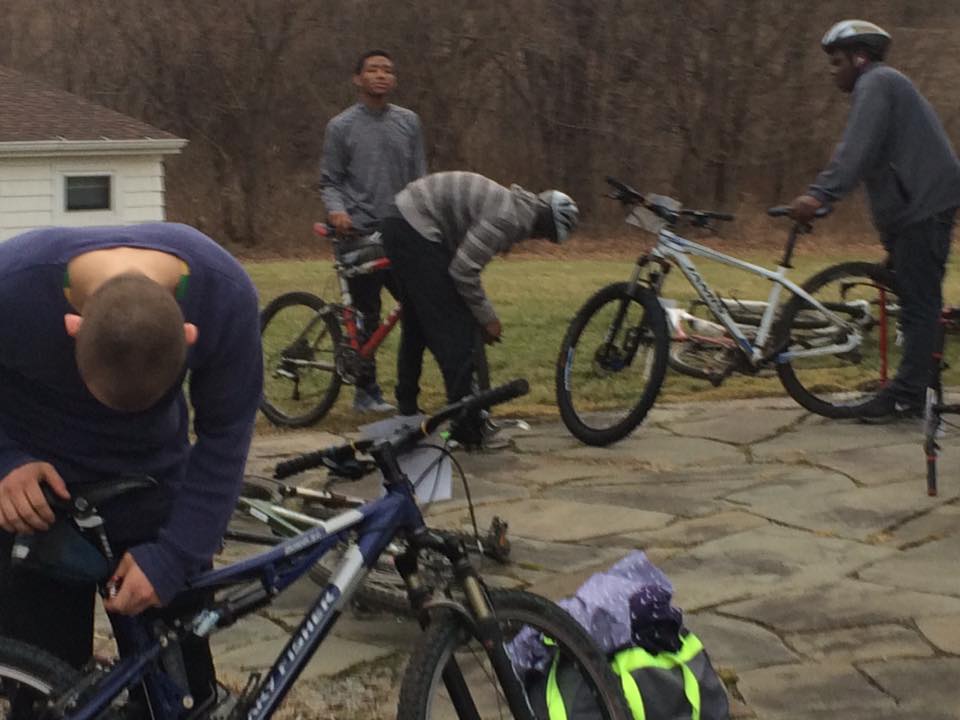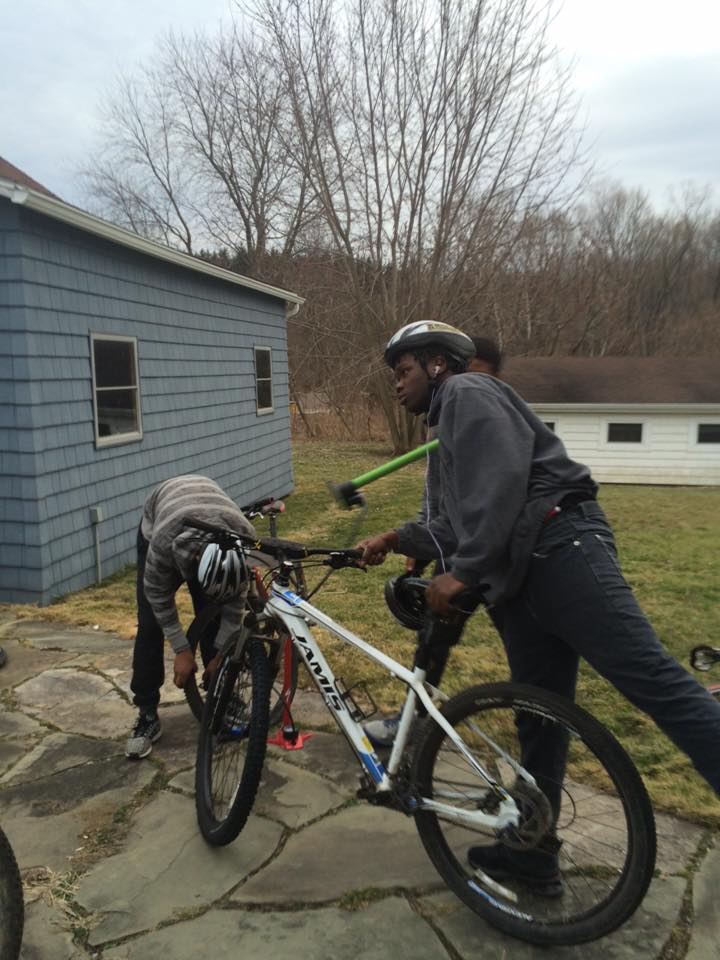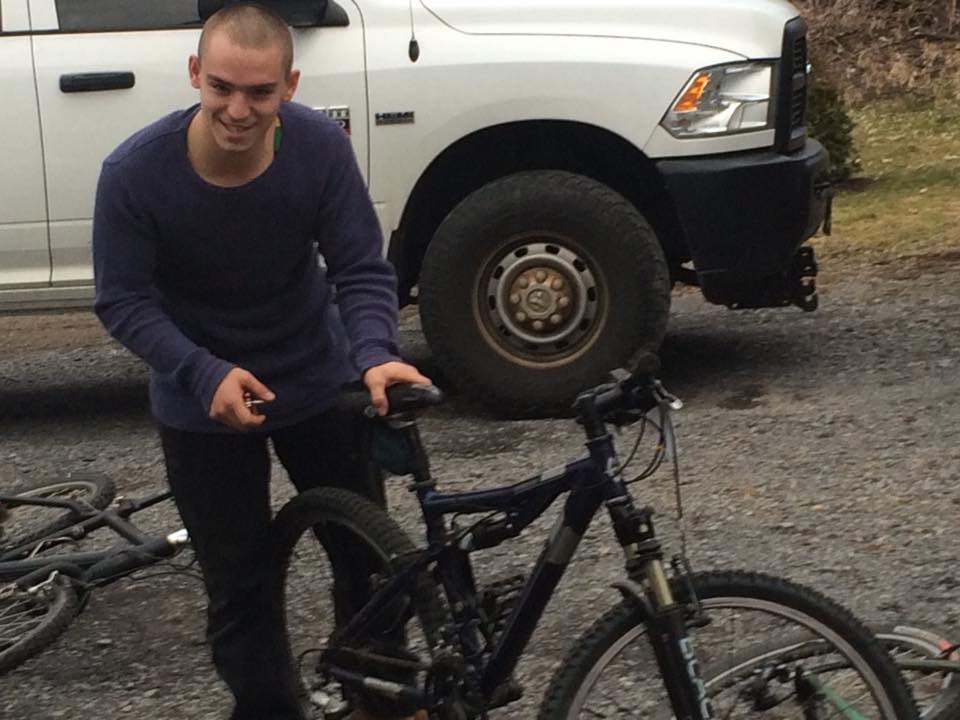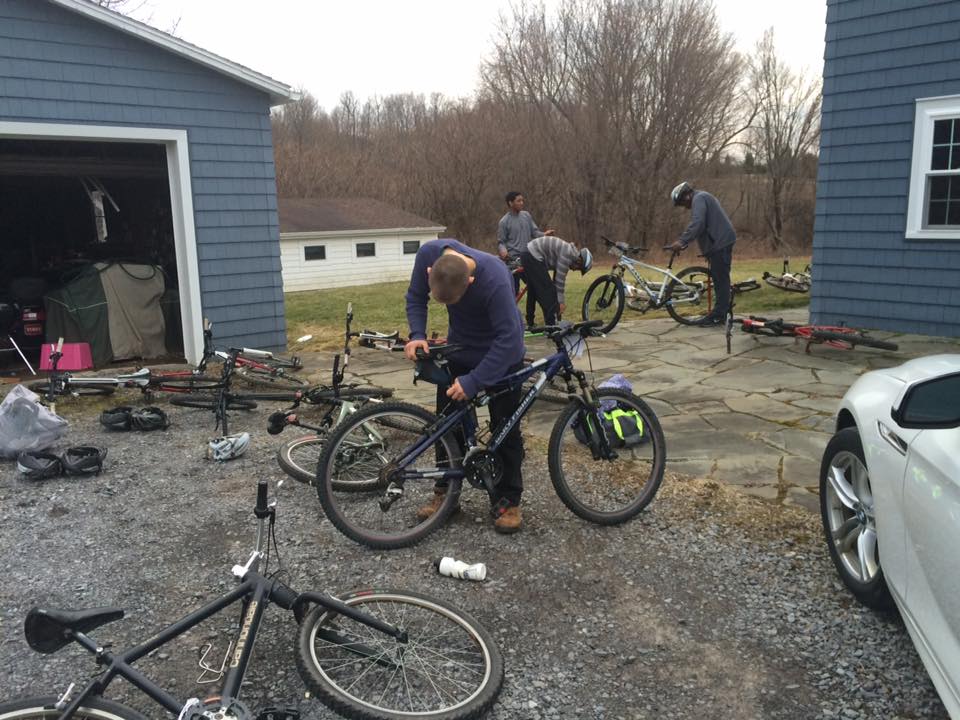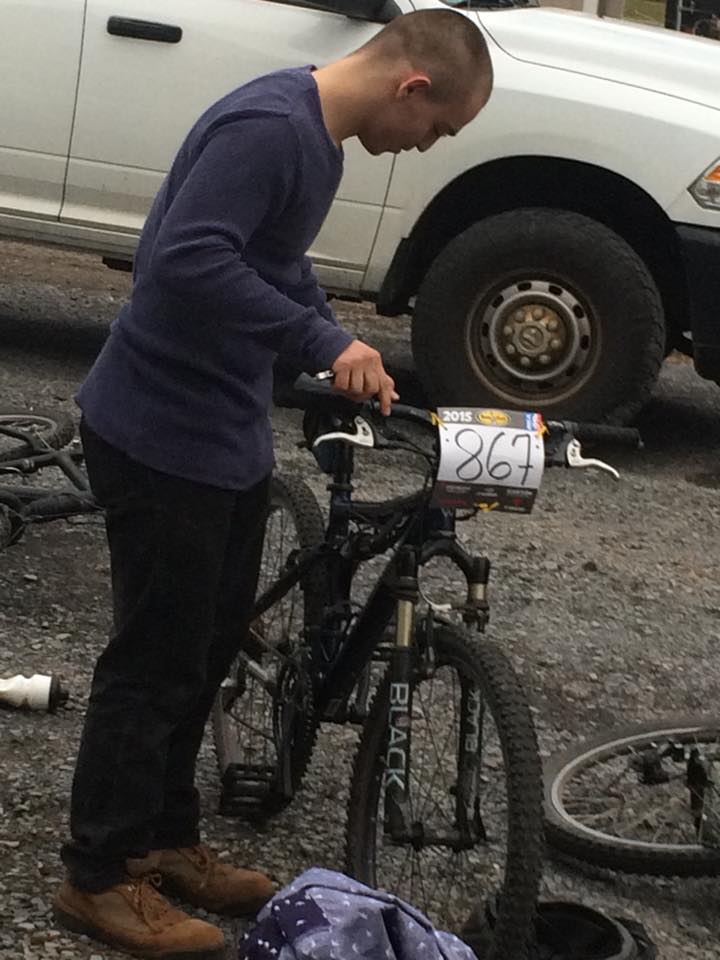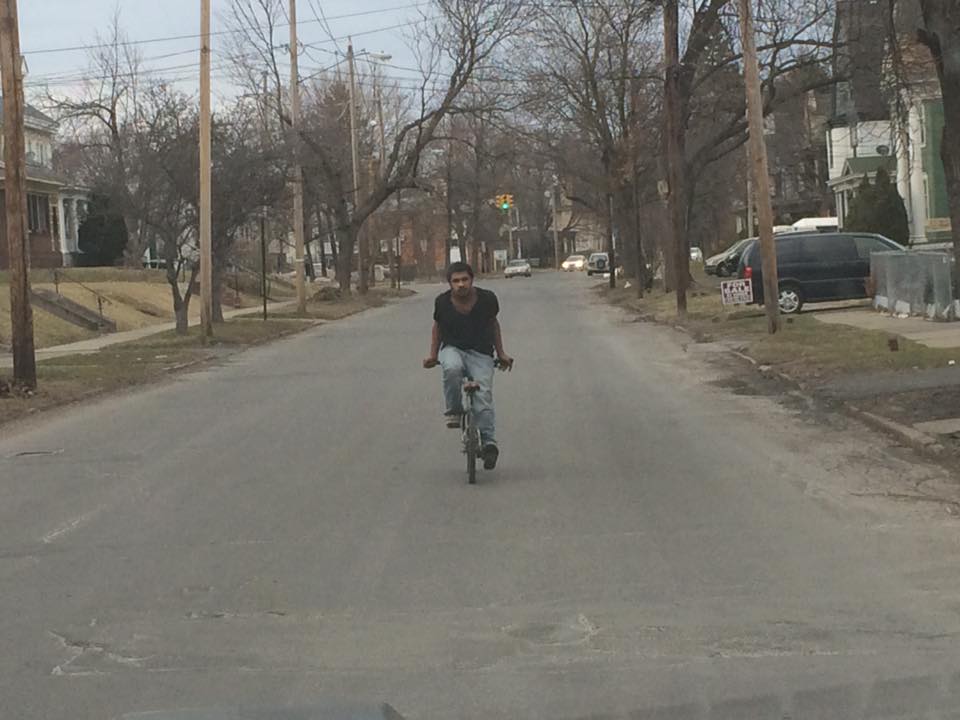 ---
March 4, 2016
NY NICA b.i.k.e.-Syracuse team dinner. Woo hooooo no fried food, no soda. Watching what we eat! First race in April stay tuned! We missed you Lee Lee and Tin!!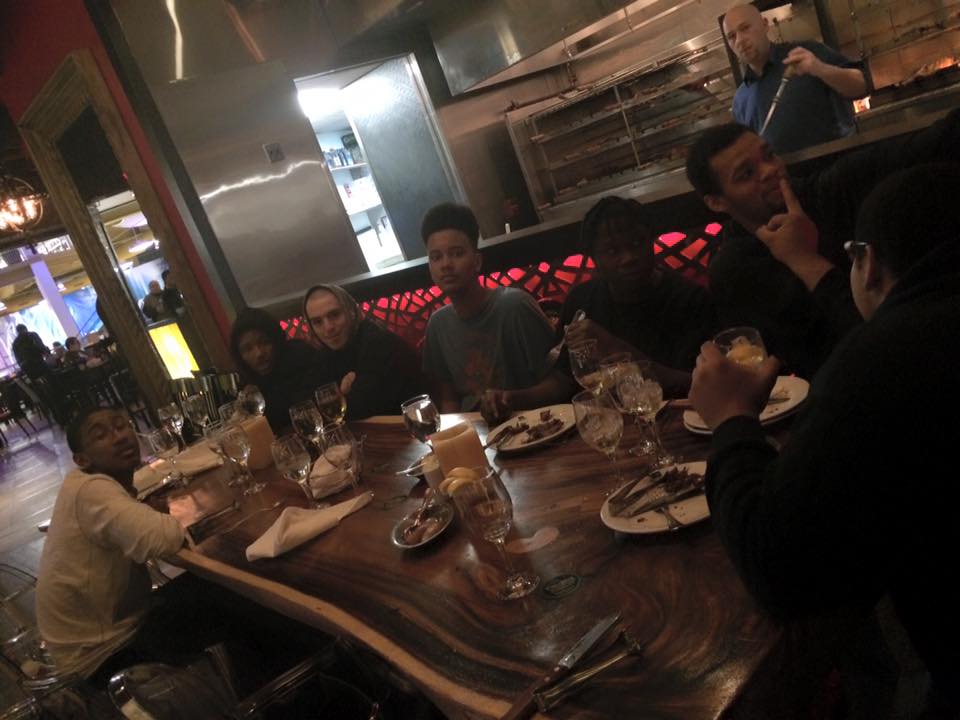 ---
February 21, 2016
Enjoying a late lunch after practice. No fried food! Woo hoooo!!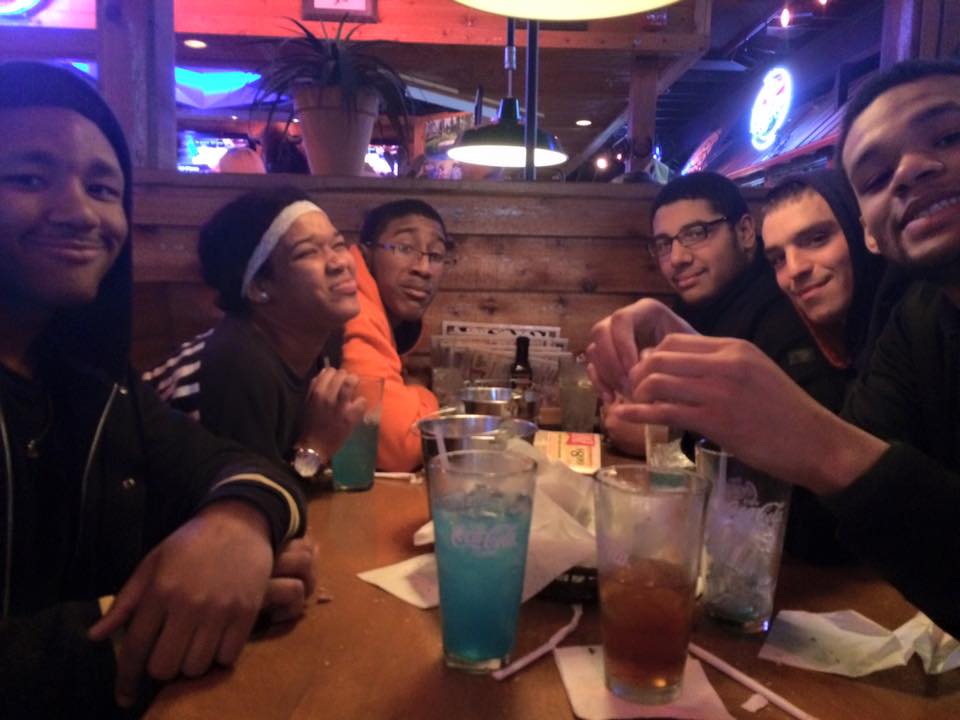 ---
January 31, 2016
Another training day for the b.i.k.e.-Syracuse NICA race team. Working on upper body strength. Thanks Coach Jason Webb for being there today and assisting this year! Nice late lunch afterwards with The Team and Coach Webb and Coach Quinn. Nice training day all the way around! See you Tuesday for our ride to Marcellus! Whoo Hooooo!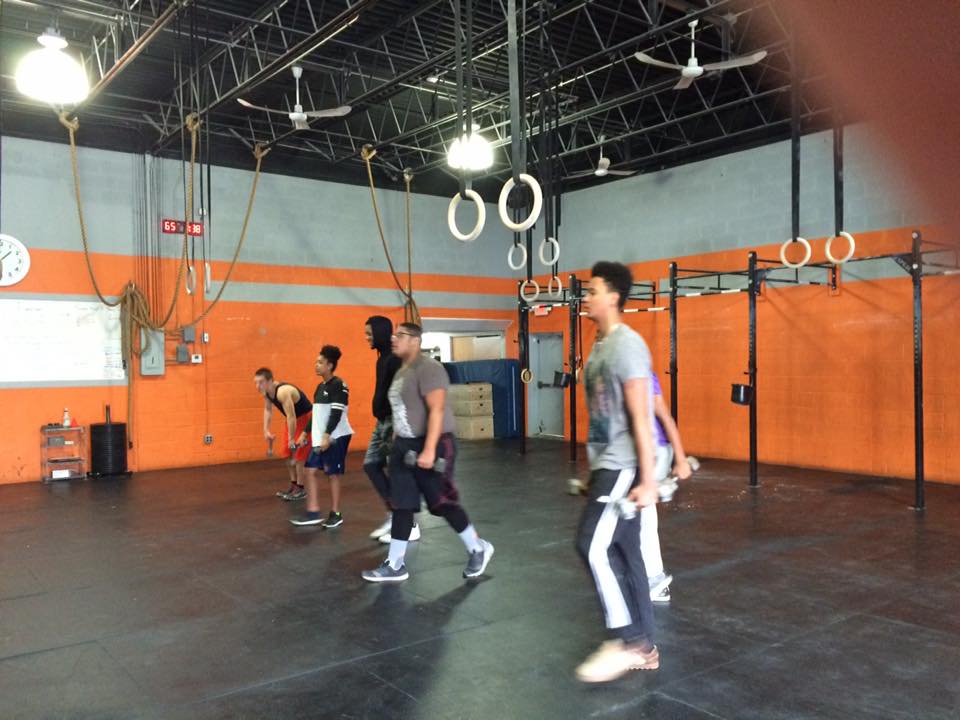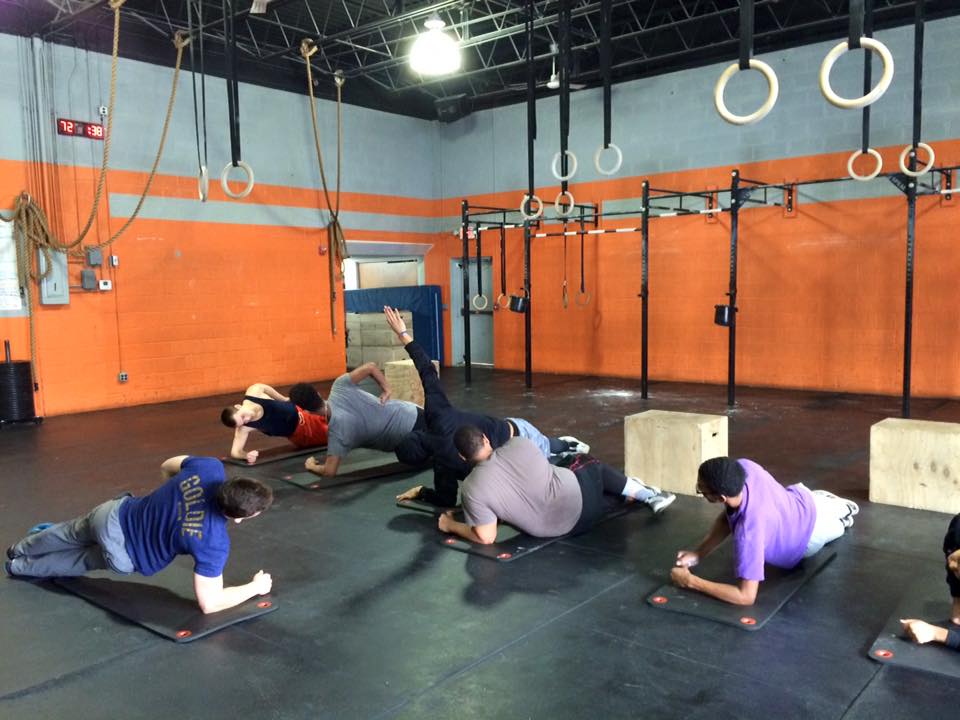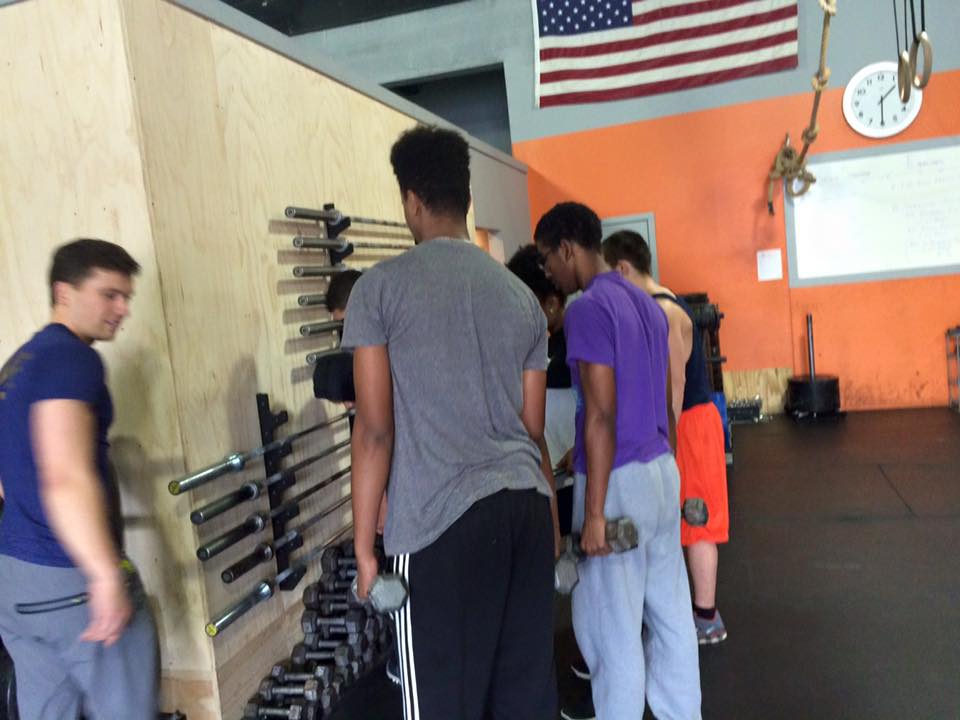 ---
January 17, 2016
First strength workout of the season. Nice job athletes! You are all on your way! b.i.k.e -Syracuse welcomes Noah to the team. Noah swims for Henninger High School and wants to try mountain bike racing this year!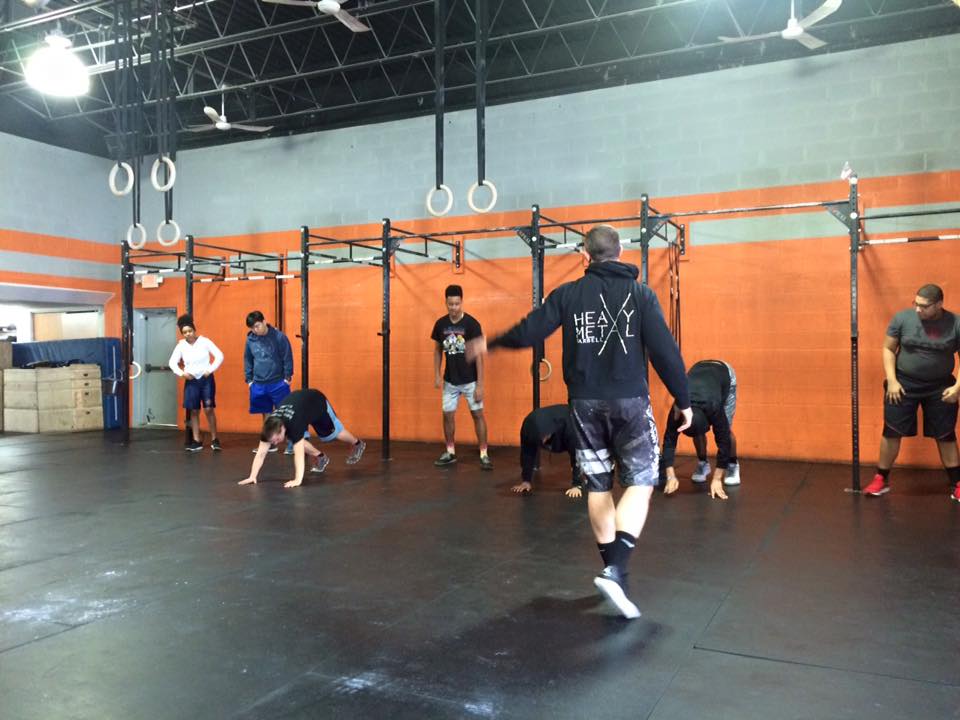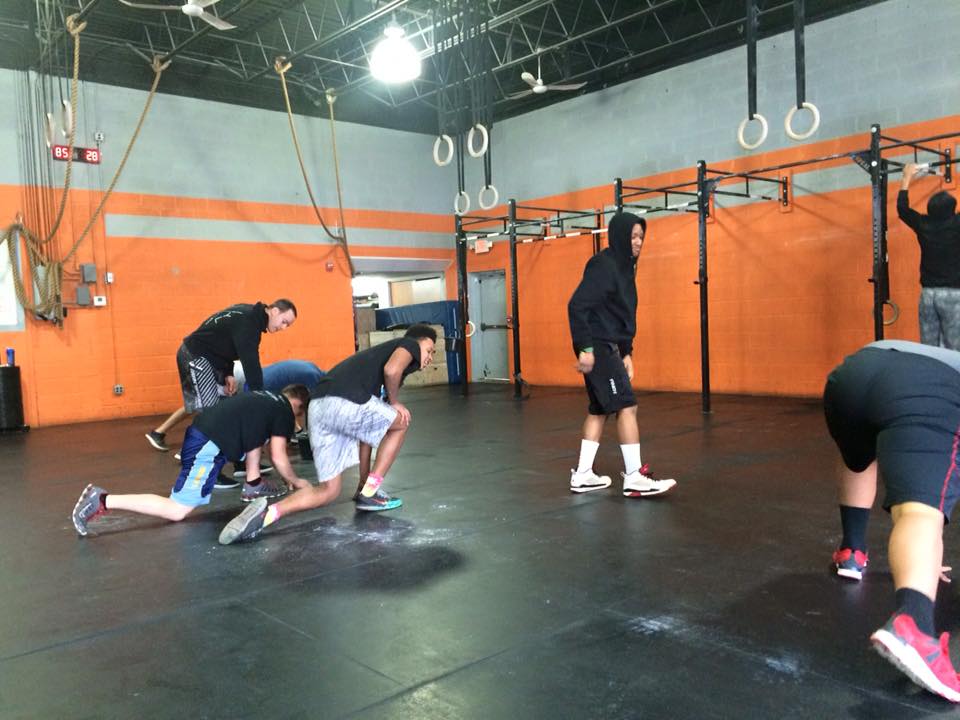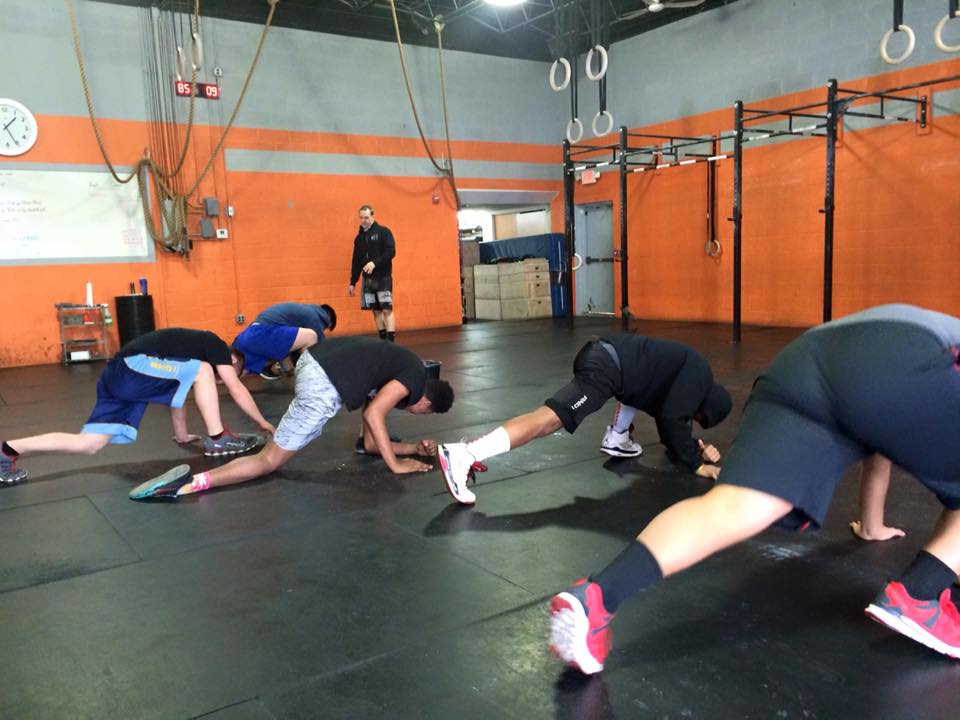 ---
December 26, 2015
Practice starting in two weeks. Here is wishing for this same nice weather to ride outdoors! Stay tuned for details, Riders!!
---
Merry Christmas and Happy New Year!
---
December 2, 2015
Practice is staring up in a few weeks for the b.i.k.e.-Syracuse NY NICA team. b.i.k.e.-Syracuse is riding again this year with NY NICA - High School Mountain Bike Leauge. We are welcoming Jason Webb, Physical Educator and Coach, joining us this year to help coach the team! Zeke Ronnow has graciously offered to help with bike mechanics and assist in rides when he can.....Five races this year, beginning in April - June, 2016. We have seniors riding this year that started b.i.k.e.-Syracuse when they were 8 years old! Where did the time go? They are looking forward to this last year of racing before graduation and plan on finishing strong! Stay tuned!
---
November 10, 2015
"Growing Up In Syracuse "WestSide" I Never Seen A Group Of Person Care So Much For Are Youth Like Bike Syracuse Especially People That Didnt Know Us Or Better Yet Wasn't Even Familiar With The Place! Till This Day Bike Syracuse Have My Respect Why? You May Ask Well Its Simple No One Ever Gave Us A Chance Usually People Quite On Us Or Do Things & Expect Money In Return Well Not Them All They Wanted Was Respect & Love The Same Thing We Wanted And You Know What Many Of Them Earn It!!! I Can Tell You From experience Where I'm From Its Easier To Find A Gun Then To Find A Job To Be Honest But The Best Part Of It all I had someone that cared for me someone that was there for me just like my mom was and till this day I consider her as my second mom and her name is Kathleen she earned my respect cause I never met someone that actually motivated me to move forward in life and to never give up no matter what to always keep my head up high!!! If you ever seen the movie blind side or freedom writers you know exactly the kind of story I'm talking about well what I'm trying to say is thanks ms Quinn and bike Syracuse for changing my life and many more and for NEVER Giving Up on us love you!" &nbsp -Ramnil Montes
---
November 8, 2015
Met up with some of the mountain biking race team. We start training in 2 weeks. Hard to believe some of these guys graduate this year! On to college!!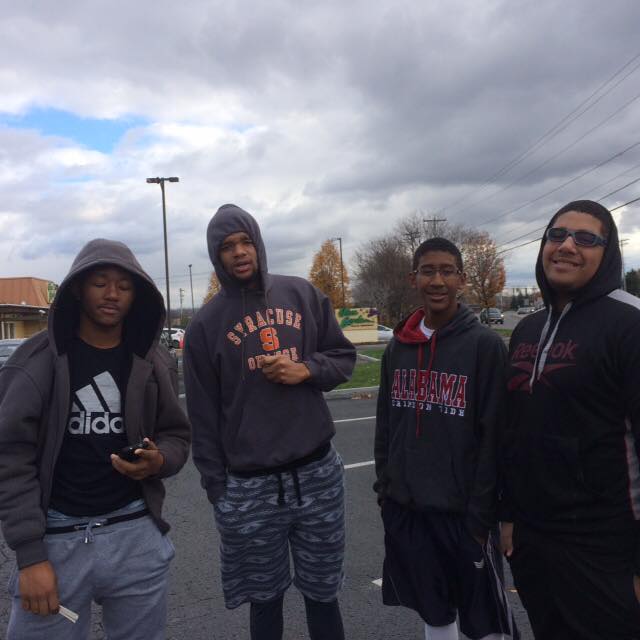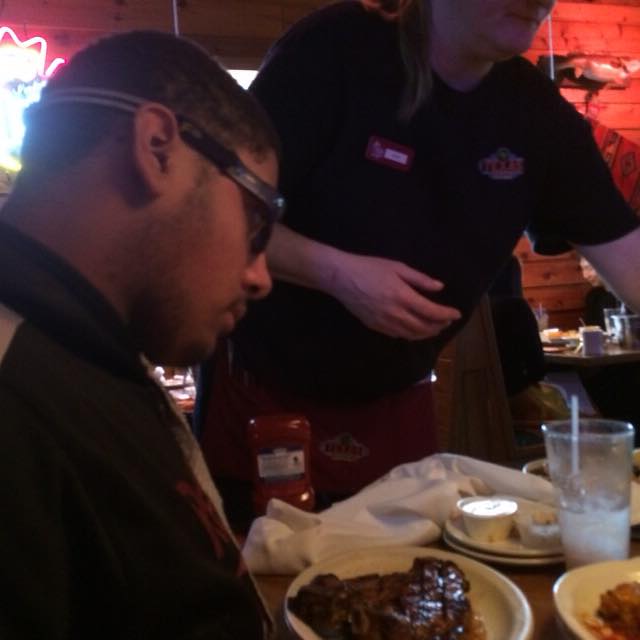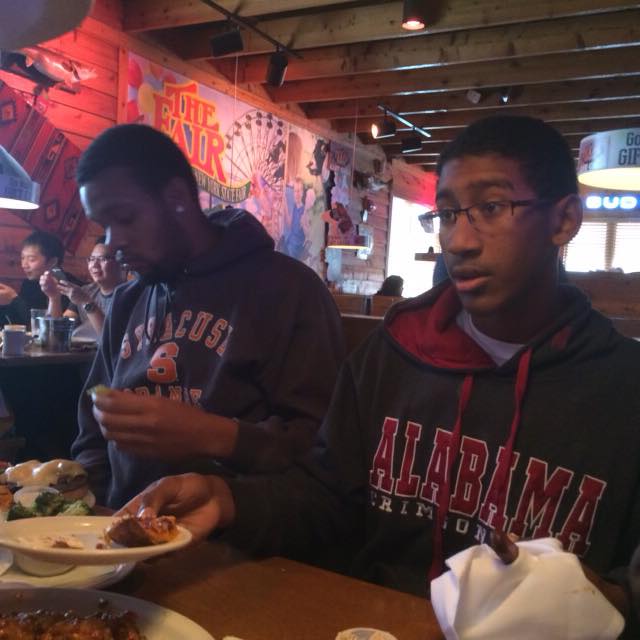 ---
October 23, 2015
Thank you Kate Stewart!! Kate continues to collect power bar wrappers from everyone and we received a check from TerraCycle Points Redemption in the amount of $115.25! That is alot of wrappers considering they pay only pennies per wrapper. Thank you Kate for your help...the money will come in handy this year for the race team and equipment needed!
---
October 5, 2015
P.S. This young man (and he knows who he is...) GAVE ME SUCH A HARD TIME IN THE BEGINNING of b.i.k.e.-Syracuse...so much so that I considered giving up....but this young man taught me not to give up....and so, all of us here at b.i.k.e.-Syracuse decided to return that lesson! Alot of teary nights worrying about this young man....in the streets of Syracuse....But now, after never giving up....he has turned his life around and is such a great young man. Hard work, but worth it...So proud of you!! So very proud of you!
---
Just talked to a prior member of b.i.k.e.-Syracuse who helped to start b.i.k.e.-Syracuse when he was 14. He is now married, living in Florida and just completed his GED...he has kept in touch with us and we are very proud of this young man! He never gave up...that is what it is all about...Never, Ever, Give Up! Life is so much better when you don't give up!
---
Awesome dinner on Wednesday with the b.i.k.e.-Syracuse NICA team....looks like we will have two more middle school riders - females..thanks to Lee Lee! Lee Lee has been riding with b.i.k.e.-Syracuse since she was 8 and now she is in eight grade! And wow..Omar and Emmanuel and Ameen are seniors...started riding with b.i.k.e.-Syracuse when they were 8 years old....Wow where did the time go....! Ameen is in job corp and may not be able to ride with us due to training....we will miss him..but completely understand...we support you Ameen..good luck! Practice starts in December....we will be doing more riding outdoors to get in shape for the spring NICA League...! Stay tuned!
---
September 27, 2015
b.i.k.e-Syracuse took the summer off and we are back! Gearing up for the 2015-2016 race season with New York NICA! Team dinner on Wednesday night...7:00pm pick up at Omar's house....call me if you need directions! Rumor has it we may have a couple of new riders this year! Rumor also has it that our senior riders are coming back this year to finish the year strong. Stay tuned! Practice starts December....look forward to this year....see you all this Wednesday!!
---
June 10, 2015
Well, b.i.k.e.-Syracuse is traveling to Purling, New York for the last of the NICA series races...this is the Championship! We leave Saturday June 12th to get some practice riding in before the big race on Sunday, June 13th! ...stay tuned for details!

All b.i.k.e.-Syracuse riders..MANDATORY.meeting at Fowler High School on Friday at 5:00 p.m. for details about travel and the race..ANY RIDER NO PRESENT AT THIS MEETING WILL NOT BE ABLE TO TRAVEL WITH THE CLUB TO THE RACE!.....Please text or email Coach Quinn if you are planning on attending this race!
---
May 14, 2015
RACE YOUR OWN RACE.....DON'T GIVE UP.....AND YOU WILL SUCCEED! b.i.k.e.-Syracuse's Motto!
---
OVERALL RESULTS FOR b.i.k.e.-Syracuse's NICA Mountain Biking Racing Team so far this season: 10th out of 16 teams...

Chamar Short - Freshman - 14th out of 28 riders
Imari Gary - Freshman - 18th out of 28 riders
Kevin Brunson - Sophmore - 25th out of 28 riders
Enamanuel Mateo - JV Rider - 35 out of 56 riders
Tin Phan - JV Rider - 38 out of 56 riders
Nyzee Goe - 25th out of 56 riders
Omar Short - 34 out of 56 riders
Ameen Buchanan - 16th out of 56 riders
Yuseff Sirat - 53 out of 56 riders

Awesome standings, considering Chamar, Imari, Kevin, Tin, Nyzee, Yuseff, Lee and Raymond have never raced off road like this before and before this year, Kevin, Tin, Nyzee and Raymond have never ridden mountain bikes off road before! Nice Job!
Coach Quinn, Coach Ronnow and Coach Miller are very very proud of these athletes!
---
Results are in for the NY NICA Mountain Bike Race in Schenectady, New York last weekend. b.i.k.e.-Syracuse had 7 riders ride and the Team has moved up from 12th place to 10th place at this race for standings! Nice Job b.i.k.e.-Syracuse...It was hot in Schenectady, 90 degree plus day and the heat took it's toll on the riders. Many riders DNF'd....but b.i.k.e.-Syracuse didn't give up! No one DNF'd their race..everyone finished! Awesome...here are the standings for the race: (I will post the overall standings separate):

Chamar Short - Freshman boys: 20th out of 24 riders
Imari Gary - Freshman boys: 23rd out of 24 riders
Nyzee Goe - JV boys: 21 out of 26 riders
Tin Phan - JV boys 26 out of 26 riders
Enmanual Mateo - 24 out of 26 riders
Lee Lee Fields - Middle School Female - 8 out of 8 riders
Raymond Pauta - Middle School Male - 25 out of 29 riders
---
May 9, 2015
To all the riders of b.i.k.e.-Syracuse: FINISH your race! Do not give up now or ever! Develop an attitude that you can do anything you put your mind to! So proud of you all! Wish I could be at this race with you....but know I am there with you....all of you! ood luck! Make Syracuse proud!! Coach Quinn
---
May 1, 2015
RACE RESULTS FROM LAST WEEKEND'S RACE FOR NICA NEW YORK HIGHSCHOOL LEAGUE:
b.i.k.e.-Syracuse is currently in 12th place out of 17 teams.....While we are challenging ourselves to move up...we are happy with this standing as 9 of our 11 racers are new to the sport of mountain biking and have never ridden off road before this year, let alone raced! All 11 of our riders finished their races last weekend and here are the standings:

Chamar - Freshman - 19 out of 27 riders
Imari - Freshman - 27 out of 27 riders (Imari had a flat tire, but ran his bike to the finish line!
Kevin - Sophmore - 22 our of 24 riders
Ameen - JV Rider - 16 out of 47 riders!!
Omar - JV Rider 37 out of 47 riders
Enmannuel - JV Rider - 40 out of 47 riders
Yussef - JV Rider - 35 out of 47 riders
Tin - JV Rider - 43 out of 47 riders
Nyzee - JV Rider - 28 out of 47 riders
Lei Lei - Middle School Rider - 7 out of 10 female riders.

VERY PROUD OF THESE MOUNTAIN BIKERS! CONGRATULATIONS ON A RACE WELL DONE.....
Looking forward to the race in Schenectady in a another week!
---
April 26, 2015
Another great race With NICA!! No DNF's!!! All 10 riders finished their respective races, including Yussef who has never raced off road before but completed his 4 laps for the JV boys. Nice job b.i.k.e-Syracuse!! Stay tuned for more details on placing and pictures!!
---
b.i.k.e.-Syracuse is in Lippman Park, Wawarsing New York for the second NY NICA Highschool Mountain Bike Race. We have 11 kids and 10 riding today! Stay tuned for our results and pictures! We are excited!! Go b.i.k.e-Syracuse!!
---
April 22, 2015
Practice at 2:00 p.m. on Saturday...meet at Fowler...bring camelbacks and wear biking shorts! We are riding! Wooo Hoooo...working on technical skills for the upcoming NICA NY Highschool Leauge Race on Sunday in Lippman Park, Wawarsing, New York.....Go b.i.k.e.-Syracuse!!
---
April 13, 2015
WOW WOW WOW!! What a weekend! THANK YOU HENRY, CHIP, JERRY, AND SUE, DEB AND TOM FOR YOUR SUPPORT! THANK YOU MEG AND ZEKE FOR AWESOME COACHING! b.i.k.e.-Syracuse attended the first mountain bike race of the Season at Sprain Ridge Park in Yonkers, New York with the New York High School MB League of NICA....the league has grown to 15 teams and 150 kids! 50 of those kids are middle school aged racers! Wow! Although our team is ranked 12th currently we couldn't be prouder of our athletes...of the 11 athletes/riders on our team - 4 athletes have never been off road on mountain bikes until yesterday - (thanks to our weather) - 3 more of our athletes have never participated in any kind of race on a bike. However, all of these athletes finished their respective races! WOW! Nyzee, who has never ridden a mountain bike on trails in his life, finished his race in the middle of the pack as a Senior, JV rider, completing three laps!!! Omar and Chamar had mechanical difficulties with their bikes that resulted in broken chains...both athletes ran their bikes through nearly one whole lap of the race to get to the feed zone to pick up another bike and take a 30 minute penalty - but finished their races! Imari, first time racer, finished his race....Tin, who has never been on a mountain bike or done any type of athletic training until January of this year when he began training with b.i.k.e.-Syracuse, completed three laps! Antonina, one of our female riders, completed her two laps even though she had never been on a mountain bike or off road before this race! And Lei Lei, our middle school rider and sister of Omar and Chamar, finished her 2 laps riding with the middle school riders and performing like her older teammates! Ameen finished his three laps despite being escorted off by the trail marshal for a cramping hand that dogged him the entire race....and Enmanuel, the vocal one on the team that kept telling everyone.."whatever you do, don't give up and race your own race" finished the three laps this year that he was required to do as a JV rider...I could not be prouder of this team...not one rider gave up despite cramps and mechanical problems.....WE HAVE 4 MORE RACES AND EVERYONE AGREED...NOW THAT THEY KNOW WHAT RACING IS ALL ABOUT...WE ARE COMING BACK STRONG! GO B.I.K.E.-SYRACUSE!!!
---
April 9, 2015
AMAZING DINNER LAST NIGHT!! Pia, Enmanuel Mateo's mom, hosted the b.i.k.e.-Syracuse Mountain Bike Team dinner....the food was to die for. Pia had to have been cooking all day.....everyone went back for second and thirds. This meal brought back such fond memories of my own mom and family....it was a delightful evening..such positive energy...this team has grown into a family...it will be hard to see our seniors graduate and move on this year. THANK YOU PIA FOR A WONDERFUL, HEARTWARMING DINNER AND EVENING....!!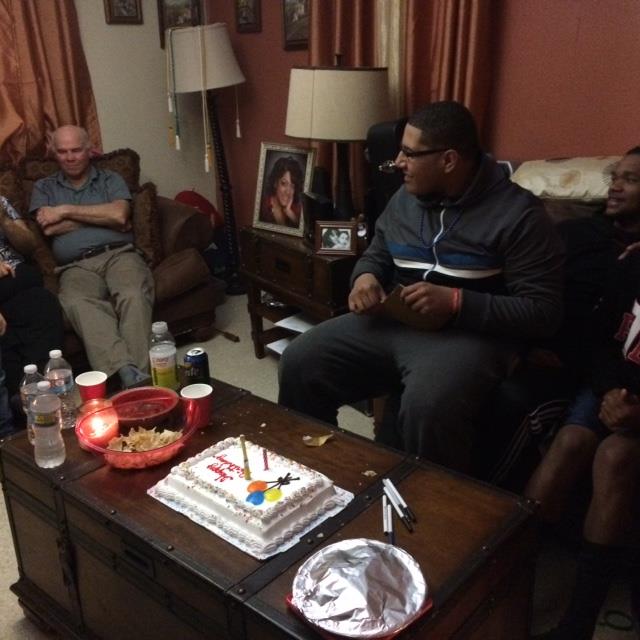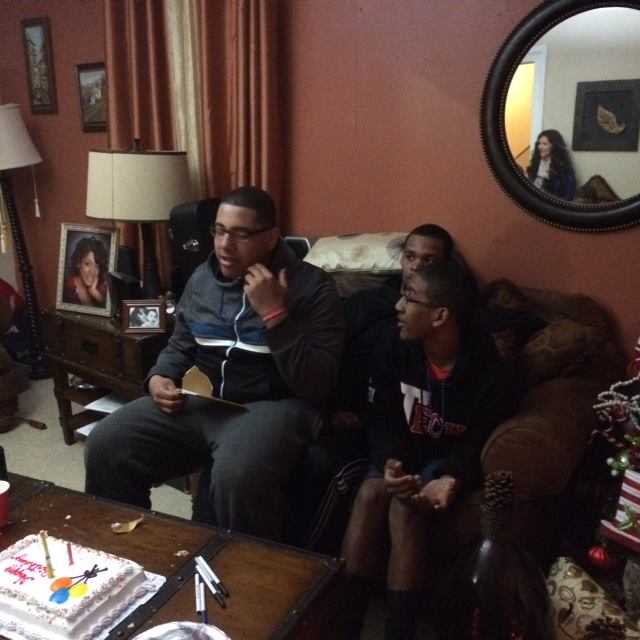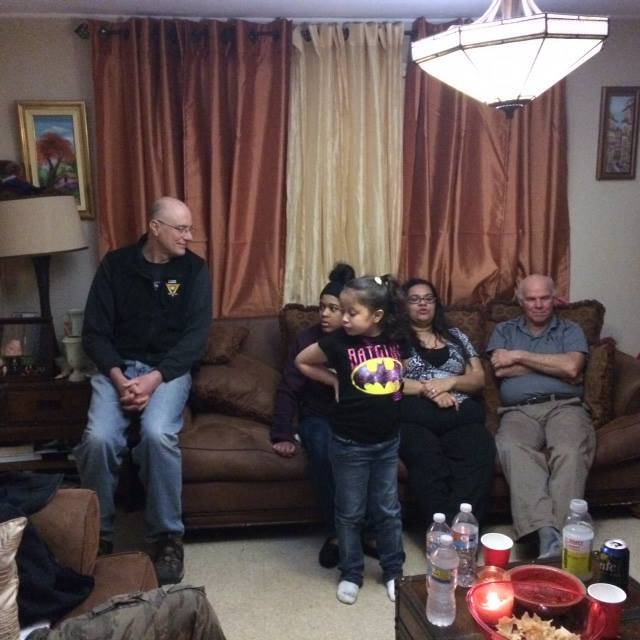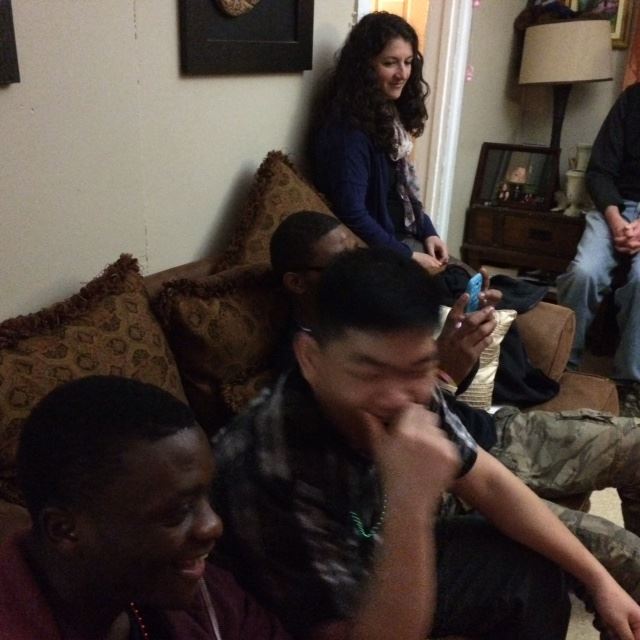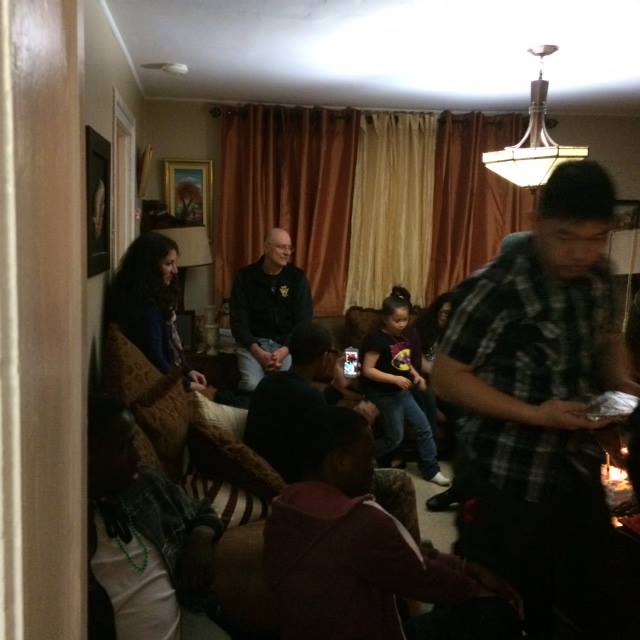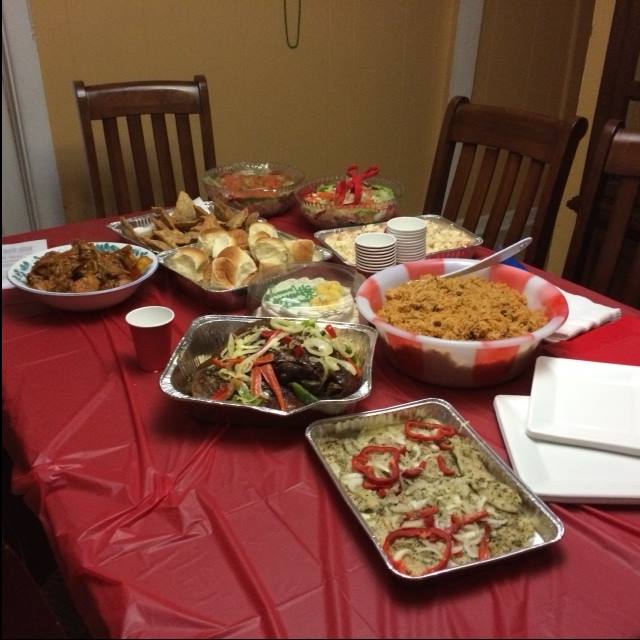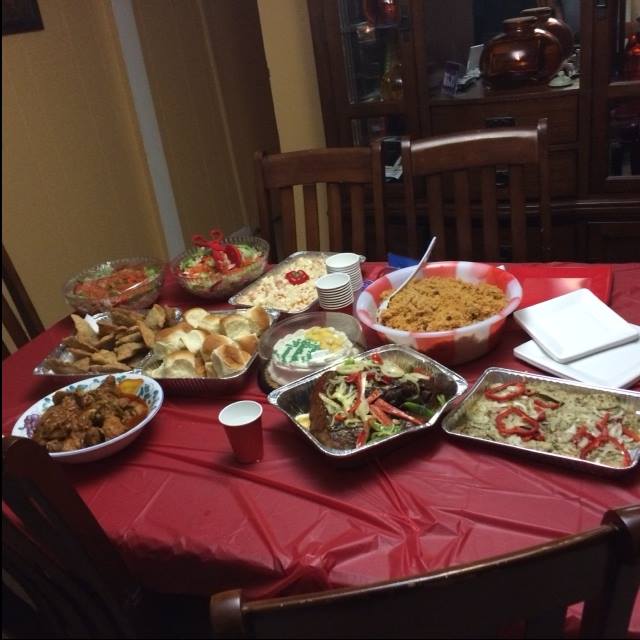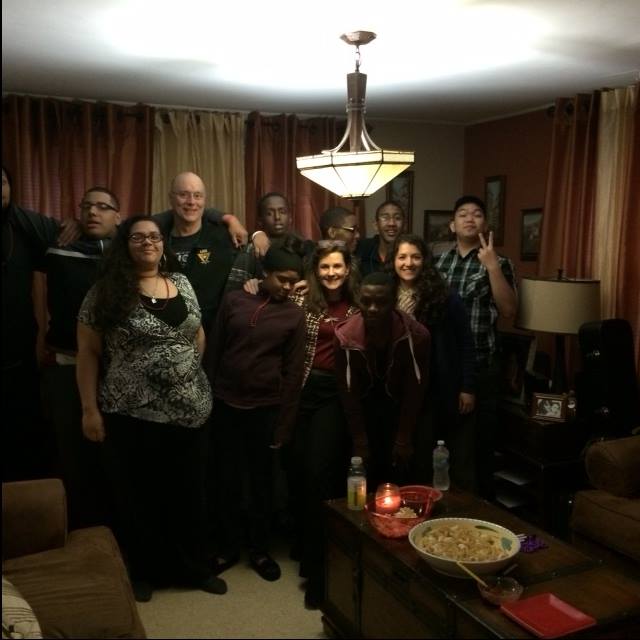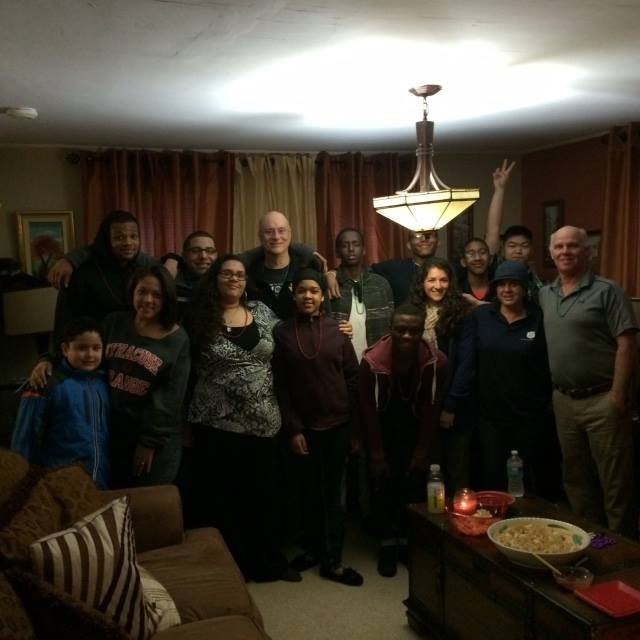 ---
April 8, 2015
FIRST MOUNTAIN BIKE RACE OF THE SEASON....B.I.K.E.-SYRACUSE TRAVELING TO SPRAIN RIDGE PARK, YONKERS, NEW YORK THIS WEEKEND TO RACE IN THE NICA NEW YORK LEAGUE (HIGH SCHOOL) MOUNTAIN BIKE RACE ON SUNDAY! 11 ATHLETES/CYCLISTS FROM 6 DIFFERENT CITY SCHOOLS/HIGHSCHOOLS WILL BE COMPETING ON THE B.I.K.E.-SYRACUSE TEAM....PLEASE WISH US LUCK...LET'S PUT SYRACUSE AT THE TOP OF THE LEAGUE! GO b.i.k.e.-SYRACUSE!!
---
Feb. 2013
b.i.k.e.-Syracuse has been busy registering 5 of our older bike riders for the National Interscholastic Association (NICA - New York) race scheduled in Westchester County in April. Our five bike members will be racing against other high school mountain bikers and other junior teams from all over New York. We also have a couple more races lined up for the summer, including another trip to the Black Fly Mountain Bike Race in June in the Adirondacks...
---
b.i.k.e.-Syracuse has worked out a deal with JA Spa in Marcellus to use the indoor bike trainers for training and getting our legs back and in shape for the race season! We also have worked out a deal with Ja Spa for one of their certified trainers to provide upper body strength training to the boys in addition to our bike training...Great stuff! Last night was our first training night...and it was a lot of fun. These boys were on spinners for an hour and half and never complained!! The boys are really taking their training seriously and I was pleasantly surprised. Emmanuel, one of our members, has been working very hard to lose weight for over a year. He is currently enrolled in the "Y" program downtown and works out three days a week after school. Emmanuel is also training with us and is determined to do the Black Fly MB Race this year in June. Emmanuel has dropped 35 pounds over the last year and his determination and discipline to lose the weight is beyond his years. Jen Griffin, a coach from Marcellus and Manager at Ja Spa commented on his enthusiasm last night while training. We are very proud of Emmanuel and we are supporting his efforts!! After training for two hours, last night, we stopped at Subway on the way home...although we did talk about "recovery foods" a bit.......I was pleasantly surprised hearing the boys talking among themselves - asking each other what type of sub should they get that was more healthy and which type of sub would help them recover better.....The boys, without any prompting, opted for subs without cheese and spinach on their turkey instead of lettuce and apple slices instead of bags of chips...and orange juice and milk!! They never asked my opinion nor did I have to say a word! They did it all on their own....
---
Good Day! Just a note to update everyone on b.i.k.e.-Syracuse's activities. Saturday was a special day...after Lynasia and Niheshia organized and assisted with breakfast duty, Meghan, Sherry, Kat and Larry took 15 of our kids over to Cranx Bike Park in E. Syracuse. The Parks and Rec Department provided the bus and Larry took us over to the Bike Park. ....There, the owner Dale, and his Staff hosted b.i.k.e.-Syracuse to a wonderful day of cross country and BMX biking! We decided to use Cranx's bikes instead of loading up our trailer with our bikes...and I am glad that we did that because some of the kids were able to try out the BMX bikes vs. the mountain bikes that we usually ride. This is a great indoor biking park. I know, the words "indoor" and "biking" used in the same sentence do not conjure up fuzzy feelings for bikers..But, after walking through the park with one of the Staff and having that person describe the engineering that went into the safety for the routes.....and then riding the course ..I was pleasantly surprised.....and our kids LOVED it!! From a coaching perspective.... for technical skills... this park is perfect!! The obstacles are much like what you encounter on trails in cross country mountain biking. The balance beams enabled our riders to work on their balance skills and I was able to shadow a rider like Omar, watching his line and talking him through the obstacles...By the end of the day, Omar was riding the balance beams, no problem and dropping his back tire off some pretty steep drops (instead of trying to go front wheel first) and had a lot more confidence in his riding ability....Teaching skills like these in the woods (if you can find a "natural "safe" drop and "balance beam") with 15 other kids riding is nearly impossible.........but at the Park..it was doable and fun! Meghan rode with the younger kids allowing them to push their skills to the next level and by the end of the day, I was watching Lee Lee ride the low balance beam!! The Park lay out also enabled me to keep an eye on everyone...making sure that kids did not ride a line that was clearly above their abilities. I did come up on two young girls, that just joined our club, looking at a downhill that they were completely unsure they could ride....after a bit of discussion about what they were feeling and their biking skills, they decided to turn it around and try a smaller downhill (without letting them know...I let out a sigh!!)...but the park layout makes it easy to police situations like this....... Sherry and Larry rode for a while enjoying the beginner cross country course that the Park has for those riders not interested in dropping or jumping!
---
Frances, one of our 11 year olds, excelled at BMXing, impressing the Staff with what he learned from them in just a short amount of time....One of the biking Staff told me that Frances should think about the BMXing camp they have, as Frances was demonstrating some true talent!! The kids rode for 2 1/2 straight hours with no breaks.....how is that for exercise? After lunch (yes, we could eat right at the park in the "party room") we traveled back to Skiddy Park...but very reluctantly.....and I will comment that I may have been the oldest rider on the course...but riding a bike and volunteering with these kids keep me young! Rage against Age, I say! Exercise...it just feels good! b.i.k.e.-Syracuse would like to thank you for taking time to read about our outings and activities. We hate to ask for money, but please keep in mind that while businesses, like Cranx Bike Park gave us a price break, activities like these are expensive and donations from the community is what allows us to keep going....We appreciate every dollar we get and with a donation to our non profit, every dollar you provide goes into activities like this one or the food that we provide for breakfast and lunch.......We have very little overhead so your money is spent directly on food and programming for the kids that you are reading about.....!! Thank you for your support! See Facebook for some wonderful pictures..enjoy the picture here of Frances!! -Kat
---
June 2012
Some Testimonials From The Kids:
One boy at his H.S. graduation-when I gave him a hug to congratulate him, he said in my ear "thank you for caring about me". Later on he said to me "you guys never gave up on me, even when I gave you a lot of trouble. I thought about dropping out a couple of times, but then I remembered the bike club and all of you always saying 'get your education' and then I thought of my mom and how mad she would be at me...and I just kept going"
---
A girl wrote:
"I like going to bike club because we do fun things together. And we are like family because we all make peace with each other. Also because Ms. Quinn and the other volunteers are wonderful to me and they treat me with respect and I do the same. …I want it to be bike club every year."
---
Savannah's tumor in her leg was discovered when she became pregnant with her son. Due to her pregnancy, Savannah could not have chemo because of the pregnancy....and she actually chose not to end the pregnancy to have the chemo, knowing that this decision might end her life. How many of us would make this choice? How many of us at the age of 15 would make this choice? Savannah lost the gamble and passed away after receiving one bout of chemo when her son was born. The cancer had spread too quickly. I'm telling you this story because I received a phone call from Diane Ogno, the school counselor, at Blodgett today. The day after Savannah died, Diane went to the home of Savannah. The grandparents told Diane, as soon as she got there, that I was to be told about Savannah so I could let everyone at bike know...Diane also told me that the grandparents said that Savannah specifically asked for her grandparents to tell me. I will be stopping by Savannah's home today.....I am bringing a baby gift for her son....from b.i.k.e. So...please take a moment ......a deep breath......and know that you touched a young girl so deeply that she thought of you..of us .....as she was saying her final goodbyes.... I was so moved by Diane's phone call.....Yah...we're making a difference...but for me...this club is a testament to the power of relationships.....of human compassion and love.....I have learned so much from the children and I continue to learn....like now...., some incredible lessons about life, love and relationships....Don't take your relationships with these children lightly.....If you spend time with them, they will come to love you ...and is there anything more important in life than human relationships, love and compassion?
---
We had a quick breakfast at the park before piling into the parks bus and heading out to Amberations. We had a pretty small group, I think about 9 kids, plus Bob, Red, bus driver Larry, and myself. We were welcomed by Gloria of Amberations and the new puppy, Nero. Gloria provided a cooler of water for us, and asked if we wanted to help dig some post holes and move some aged manure/compost- most of the kids enthusiastically helped out, while some petted the animals, and others hung out at the playground. Who knew post hole digging could be so fun? (Side note- the water that Gloria provided was flavored with mint and lemon, which received mixed reviews from the kids. At one point, one of the kids was loudly complaining about it while Gloria was nearby, and to my surprise, Frances, in his hyper-active way, scolded, saying "Man, how can you be so rude?! Complainin about stuff this lady made for us!" I honestly couldn't believe my ears) When the work was done, we hiked up the trail, over the hill to the ravine. All of the kids except Nahesha, who was not feeling well went down into the ravine. Red and Nahesha returned to the barn to help Gloria with lunch. The rest of us walked down the creek to a swimming hole. The kids were great, they learned about water striders from Larry, and some were not initially fond of the feel of the creek bottom on their bare feet, but got used to it soon enough. After swimming we walked back to where our shoes were, and though they didn't want to, we eventually got everyone to hike back. Gloria provided a delicious lunch of spanakopita, Texas caviar (bean salsa), and hot dogs. The kids were pretty good at trying everything out, I think we discovered a few fans of Greek food amongst us; of course, Enmannuel's suggestion for improving the recipe was "More feta, less spinach". Gloria told us how the eggs used in the spanakopita were from the chickens that were wandering around the yard- to which Nigeria responded by refusing to eat any more spanakopita, because the idea of it grossed her out. It's amazing how disconnected we've become from the source of our food. We thanked Gloria and boarded the bus to return to Skiddy Park- I think we all could agree it was a great day.
---
May 2012
Last Saturday our group rode our bikes from Skiddy Park up to Split Rock for some off road mountain biking. After our breakfast in the park......19 kids and Bob, Kat, Meg and Rick Schenosky (met us there) rode up for a beautiful day of single track and trail riding. We had a lot of fun and it was a beautiful day. This was our first "long" ride of the riding season and the kids were a bit tired on the way home..but we stopped for ice cream on the way back which made us all feel better. Okay..we do have some "junk" food now and then!! When we arrived at the park, we put away our equipment and the kids could be heard commenting on their day and how well they rode.....It was a pretty good day.....
---
May 3rd, 2012
A note from one of the young ladies who graduated from the club:
"I've been with this club since day 1. I was 14 when I started and now I'm 21 and I've been here through thick and thin and ups and downs and I can say Thanks to B.I.K.E Syracuse I am a better person and more humane and I just want to say that you've helped me (all the volunteers) especially Mrs. Quinn she's helped me through a lot of problems I've had and now I'm a good mother and going to achieve my goals for furthering my education."
---
April 2012
Rise Up, the live call in show, will officially launch May 5 airing every Saturday from 2 to 3 p.m. Nelson serves as the show's creator and organizer while Jus Mic from Power am 620 will moderate. She said she wants the show to give voice to the youth and give them an opportunity to express what is going on in their community .b.i.k.e.-Syracuse members, Jeffrey and Emmanuel Mateo along with Kat Quinn were guests on the first show that will air on May 5th with shows every Saturday from 2:00 p.m. to 3:00 p.m.
---
April 23, 2012
b.i.k.e.-Syracuse Members accepted an invitation from the Onondaga Cycling Club to help them in their Earth Day Clean Up efforts in N. Syracuse on Caughdenoy Road. 17 children and 2 Youth Volunteers, (Jeffrey and Imeen) and 7 Adults (Larry Adams, Meghan Miller, Red Donzella, Ben Donzella, Chris Janjic and his friend Alex (SU Students) and Kat Quinn all attended the event. We picked up 8 huge trash bags full of trash along the road, picking up such items as a hub cap and chair covers. It rained the entire time, but that didn't stop the kids from working....We were all very proud of the members and how hard they worked....since we couldn't reward our members with a bike ride due to the rain.....we decided to head over to the Dinosaur BBQ for a great lunch...Mrs. Quinn gave in on the soda orders....**sigh**...but we all had a great "bonding lunch" ....It was even more special when Imeen, one of the Youth Volunteers looked at me and asked why were not saying grace before we all ate...I asked him if he would lead the grace and he gladly accepted, insisting that everyone at the table join hands.....for me it was one of those "ah ha" moments...A moment when you are touched by something you just can't explain.......we all bowed our heads and Imeen said grace.....Afterwards, I had a man that was eating at a table near us come up afterwards and comment to me on how wonderful it was to see all of us together, holding hands and saying grace ....Imeen was sitting next to me hearing every word this man said. Imeen simply smiled and said thank you. Okay....that life lesson, you just can't teach or mentor..... It is the kids and the Volunteers that make this club a place I look forward to spending my Saturday mornings!!
---
Feb. 29, 2012
Red, Bob and Kat attended the Marcellus School Volunteer Fair for non profit organizations around Onondaga County. It was a success we may have picked up a couple of Youth Volunteers and at least 4 teachers stopped by to say that they were also interested in volunteering time. We handed out over 150 flyers. The most rewarding part of the day, for me, was when I was stopped in the bathroom by a woman from the Salvation Army who told me that they had heard about b.i.k.e.-Syracuse and that we have a wonderful reputation in the neighborhood. She also commented that she has heard wonderful things about the work that we do with kids and thanked us for that work. It was very nice to hear. On our table, Red had brought a helmet and bike shoes, we had our b.i.k.e.-Syracuse banner and we had a great slide show on a big Dell Monitor (with awesome pictures thanks to Elisabeth and Patrick) and our booth looked, for once, professional!! Red and Bob did a great job of networking with other organizations and attracting folks to talk about volunteering for our program.....I also learned of a few organizations right on the doorstep of Marcellus that offer outdoor activities for kids...one of those organizations is Amberations on Amber Road. They are open year round and have a petting zoo and walking trails and upper trails that they said would be wonderful to mountain bike in the summer. they have been trying to attract kids from the City to the farm. I am going to try to hook up with them for this weekend.....it might be a great outing for you all on Saturday....I'll let you know what I find out tomorrow. Another organization is Orenda Springs in Marcellus. . This facility promotes hanging children upside down in waist harnesses. (I did ask their representative, John, today if there were full body harnesses available at this facility and there are, but they don't use them??? Full body harnesses are made specifically for upside down rope experiences)... The Orenda Springs representative, John, was quite friendly and understood my concern and said that he would put our kids in full body harnesses if that is what we requested... He did go on to say that they have mountain biking trails and we are welcome to the trails. I did tell him that we would try to make it up there this summer. As soon as the weather breaks, I will go down, reintroduce myself and try out the trails.....I'll keep you all informed....
---
Feb. 15, 2012
This past Saturday 25 of our members had our usual breakfast at St. Lucy's. Bob, Red, Kat, Jeffrey and Pebbles were on hand to chaperone.....While eating breakfast around the table, we had a wonderful discussion about Bullying. The discussion began when Red brought up the subject through a newspaper article she brought in from the newspaper about bullying and the NY Law that was passed and will take effect 7/1/2012. Schools will be held accountable and must demonstrate that they have a program in place to address bullying in the school. We discussed the seriousness of bullying. We asked, by a show of hands, how many had been bullied in school (almost everyone raised their hand) and then we asked how many had been the ones doing the bullying (which about 1/2 of the kids raised their hands)...we discussed what bullying is and how it can hurt, not only physically, but emotionally/mentally as well. One of the kids mentioned that he had heard how a child had committed suicide due to bullying and we talked a little bit about that. The message that we left the children with was clear: Bullying will no longer be tolerated in schools and we certainly do not tolerate it in b.i.k.e.-club. Anyone caught bullying will be suspended and if the behavior continues, they could be suspended indefinitely from our program. We explained that there are Rules that everyone must follow in school, at home and in public in order to be successful in life and this is one of those Rules. We discussed different levels of bullying and how no level of bullying is okay.....We also discussed what the kids should do if they are bullied. It was a great discussion and almost all the children contributed to the conversation. After our discussion, we went ice skating at Clinton Square...one of our favorite winter activities. the Parks and Rec Department provides the skates and use of the rink free to our club and we so appreciate the gesture. Without the discount, we could not afford to do this wonderful activity as regularly as we do. So, we thank the Parks and Rec Department and Rocky, who runs the ice skating program for the Parks and Rec Department. We so appreciate the opportunity! This year, one of our b.i.k.e. members, Jeffrey, graduated out of our program due to his age. However, Jeffrey is remaining on in our program as a Youth Volunteer. Jeffrey has demonstrated positive leadership and the kids really look up to him. Jeffrey took his new role seriously, Saturday, when one of the younger members of b.i.k.e. (and the newest challenge for the Volunteers with regard to discipline) began acting out. Jeffrey stepped right in....asked me if he could take Francis for a walk and talk to him.....I agreed, and whatever happened in that walk was miraculous as Francis came back to the group with a much different attitude!! Pebbles, also, has continued volunteering as a Youth/Adult Volunteer for her second year. Pebbles recently obtained a job at Subway and she approached us to get permission to discuss a discount for our lunches with her Boss. As a result of that discussion, we now get a discount on healthy subway sandwiches for lunch! Pebbles makes all the arrangements for the sandwiches and accompanies me when we pick them up. It is obvious that her Boss appreciates the business and Pebbles is very proud of having made the connection.....and we get a great discount!! Win - Win - Win!! The Youth Volunteers have provided a communication bridge between the adult volunteers and the members in a very positive way. Saturday demonstrated this....Our members had a great time and so did the Volunteers...! As a side note to the positive behavior Saturday.....In the past I have had to forego the skating to keep an eye on both the rink and the building as the other volunteers skated with the kids and watched the rink. This past Saturday was an exception. Guynell voiced it perfectly when he came up to me and handed me a pair of size 8 skates (I don't know how he guessed my size???) and told me that I could skate now with him because "nobody is getting into trouble and Jeffrey and Ms. Red are watchin' the kids in the building, anyways!!" So I had no excuse, put on the skates and skated with Guynell....I had a great time! Two Saturdays we traveled to the Carousel Mall and sold candy bars....Jeffrey, Ms. Red, and myself continue to sell the candy bars for fundraising and Jeffrey, Ms. Red and I have already sold one box each! We'll continue to sell until they are all gone! This week we do not have b.i.k.e.-club, (we are currently on an "every other Saturday" schedule, but we do have bike club next week. We plan to travel to Skaneateles to the YMCA to swim....
---
Oct. 8, 2011
This week/Saturday, b.i.k.e.-Syracuse is riding at Green Lakes for the 3rd Annual Breast Cancer Awareness Ride!!
---
Oct. 1, 2011
Good Day! b.i.k.e.-Syracuse's activity last weekend did not include riding our bikes - thanks to fall raindrops..... :( However, a little rain did not stop us!! Instead, we decided to walk up to the Zoo at Burnet Park for a day with the animals..... After breakfast, consisting of breakfast sandwiches, oatmeal, cereal, milk, juice, fresh fruit, hummus and rice crackers.....Bob, Helen, Meghan, Red, Hobit and I walked 18 children up to the Zoo. Red and I had to leave early, so the volunteers broke the children up into four groups and each volunteer, Bob, Helen, Hobit and Meghan took a group of 3-4 kids. Please see below for each of the volunteers synopsis of their experience with their group of children at the zoo.
Helen writes:
"I was with Teetee, Aisha (spelling?) and Pebbles. I really enjoyed being in the small group. Teetee and Aisha decided they wanted to see the outdoor animals first, so they could have the pleasure of coming in later and getting warm. They were fascinated by the snow leopard's tail (as was I), the penguins, the tigers (including three cubs), and some of the fish and lizards. It was fun watching them enjoy the animals. I think the highlight for them was watching the penguins swim underwater, and then "training" the penguins to follow their hands as they moved them along the glass! The walk home was more challenging, particularly as Teetee and Aisha were horsing around with a few of the boys. It was also somewhat chaotic, as different people wanted to peel off and go home, since we were nearby. I think a few of them tried to play me off of Mr. D, saying he said they could go ahead and go home. I wonder if it would be better to have a policy that everyone goes back to the park, no matter where they live and how close we are?" -Helen
Bob writes:
"My group was adamant that they weren't going outside at the Zoo as it was cold & raining. However, after viewing the inside exhibits, we donned our plastic ponchos & headed out. The weather was actually ideal as the animals that usually hide in the shade were very active. We saw both the white wolf & the red wolves that are seldom seem. The kids were enthralled by the snow leopard who was prancing back & forth in his enclosure & by the Amur (Siberian) tiger & her 3 cubs. The walk back was trying as most returns usually are, but it was overall a good day." -Bob
Meghan writes:
"I had a great day with Kaya, Kameil and Nahela. They were all very enthusiastic to look at all of the exhibits, so we took our time, actually reading the signs posted at the exhibits. It was the perfect rainy/chilly day activity, as we still spent some time outside, but were able to go back inside as soon as we got chilled. It was so nice to be able to have a small group of kids who all wanted to look at the exhibits together. It's been great having more volunteers so that we can have smaller groups for activities like this. I think we had about 2 hours to look at the exhibits, which was perfect. Of course right after lunch before we left there was some acting up, because they wanted to go look at the indoor exhibits more rather than wait for everyone to finish eating, but all in all it was a great day!" -Meghan
Thank you for your support!
---
Sept. 24, 2011
This past Saturday was a good day......However, the day started out questionable...but by the end...WOW! We know now, through experience, that if the kids are in high energy when we get to bike club in the morning, that we are in for a stressful and difficult day with the kids. These stressful days have our volunteers questioning whether or not we are making a difference and whether or not they want to continue on volunteering...However, every now and then.....something happens that makes us realize that these stressful days are really the best bike club days spent with the children. In fact, when asked what I like best about volunteering my time with b.i.k.e, I tell folks that I love the days when the kids act up...., because those are the days that I really get an opportunity to apply what I have learned through Ruby Payne's Bridges Out of Poverty, and make a difference.....Let me explain: This past Saturday, b.i.k.e.-Syracuse registered for the ALS walk at the Inner Harbor supporting research for individuals with ALS. This ALS walk holds a soft spot in b.i.k.e.-Syracuse's heart. As you may or may not know, Paul Swinburne, a volunteer with b.ik.e.-Syracuse lost his battle with ALS a year ago. I also have another friend and colleague, Mark, who has ALS. Our walk was to honor Paul's memory and support Mark. I was hoping to have the chance to introduce the children to Mark at the walk. After a discussion about Paul Swinburne and a reminder of the Rules for the ALS walk, we informed all 18 children that that Mr. D. would not be at bike club due to a family commitment. We also informed them that Ben would be at bike club after taking the summer off and Meghan would be there after taking the month of September off. In addition, we informed the children that there would be 2 new volunteers, Mary Helen McNeal, who was joining us for the first time and Hobit, who had only participated with bike club for a couple of weeks. Red and I also were there to help out... I knew, before I made the announcements about the status of the volunteers, that this would trigger anxiety and high emotions from the children. Abandonment, and the emotions triggered by feelings of abandonment, are very real for some of our kids....Some of our children live in households where dads and moms and significant others come and go and the children tell you their story, never knowing if the adult will be back or not. We have also had families in our club move 3 and 4 times in one year from house to house, apartment to apartment due to adults up and leaving the household. These "abandonment buttons are pushed" every time a volunteer leaves for any period of time, or a volunteer comes back after taking a lot of time off or a new volunteer comes in to help...(the children "test" new volunteers to determine if they are going to stay or leave). Of course, the ages of the children make it more difficult to articulate these feelings and instead, they act out their anxiety on each other and with the volunteers. When we have this heightened energy, the day can be a pretty intense and stressful.... We have learned, however, through the training that Bridges Out of Poverty provides, how to recognize these emotions in the children and how to respond to the children's anxiety and reassure them which does help to reduce the stress level. b.i.k.e.-Syracuse would like to thank Mark, his family and friends for sharing their time with our kids. Thank you very much for the t-shirts that the kids wore home proudly (over their bike jerseys!!) You made a difference with our children and we so thank you for the life lesson provided. Thank you to the volunteers, Mary, Meghan, Hobit, Ben, and Red, that came out to help .....I hope you will agree with me that the most stressful days of bike club are really the best days.....the best "teachable moments"... Thanks for your support!
---